Live Blog
U.S. Open 2021 live updates: Louis Oosthuizen, Mackenzie Hughes grab share of 54-hole lead with low Saturday rounds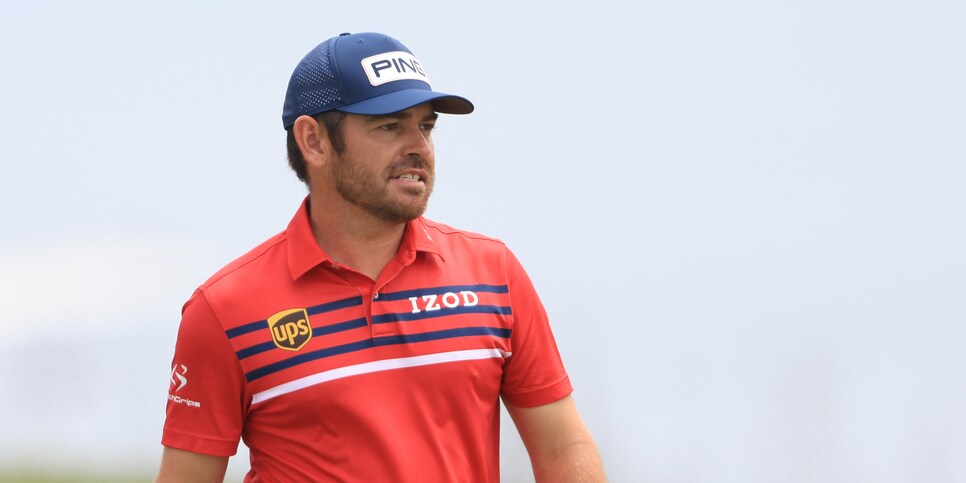 Some of our favorite days on the golf calendar are moving days at the majors. This one, in particular, brings a ton of intrigue. Richard Bland—the 48-year-old Englishman who's just making his fourth-ever major start—is the storyline of the week thus far, and he's joined in the final pairing with Russell Henley, who is also in rarified air, without a top 10 in his major career.
(Scroll down for the latest updates)
Torrey Pines treated golf fans to one of the most iconic U.S. Opens in the championship's history, so we're waiting for the fireworks to start. There are stars in the game waiting to do it: Louis Oosthuizen and Matthew Wolff start the day one back (4:24 p.m. tee time, eastern); Jon Rahm and Bubba Watson are two back (4:13 p.m.); and names like Xander Schauffele (-2), Scottie Scheffler (-1), Brooks Koepka (even), Justin Thomas (even) and Bryson DeChambeau (even) have the opportunity to get closer to the lead Saturday.
There have been some decent scores early on Saturday, so we'll see how this glorious seaside muny plays this afternoon.
The latest videos from Golf Digest
Here are the latest updates from Day 3 at Torrey Pines (most recent updates at the top, all times eastern):
8:47 p.m.: It was a journey for Russell Henley at the 54th hole, but the former Georgia Bulldog gets it up and down from the right greenside bunker to save par and stay at 5-under, which will keep him in a tie for the 54-hole lead with Mackenzie Hughes and Louis Oosthuizen entering tomorrow.
Looking at the strokes gained/approach stats from the PGA Tour in the 2020-'21 season, it should be no surprise that Russell Henley is in this position at what many consider to be a second shot golf course. Henley ranks third behind only Collin Morikawa and Justin Thomas in SG/approach. The guy is an iron savant—and that has been on display through 54 holes in La Jolla.
A rough Saturday has wrapped up for Richard Bland. One of the more unlikely 54-hole leaders in recent memory actually hit it really well off the tee—only missing a few fairways. But he struggled with some par putts and particularly his iron shots. A 6-over 77 has him at +1 overall and T-21.
Hughes and Oosthuizen were the first ones in, so they'll be in the final group tomorrow. Henley will join Rory McIlroy (-3) in the penultimate group—a little repeat of their duel at the 2014 Honda Classic.
8:31 p.m.: The first eagle of the day at the 18th hole comes from Louis Oosthuizen in the penultimate group. BANG! King Louie jarred it from the back left portion of the green, a similar portion from where Tiger made his eagle putt on Saturday at 18 in 2008. Maybe it's Louie's time to get that elusive victory in the U.S.
8:23 p.m.: Jon Rahm didn't make many fireworks on Saturday at the U.S. Open—but that's not what the USO is about. He hung in it and makes a birdie at the 18th hole to card a 1-over 72 and get in the clubhouse at 2-under. The Spaniard will have a great chance tomorrow to get that first major title.
8:13 p.m.: Wow! Mackenzie Hughes just carded one of the most impressive rounds of the afternoon, shooting a 3-under 68 to vault into a share of the lead with a birdie at the 18th hole. It was an impressive one—as the Canadian hit a sporty bunker shot from the left greenside bunker. Hughes will likely find himself in the final pairing tomorrow at the U.S. Open—looking to become the first Canadian to ever win the U.S. Open.
8:07 p.m.: Xander Schauffele and Scottie Scheffler both fail to birdie the par-5 18th hole, which is playing as the easiest hole at Torrey Pines yet again (4.619 average)—surprising for two guys with firepower. Scheffler gets in at 2-under—three back right now—and Schauffele is at 1-under and four back.
8:02 p.m.: The lead is back down at 5-under with a bogey by Russell Henley at the 15th hole. Gosh, what a crazy up-and-down day from the 54-hole co-leader. The kid has four birdies but four bogeys, and his lead is now just one over Mackenzie Hughes.
7:40 p.m.: Hitting into the fairway bunker off the tee forced Bryson DeChambeau to lay up with his second shot, and his third landed on the back portion of the green ... so Bryson will settle for a par to wrap up the only bogey-free round of the day—a three-under 68 to leap up to 3-under and three back of Russell Henley of pursuit of going back to back at the U.S. Open.
7:35 p.m.: A mess is being made at the 14th hole by Matthew Wolff. From a thick lie, the 22-year-old nailed a tree with his second shot, only advancing his shot about 80 yards and still ending up in the rough. He just chunked his third shot, but a tidy up and down from there and Wolff will just drop one shot. Last year's U.S. Open runner-up now falls back to 3-under and three back of Russell Henley.
7:31 p.m.: Jon Rahm . . . yikes. After the bad break off the flagstick on No. 14, not only does he miss his par attempt, but he also misses the comeback putt for bogey. The double drops him back to one under, five off Russell Henley's lead.
7:24 p.m.: Jon Rahm becomes the latest victim of these vicious flagsticks. His third shot (after pitching out from a bunker) on 14 rattles off one and finishes about 12 feet from the hole. Certainly not the worst such break we've seen, but it wasn't a good bounce either. He'll have that putt to remain at three under. Also, for more on the flagsticks (No, really), read this.
7:21 p.m.: What a par for Russell Henley on No. 12 after being way right off the tee. Playing partner Richard Bland can't quite save his own as he drops another to fall to two under. Henley still leads by two at six under, but now over a pair of players as Matthew Wolff birdies No. 13 to join Mackenzie Hughes at four under. Louis Oosthuizen also birdies 13 to get back to three under.
7:14 p.m.: Bryson DeChambeau juuuuust barely clears the corner of the left penalty area off the tee on No. 17. Wow, that was close. It looks lie he'll be in decent shape now for his approach shot. Good thing he drank that extra protein shake today.
7:10 p.m.: The final group is struggling on the brutal par-4 12th. Both Henley and Bland missed the fairway and now have missed the green hitting lumber on their approach shots. A hole ahead, Louis Oosthuizen hits a beaufiful 3-wood to the middle of the par-5 13th green. He'll have an eagle look to erase the two shots he's dropped today thus far.
7:00 p.m.: Ha! What do we know? Henley finds the right greenside bunker on 11, but bounces his bunker shot in for a birdie to re-extend his lead to two. Bland, meanwhile bladed his bunker shot some 40 feet past (and above) the hole. He'll two-putt from there for bogey and fall to three-under. So maybe we were half right about the whole nerves thing.
At 13, Mackenzie Hughes drains a long eagle putt from the back of the green to vault a whole bunch of guys at three-under into solo second at four-under. We remember another guy who eagled the 13th on Saturday afternoon to shoot up the leaderboard . . .
6:55 p.m.: A bogey for Henley at the 10th brings him back to five-under and cuts his lead from two to one over Bland, who's in a bit of a tight spot in the left greenside bunker at the 11th. Much has been made of Henley never having finished top-10 in a major and Bland's one career win on the European Tour, but they're not showing many signs of faltering, if any. But this is now the back nine of the U.S. Open on Saturday.
6:45 p.m.: Rory McIlroy birdies the 18th and is first in the house at three-under. A Saturday 67 has put him back into contention for his first major win since 2014. He'll wait and see what the rest of the leaders do this evening. Whatever they do, he's likely gonna be teeing off later tomorrow afternoon.
Bryson remains unshakeable, hitting another two not-so-good shots and two more good ones. This time, that equals a par four on the 14th. He hasn't made a bogey today and is three-under on his round, three back of Henley.
6:30 p.m.: Tough scene at nine for Wolff. First fairway he's hit all day and it turns into a bogey after his approach shot gets stymied behind a tree and his subsquent bunker shot doesn't stay on the correct shelf. At 13, DeChambeau hits two not-so-good shots and and two great ones, which still equals a birdie four to move him to a now-crowded tie for third at three-under. Wolff, Rahm, Oosthuizen and DeChambeay are all two shots back of Henley.
6:12 p.m.: Wolff bounces back after his clutch bogey save on seven with a curling birdie on eight. He's tied with Bland and one shot back of Henley, who both cleaned up some non-gimmies for par on seven. Maybe U.S. Opens are just Wolff's "thing." The 2020 runner-up is making things happen after a seven-week break from the tour after not making much noise since last year's Open.
6:00 p.m.: The Golf Gods saw things getting exciting with some birdies and said "No more of that." McIlroy sends his drive over the edge of the cliffs on 15 and will have to take a drop. Wolff finds a fairway bunker, misses the green, misses the green again from a chipping area and then blasts that chip way past the hole. He'll have work to do for his bogey ... and he makes it! Henley also makes bogey at six.
Lets reset for a second, shall we? Henley leads at five-under. Bland is solo second, one shot back. Wolff and Oosthuizen are T3 at three-under. Six players, including McIlroy, DeChambeau and Rahm are at two-under.
5:39 p.m.: And there's the first real wobble of the day from Bland, who finds the right greenside bunker from the fairway on five and misses his par putt on the low side. He slips back to four-under, two back of Henley, who tapped in for a stress-free par. We've got four major champions and the World No. 3 within five shots of the lead.
5:30 p.m.: It's a birdie for Henley at the fourth, and he takes the solo lead at six-under, which is the most exciting thing happening for all of eight seconds before Rory hits the flagstick on the fly FROM 260 YARDS AWAY on 13. The ball bounced 50 feet to the right, but stayed on the green. His two-putt for birdie moves him to just three back. Things are officially getting spicy.
5:16 p.m.: Alright fine ... RORY COMIN'! The Northern Irishman is now three-under on his round as he pitches in from the cabbage short and right of the 12th green to get within three of Bland and Henley, who are tied at five-under. He's got the par-5 13th next, which is playing as the third-easiest hole today.
5:02 p.m.: We were about to say RORY COMIN'! But then he missed a short birdie attempt after hitting a beautiful shot on the par-3 11th. Still, he's very much in the mix at one under. Behind him, Bryson finally hit a bad shot, finding the penalty area right off the tee on No. 7. But after dropping on a hardpan lie, he hits a brilliant third shot and makes a six-footer for par. Incredible. DeChambeau remains at two under and he's now three behind co-leaders Henley and Bland after Henley's bogey at No. 2.
4:47 p.m.: Uh-oh, Bryson is heating up. The defending champ takes advantage of a monstrous drive on No. 6 by hitting a wedge to eight feet and draining the birdie. DeChambeau moves to two under on his round and two under for the tournament. But he doesn't make up any ground on the lead as Russell Henley birdies the opening hole to get to six under.
4:37 p.m.: Both Russell Henley and Richard Bland find the first fairway. So much for final-pairing nerves! Up ahead we're seeing plenty of nervous swings/putts from big-name players. Jon Rahm missed the green from 70 yards on No. 2, but saved par. Louis Oosthuizen just missed basically a gimme for birdie on No. 2. And Brooks Koepka has dropped back to even after missing a short putt of his own on No. 8. Welcome to the U.S. Open, baby!
4:28 p.m.: It's getting tough to watch Xander Schauffele putt as he misses another easy look, this time for birdie, on No. 2. Schauffele was one of the PGA Tour's best putters but decided to switch to the arm-lock method—which he thinks should be banned. We're beginning to think he should ban it because it's certainly not working and yet he's still in the mix this week.
4:20 p.m.: OK, we're 15 minutes from the final pairing teeing off in the third round. A reminder, that final pairing is Richard Bland and Russell Henley. Exactly the two golfers everyone thought would be in the final pairing. Bland, 48, just won his first European Tour title last month in his 478th career start. And Henley, despite having three PGA Tour titles at 32, has never finished in the top 10 at a major in 26 previous tries. Should be interesting!
4:15 p.m.: Pre-tournament favorite Jon Rahm finds a left fairway bunker with his opening tee shot. He's playing with Bubba Watson who blows one into the right rough. Something tells us these afternoon scores aren't going to be quite as good as what we saw this morning. . .
4:05 p.m.: Xander Schauffele opens with bogey after finding a greenside bunker, hitting to eight feet and missing. Schauffele drops back to one under with Koepka and DeChambeau. Playing partner Scottie Scheffler also bogeys the first. He's now back to even.
4:00 p.m.: It will just be a par for Bryson DeChambeau at No. 3, but considering he bogeyed Torrey Pines' shortest hole the first two days, he'll take it. Meanwhile, Brooks Koepka sucked one back too much on the par-4 fifth and missed a good look at birdie. Both of these guys remain at one under. . .
3:45 p.m.: After a couple early birdies to move into red figures, Brian Harman had a stunning four-putt on the seventh hole. From five feet. Woof, that was rough to watch. The triple bogey dropped him to two over.
3:40 p.m.: That's a really impressive birdie to start the third round for Bryson DeChambeau. The Incredible Bulk had a great lie in the right fairway bunker and was able to land it soft about 10 feet above the hole at No. 1. He gets it to red figures and just four back of the lead with that opening birdie.
3:19 p.m.: Brooks Koepka is on the course, and he has immediately made his presence felt. The four-time major champions starts with a birdie at the second hole to get to 1-under, just four back of the lead. Justin Thomas also birdied the first hole to get to 1-under par. This is starting to get interesting—Dustin Johnson and Rory McIlroy are also even par and just five back. This should be a great Saturday.
2:58 p.m.: Paul Casey wraps up the round of the day with a birdie at the 18th hole—following bogeys at 16 and 17—to card a third-round 67 to move to even par, currently good for T-14. Man, what could've been if Casey could've avoided those bogeys coming in. Casey made seven birdies on Saturday ... proving there are some low scores to be had on Saturday at Torrey Pines.
2:40 p.m.: Jon Rahm will be preparing for the biggest opportunity of his career as he eyes up his first major title. Think the nerves are big for the Spaniard? Doesn't look like it so far, as the telecast caught Rahm walking into Torrey Pines and chatting up fans!
2:30 p.m.: Paul Casey's tremendous round has gotten even better. The Englishman just carded his sixth birdie of the day after adding another at the 15th hole. He's now tied for 10th place—what a move as he's now 1-under and just four back of the lead.
2:19 p.m.: How about this start from Daniel Berger? The champion at Pebble Beach this year sticks it real tight on No. 1 to get it back to even par for the championship, which is just five back of the lead of Richard Bland and Russell Henley.
2:04 p.m.: As you might've seen above, USGA outgoing CEO Mike Davis grabbed a bag and looped on Saturday at the U.S. Open. With an odd number of competitors making the cut, Akshay Bhatia needed a marker to play with him in the first tee time of the day. USGA player relations director Jason Gore—a U.S. Open contender back at Pinehurst in 2005—stepped up, and he asked Davis to carry his bag around. The duo did it and looked like they had a blast.
"That was the first time I caddied since high school," Davis said after. That undoubtedly made a memorable week even more memorable for the outgoing USGA CEO.
1:53 p.m.: Paul Casey has the round of the morning thus far at Torrey Pines—and one of his five birdies thus far came on this terrific putt:
1:43 p.m.: Here are all the pin positions for the third round at Torrey Pines:
MORE U.S. OPEN 2021 STORIES FROM GOLF DIGEST: