Live Blog
U.S. Open 2021 live updates: Jon Rahm becomes first Spaniard to win the U.S. Open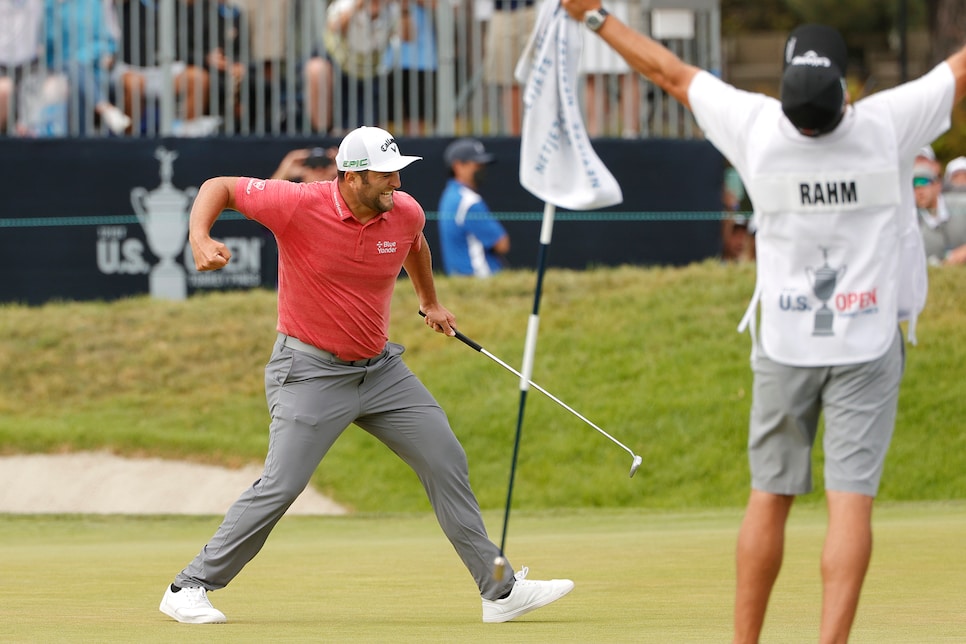 Sunday at Torrey Pines has given golf fans quite the gift before. We can only be so lucky if the excitement in 2021 matches a fraction of what 2008 gave us.
It's a crowded leader board with three players at the top—Louis Oosthuizen, Russell Henley and Mackenzie Hughes leading at 5-under. Oosthuizen's finishing eagle at the 54th hole on Saturday was very reminiscent of Tiger Woods in 2008. So perhaps that's a sign of what's in store for today.
(Scroll down for the latest updates)
The leader board is loaded beneath these three with Bryson DeChambeau and Rory McIlroy right behind the leaders at 3-under par, and Jon Rahm, Scottie Scheffler and Matthew Wolff all at 2-under and just three back of the lead. We know that the past 22 major champions were all within four of the lead—and the past seven U.S. Open winners were all either in first place or second place entering the final round.
The latest videos from Golf Digest
Let's hope we're in store for another special conclusion to a U.S. Open at Torrey Pines.
Here are the latest updates from Sunday at Torrey Pines (most recent updates at the top, all times eastern):
8:21 p.m.: You're not going to believe this, but Oosthuizen made his final birdie putt to secure solo second, marking his SIXTH runner-up finish in a major championship. Historic silver-medaling, and now the latest and greatest "what if?" in his fascinating career. Seriously, there's an argument to be made that he should have, at minimum, four to five majors. Yet still, just one.
For you math buffs, that means Rahm now has as many as Oosthuizen, and what feels like the first of many, though we've probably said that about so many guys who are still stuck on one (or none). This one was wildly impressive though, especially considering what he just went through at the Memorial Tournament a few weeks ago.
8:16 p.m.: Oosthuizen lays up, then fails to hole out for eagle, giving Jon Rahm the U.S. Open championship. He's the first Spaniard to ever win the event. What a finish. What a scene.
8:06 p.m.: Oosthuizen actually hit an excellent recovery shot under the hole, about 13 feet away. But his par putt just missed on the high side. At 18, he missed the fairway left, and will likely have to lay up, or go for it and literally just hope for the best. Nothing to lose now, right? Well, besides a ton of $$$.
7:54 p.m.: We regret to inform you that that's the ball game, folks. Oostie snipes one down the left side and into the hazard, an inexplicable error at the 17th, where you can blast it miles and miles to the right and be completely fine. Unless he can get up and down from around 160-170 yards, he's dead. Of course, he could still make eagle on 18.
7:51 p.m.: Holy stones, Louis Oosthuizen. He finds the green at 16, leaves his birdie putt about seven feet short and pours in the par putt. Sheesh. Heartstopping stuff. On to 17 we go. Rahm continues to watch, and wait.
7:34 p.m.: Goodness GRACIOUS he's done it again! After safely playing right of the pin from the bunker, Rahm pours in another left-to-righter for birdie to get to six under, one clear of Oosthuizen. Just a bananaland turn of events. How's this for a celly?
7:27 p.m.: Rahm hits a hellacious seed down the 18th fairway, setting up a perfect look at the green in two. After impact, he was staring it down, but it just kicked into the greenside bunker. Tricky sand shot coming up with the green running away from him and a front right pin. Back at 14, Oosthuizen makes his par, then finds the fairway at the 15th. Pars are going to be very good for him until the 18th, where he may need birdie to tie, or perhaps to win.
7:20 p.m.: (extreme Mike Breen voice) BANG!! BANG!! BANG!! Rahm drains it for bird at 17, and he's tied for the lead! Monstrous roar from the crowd. My goodness.
7:10 p.m.: Huge, huuuuge par from Louis Oosthuizen at the 13th. Things could have gone very poorly there after his layup, which found the right rough and had an impossible lie. Then his third chased up to the front edge of the green, but looked like it was going to roll all the way back down the hill. Somehow, it stayed put, shades of Fred Couples at the 1992 Masters. That might just be the break he needed to get major No. 2. He still needs to fend off Rahm, who found the fairway bunker at 17 and hit a dime with his second shot. About 20 feet left for birdie to tie. Here... we... GO.
7:00 p.m.: That looked good ... until it wasn't. Rory gets back to 2-under with a birdie after just missing a shot at eagle to really storm back into the thick of things. Only three shots back, but McIlroy's certainly running out of time. He'll need some magic.
6:54 p.m.: Would you look at that? Rory hits a hybrid 280-or-so yards to get within 25 feet of the hole for eagle on No. 13. Is he back? What's happening? Still just a one-shot lead for Louis. Plenty of time for some craziness to happen. This is fun.
6:43 p.m.: You can't say that Bryson doesn't love product placement. DeChambeau bombs the ball over the green and right next to a Stella Artois box. Couldn't hurt to have one after a swing like that. Seems like the defending champ has taken himself out of the conversation with all of these troubles on No. 13.
6:39 p.m.: "An unruly spectator." That's a nice way to put it.
6:35 p.m.: It looks like no one wants to win right now. Brooks misses his par putt on the final hole, Bryson slips and may have slipped away from a legit shot at defending his champ, and Rory doubles at 12. Not a great few minutes for the best golf has to offer. It's shaping up to be a Oosthuizen vs. Rahm battle with the former thru 11 and the latter thru 13.
6:29 p.m.: BIG missed putt there on No. 11 by Oosthuizen to sink to 5-under. Louis only has a one shot lead now over Jon Rahm and both still have plenty of golf left to play.
Ahh. Well, that will be one to forget for Brooks Koepka on No. 18 who may have just pulled himself out of contention after chipping the ball right into the bunker. He escapes masterfully and will have a chance to par but that missed chance for birdie might haunt him with just Louis and Rahm ahead of him.
6:23 p.m.: You may have missed it during the tree madness. We almost did. But, Bryson missed a makeable par putt on No. 12 to fall back to 3-under thru 12 and T-4. The leader board has spaced out a bit after the earlier logjam at the top. So much is happening.
6:19 p.m.: Koepka misses a strong chance for birdie on No. 17. 11 footer after a bogey on 16 pushed him farther out of contention. Three shots back and tied up with Rory. Can anyone take down Louis?
It's in the tree! One more time ... it's in the tree! Mackenzie Hughes will need to buy a lottery ticket after such an unlucky break, as his shot bounced off the cart path and got stuck behind the leaves, and now the fans are chanting "in the tree." It doesn't get any better than this, folks. We're branching out here.
6:09 p.m.: There has been a lot of stellar golf today. Matthew Wolff on No. 12 does not join that elite play. Dropping to 1-over, Wolff three-putts to fall back even further. It was a strong showing early on at the U.S. Open for the phenom, so he'll need to forget that one.
And we have a new solo leader now at Torrey Pines. Louis Oosthuizen takes the outright No. 1 spot after sinking a long birdie putt to get to 6-under. A concurrent bogey for Bryson DeChambeau drops him back two shots to 4-under and he is now at T-2, knotted up with Rahm and Hughes. A bit of a run for Louis now.
5:58 p.m.: A tricky par save for Jon Rahm will keep him just one back of the leaders, Bryson and Louis. And yes ... Oosthuizen is now atop the leader board along with DeChambeau after a clutch birdie putt at No. 9. Both are at 5-under, but there is plenty of jockeying right behind them.
5:52 p.m.: NBC goes split screen for Brooks and Bryson birdie putts, Brooks' at 15 and Bryson's at 10. This is ELECTRIC. Koepka drains his, a left to right sidewinder, to get to four under. DeChambeau misses and stays at five. This is outta control.
5:47 p.m.: Big hat tip to Guido Migliozzi, who finished with a three-under 68 and is currently tied for eighth at two under, and also the leader in the clubhouse. This is his first career major championship. What a PLAYER. Just what golf needed, another young star.
5:38 p.m.: Those chasing Bryson will be pleased to know he did not birdie the par-5 ninth, a huge moment. He did make par to stay at five under, but with his length you could almost pencil him in for birdie there. Instead, he's still just one up on Rahm, Morikawa, McIlroy and Oosthuizen, who, surprise, surprise, cannot buy a putt on a major championship Sunday. Up at the 14th, Koepka's chances looked like they were dead after he missed the green left, but his chip hit the flagstick and nearly dropped. Cleanup duty for par keeps him at three under. LurkTown, USA.
5:24 p.m.: Unbelievable turn of events at the par-5 ninth for Jon Rahm, who thought his tee shot was out of bounds but he stayed in by a yard or so. He then laid up, then nearly holed out for eagle. He still has four feet left for birdie, which will get him to four under when it drops. In the group behind, Bryson finds a fairway bunker from the tee, meaning he'll have to lay up. Up ahead at 13, Brooks Koepka makes a huge birdie to get to three under. Running out of holes, but he's only two back. Just got to be thinking about posting five or six under now.
5:19 p.m.: Unfortunately, Henley and Hughes are both going backwards, what most skeptics feared with a pair of guys without much experience contending at majors. Hughes is still just two back at three under, while Henley is about to drop all the way to two under with another bogey at No. 8.
5:09 p.m.: O M G. Bryson DeChambeau just hit the shot of the tournament at the par-3 eighth, nearly jarring it for an ace. CHAOS!! He'll tap that in for the solo lead in the U.S. Open, which he is the reigning champ of, in case you were unaware.
5 p.m.: Collin Morikawa bettors, look away. After hitting one of his famous world-class iron shots to five feet at the par-3 eighth, he misses the putt, badly. That's always the worry with him. Still, it's a par, keeping him at three under, which is now just ONE off the lead after Henley made bogey at the sixth. He's tied with McIlroy, DeChambeau and Oosthuizen, while the likes of Koepka, Wolff, Rahm, Paul Casey (!) and Morikawa are just one back. OK, NOW it's all happening.
4:40 p.m.: Oof. Oosthuizen drops his first shot of the day, which means Russell Henley is once again the solo leader at five under. Henley made a nice bounce back birdie at No. 3, parred the fourth, then two-putted for par at the fifth. Mackenzie Huges has made three straight pars since his opening bogey, putting him one off the lead. While all that was happening, Matthew Wolff buried a long birdie putt at the sixth to get back to three under.
4:37 p.m.: This leader board is officially too much to handle. Bryson DeChambeau just joined the mix at four under with a birdie at the fifth. He's tied with Rory. Oosthuizen still leads at five under. Koepka is two back. And we're just getting started. We did lose one of the big boys, unfortunately. Justin Thomas' tee shot at the 10th went out of bounds, leading to a double bogey and dropping him to even par. He needs a miracle now.
4:30 p.m.: Our first Rory McIlroy update is a good one, as Rory makes a bomb for birdie at the fourth to reach four under. He's within one. IT'S ALL HAPPENING!!
4:24 p.m.: Uh oh. Brooks Koepka just birdied the ninth, turning in three under. He's two back. Now you're all in big trouble.
4:10 p.m.: After an all-time up and down par save at the par-3 third, Jon Rahm gives one back at the fourth, just missing for par on the left edge. He drops back to three under, two back of Louis Oosthuizen, who is now the solo leader after Mackenzie Hughes and Russell Henley dropped shots early. Somewhere, Johnny Miller is saying "nerves" over and over and over again.
By the way, some seriously big dogs not named Jon Rahm are charging, too. Brooks Koepka just made another birdie to get to two under, and Justin Thomas just made the turn in two under. Collin Morikawa made another birdie as well, putting him at three under for the tournament. And how about Italy's Guido Migliozzi, who is three under through 12 and two under for the championship. Go Guido, Go!
3:44 p.m.: That's an ideal start for Jon Rahm, who birdies the first hole to get within two shots. The betting favorite is now in the fairway at the second hole and is in TIGHT ... this is gonna be fun.
And Rahm nails the three-footer for birdie ... Rahm is now ONE BACK!
3:19 p.m.: Justin Thomas has gotten it to three back like Xander with a 33-footer for birdie on the fifth hole. The 2017 PGA champion could go low early Sunday to put the pressure here on the leaders.
3:03 p.m.: Xander Schauffele starts the day four back, but the SoCal native has trimmed the lead to three already with a birdie at the first hole.
2:20 p.m.: What a dream Father's Day for Mackenzie Hughes, who arrives at Torrey Pines today alongside his son, Kenton, to prepare for his spot in the final pairing of the U.S. Open. That's the dream of every competitor, and what a special situation for the Canadian.
2:08 p.m.: Phil Mickelson wraps up a disappointing week at Torrey Pines with a four-over 75. The 51-year-old had grand plans of following up his big PGA Championship victory with a win in his hometown, but that may have been expecting too much. Lefty will leave Torrey Pines still U.S. Open-less.
1:45 p.m.: Here are all the pin positions for Sunday at Torrey Pines. Look at all those pins cut on the edge ... this should be an exciting final round!
MORE U.S. OPEN 2021 STORIES FROM GOLF DIGEST: