Bonus Golf
U.S. Open playoff 2021: The format, rules and holes played at Torrey Pines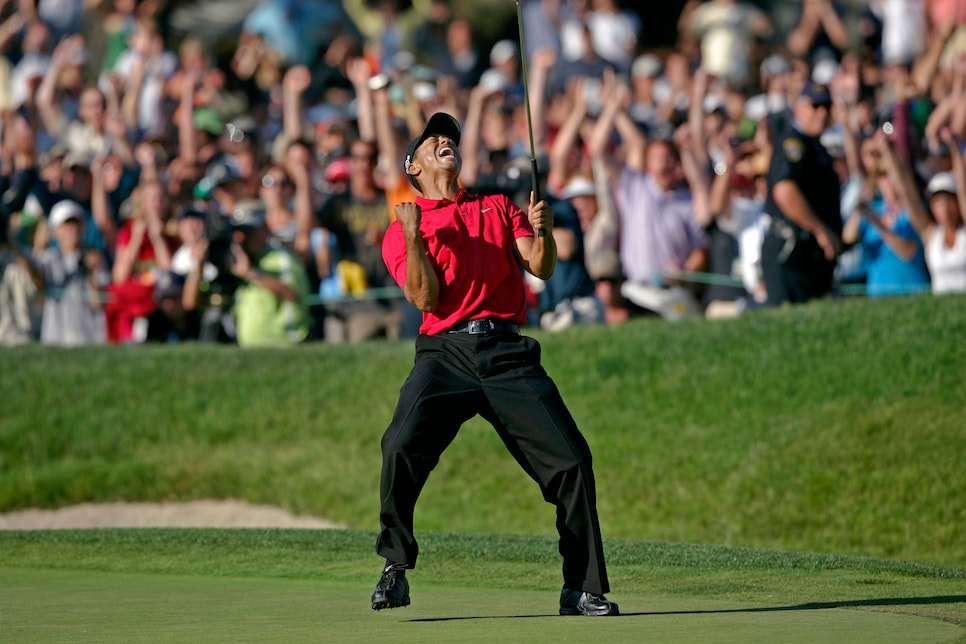 Tiger Woods made this birdie putt on the 18th hole Sunday at Torrey Pines in 2008 to force the last playoff in U.S. Open history.
Los Angeles Times via Getty Images
The U.S. Open has long been considered an arduous test. Part of that reputation has come from the extreme manner in which the USGA would determine a winner if there was a tie at the end of regulation play. If things were all knotted up after 72 holes, the championship would be decided in a playoff, naturally. But not just any ordinary playoff. Try an 18-hole playoff or, in some cases, twice that long.
Indeed, from 1928 to 1931, the USGA employed a 36-hole playoff format at the U.S. Open. In 1931, when Billy Burke and George Von Elm remained tied after the playoff, they played another 36-hole playoff. Burke eventually won the title—by one shot—after playing 144 holes.
Quickly, the USGA eased up on its rigidness, reducing playoffs back to 18 holes, which still made it an outlier in that by the 1980s every other major championship used something still shorter.
Finally, in 2018 officials followed the lead of pretty much every professional tour and adopted a new, shorter playoff format that would allow for the championship to (hopefully) wrap up on Sunday rather than carry over another day.
"We know how important it is to everyone in the golf world to see play conclude on the Sunday of a major championship, and to award the trophy to the champion," said Mike Davis, CEO of the USGA. "After receiving input from a variety of constituents, including players, fans, volunteers, officials and our broadcast partners, it clearly came across as something that everyone valued, and would benefit from."
However, the USGA doesn't follow the PGA Tour in using sudden death to break the tie. Rather, a two-hole aggregate playoff is the format that will be used at Torrey Pines should there be a tie on Sunday. The two-hole aggregate playoff would begin on No. 7 then proceed to No. 18. If there's still a tie, sudden-death golf would be on Nos. 7, 8 and 18 until someone wins.
The two-hole aggregate has yet to be used in the men's Open, but was used at the 2018 U.S. Women's Open, where Ariya Jutanugarn held off Hyo Joo Kim, and two weeks ago when Yuka Saso beat Nasa Hataoka at The Olympic Club.
Interestingly, none of the four major championships have the same playoff format in place. The PGA Championship uses a three-hole aggregate, while the Open Championship goes with four holes. The Masters is the only major that uses a pure sudden-death format.
There have been 33 playoffs in U.S. Open history, the last coming in 2008 when Tiger Woods defeated Rocco Mediate at Torrey Pines in 19 holes.