And the winner is …
U.S. Open 2021: Ranking the 11 guys with the best chance to win Sunday at Torrey Pines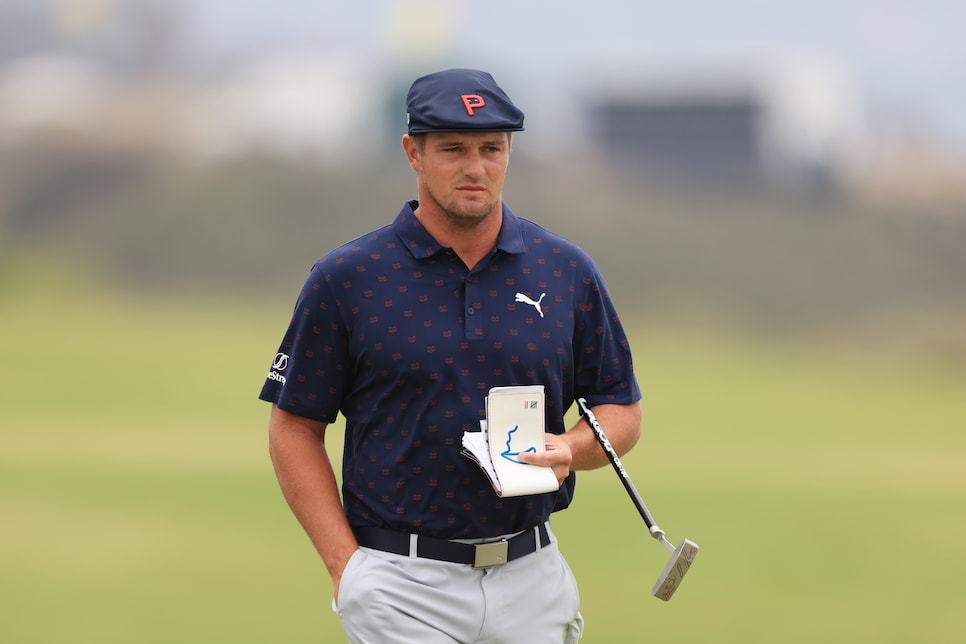 At risk of dipping our toes into the fiery debate over Torrey Pines' worthiness as a U.S. Open course, one measure of a good venue is the leader board it produces. And this one is loaded.
Loaded, but also diverse. It seems no great U.S. Open is complete without a shock contender—hello, Rocco Mediate!—and while Richard Bland faded considerably on Saturday, Russell Henley and Mackenzie Hughes seem poised to feature in this movie until the very last minute. Behind them loom a bevy of stars waiting in the wings, relishing their chance to make the type of Sunday charge dreams are made of. Here are 11 guys, ranked, who we think have the best opportunity to leave San Diego with the trophy.
Bryson DeChambeau – Déjà vu?
It's all starting to feel a bit like Winged Foot, isn't it? Early in the week, DeChambeau was asked to compare Torrey Pines with last year's U.S. Open venue—where, of course, he romped to a six-shot victory—and his answer was telling.
"I think it's going to be the same strategy. If I can keep hitting it to the front of greens, two-putting when I get into trouble, I'm going to give myself a chance this week. When I hit the fairway, I have to take advantage of those holes … for sure, just getting it as close as I can to the green is going to be a strategy of mine."
Translation: I'm ripping driver everywhere I can and re-assessing after that. Torrey Pines and Winged Foot have their marked differences—Torrey's critics have reminded us of that quite a few times this week—but they are not dissimilar in one key way: they're long, the fairways are narrow and the rough is thick. Torrey's fairways haven't been quite as hard to hit this week as Winged Foot's were but they're close, and when the rough is as long as it is and players are in it so often, being closer to the hole is simply a massive advantage. DeChambeau has hit exactly half his fairways this week, right around the field average, and hit only five on Saturday … and still shot a bogey-free 68. He's simply mastered the art of bombing it long, saving par when he gets out of position and capitalizing when he's in position. For the second straight U.S. Open, he sits three under after 54 holes, not quite leading but right there. Last year, he played beautifully on Sunday to seal the deal. Tomorrow, we'll see.
Louis Oosthuizen – He's overdue
His winding, perfect eagle putt on 18 gave us serious Tiger '08 vibes. Well, except for one guy being a cyborg singularly focused on greatness, and the other being an easy-as-you-like South African who'd rather be riding a tractor on his farm.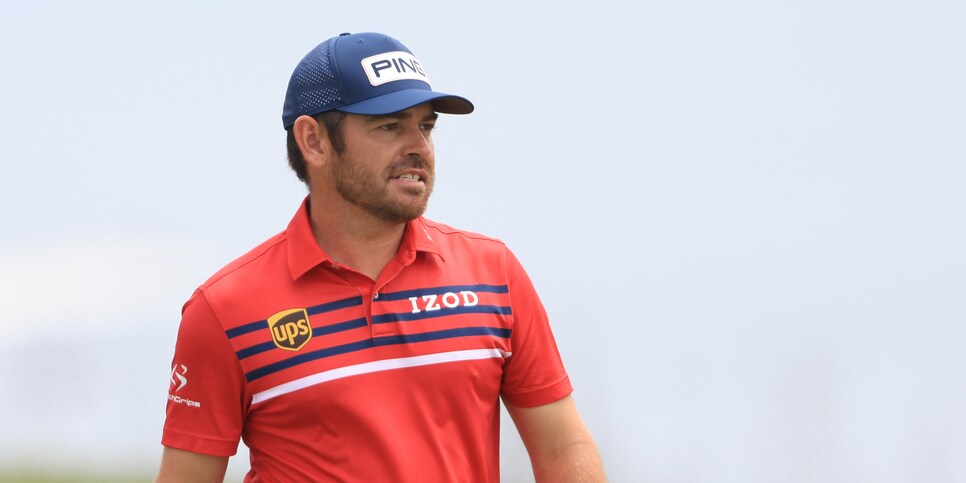 We kid, but that's been the wrap on Louis in recent years. That, and his inability to cash in on his all-world talent by winning that second major. It hasn't been for a lack of chances; he's finished runner-up at least once in all of them, and he emerged as Phil Mickelson's chief challenger last month at Kiawah. The man seems to creep his way up leader boards in big tournaments, on demanding setups, and this certainly qualifies. Most encouraging—and surprising—about his play this year has been his putting. While we associate Louis with that syrupy rhythm and picture-perfect swing, he actually leads the Tour in strokes gained/putting. He's firing on all cylinders, and the law of averages suggests he'll kick down the door one of these times.
Oh, and about that whole not-caring thing? It's hogwash. He told Golf Channel earlier this week that, as he nears 40, he absolutely feels a sense of urgency to win a second major. He'd be a hugely popular winner.
Rory McIlroy – He's over, overdue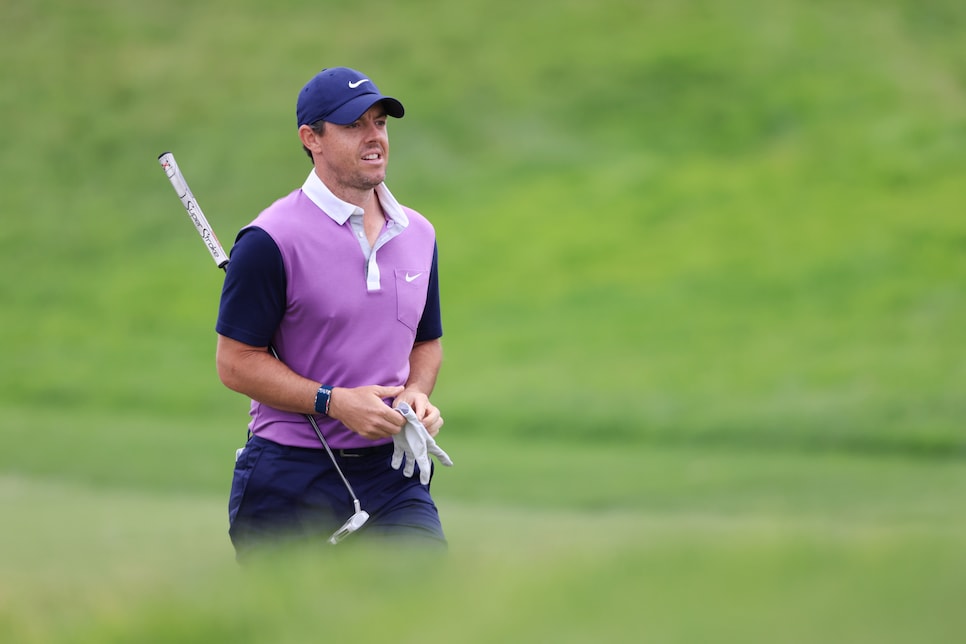 The issue throughout this seven-year major drought hasn't been his weekend play; it's that he's shot himself in the foot so many times on Thursday and Friday. Consider this number that the Stat Oracle Justin Ray dug up: Since 2017, McIlroy and Brooks Koepka have the exact same weekend-scoring average at the majors. In that time, Brooks has won four.
McIlroy was able to tread water on Thursday and Friday at Torrey Pines, a much-needed late birdie on Friday getting him to one over and just six back for the tournament heading into the weekend. Not out of it, but he needed a low one to have a chance and he got it, making four birdies on his back nine for a 67 that ties the low round of the week. He now has his first really, really good chance going into a major Sunday since the 2018 Masters. He put up a clunker that day and never quite challenged Patrick Reed—but Rory McIlroy is eventually going to win another major, right? So why not this week? He's played well at Torrey in the past, he's got his family with him this week … and he's clearly got a dinner routine that's working for him. "I've had the same chicken sandwich five nights in a row from room service," he said, "so I'll probably make it six nights in a row." If it ain't broke …
Russell Henley – He's one helluva ball striker
Henley's always been a tricky golfer to predict, because he's a damn good iron player, and those tend to fare better than he has in his PGA Tour career. The 32-year-old ranks seventh in strokes gained/approach this season—surrounded by guys like Collin Morikawa, Justin Thomas and Will Zalatoris—and he ranked third last year, so it's no fluke. But the rest of his game lags well behind, which helps explain why he's No. 63 in the world and hasn't won in more than four years. And while he's actually losing shots off the tee for the week, his always-stellar approach play—he leads the field in strokes gained/approach—has been joined by a hot putter, as he's picked up nearly five shots on the greens at Torrey. He looked rock-solid on Saturday, birdieing the first hole and playing mostly mistake-free to get a piece of the 54-hole lead. Sunday afternoon major pressure is a different story, and with zero top-10 finishes in majors to his name, he doesn't have a whole lot to draw on. Still, if he continues to putt this well, there's no reason to believe his iron play will regress.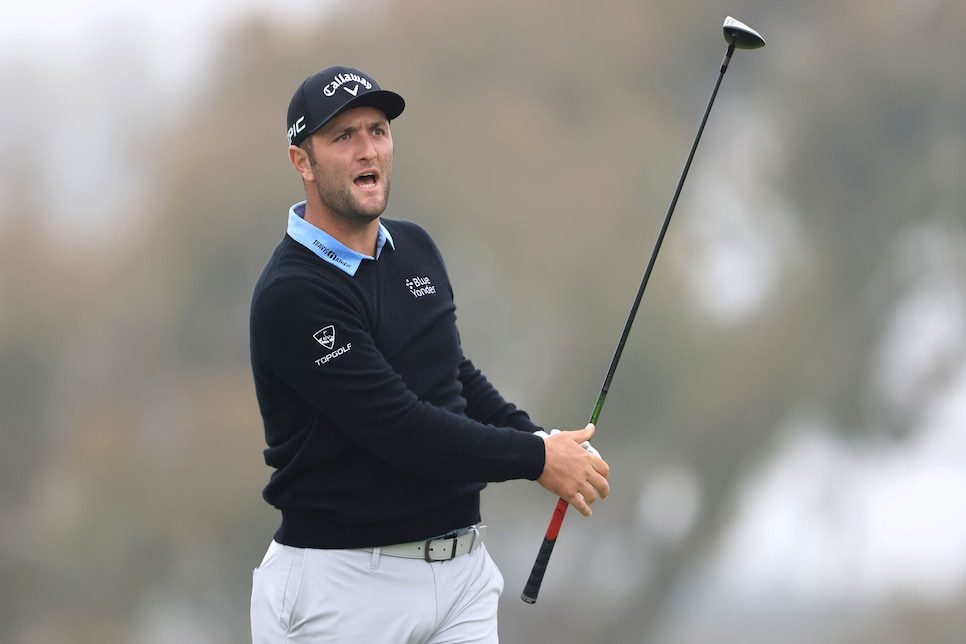 Jon Rahm – He doesn't have his A game, and still …
It doesn't feel like he's played particularly well, and he's just three back. Rahm came into this week as something of a favorite, having blitzed the field through three days at the Memorial and having cleared COVID protocol in time to put in some real prep. Plus, he's feasted on Torrey. But he's been a bit off the first three days and would be right there if not for a really tough break—he hit the flag with his third shot on 14, which took the spin off a shot that looked perfect. Instead, double bogey. He's in perfect position to post a 68 and make those guys look at it all afternoon.
Example 1,342,235,379 of golf being impossible to predict. Coming into this week, the soft-spoken Canadian had played eight major championships and missed the cut in six of them. His best finish in one was a T-40 at this year's Masters. He came into this week having missed five cuts in a row. So, of course, he's tied for the 54-hole lead at the United States Open. There's not a bunch of evidence to suggest Hughes is ready to win a major, but the U.S. Open has produced some head-scratching winners in its history. And, to be fair: the guy is tied for the lead and he reached the Tour Championship last year, so it's not like he's some driving range pro who had the day of his life in Final Qualifying. Much, much stranger things have happened in this game.
Scottie Scheffler, Matthew Wolff, Dustin Johnson, Collin Morikawa, Xander Schauffele – Need some help, but not impossible
Scheffler and Wolff are three back and the rest are four, but the deficit isn't the issue. It's the number and quality of players above them on the leader board, and the way this course is playing. It hasn't been a carnage fest, but Torrey also hasn't yielded a low one all week—the low round of the tournament is 67, and Sunday should bring some tougher pins and all that pressure. A 67 from any of these guys probably isn't enough to get the job done, though it is indeed possible for one of these world-class players to fire a 65 … or for that 67 to be enough. This is a chaotic game. Hence, their inclusion on this list.
MORE U.S. OPEN 2021 STORIES FROM GOLF DIGEST: