News
U.S. Open 2020: This stats guru's strategy for playing Winged Foot will have traditionalists freaking out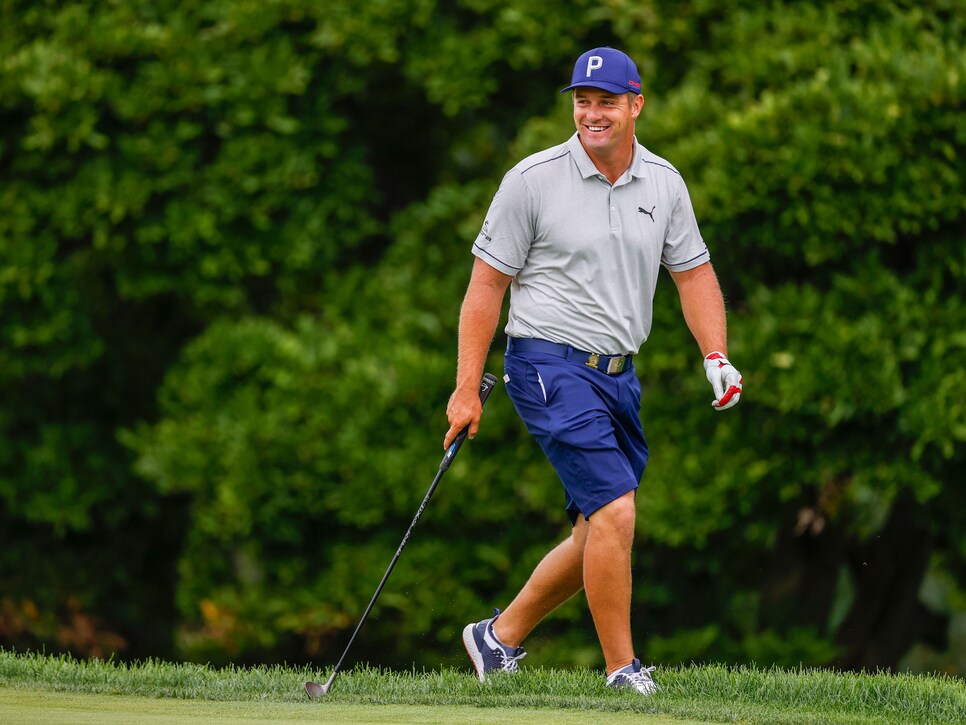 Bryson DeChambeau is among roughly 20 players in the field at the U.S. Open who work with stats guru Scott Fawcett and his DECADE course management system.
Jeff Haynes
MAMARONECK, N.Y. — The sixth at Winged Foot is the prototypical risk-reward hole. At 321 yards, it is by far the shortest par 4 on the West course. It also has the narrowest fairway, a little more than 20 yards wide, with a bunker down the left. The hole has changed quite a bit from the last time the U.S. Open was here, 14 years ago. Gone is a bunker just left of the green, replaced by thick rough. There remains, however, a bunker to the right of the putting surface and a creek just long of it. "A short but dangerous par 4," is how Gil Hanse, the architect who has overseen the recent changes at Winged Foot, describes it.
On holes like these, there are two options—get aggressive and go for the green, or play conservative and lay back with an iron. At least, that's the old approach to strategy, the one that ruled the day in 2006.
"Going for the green is the only play," says Scott Fawcett, architecture be damned. Fawcett, 47, is the creator of DECADE, a data-based course-management system that has steadily grown in popularity among PGA Tour players. "One-hundred percent the only play.
"The fairway is only 24 yards wide short of that bunker. You're just not going to hit that often enough to make it worth the distance you're giving up. Say you hit it around 75 percent of the time. So 25 percent of the time, you miss the fairway and you're 120 away. You're so dead it's ridiculous."
Instead, Fawcett will tell his players to go for it. Except don't aim at the green. Aim just left of it. Because that's the centerline of a 65-yard shot pattern at 300 yards—which is about average dispersion for a tour pro in competition. And, according to Fawcett's philosophy, that gives you the best chance of making the best score. If you hit the green, fantastic. If you miss the green in the bunker right, easy enough. If you miss it left, just get it somewhere on the putting surface and grind out a par.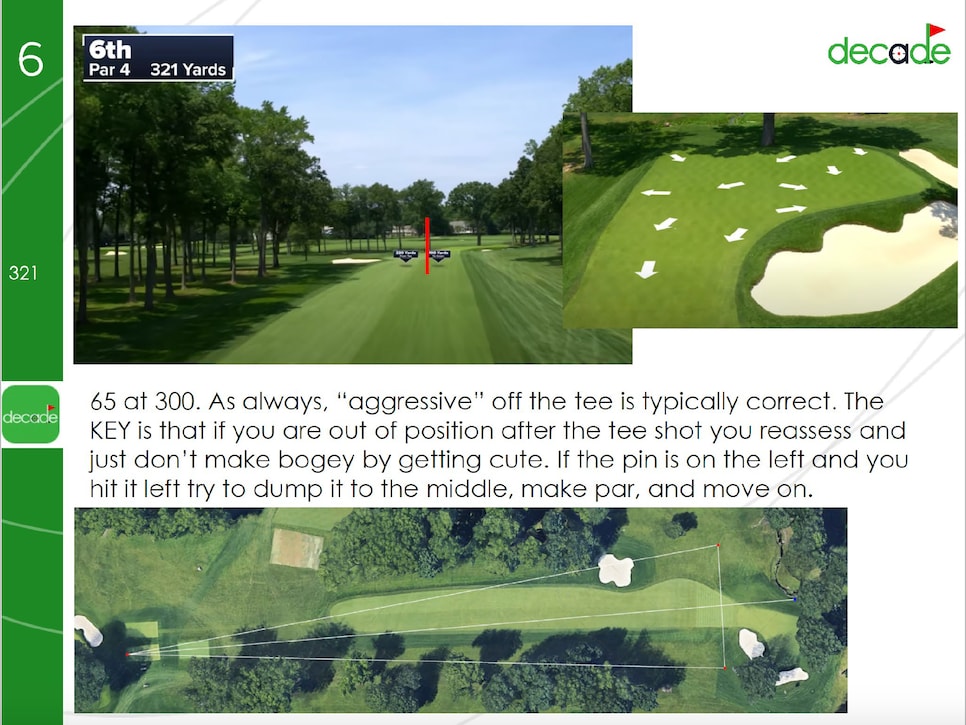 Fawcett's DECADE strategy for playing Winged Foot West's sixth hole off the tee.
After playing a few years on the mini-tours, Fawcett created DECADE in 2014, almost by accident. He was caddieing for Will Zalatoris—who is one of 20-or-so players in the field this week who work with Fawcett—at the 2014 Texas State Amateur. Fawcett convinced Zalatoris to hit a different club on nine tee shots. Zalatoris won by three. Fawcett then decided to codify his hunches by combining his two loves, golf and crunching data with spreadsheets, to help players of all levels understand how to shoot lower scores.
The way Fawcett speaks about attacking Winged Foot presents a fascinating juxtaposition—he's encouraging players to bring new-school strategy to this most classic golf course. A video surfaced on Monday of Bryson DeChambeau—who has credited Fawcett with saving him a stroke per round—taking a preposterous line off the eighth tee. It's a dogleg right, and classic wisdom suggests a cut shot that starts down the left side of the fairway and bleeds back to the middle. DeChambeau pulled driver and sent a high draw directly over trees just to right of the tee box.
"I'm hitting it as far as I possibly can up there," DeChambeau said. "Even if it's in the rough, I can still get it to the front edge or the middle of the greens with pitching wedges or 9-irons. That's the beauty of my length and that advantage."
DeChambeau does allow for some adjustments in strategy. "Now, obviously, if it's into the wind and there's some of those situations going on, it's going to be different. There's certain holes I might lay up on just because of the situation. But for the most part I'm going to be trying to go after it as much as I possibly can.
Earlier this year, DeChambeau was asked how he would play another classic American course with a golden-age architect: Detroit Golf Club, designed by Donald Ross. "There's a lot of bunkers that are around like 290, so hopefully I'll be able to clear those and take those out of play. So, sorry, Mr. Ross, but you know, it is what it is."
Fawcett concurs. He does not care one bit about how you're "supposed" to play a golf course, how it has been played in the past or how an architect envisioned it. He pulls up the course on Google images, overlays his triangular graphic and lets the visual speak for itself.
"Look, it's a photo of earth," Fawcett says. "It can't be wrong. If you can fit it into this grid, here it is."
Of course, it's not always that simple. Fawcett rarely attends tour events, so he cannot judge the thickness of a tree, or see how exactly uphill or downhill a hole is, or feel what the wind is doing. His packets, which he makes for events across a number of tours, are meant as loose guidelines to teach players how to think their way around specific courses. Teach a man to fish …
"I try not to use the words 'conservative' and 'aggressive' because that's not what this is," Fawcett says with conviction. His steadfastness has resulted in more than a few heated arguments on social media. "It's just mathematically correct."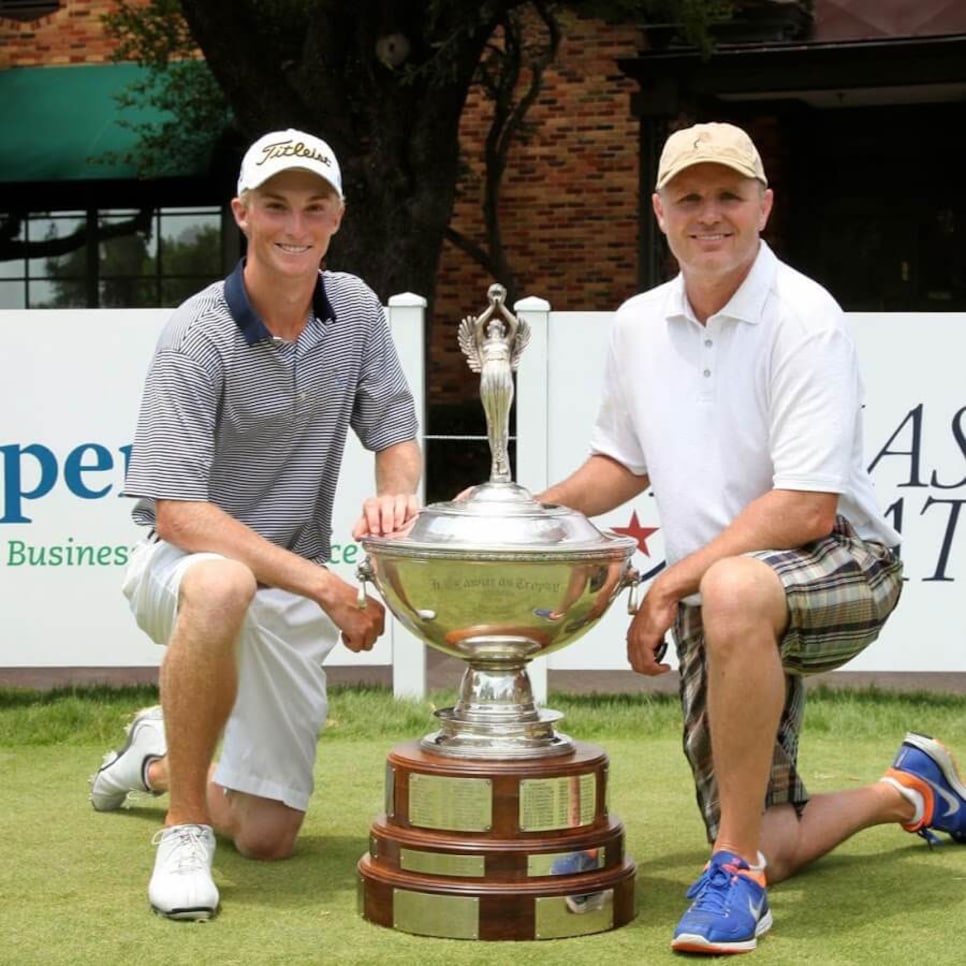 Scott Fawcett (right) poses with Will Zalatoris after winning the Texas State Amateur in 2014.
He may not like the word, but his off-the-tee advice certainly qualifies as aggressive, at least by traditional standards. His general take on this week at Winged Foot: Because the fairways are so hard to hit, everyone in the field is going to miss plenty of them. Some might read that as reason to hit less than driver, to try to lay back and find the fairway. "You're probably better off with a 4-iron from the fairway than a 7-iron from the rough," Gary Woodland said. That assumes, however, that you're hitting the fairway every time with the shorter club. Yet that isn't always the case. So … if everyone's missing fairways, wouldn't you rather be way closer to the green when you inevitably find the rough?
Fawcett thinks 3-wood is probably the play on the par-4 15, not an iron, which a lot of guys will pull as they try to avoid a creek that runs through the fairway and keeps the driver in most players' bags. The big stick comes out on 11, however, even though it's only 383 yards and the fairway is "like a hog's back," according to Rory McIlroy. And Fawcett wants his guys to rip driver at the left edge of the fairway bunker on 18 and not worry about missing left, which is the inside of the dogleg and not a good spot. Again, it's about maximizing position when accounting for the 65-yard dispersion pattern.
With approach shots, it's a different story. Fawcett is a huge proponent of playing to the "fat side" of the green, which means aiming an approach right of the flag if it's on the left, and left of the flag if it's on the right. It's a strategy that requires a ton of discipline—even with a pitching wedge, you're almost always playing at least slightly away from the pin.
"I've had mini-tour guys tell me they can't shoot 30 under playing away from the flag so much. But then you see Dustin Johnson shoot 30 under in a tour event, playing to the fat side of the green 71 percent of the time."
Not every player subscribes to the system, which has no time at all for old golf adages like "taking one side of the course out of play" and "knowing when to fire at flags and knowing when to play safe." And yet plenty of players, according to Fawcett, are employing it without even knowing it.
"Tiger was in the [TV] booth at the Hero one time, and they asked him do you play more aggressively or conservatively than he did when he was younger. He said, 'I play aggressively to my spots. But my spot might be considered more conservative.' And that's so spot on. I truly do believe at this level, that the hardest thing to do is aim a shot away from the pin and truly try to hit it there.
"That's what Tiger was the best that's ever lived at—trusting his target. And trusting his shot dispersion."