News
U.S. Open 2020: You never would have expected to see this mark fall at Winged Foot of all places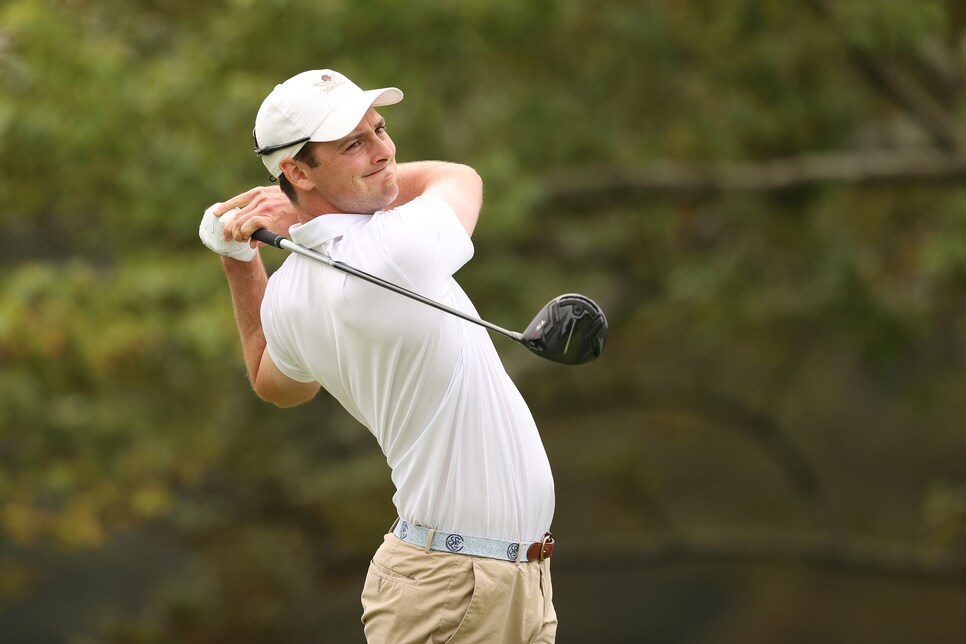 Lukas Michel plays his tee shot on the second hole during the first round of the U.S. Open.
Gregory Shamus
When Davis Riley made a 14-foot putt for birdie on the par-4 17th and then parred the 18th in the first round of the 2020 U.S. Open, he made history. Not for himself, mind you. Riley's finish at Winged Foot Golf Club's West Course merely allowed him to accomplish what many a weekend warrior aspires to: breaking 80. Riley's 79, however, left amateur Lukas Michel, who triple bogeyed the final hole, as the lone man in the field with an 80 and that's a record—the fewest first-round scores in the 80s in U.S. Open history.
That this somewhat dubious mark occurred at Winged Foot—site of "The Massacre" in 1974 and generally regarded as one of the tougher U.S. Open tests, is somewhat interesting to ponder. In prior Opens at Winged Foot the number of first-round 80s or higher were 22 in 2006; 15 in 1984; 44 in 1974; 37 in 1959 and 67 in 1929. The previous low of any Open opening round was two scores in the 80s in the first round in 2003 at Olympia Fields. In seven of the last 11 U.S. Opens, the number of rounds 80 or higher in the first round was in single digits.
Of course, when you go back over 120 U.S. Opens you tend to find some intriguing numbers. The average number of first-round scores of 80 or higher is 35.08. The most came in 1919 when 123 players at Brae Burn CC in West Newton, Mass., went 80 or higher, leaving just four players below that mark for the opening round. Twice every player in the field shot 80 or higher in the opening 18—in the 1895 inaugural, when all 10 players did so and more interesting and in 1901, when all 54 players failed to break 80 at Myopia Hunt Club. That said, no one broke 80 for the entire tournament that year. In 1908, again at Myopia Hunt, 83 of 84 players in the first round started their opening 18-hole score with an 8.
Here's a year-by-year breakdown on the number of first-round 80s for all 120 U.S. Opens. A list that everyday players can relate to and Davis Riley is happy not to have joined.
2019: 8
2018: 29
2017: 4
2016: 6
2015: 5
2014: 4
2013: 10
2012: 13
2011: 4
2010: 15
2009: 9
2008: 20
2007:17
2006: 22
2005: 12
2004: 4
2003: 2
2002: 15
2001: 8
2000: 16
1999: 3
1998: 18
1997: 7
1996: 9
1995: 8
1994:13
1993: 5
1992: 13
1991: 17
1990: 9
1989: 6
1988: 19
1987: 6
1986: 45
1985: 19
1984: 15
1983: 44
1982: 38
1981: 6
1980: 17
1979: 40
1978: 4
1977: 17
1976: 39
1975: 24
1974: 44
1973: 31
1972: 48
1971: 8
1970: 67
1969: 24
1968: 16
1967: 16
1966: 20
1965: 43
1964: 31
1963: 44
1962: 21
1961: 21
1960: 27
1959: 37
1958: 78
1957: 34
1956: 36
1955: 77
1954: 68
1953: 45
1952: 42
1951: 59
1950: 32
1949: 40
1948: 31
1947: 25
1946: 47
1945: 48
1941: 49
1940: 53
1939: 49
1938: 79
1937: 54
1936: 27
1935: 92
1934: 71
1933: 58
1932: 93
1931: 64
1930: 56
1929: 67
1928: 67
1927: 101
1926: 69
1925: 35
1924: 43
1923: 30
1922: 23
1921: 47
1920: 27
1919: 123
1916: 12
1915: 29
1914: 15
1913: 36
1912: 71
1911: 51
1910: 39
1909: 36
1908: 83
1907: 53
1906: 43
1905: 71
1904: 60
1903: 48
1902: 77
1901: 54
1900: 54
1899: 65
1898: 44
1897: 34
1896: 24
1895: 10