The Grind
Shane Lowry's winning hangover, Sergio Garcia's controversial audible and Brooks/Jena's wild adventure at sea
Welcome to another edition of The Grind, where we don't envy Netflix editors right now. After the craziest season in PGA Tour history ahead of the streaming service's highly anticipated behind-the-scenes show, we can't even imagine how much footage there is to go through! And even with the PGA Tour having a rare off week, the drama continued with tensions flaring between players and Queen Elizabeth II (RIP) dying in the middle of the DP World Tour's flagship event. These poor people must be working around the clock! But as we know, having too much content is a lot better than not having enough. And we've got plenty to go through once again this week. Let's get to it.
Shane Lowry: After a couple brutal beats earlier in the year that had him talking about the golf gods, the Irishman notched another signature victory at the BMW PGA Championship. The event may have only been 54 holes, but he still managed a 72-hole-looking 17-under-par score at Wentworth.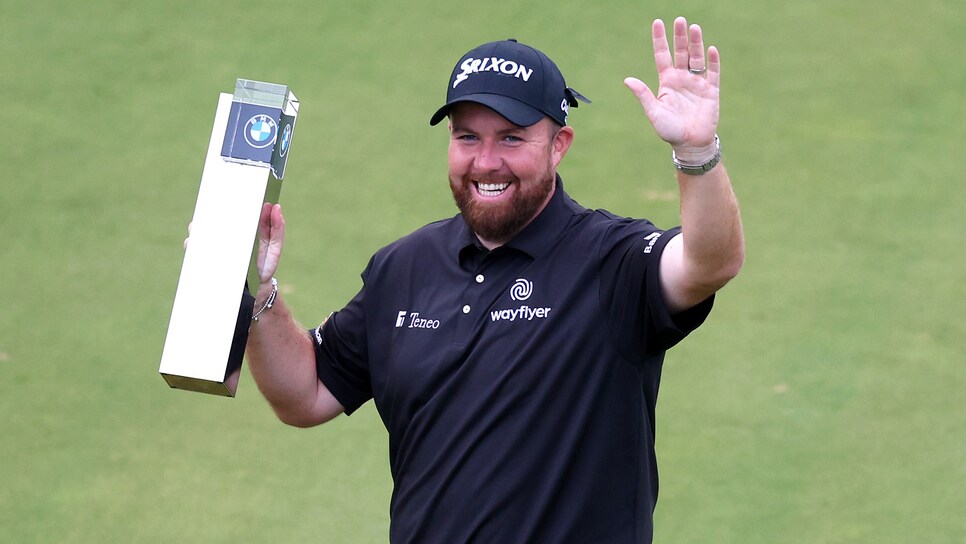 The 35-year-old is quietly putting together an impressive (and future hall-of-fame?) career with a major, a World Golf Championship and now a win at the DP World Tour's flagship event. And when it comes to celebrating big wins, he's already a hall-of-famer. More on that later.
Jon Rahm's finish: The Spaniard couldn't quite hold off Lowry, but it was a reminder of just how good he can be. Rahm was nine under for his last 10 holes at Wentworth—and that included a bogey! His closing eagle capped a back-nine 29 on a par 37—again, with a bogey!—but he wound up finishing one behind Lowry.
With that kind of firepower, it's kind of amazing Rahm only won once this season. And that win came at the (*checks notes*) Mexico Open. Maybe he's not a Netflix fan.
John Daly's throwing arm: This is said with no hyperbole—John Daly is one heck of an athlete. Obviously, the dude can crush a golf ball like few in history, but he was a great high school kicker, he's shown off fantastic touch on the basketball court and, now, look at this impressive first pitch:
And he's done all of it while wearing flip flops. OK, maybe not the kicking in high school. But seriously, that's some pretty impressive heat right there. And he barely even set up on the mound before spinning and throwing a strike.
Casper Ruud's golf swing: The 23-year-old Norwegian won over plenty of new fans during his run to the finals of tennis' U.S. Open—especially if those people happen to play golf. As we learned throughout the tournament, Ruud is a near-scratch handicap who shot a tasty little 77 at Winged Foot—10th(!) photo below—before heading to Flushing Meadows.
But what separates him from other celebrity golfers is that he has a separate golf Instagram account! Casper_golfer!
Good stuff, Casper. And don't feel too bad about losing to teen phenom Carlos Alcaraz because no one was beating that dude. Besides, do you think Carlos can shoot 77 at Winged Foot?
Wait, Carlos plays golf too?! And that's his swing?! That's just not fair. OK, I'm buying both these guys. The Big Three Era of tennis may be over, but the sport looks to be in good hands with these two golfers. Emphasis on hands.
Sergio Garcia: After fighting to play in the DP World Tour's flagship event, Garcia shot an opening 76 and … bounced. The Spaniard gave no official reason for the WD, but it turned out he was just ready for some football:
Talk about calling an unpopular audible. While Garcia was being realistic about his chances to win following a poor opening round—and he didn't have the same emotions as many at Wentworth in the wake of the Queen's death—it wasn't a good look. Especially considering the tournament's first alternate, Alfredo Garcia-Heredia, probably would have swam across the English Channel to play in the event. And the DP World Tour is even looking into fining Garcia for not giving an official medical reason for his abrupt WD. Sorry, Sergio, you get two thumbs horns down for this one.
Shane Lowry's hangover: To be clear, I love that Shane partied it up after winning on Sunday. I just wouldn't wish this morning-after feeling on anyone:
Sadly, I'm way, way too old for that stuff anymore, but I recognize that look and that's pure pain right there. The dude is still wearing his clothes from the course! Although, it turns out the wildest member of his crew was caddie Brian "Bo" Martin as we saw in this hilarious video:
Nothing could be less surprising than learning a caddie who wore flip flops during a round recently enjoys throwing back some pints of beer. We know Bo will be ready to go whenever Shane tees it up again. We think. In any event, Team Lowry is my new favorite sports team.
"Parkingspotgate": Much has been made about the PGA Tour taking away Cameron Smith's prime parking spot near the TPC Sawgrass clubhouse for winning the Players Championship (OK, so we were one of the media outlets making a big deal about it), but this seems pretty standard. If you take a new job, you don't keep parking in your old spot. Why would you want to park there, either? Especially when you've left for a competitor?
It was gone within days of Smith leaving for LIV. And as for that "Tour Players Only" sign that replaced it, did you think they were going to let some random 18-handicapper park right next to the TPC Sawgrass clubhouse? Actually, they should have offered it to a random golfer each day. For a (big) price of course. Surprised the tour missed out on that extra revenue stream.
The PGA Tour is back to kick off the 2022-23 season at the Fortinet Championship, AKA the one they play in Napa, AKA the one where the trophy used to be a big wooden wine barrel. Golf Twitter (and golf gambling) darling Max Homa is your defending champ, and now the trophy is, well, whatever this is: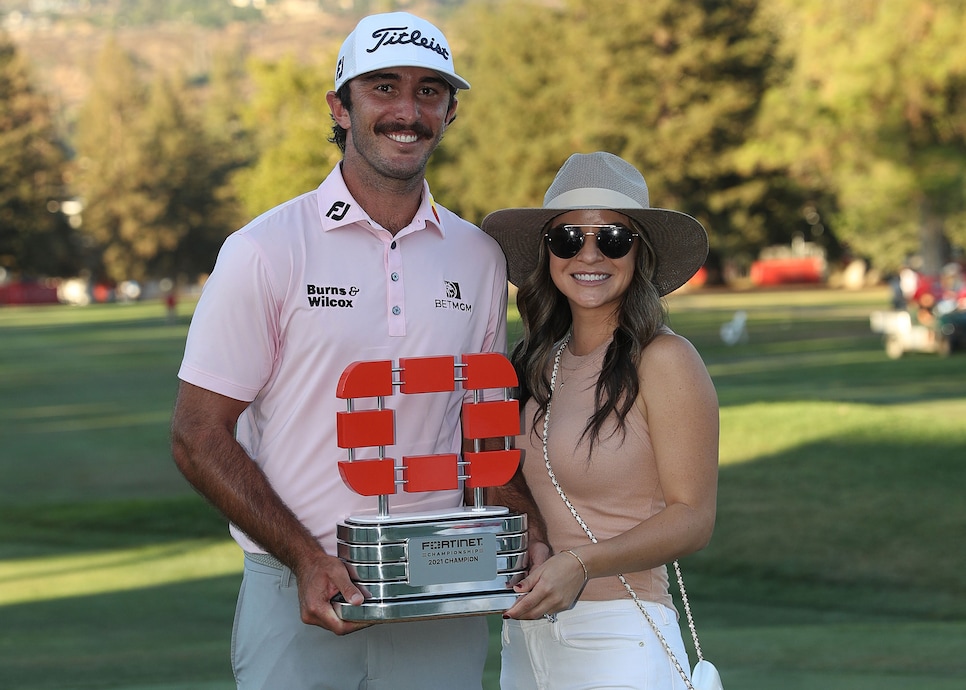 Random tournament fact: Brendan Steele is the only two-time winner since the PGA Tour started coming to Napa in 2007. Hopefully, he celebrated responsibly, because wine hangovers are a whole different animal.
RANDOM PROP BETS OF THE WEEK
—The winner's caddie will have a better time than Bo Martin: 1 MILLION-to-1 odds
—Max Homa will successfully defend his title this week: 14-to-1 odds (Actual odds)
—Max Homa will have something witty to say regardless: LOCK
PHOTO/SCREENGRAB OF THE WEEK
Any press is good press, right?
Folks, after all the PGA Tour vs. LIV drama, we finally got a GOLF FIGHT!!! Well, a golf squabble. Maybe. We think wonder …
Either that or Ian Poulter and Billy Horschel were just in an intense debate over Arsenal and Westhampton. Both downplayed the interaction after. And Poulter even added some jokes!
What a sport. What a year.
THIS WEEK IN PUBLIC DISPLAYS OF AFFECTION
Brooks Koepka apparently spent his week off with Jena Sims auditioning for a guest episode of "Below Deck Mediterranean":
What in the world/universe is going on there in Capri? And yes, I know what "Below Deck" is because my wife has forced me to watch a few episodes through the years. Big fan of Captain Lee. Speaking of reality TV …
THIS WEEK IN PUBLIC DISPLAYS OF EATING
We teased Andrew "Beef" Johnston's new cooking show, "BBQ Better with Beef," last week. But now he's starting to introduce some tasty main courses:
Hopefully this is all leading to a new season of Below Deck (or a similar new show) with Brooks and Jena as deckhands and Beef as the chef. If the higher-ups at Warner Bros. Discovery are reading this (LOL), that's a freebie. I'm chock full of ideas for corporate suits today!
THIS WEEK IN PUBLIC DISPLAYS OF ART
And advertising. Scottie Scheffler's wife had this painting commissioned for her husband in honor of him being named the winner of the PGA Tour Player of the Year Award:
I need one of those with my beloved bottles of Mexican Coke. … Anyway, congrats to Scottie for winning POY, btw. Well deserved.
"I feel like somebody kicked me in the nuts." —John Daly on his really (really) painful groin injury.
Padraig Harrington won for the third time in his last seven PGA Tour Champions starts, this one at the Ascension Charity Classic in St. Louis. Knowing Paddy, he's probably got his eye on a Ryder Cup spot for next year. … Congrats to Ally Ewing on winning her third career LPGA title at the inaugural Kroger Queen City Championship. That tournament took place in Cincinnati in case you're curious. … David Puig decided to forego his senior season at Arizona State and tee it up at this week's LIV Chicago event as a pro. Well, beer money certainly won't be a problem now. … And, finally, former Golf Channel host Gary Williams shared that a college buddy of his shot a 63 in a qualifier. While wearing sandals.
Even John Daly would be impressed by that.
RANDOM QUESTIONS TO PONDER
Where is Scottie Scheffler going to hang that painting?
Is Cincinnati or Charlotte the Queen City?
Should I try playing golf in flip flops?