VIRGINIA WATER, England — The BMW PGA Championship at Wentworth has thrown up a few great finishes over the years. But none better than this one, a connoisseur's delight.
A U.S. Open champion in Jon Rahm set the early target for those behind, playing his last 10 holes in nine under par to finish with a 62 that had the audacity to include a bogey.
Shane Lowry, the 2019 Open champion, was bogey-free over 54 holes, with his closing 65 edging Rahm by a shot, 17 under to 16 under.
That left four-time major champion Rory McIlroy. Needing an eagle on the par-5 18th to tie Lowry, the Northern Irishman saw his 18-foot putt for a 3 hang on the lip of the cup, and his 67 came up one shot short.
Does it get any better than that?
Some context. For Lowry, runner-up in the DP World Tour's flagship event eight years ago when he lost out by a shot to McIlroy's birdie-birdie finish, this was the culmination of a remarkable record over the famous Burma Road course. In 13 appearances in the biggest event on the Old World circuit, the amiable Irishman now has 10 top-20 finishes and five top-10s. Clearly, this was a victory that was coming for something of a Wentworth specialist.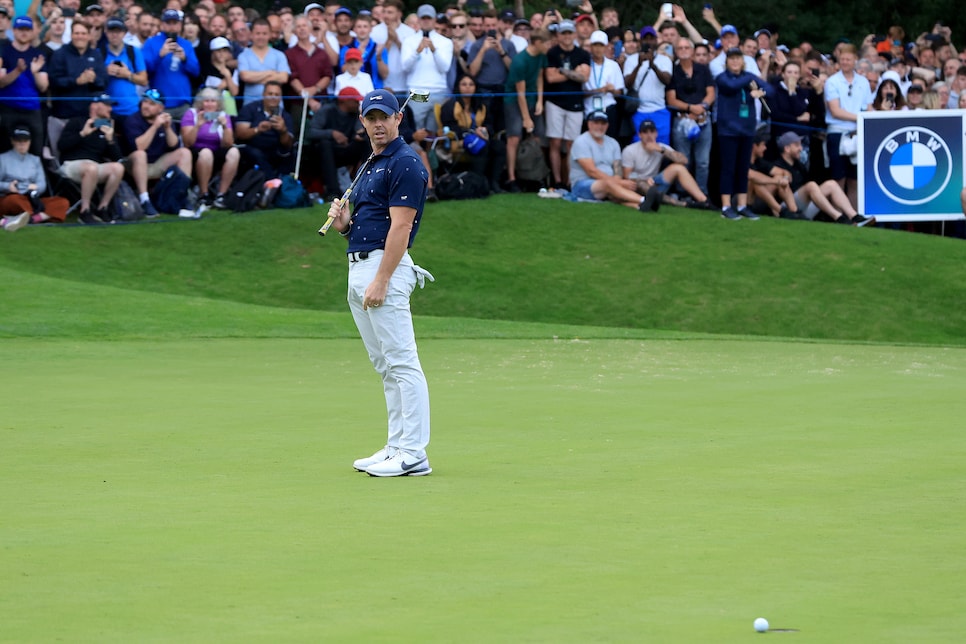 Rory McIlroy reacts to his eagle putt missing the hole at 18 in the final round.
David Cannon
Even McIlroy was finding it hard to begrudge his close friend the rewards that come with victory—a check for $1.36 million and a place atop the newly-minted Ryder Cup qualifying table.
"Shane winning softens the blow," McIlroy said. "Had it been someone else, I wouldn't be as comfortable as I am. Seeing a friend win is always great. I'm really happy for him. He has been knocking on the door a lot this year. The two that spring to mind are the Honda Classic and the RBC Heritage at Hilton Head.
"I know he has always played well here. It's an event I know he will love to have won. He has been more consistent this year than ever before, which bodes well for the future and the Ryder Cup next year."
As for his own play, McIlroy was quick to admit he did not have his best stuff in his final-round 67 that saw him come up two shots short of the 18 under par target he set for himself. In a year when he has made himself the man to beat almost every time he teed it up, this was another disappointment. But even so, he could not have been closer too making it to 17 under and a playoff with his former foursomes partner in the Irish amateur team.
"It just wasn't meant to be," McIlroy said. "I thought that putt on the last was in. It just sort of wiggled right on me at the end. Overall though, this was another good week. I keep putting myself in these positions. That's all you can ask for."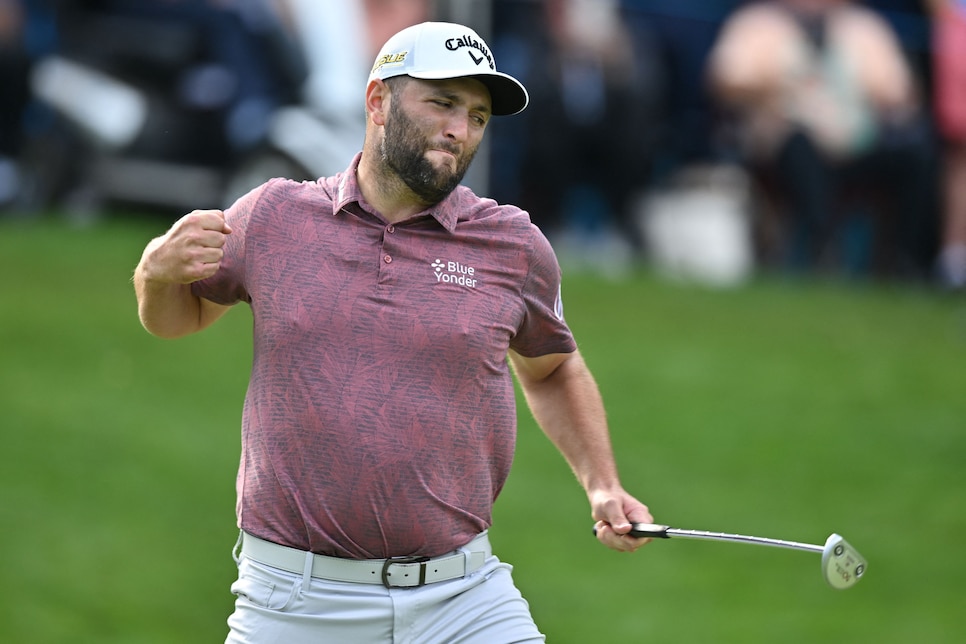 Jon Rahm celebrates making his eagle putt on the 18th hole in the final round.
GLYN KIRK
Much earlier, Rahm had also struggled. But only to explain the incredible run of scoring that saw him make eight birdies and an eagle at the last (his second of the day) in those final 10 holes. If only the number on the card had been a par 4 rather than the bogey 5 he made on the 15th. One thing was for sure—the burly Spaniard loved every minute.
"Everything clicked," Rahm said. "First-round ball-striking wasn't there but my putting saved me. Second round, ball-striking was good and putting wasn't quite there as good as I would have liked. And today, starting on 9, everything was firing on all cylinders. Not too often where I get to shoot a 29 with a bogey. It was definitely a fun round of golf, one I was really looking forward to. I've had a long year of having good rounds going and just not finishing them off. My reaction on 18 [where he celebrated with a wild display of fist pumps] was more for the fact that even with a bogey, I came and persevered at the end."
Still, for all that, this was Lowry's championship. And that familiar smile was much in evidence after the agony of watching McIlroy's putt for the tie come so close to dropping. In his heart there was a lot of love.
"This is hard to put into words," said Lowry, before doing just that. "This is something I'll sit back and reflect on over the next few days. By then I'm sure it will sink in. I'm just so happy that I've won this tournament. I'm not sure how that putt of Rory's missed on the last, which is not to say I wasn't hoping he was going to miss. I wouldn't have fancied a playoff with him.
"Still, since the first day I came here back in 2010 when they redesigned the golf course and it was getting a lot of stick, I was one of the players that absolutely loved it. I love this tournament and I love this course. I love coming here, the area, I just love everything about it. I'm so happy that I can come here and win the tournament this year. I feel like I've had a great year. But it's not a great year unless you win. This is just the glaze on the cake for me."
There was just one moment of slight negativity toward the end of a round in which Lowry acknowledged he had done "many good things." Walking from the 17th green to the 18th tee the thought occurred that it wouldn't be a good time to drop his first shot of the week. All of which made the two shots he hit into the middle of the distant putting surface all the more satisfying. There was, he said, nowhere he would rather be than in contention with Rory McIlroy and Jon Rahm.
One last thing also popped into Lowry's head, but only after his sixth DP World Tour victory had been clinched. "Before I teed off I felt that if I went out and beat Rory I'd be in with a great chance," he said.