Legends
Yes, the great Sam Snead used to actually putt croquet style until it was banned because he was too good at it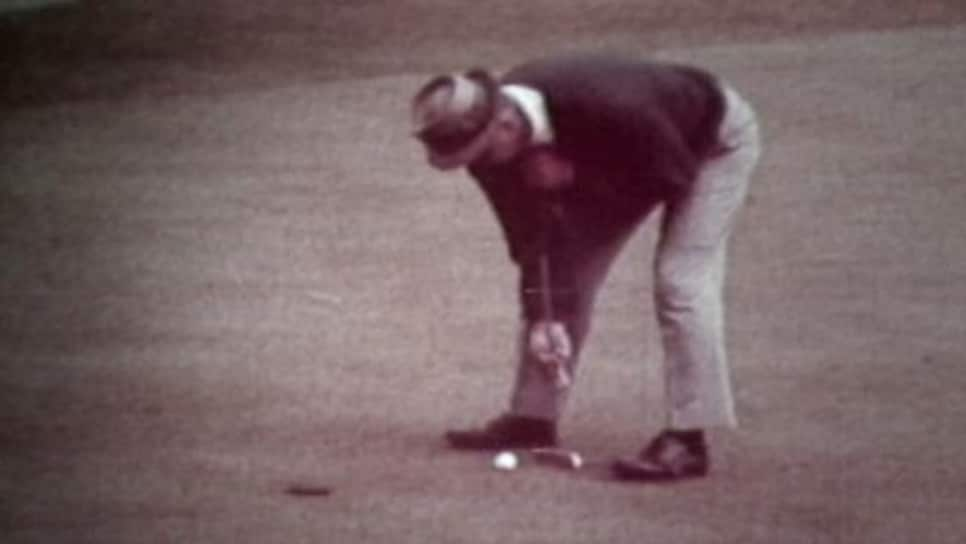 If you happened to flip to Golf Channel before coverage of this week's Sony Open started (more likely to happen this week with that late Hawaii start), you may have stumbled upon an unusual sight. A golfer putting croquet style. And not just any golfer, but Sam Snead, one of the greatest golfers of all time.
You would have seen this if you were watching a rerun of the 1968 Shell's Wonderful World of Golf match between Snead and Roberto De Vicenzo at Congressional Country Club. And you probably would have thought this was due to some sort of side bet like the one-club challenge we recently saw in The Match involving Tiger Woods, Rory McIlroy, Justin Thomas and Jordan Spieth. But you would be wrong, because this is how Snead putted all the time. At least, for a short time.
As Bill Fields wrote for GolfDigest.com in 2011, Snead adopted the bizarre method late in his career at the 1966 PGA Championship. The man credited with as many PGA Tour titles as Tiger Woods was struggling so much on the greens by that point that he even double-hit a two-and-a-half footer in that tournament.
But after making the switch, something funny happened. He started making putts (like that one above). Snead finished T-6 that week then won the following year's Senior PGA Championship by nine shots. Then the 54-year-old finished T-10 at the Masters. But according to Fields, Augusta National co-founder Bobby Jones didn't like his new style and got in the ear of USGA Executive Director Joseph C. Dey Jr.
Fields writes, "The wheels to outlaw croquet putting turned very fast. A little more than a month after the 1967 Masters, the USGA and Royal and Ancient GC met in Great Britain on the eve of the Walker Cup and proposed a rules change, subject to final approval by the association's executive committees, that would be effective Jan. 1, 1968: 'On the putting green a player shall not make a stroke from astride, or with either foot touching the line of the putt, or an extension of that line behind the ball.'"
That's a tough break for Snead. He eventually switched to using a side-saddle method the rest of his career, but never had the same magic with it.
As for that match, Snead wound up losing to De Vicenzo, who was asked about the seven-time major champ's unconventional putting stroke. "Oh, I close my eyes when I see him putting," he said with a chuckle. Maybe so, but don't laugh until you've tried it. Actually, don't bother trying, because, again, it's against the rules.