The Loop
Sam Snead's desperate measures on the greens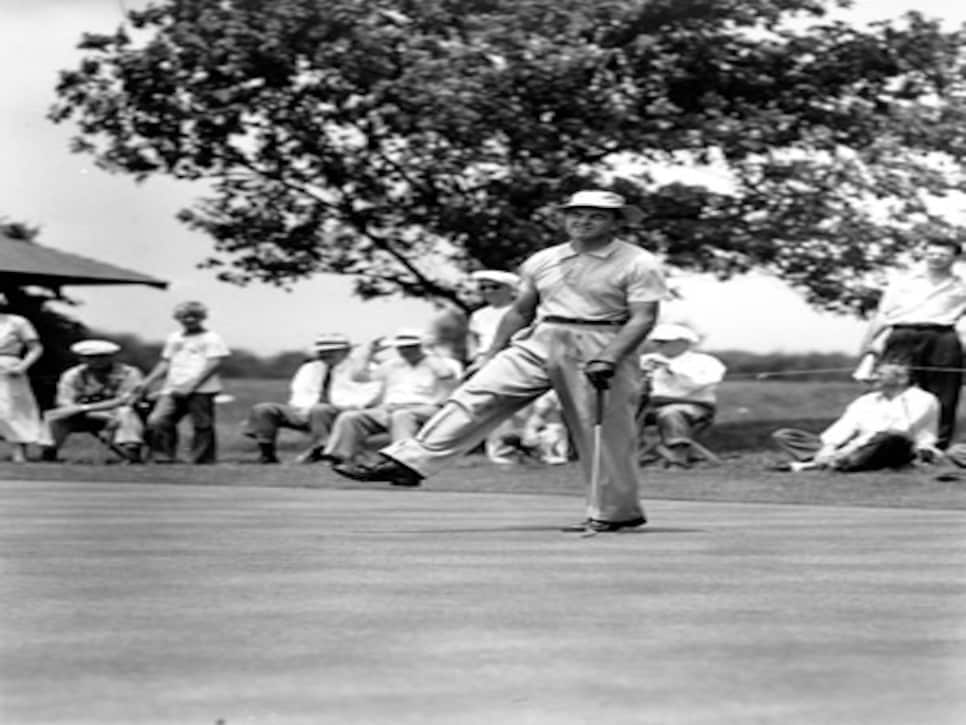 This is not the first time the Masters has brought attention to how someone putts and stirred debate about what is proper. In 1967, in fact, when an unconventional putting method was used to good effect at the tournament, it was outlawed soon thereafter.
(__Left:__Sam Snead, shown here in the 1950 PGA Championship, had become frustrated enough with his putting that he experimented with a croquet-style stance as a senior. Photo by AP Images.)
Sam Snead, still a superb ball-striker but shaky on the greens, had gone to croquet-style putting out of desperation during the second round of the 1966 PGA Championship after, as Al Barkow details in the biography Sam: The One and Only Sam Snead, he double-hit a 2 ¿-foot putt. "On the very next hole, it's Sam's turn to putt and this time he straddles the ball; he goes croquet style," Billy Farrell, who was paired with Snead, told Barkow. "We were amazed. We'd never seen him do that before. He stayed with it the rest of the round and hit some beautiful putts. It looked like he was going to hole everything."
Snead was T-6 that week. At the PGA Seniors' Championship in January 1967, continuing to use the croquet style, he won by nine strokes. A couple of months later, at Augusta, where he hadn't finished better than T-42 the last three years, the 54-year-old was T-10. Bobby Jones, co-founder of Augusta National and the Masters, told Snead he didn't care for the remedy Snead had found for the yips. Jones relayed his distaste to Joseph C. Dey Jr., executive director of the USGA, who had never been a Snead fan.
The wheels to outlaw croquet putting turned very fast. A little more than a month after the 1967 Masters, the USGA and Royal and Ancient GC met in Great Britain on the eve of the Walker Cup and proposed a rules change, subject to final approval by the association's executive committees, that would be effective Jan. 1, 1968: "On the putting green a player shall not make a stroke from astride, or with either foot touching the line of the putt, or an extension of that line behind the ball."
"The history of the game cries out that you play it from one side of the ball," Dey said at the time. "Bizarre stances and clubs were beginning to make it look like another game."
Although Jack Nicklaus and Gary Player were among those who spoke up against the new ban -- "This is a ridiculous rule," Nicklaus said -- and Snead contended the croquet method was an effective balm for aging nerves, Dey expressed little sympathy. "You don't make rules of any game to take care of those with physical disabilities or physical peculiarities," he said.
"The overriding reason," Barkow writes of the ban, "was that it was not traditional, a spurious raison d'etre that might well have been actionable if a professional had wanted to take it to court. After all, it denied [Snead] the right to support himself, and it certainly wasn't endangering the community. Thirty years later, someone probably would have sued."
Snead didn't sue. "I may be able to alter my stance somewhat and still putt my way," said Snead, who did just that, improvising a side-saddle style for the rest of his days. He finished T-3 at the 1974 PGA Championship when he was 62. We'll never know what he might have been able to accomplish had Jones and Dey not seen fit to spearhead a campaign to stop him -- and a few other tour pros, including Dean Refram -- from straddling the line of putts. Even when Snead was pushing 70, he still hit the ball well enough to compete with men 50 years younger, longevity that couldn't be legislated against.