Voices
The stress finally hit Rory McIlroy, and now he faces the biggest decision of his career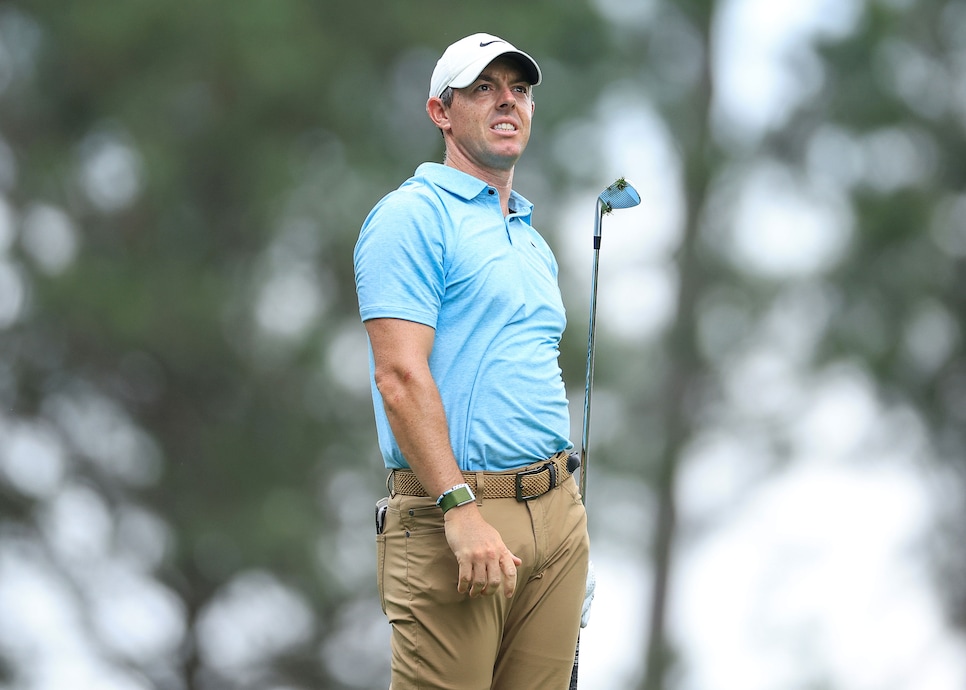 CHARLOTTE — On the Wednesday of Players Championship week in 2020, I sat down with Paul McGinley to talk about the Ryder Cup, and he was so intelligent and thorough that I kept compulsively checking my recorder to make sure it was doing its job. We knew nothing about LIV Golf then, and only rumbles about a certain virus that was two days away from shutting down the PGA Tour and the entire country. At some point, McGinley did his diplomatic best to outline the strengths and weaknesses of his friend and countryman Padraig Harrington, Europe's captain for the match that was scheduled for that September at Whistling Straits but ultimately postponed until 2021. Paddy was a brilliant thinker, McGinley said, but maybe, sometimes, an over-communicator. Which reminded McGinley of another Irishman.
"Rory McIlroy's a talker, too," he said. "Does that help him all the time? I don't think so. You guys love it. You guys tell him how great he is because he gives you lots of content. But does it help his competitiveness? Does it help competitiveness this week, when I saw the headline in the paper today, 'Rory says America is behind in the coronavirus.' Rory, why are you talking about the f***ing coronavirus? You're here to win the f***ing TPC. … Forget about the coronavirus, that's not your issue!"
Looking back on that paragraph is illuminating for a few reasons, but mostly because McGinley, with his usual keen psychological insight, identified something essential to McIlroy, which was his inability to "stick to golf." McGinley himself is a thinker and talker, but he knew he was never on McIlroy's level of talent, and he went on to praise Brooks Koepka and Dustin Johnson for their more stoic, focused attitudes.
It wouldn't have surprised McGinley to see what happened in 2022, when McIlroy became the designated standard bearer for the PGA Tour in the war against LIV Golf. Not only did he compete at the highest level on the golf course, but he also spoke out more than anyone, by far, in defense of the tour and used his influence to help fundamentally redesign its structure. He was wearing at least three hats, and remarkably, his play didn't seem to suffer. Sure, he lost a winnable Open Championship at St. Andrews—a singular heartbreak—but he also won three times, including the Tour Championship and finished the year as the No. 1 golfer in the world.
To anyone who asked, McIlroy would say the same thing: This is who I am. What looks like multitasking is fundamental to how I operate, and it actually energizes me to talk to the press, be so involved in every aspect of professional golf. Looking at the results, it was easy to believe him.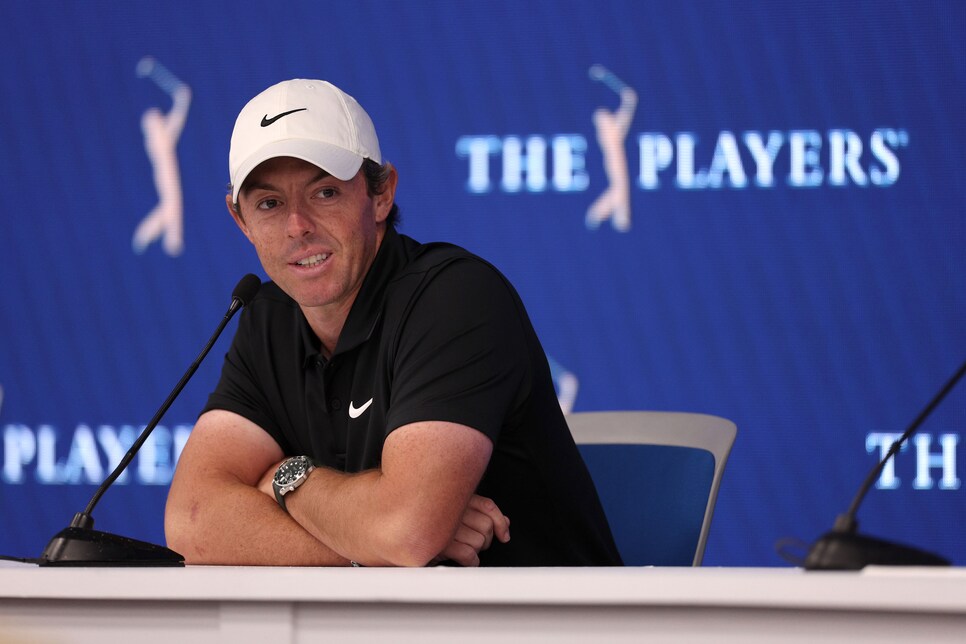 The vast amount of time Rory McIlroy has spent talking to the press has accumulated over time, a delayed reaction leading to an accumulated amount of stress.
Richard Heathcote
The interesting paradox with McIlroy is that while his team seems to keep him more and more secluded from the media, he's as open as ever when it's time to talk. That night was no exception, and he was honest about his disappointment at the Masters—after a strong practice round on Wednesday, he thought he was going to have his best finish ever—and about how the stress and activity of a wild year had finally started to land.
"Can it be surprising when things catch up with you?" I asked. "Because looking from the outside … the most stressful period would've been last summer, or something like that. But can these things that you commit to … you almost like soldier through and then all of a sudden it can hit you."
"There's like a lag, right?" McIlroy responded. "I think so, because at that point you're running off of adrenaline a little bit as well, and you're in a certain mindset … so if you look at, like last year I won the FedEx Cup. I went and played Wentworth and Italy to try to support the tour over there. Then played CJ Cup, then Dubai, and it was like, I never really gave myself that time to sort through everything … to sort of reset and reassess everything and, and start the year like really fresh.
"It's not the golf side of things," he added. "If you had nothing else going on in your life, you could play every week there is to play and be totally fine. But it's just all the other stuff that was going on around the game of golf and being right in the middle of it. It sort of took its toll and, yeah, everything just sort of caught up with me this last month or so."
As usual, nobody could describe the phenomenon as well as McIlroy himself, and the message he wanted to convey was that he had a new mindset, a new outlook on life and things were going to change.
Will they? The Wells Fargo Championship was far too early to tell, but there, he finished tied for 47th at even par, 19 shots behind winner Wyndham Clark. He finished his final round on Sunday just after 1 p.m. and left the back way while a group of reporters waited outside the scoring area hoping for a word. There's the paradox again; open with the media Tuesday, nowhere to be found on Sunday. Taking the long view, it's tempting to believe a leopard can't change its spots, and McIlroy will always revert to his true nature—the man with his hand in everything, who speaks his mind and perhaps gives too much of himself in a painfully public position. The approach McGinley advocated for requires a certain aloofness, a specific kind of selfishness that may not be in McIlroy's DNA, and which, should he discover it, would be sad for so many fans who appreciate his outspoken commitment to his truth.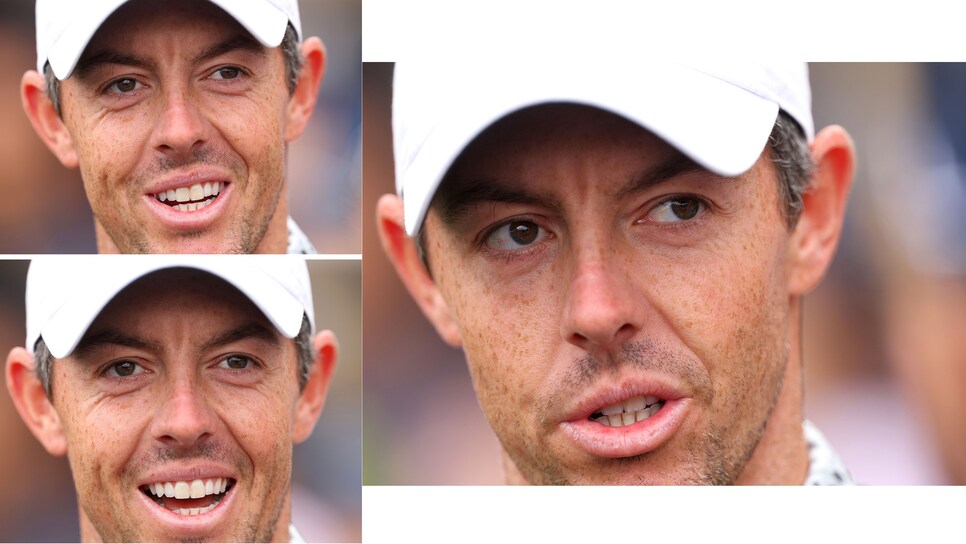 Rory McIlroy is at a crossroads of sorts in how he handles the balance of his golf life, both on the course and off it. (Getty Images)
But the key thing to remember is that none of it comes for free. It might have been easy to miss that last year, when he seemed to be on top of the world and juggling his responsibilities effortlessly. He held the stress at bay, and he has the strength of mind to persevere and even thrive. But that stress has finally landed on his shoulders. Now, he's staring down the rest of his career, and two paths are open before him. He could shield himself, become more of an automaton before the press and let someone else take up the heavy mantle of leadership. Or he could be himself, continue on his outspoken journey and take his rest where he can. It's no easy choice—take the first path, and you may sacrifice your values and seal yourself off from the world that helps you thrive. Take the second, and you may cost yourself a brighter playing legacy and risk repeated burnouts.
And if neither of those choices sounds particularly great, and if it's tough to scope out a middle ground … well, maybe we've begun to understand the price of being Rory McIlroy.