News & Tours
Tour players weigh the costs for missing events after Rory McIlroy's WD at Harbour Town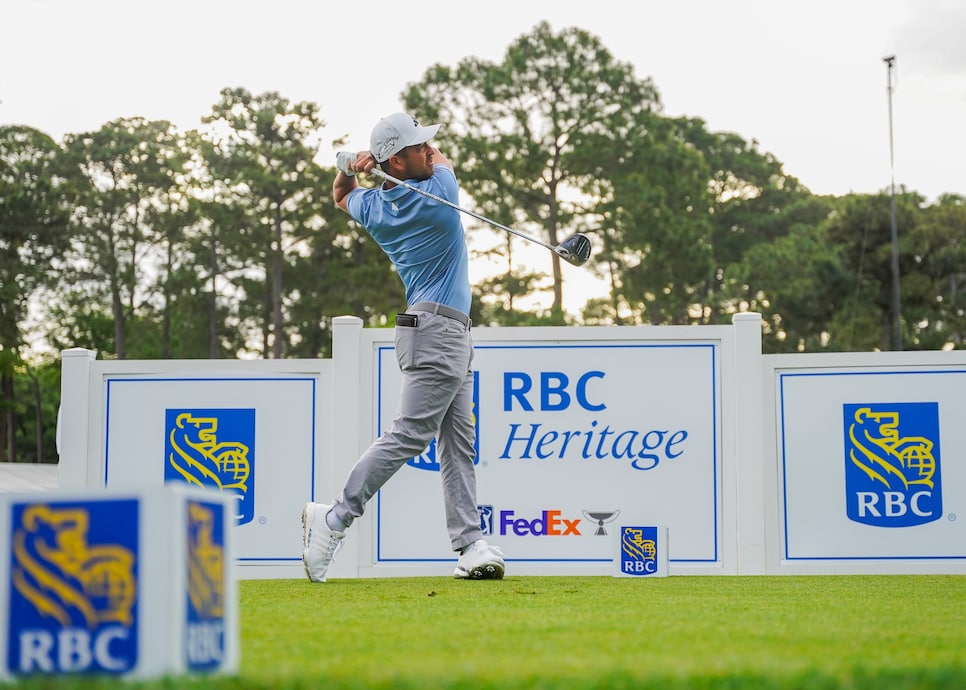 Xander Schauffele tees off during the RBC Heritage at Harbour Town Golf Links.
Jason Allen/ISI Photos
HILTON HEAD ISLAND — Halfway into the PGA Tour's 12 designated events this year, Brian Harman is truly over discussions about schedules and the Player Impact Program (PIP). He and other pros just want more transparency about rules and repercussions.
"I've spent so much time worrying about elevated events and PIP money and all this stuff," Harman said at the RBC Heritage. "At this juncture I just don't I don't care anymore. We've talked so much about everything, and it all seems so fluid. I just want the tour to maintain its pure meritocracy; that's the thing that I think is so beautiful about what we do out here."
Schedules and the PIP have been two hot topics this week, given Rory McIlroy withdrew from the Heritage'—the sixth $20 million designated event of 2023, this one coming immediately after the Masters. McIlroy had already skipped one designated tournament, the Sentry Tournament of Champions, which was the PGA Tour's allowance per player.
The result of McIroy missing two designated events is that the World No. 3 faces losing 25 percent, or $3 million, of the $12 million he earned in PIP bonus from 2022. The players were paid 75 percent of their PIP bonus in January, with the rest coming after they tick certain boxes by the end of this year. Those requirements include competing in all but one of 12 designated events; adding three other tournaments of their choice; and participating in a tour-related function such as a clinic or Q-and-A night.
Harman, a two-time tour winner who is on the Player Advisory Council, was referring to the fact there have been several announcements and tweaks about the tour's designated events schedule since the 2023 schedule was released at last August's Tour Championship. In November, the tour announced an allowance to avoid just one designated event. Last month at the Arnold Palmer Invitational, the tour unveiled the eligibility for the designated events for 2024 and its rhythm with non-designated tournaments.
With regards to McIlroy's reported $3 million penalty, PGA Tour Commissioner Jay Monahan can use discretion to adjust that. He can factor in injury or personal reasons for players who skip more than one event.
It begs the question, does a quarter of a player's PIP bonus seem fair for skipping more than one designated stop?
"That's a great question; I don't know," Xander Schauffele said Friday at Harbour Town. "If you talk about the repercussions … a future sponsor being concerned about more people dropping out, then you have to imagine that answer would be yes. It should be a pretty harsh penalty. Because we [top players] have to be there to have the highest TV ratings, to have the highest purses. It's a tough situation and I get I get both sides of it."
Said Rickie Fowler: "Twenty-five percent seems reasonable as a percentage."
Schauffele, whose 2022 PIP bonus was $5 million, said whatever the penalty may be, adjusted or not, should be communicated with the PGA Tour membership.
"Yes is my answer, but at the same time, this is all such a new space," Schauffele said. "No one had [skipped two designated events] before, so they're probably trying to figure out what the right thing to do is. I'm sure once they have, it will be communicated to us. Since we've had this separation of the tours [with LIV Golf], I think the PGA Tour has been pretty good pretty good at communicating to us what they want to do."
Fowler agreed. "I think that's a big thing that's been talked about for the last year, is having more transparency and just good communication between players and the tour," he said. "I think that includes you [the media] as well. And ultimately, the more transparency and the more everyone's on the same page, the better."
Adam Scott, chairman of the PAC, said: "We all knew it was going to be this bridge year. I think the upside going forward is huge for everybody on the PGA Tour."
Next year, all of this will be amended. It won't be mandatory for players to tee it up in a certain number of designated stops, which will be reduced from 12 this year to eight in 2024 (outside of the Players Championship, four majors, and three FedEx Cup Playoffs events). Players will not have to add three tournaments of their choice.
In addition, the PIP pool is being reduced to $50 million and will not be tied to the designated events.
Still, there are six elevated events remaining this year. One of them, the Travelers Championship in Connecticut, comes the week after the U.S. Open in Los Angeles.