Masters
Masters 2023: There's still time but winning a green jacket might be too big for Rory McIlroy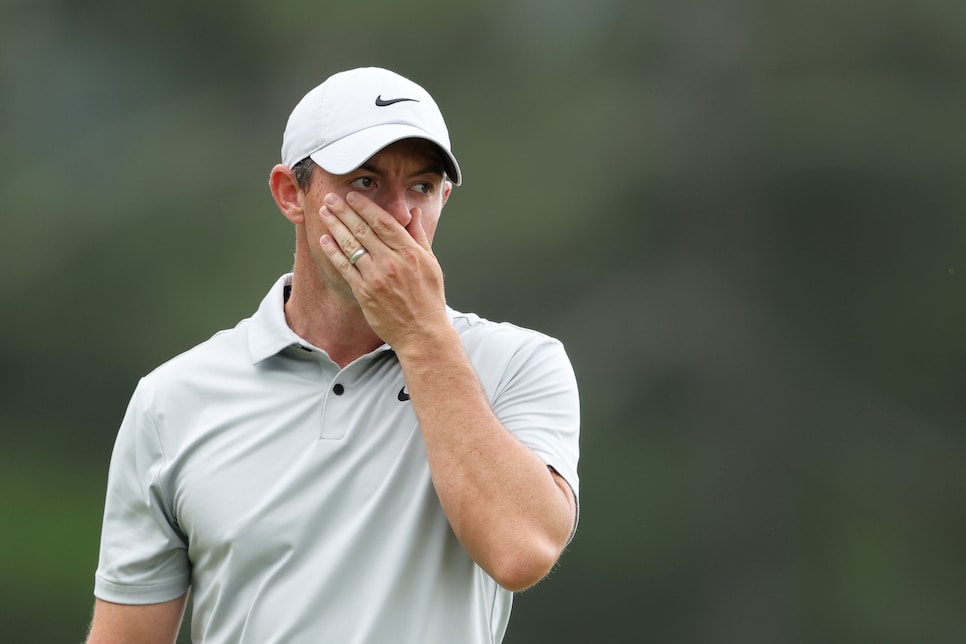 AUGUSTA, Ga. — Winning the Masters might be too big for Rory McIlroy. That's a difficult sentence to write. And it's not a prognostication. He'll turn 34 next month, young enough to still have a decade or more, health permitting, to complete the career Grand Slam, but old enough to feel some pangs of desperation—understandably so.
On a calm and humid Good Friday, the kind of day the Northern Irishman relishes, McIlroy was all kinds of bad and saw his 15th start in the Masters end abruptly. Seven bogeys marred a scorecard that showed 77 total strokes, tied for his third-worst score in 54 rounds at Augusta National Golf Club. At five-over 149, he was well outside the top-50 and ties that make the projected cut, a result considerably more stunning than his poor outing four weeks prior at the Players Championship.
McIlroy, you see, had worked feverishly since that missed cut at TPC Sawgrass, dialing in a new driver sahft and putter, and playing some 81 holes at Augusta before tournament week. He looked sharp two weeks ago in finishing third at the WGC-Dell Technologies Match Play. He felt calm and confident. And he had a favorable weather forecast ahead of him; he had to think a soggy weekend played into his hands after having won all four of his majors on rain-softened layouts.
But he never appeared comfortable during his brief appearance, the second time in three years he has missed the cut while sandwiching a runner-up finish in between. Scoring was a more formidable task for the field of 86 players in the second round, even amid light breezes, but leader Brooks Koepka shot 67 and U.S. Amateur champion Sam Bennett carded his second-straight 68, so there was a number out there to be had for a player with McIlroy's gifts. He drove it well but failed to take advantage, hitting only nine greens in regulation, and his new putter offered little assistance, accounting for 32 strokes. As the round progressed, he grew sullen and lethargic. Downtrodden.
You could understand if his disappointment stretched beyond his struggles this week and reached back to accumulated frustration percolating inside.
McIlroy didn't break stride from the scoring room to his courtesy car, electing to not review the day's events with the media. No sense pouring vinegar into the fresh wounds by talking about them.
Ever since 2011, when he played impeccably for 63 holes before one of the uglier back-nine implosions in Masters history, McIlroy has seemed destined for either a green jacket or a straight jacket. It might be both. He is arguably the best driver of the golf ball of this era and one of the top half-dozen ever to play the game. The Masters often is won with the putter but Augusta can be conquered with the driver. Ask Angel Cabrera. And McIlroy's game, he has mentioned often, flows through his ability to blast long, towering drives.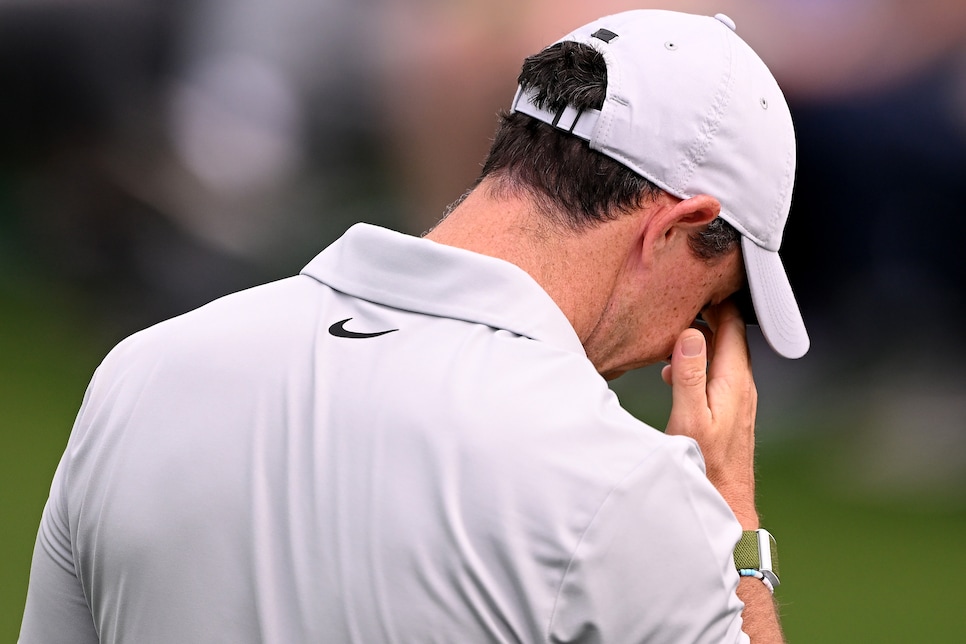 But a course ideally suited to a player doesn't exist if the player isn't himself at the ideal time.
"There's been players before that that has been said; that, you know, this course is tailor-made for those players and they haven't went on to win a green jacket. That's always in my mind, too," McIlroy said during his Tuesday press conference. "It's not just because a place is deemed, you know, perfectly set up for your game, it doesn't automatically mean that you're going to win it one day. There's more to it than that."
Getting out of your own way might be at the top of the list. It is incredibly difficult to do. Especially when expectations become exaggerated and desire runs deep. Greg Norman and the late Tom Weiskopf were prototype Masters competitors whose outsized hunger for a green jacket devoured them from the inside.
There was a reason Fred Couples bawled and Dustin Johnson was choked with tears following their respective Masters victories in 1992 and 2020. We're talking about two famously placid and insouciant golfers. It is an emotional thing to want something so badly and then find the resolve and the resourcefulness to achieve it. An enormous weight, almost wholly self-imposed, was lifted off their shoulders.
That weight gets heavier year by year for certain players with massive talent. McIlroy wouldn't be human if he didn't feel it. How Tiger Woods persevered under withering pressure to win the 2001 Masters and his fourth straight major has to be the singularly most impressive victory in golf history. And Augusta National co-founder Bobby Jones, winner of the 1930 Grand Slam, probably would agree.
Perhaps McIlroy, who has a tight bond—and a business partnership—with Woods can ask his friend how he did it. McIlroy knows how to win golf tournaments. He has been No. 1 in the world. He is skilled, fit and experienced. But something is missing in his pursuit of a Masters victory. Destiny always needs a push.
For now, he can console himself with the idea that he'll still have a number of chances. "It's nice to know," he said on Tuesday, "that I can come back to this place every year, and that if I played the way I know that I can, that I should have a good chance."
If. Rudyard Kipling wrote an entire poem about that tiny word that augurs immense possibilities. About the fanciful, the romantic. If is all hypothetical. As such, it might never come to pass.