Advanced Math
Masters 2023: We've used 20 years of data to create the perfectly average Masters champion
What does a composite sketch of green jacket winners look like? He's a hair over six feet, has 1.02 kids and hails from . . . Vermont.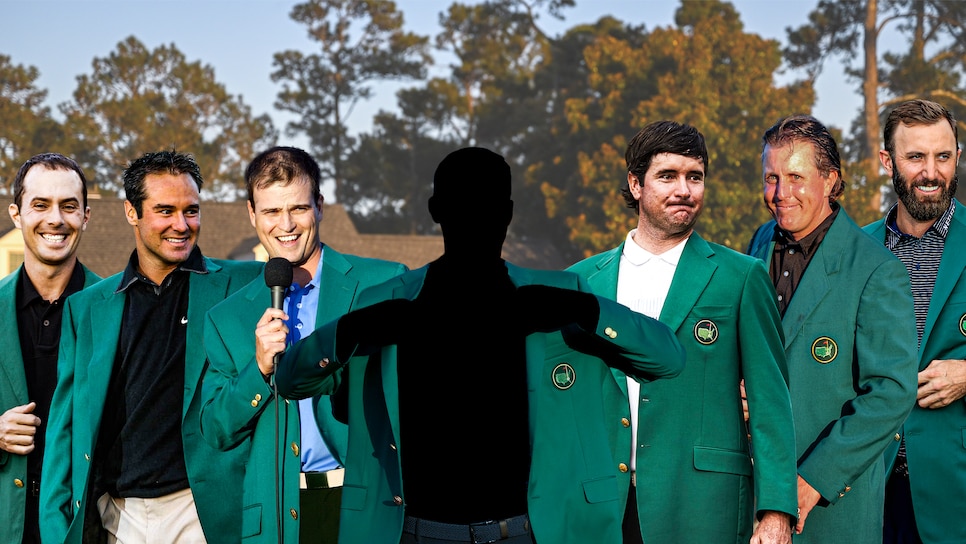 All over the world these next two weeks, there will be children (and a few hopeful adults) asking a tough question: How do I become a Masters champion?
The standard answer here would be, "have loads of natural talent, work like crazy, get very good at golf, and pray."
But what if we told you there might be a statistical backdoor? What if, using 20+ years of data from Masters champions, we could find out exactly who the "average" Masters champion, from hometown to height to age to professional history? Could you then try to "become" this person by meeting as many criteria as possible, and then win the Masters just by virtue of having done a Talented Mr. Ripley and hacked the very essence of professional golf, and life itself?
When you really think about it, the answer is...absolutely not. It's an insane and stupid idea. If you try this, you deserve whatever you get. However, after ruling out the possibility of reverse-engineering our way to a real-life green jacket, we still thought it would be fun to figure out the perfectly average Masters champ, if only in the service of Internet entertainment.
So let's break it down, and find out who the perfect, and perfectly average, winner is...one category at a time.
(*Note: We took the last 20 different winners, meaning that because of multiple wins by several players, we went all the way back to 1996 and Nick Faldo to get our 20th man. In the case of multiple winners, we averaged the data across all career Masters wins.)
The last 20 years at Augusta National have seen a bunch of American winners, from well-known up-and-comers like Jordan Spieth to more obscure figures like Tiger Woods. Trying to find an "average" hometown among those players might seem vaguely possible, but what happens when you add in Cape Town and Johannesburg, South Africa (Trevor Immelman, Charl Schawrtzel), Adelaide, Australia (Adam Scott), Borriol, Spain (Sergio Garcia), and Matsuyama, Japan? (Did you know Hideki Matsuyama was born in a city literally called "Matsuyama?" Because we sure didn't.) We started Googling how to average latitude and longitude, saw phrases like "Cartesian coordinates," and passed out.
When we awoke, we discovered the site Geomidpoint.com, in which you can enter a bunch of latitude/longitude coordinates (easy enough), and it will tell you the exact midpoint of them all. We don't understand exactly how it does this, and we don't want to, but we do know that when you take all 20 birthplaces of the last 20 champions, you get:
Yes, Chelsea, Vermont, pop. 1,233. Specifically, the point in Chelsea, VT next to Brocklebank Road, just southwest of Chelsea Town Forest.
We emailed the town clerk of Chelsea, twice, looking for any golf connection, but have thus far not heard back. (We would have emailed the mayor, but couldn't find any evidence that a mayor exists.) Anyway, this seems like good news for Keegan Bradley, who was born in Woodstock, VT, just 30 miles south of Chelsea.
From the youngest champ of the last 20 years, Jordan Spieth (21), to the oldest, Tiger Woods (43), we've had a nice span. The average age of them all is 31.535 years old, which we'll call 31 and a half.
A quick glance at the field reveals the following 31-year-olds: Tyrrell Hatton, Talor Gooch, Patrick Cantlay, Keith Mitchell, Hideki Matsuyama, K.H. Lee, and Corey Conners.
72.35 inches, or about 6'0" and some small change. This is exactly my height, but unfortunately I did not make the top 50 of the OWGR after the WGC-Match Play and would need to win the Valero Texas Open outright to make the field.
For what it's worth, the shortest listed players of the 20 champs were Mike Weir and Trevor Immelman (5'9"), while the tallest was Dustin Johnson at 6'4". I know we said you can't actually draw real conclusions from this stuff, but this may be an exception...it really does seem like the 5'11" to 6'1" range is the perfect height for professional golf.
Children (at time of victory)
To win a green jacket, you want exactly 1.02 children. This was a pretty neat cluster, with seven of the champs having no children when they won, a bunch more with 1 and 2, and only Phil Mickelson with three kids for each of his Masters wins.
College (number of years)
Most of the American winners did at least some college, most of the internationals did none, and when you average it all out, you want to be in college for 1.835 years. Our favorite new fact gleaned from this research is that Nick Faldo went to the University of Houston, and stayed for roughly ten weeks.
Using the same Geomidpoint website, but calculating only those players who attended college, we found an exact midpoint location of Pauls Valley, Oklahoma. As it turns out, that's just 40 miles southeast of Norman, OK, home of a legitimate team in the University of Oklahoma. This is good news for Abraham Ancer, Oklahoma alum. If you expand to Oklahoma State, about 100 miles north of Pauls Valley, things get wild: Talor Gooch, Viktor Hovland, and Alex Noren.
Tour wins (PGA and European) before victory
Here's where Tiger starts to screw things up—even averaging out his five Masters wins, he still had 40.2 PGA and European Tour wins before a Masters victory, and that kind of thing tends to up the average. In fact, though, from Phil Mickelson to Dustin Johnson to Sergio Garcia to Mark O'Meara to Jose Maria Olazabal to Nick Faldo to Adam Scott, a number of former champions averaged at least 15 wins pre-Masters. Zach Johnson came in with the lowest, just one, slightly ahead of Spieth at two.
Major wins before victory
The last 20 winners came in averaging 0.746, and that's when you count the relatively high averages of Tiger, Phil, and Faldo. Twelve of the 20 listed had never won a major before the Masters, and of course when you take away their multiple subsequent wins, that's also true for Tiger and Phil.
Masters appearances before victory
The ideal here is 6.8 Masters appearances, but there's an interesting quirk here; we know that no Masters rookie has won since Fuzzy Zoeller, in that four of the 20 champs were playing in their second ever Masters: Scheffler, Willett, Spieth, Schwartzel. That means we can keep an eye on this year's sophomores: Sam Burns, Min Woo Lee, Talor Gooch, Tom Hoge, Seamus Power, Cameron Young, K.H. Lee, Harold Varner, and Sepp Straka.
So, who is the perfectly average Masters champion?
Here's your profile: You are 31 and a half years old, millimeters over 6-foot, born in the small town of Chelsea, VT, attended college somewhere near the University of Oklahoma for 1.835 years, are married with almost exactly one child (1.02, to be exact), have 13 Tour wins to your name, including 0.75 majors, and have played in the Masters 6.8 times already. If you meet those criteria, we congratulate you: The green jacket is all but yours.
Put your money where your mouth is: Who's winning?
We already told you that this has no practical application to the actual tour—
GAH, fine. Gun to head? We like Cameron Young. He has the requisite one child, he has 0 major wins and one Masters appearance (both great), he was born in Scarborough, NY, not super far from the geographical epicenter, of Chelsea, VT, he went to college in the south (Wake Forest, not that close to Oklahoma, but we're trying our best), he's a little young at 25 and he doesn't have a PGA Tour win, but he's 5'11", just one inch off the height requirement!
We'll make a second pick too, and you won't like it if you don't want to see a LIV player break through: Talor Gooch. Exactly 31 and a half, exactly six feet tall, exactly one kid, went to school in Oklahoma, and a second-year Masters guy. Pretty much the only thing he has going against him is that he's not from Vermont...
...which is the first and last time that sentence will ever be written about professional golf.
MORE ON THE MASTERS FROM GOLF DIGEST