WGC-Dell Match Play
Rory McIlroy had victory locked up in WGC-Dell Match Play semfinals, right up until he didn't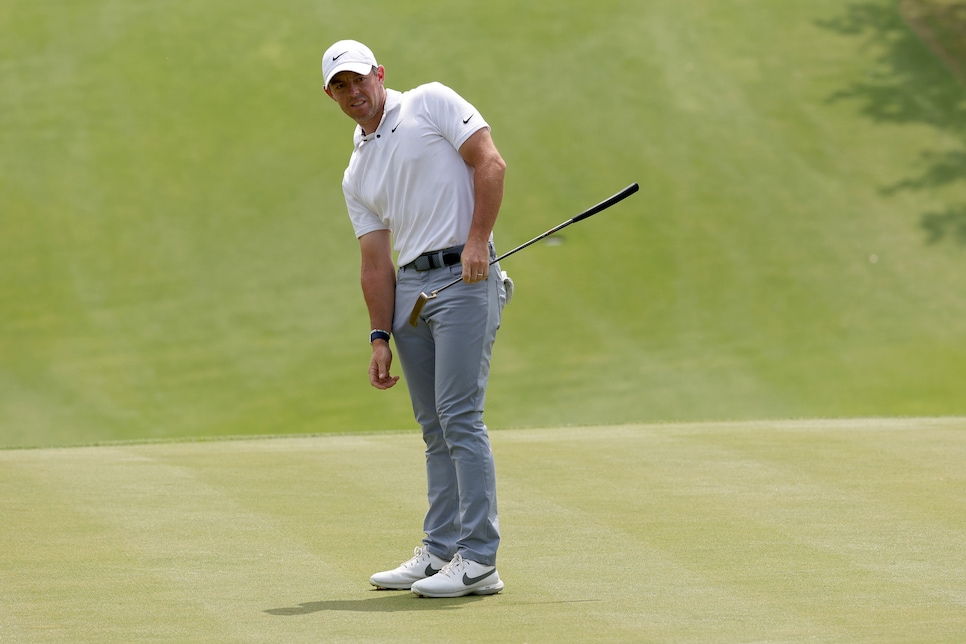 AUSTIN — As far as Rory McIlroy's concerned, he'll always have Thursday.
Three days later, facing Cameron Young in Sunday morning's semifinal round, McIlroy stepped onto the 18th tee in the exact same position. Young took an early 1-up lead, but a string of three birdies from McIlroy between 5 and 9 reversed the match, and the Northern Irishman and World No. 3 held his lead all the way through a tense back nine. One more drive on 18 like he uncorked against Conners, and he'd move on to play for his second Match Play title to go with the one he won in 2015.
He took his usual violent swing, but you could tell from his beseeching lean that the ball was drifting right. It landed about two feet short of clearing the front lip of the bunker guarding the right side of the green, and instead of trickling onto the putting surface, it hopped sideways in the thick grass and left McIlroy with a rotten lie. After his chip squirted left, he saved par and watched as Young attempted to extend the match:
Just like that, the seemingly fated final between McIlroy and Scottie Scheffler was in doubt, and not just in this match. Scheffler was in the process of losing in 21 holes to his friend Sam Burns, and despite the fact that Young had to punch out of a rotten bunker lie on the first playoff hole, the par-5 12th, he went up-and-down from 167 yards for birdie, while McIlroy, just shy of the green in two, punched to a few inches closer than Young, but missed his own birdie.
Just like that, McIlroy had been relegated to the third-place match, and a few moments later, Scheffler met the same fate.
"Feeling obviously pretty bad, 2 up with three to play, but Cam played great," McIlroy said. "I just didn't do enough over those last four holes to close him out and when you don't do that and you're up against a player of Cam's caliber, that's what's going to happen. So, disappointing, but try to regroup and go out and try to win a match this afternoon."
With the WGC-Dell Match Play entering its final afternoon at Austin Country Club, and the future of a PGA Tour match play event uncertain, it's only fitting that McIlroy will be playing right until the very end. It's just unfortunate, if you were hoping for the dream final, that he'll be playing for the metaphorical bronze medal instead of the gold.