RORY DID WHAT?
Rory McIlroy hit one of the most majestic drives you'll ever see, ball comes to rest within 4 feet of hole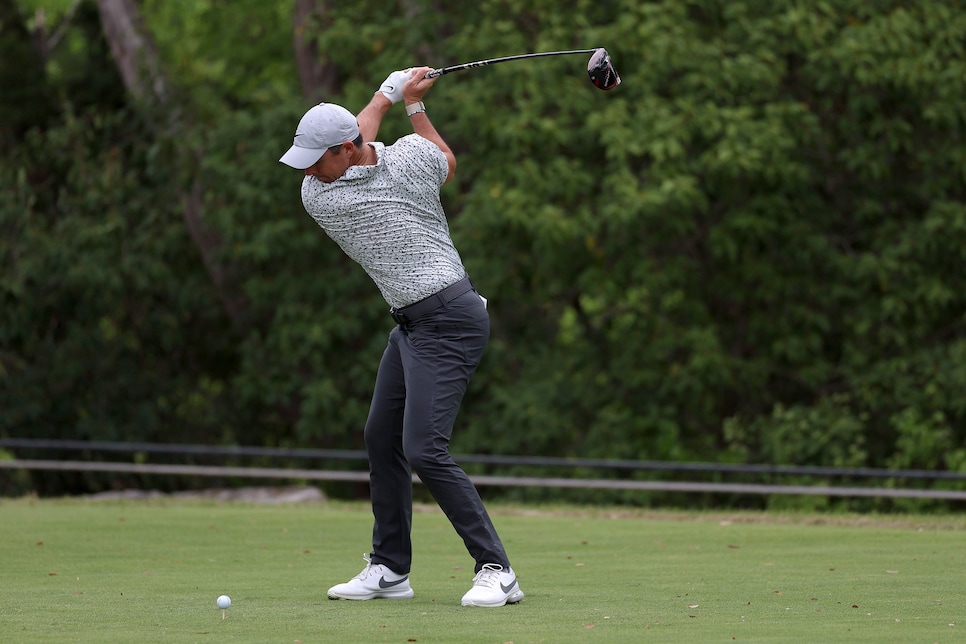 There are drives, then there are Rory McIlroy drives.
The World No. 3 was 1 up against Denny McCarthy late Thursday standing on the 18th tee at Austin Country Club during Day 2 of the WGC-Dell Match Play. They were the last match on the course, the other 31 were already complete.
Hitting first on the 375-yard, par-4 home hole, McIlroy unleashed a massive blow. The ball carried 349 yards, bounced on the front of the green, rolled and came to rest within four feet of the cup. (Three feet, nine inches to be exact.) McCarthy was 60 yards short of the green off the tee, chipped to seven feet and conceded the putt, and the match, to McIlroy. So no, he didn't even have to make the eagle attempt, and won, 2 up.
Just watch here in amazement.
"It was good," McIlroy said. "I didn't think that I could get it on the green."
McIlroy admitted afterward that he didn't even know the ball was on the green. It wasn't until TV reporter Smylie Kaufman alerted him that he realized what had happened. Kaufman, however, did not tell McIlroy how close the ball was to the pin. He didn't want to spoil the surprise.
McIlroy is now 2-0 in his group and will face Keegan Bradley Friday with a chance to move to the Round of 16. He only needs to tie Bradley to advance.
Earlier in the week McIlroy made headlines for making a minor change to his driver set-up, coming only two weeks before the Masters, where he's looking for the final piece of a career Grand Slam. He changed the shaft in his TaylorMade Stealth 2 Plus driver and shortened it from 44½ inches to 44 inches, saying that it gives him less of a chance to hit a two-way miss off the tee.