Masters preview
Inside the big-money world of Augusta rentals during Masters week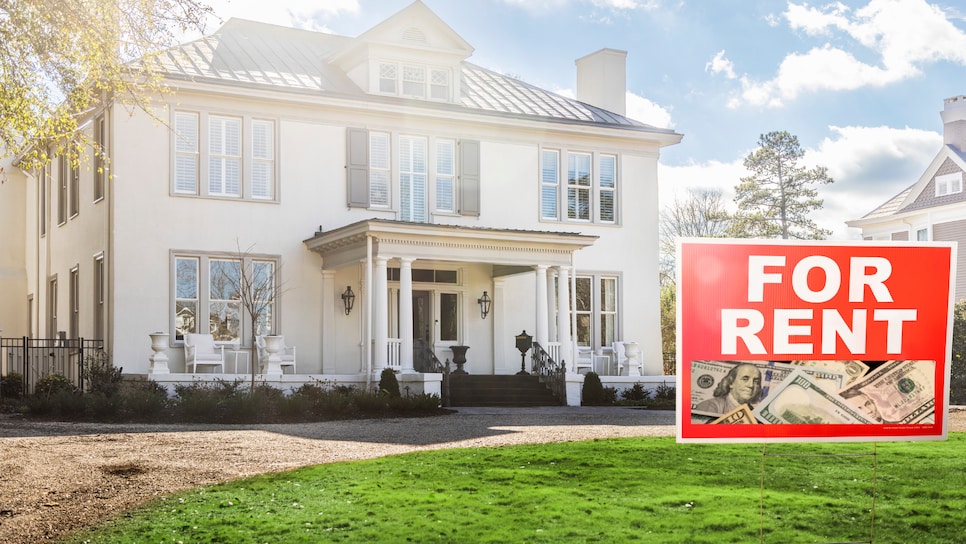 When you turn left onto River Ridge Drive off of Washington Road, then make another left onto Brookwood Drive, you'll find yourself in an Augusta, Ga., neighborhood called National Hills. The neighborhood consists mostly of one-level brick homes until you reach the corner of Brookwood and Smith Creek Road, where past a wall of towering pines sits a beautiful, completely renovated home that looks nothing like the others around it. Kathie Williams bought the property in December 2021 and fixed it up with rentals in mind, a nine-month, $250,000 process that will be well worth the wait come April, and the April after that, and the April after that.
"When I tell people where it is, they're like 'Oh,' " Williams says, "but then they see it and the location."
Williams' property is about half a mile from Augusta National Golf Club, which hosts a certain tournament that welcomes one week of chaos that keeps the town afloat for the other 51.
YOU'VE PROBABLY HEARD BEFORE that some Augusta residents pay off their mortgages with money they get for renting their homes during Masters week, that they all make a run for it when the world's best golfers come to town, bailing for Disney World with the kids or Myrtle Beach or St. Simons Island, that spring break at every school in the area revolves around Masters week, that most of the actual residents can't even be bothered with what is the most well-known golf tournament in the world happening right in their backyard. All of this is true.
The town doubles in size, and those folks need a place to stay. The Augusta hotel business certainly booms during Masters week, but the town doesn't have enough of them to lodge everybody. The Masters rental-home business is big, one that has existed in some capacity since the mid-1970s, when Augusta National and the Chamber of Commerce got together to figure out how they were going to house all the people interested in coming to watch Bobby Jones' small gathering of friends. It has become a rather large gathering since, to the point where one agency, Jane Fuhrmann's Tournament Housing & Events LLC, has more than 2,000 properties in its system as options for Masters renters.
Fuhrmann knows the area and its golf history as well as anyone. The former director of the Masters Housing Bureau began her business in 1998. Fuhrmann works with clients from all over the world, including many of the premier players, their families and support staff, as well as corporate clients who pay big bucks for the best homes. Despite being run strictly for Masters week, it is a full-time business.
Fuhrmann's service entails much more than just setting up dinner and a car service to get guests to and from the course. She brings in all-new linens for each home, and the owners essentially begin prepping the home in January, including everything from pressure washing to planting new flowers to bringing in pine straw. Once Fuhrmann received a call from a player's agent who notified her that the player's plane was arriving early, and the player was coming with his family. Fuhrmann raced over to the home the player had rented to bring a baby crib, only to find out that the crib didn't fit through the doorway of the baby's room. She went next door and asked a gentleman doing landscaping for another home to help Fuhrmann deconstruct the bed, then re-assembled it in the baby's room just as the player and his family walked through the front door.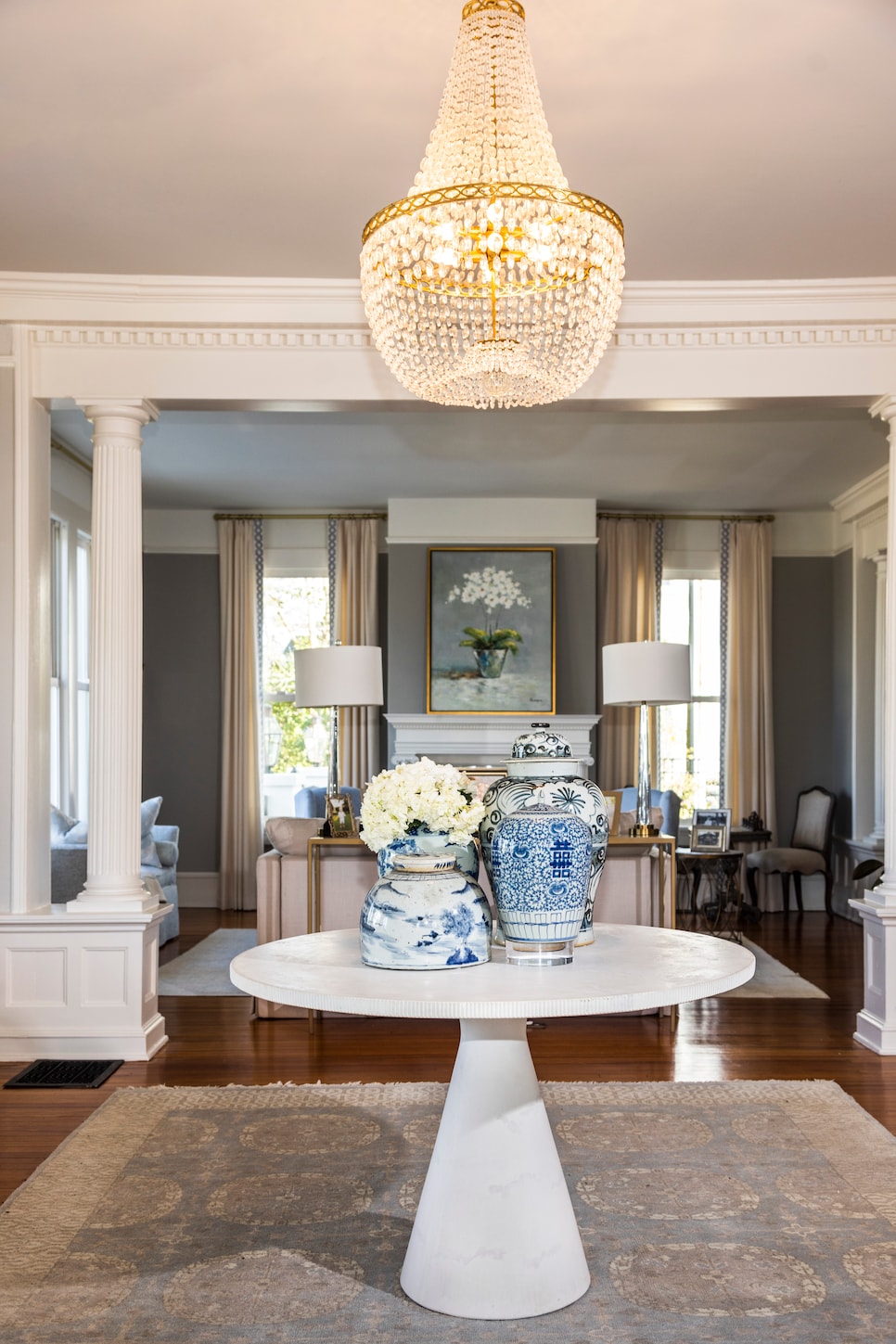 RENTAL PRICE: SIX FIGURES The colonial-style home (pictured at the beginning of the story), owned by Darren and Hayley Mack, was built in 1906 and renovated in 2017. The house now features a basketball court, putting green, bar and golf simulator.
Andrew Hetherington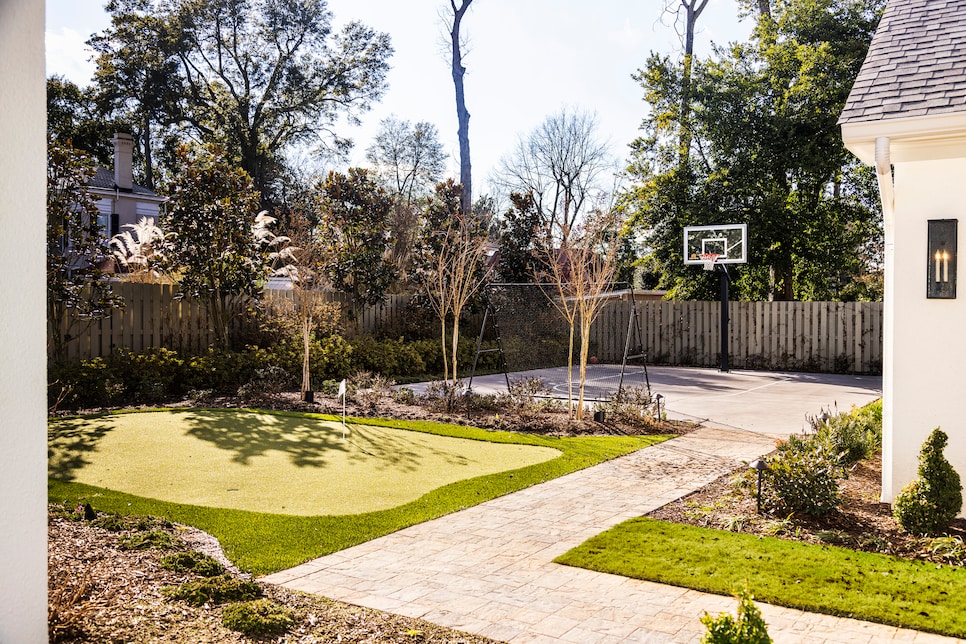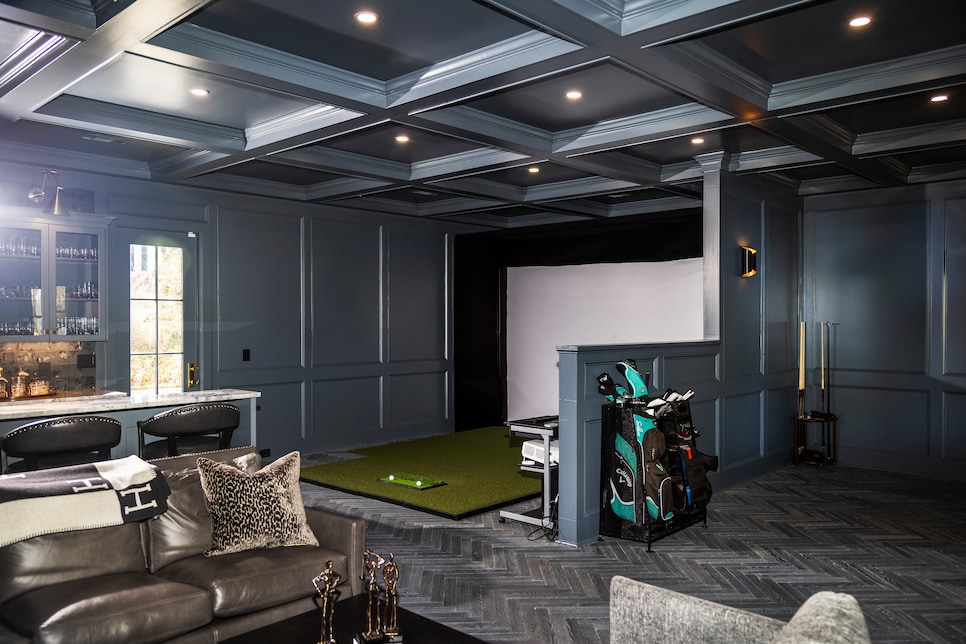 Fuhrmann breaks the homes into three categories: "host" homes, "dinner" homes and "sleeper" homes. The host homes, which can go for anywhere between $30,000 and $70,000, are where all the guests convene at night, typically for a corporation, and usually come with Masters badges. Fuhrmann builds the "sleeper" homes around the host home so that guests don't have to schlep all the way across town after an evening of entertainment. It's not out of the realm of possibility that one corporation could rent out three homes in proximity to one another, one used strictly for gathering in the evening (a host home) and the others for resting heads at night (a sleeper home). The dinner homes, which go for significantly less than hosts and sleepers, are usually reserved for smaller groups of 10 to 12 guests and receive much less wear and tear.
Players are not averse to renting multiple homes, either. Rory McIlroy normally rents a "family" house and a "staff" house. McIlroy used to rent in the West Lake community, one of the neighborhoods Fuhrmann works with. However, after staying in the same house for seven years, McIlroy needed a different vibe. "All I remembered was walking out of that house disappointed," he says. "I needed to change it up."
A vibe switch, proximity to the course and a huge kitchen for a chef to operate in are all things players consider when looking for a home during Masters week. Fuhrmann says many players used to prefer the historic areas surrounding the golf club, but now players want "new" homes, which are hard to find in those areas. Hayley Mack's home in Summerville blends historic and new together seamlessly, though it's a bit out of the price range for even the most financially well-off players. (Mack will say only that it's six figures for the week.) Mack and her husband, Darren, bought the colonial home, built in 1906, in 2016. They added 3,000 square feet (the home is now 8,000 square feet), a guest house, a basketball court, a putting green and a golf simulator. Unlike the Williams' home, this is the Macks' actual home, which they rent out only one week a year. Everything you see when you walk inside is custom, from all of the furniture to the wallpaper that was hand-painted in France. "Our goal was to have stuff where nobody could walk in and say 'Hey, I have that,' " Mack says.
ONE BILLIONAIRE RENTER BROUGHT ONLY HIS TWO SONS AND HIS CHEF AND ASKED FOR NOTHING BUT PEANUT BUTTER AND OATMEAL—AN IDEAL GUEST. ANOTHER GUEST, HOWEVER, MADE IT THE PARTY HOME FOR THE WEEK.
That extends to the gourmet kitchen, which required a complete gutting, the master bathroom, the "Kim Kardashian closet" and the stunning outdoor area, which features a custom gunite reflection pool. An indoor-outdoor living room connects to the main house, giving it a very Los Angeles-type feel. The "man cave" has a golf simulator, a lounge area and a full bar that looks less like a man cave and more like a Ralph Lauren Polo Bar, according to Mack.
"There's not a lot of homes in this area that look like ours and rent for Masters," she admits. "We did this because we saw it as an investment for our family. We obviously get a very big number for Masters week."
Mack cannot reveal the identity of her guest because of a non-disclosure agreement, indicating this is serious business. She does say it is a billionaire philanthropist, one who is "not Justin Timberlake famous, but billionaire famous." This is the second different billionaire the Macks have rented to, which makes sense given the price tag. The first renter, worth $6 billion, brought only his two sons and his chef and asked for nothing but peanut butter and oatmeal—an ideal guest. The Macks did, however, have one bad experience before the renovation. A well-known beverage company rented out the home and, as Mack puts it, made it the party home for the week. When Mack returned, her housekeeper greeted her at the door and said, "Don't panic." Mack stood there, cried and thought, Never again.
She changed her mind, and now their investment is paying off. The best part, not just for Mack but for all the residents who rent out their homes, is that the rent is tax-free thanks to "The Augusta Rule," which allows homeowners to rent out their homes for up to 14 days a year without needing to report the rental income on their individual tax return. This rule was originally created to protect Augusta residents for Masters week, though it now applies to any taxpayer who owns a home in the United States, provided the home is not a primary place of business.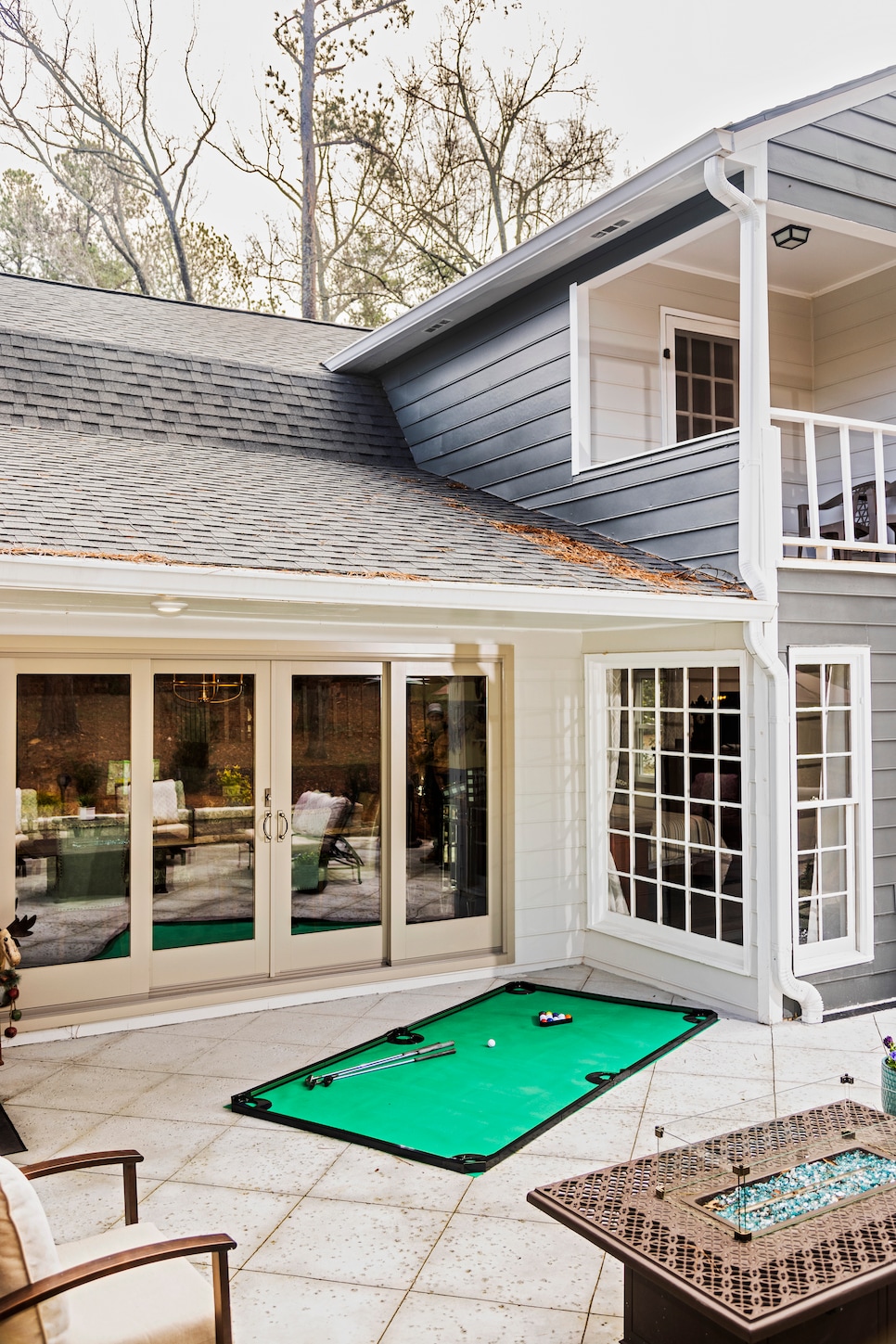 RENTAL PRICE: $30,000 Kathie Williams' house is tucked in a modest neighborhood called National Hills, but its proximity to Augusta National makes it an attractive location during the Masters.
Andrew Hetherington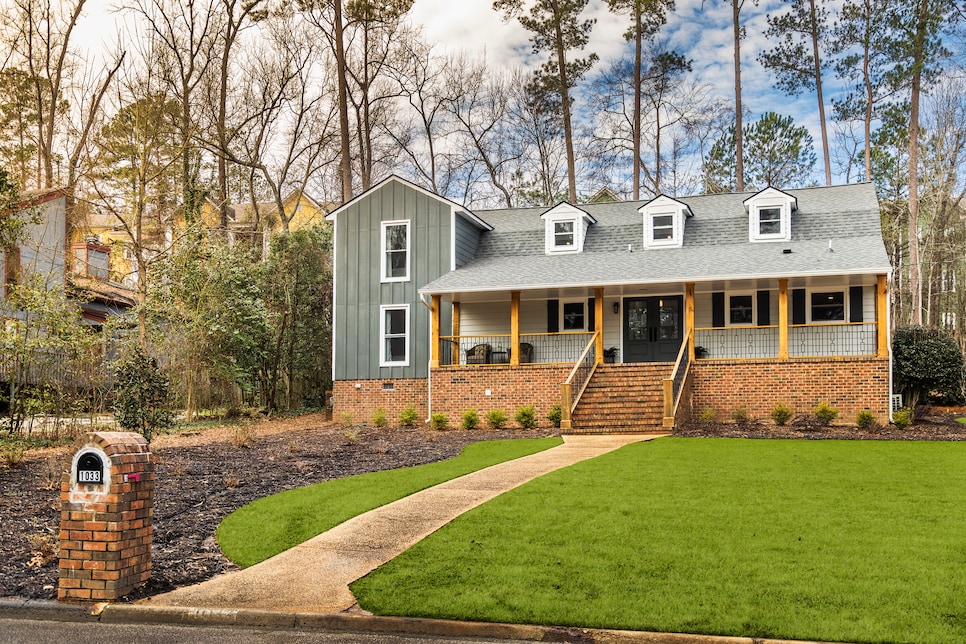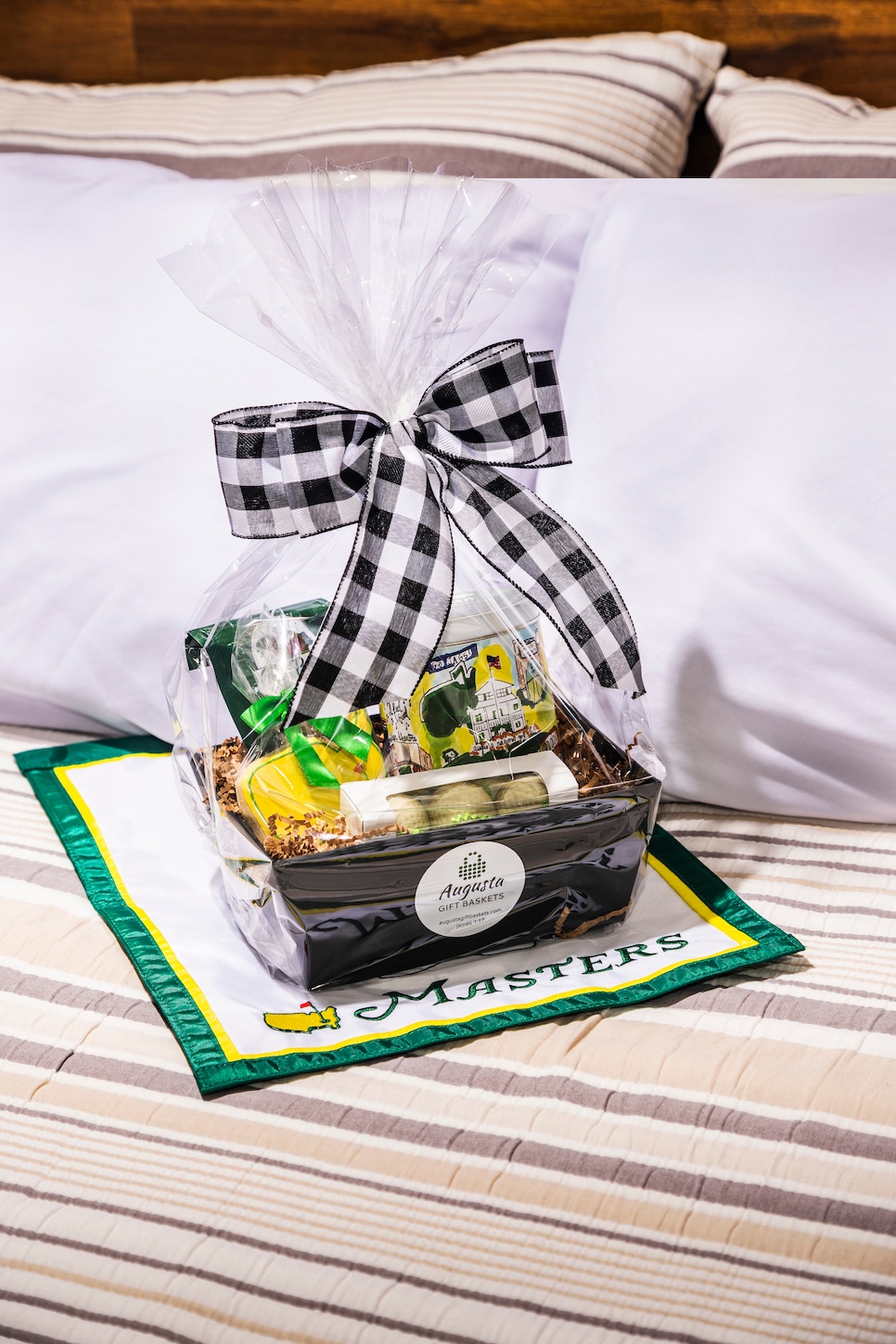 The Augusta Rule is of great importance for homeowners who, unlike Mack, don't command six-figure sums for their properties. Take Janienne and Garth Brey, for example. They bought a house on the Savannah River for about $300,000, and once the couple is finished renovating the "Riverfront Retreat," as it's referred to on VRBO, they expect to fetch something in the range of $600,000, though in the meantime they gladly rent it throughout the year and during Masters week. This year will be the fourth Masters the Breys rent out the house, and although it's not a Summerville mansion, one can't help but envision kicking back after a glorious day at Augusta National and looking out at the river. The house has four stories with four bedrooms and three baths and a glass sunroom overlooking the water that sits on top of a fully furnished deck. This sunroom is where last year 's renters, a CBS news crew, spent the bulk of their time working on a report about Tiger Woods for CBS news.
Interestingly, the Breys didn't even know about the Masters when they bought the place. "During the process, the Realtor told us, 'You know, you can rent out your house for the Masters,' " said Janienne Brey. "We were like . . . 'What?' "
THE "AUGUSTA RULE," CREATED IN THE 1970S, LETS HOMEOWNERS RENT OUT THEIR PROPERTIES FOR UP TO 14 DAYS A YEAR WITHOUT NEEDING TO REPORT THE RENTAL INCOME ON THEIR INDIVIDUAL TAX RETURNS.
WILLIAMS' FIVE-BEDROOM PALACE is inviting from the street. A long walkway through the soon-to-be perfectly manicured front yard leads to a brick staircase that climbs to the front deck. The front door opens to a first floor that feels like one big room. The state-of-the-art kitchen is situated to the right, and the living room is straight ahead. Sliding glass doors offer a view of the backyard. The outdoor area features a propane fire pit and more than enough room for the type of outdoor activities that always require a beverage in one hand. Should the weather not cooperate, or if guests are just looking for a different place to hang, the upstairs media room, complete with an 80-inch TV, is the relaxation zone.
Williams says she got a verbal agreement from a player this year, though he couldn't yet be locked in for multiple years because he's not sure he will be back in 2024, so we know the mystery man is not a Masters winner. That said, a two-time Masters winner has stayed in the house before, something Williams did not know. The previous owners, the Witt family, and their daughter, Chris, had some stories to share. "We were fortunate," Witt says, before casually breaking the news that Seve Ballesteros had made their home his go-to spot for multiple years in the early 1980s.
SOUTHERN HOSPITALITY Like many Augusta homeowners, Kathie Williams and Janienne Brey like to put up special decorations for their guests during Masters week.
Andrew Hetherington
Ballesteros would come a week early, along with his manager, his father and sometimes his brothers, for practice. Witt's mother always made sure to prepare a big meal for one of the nights (Louisiana catfish was a huge hit for the Spaniard who grew up in a fishing town), and her father would always make a big breakfast. Ballesteros and the family became friends, but the Spaniard was not shy about asserting himself in their house. Once Witt used the TV remote to put on the NCAA Tournament; March Madness was popular with their family. Ballesteros came in, grabbed the remote from her hand and said, "Golf." Witt's mother told her to find another room to watch the hoops in.
Williams doesn't realize how big of a selling point "the house Seve stayed in" is, but she may not even need to. On VRBO, where I first found Williams' home, it was listed on a normal week for about $2,500. For Masters week, Williams estimates she'll get $30,000. Williams, who has rented out different homes in the past, puts some of the money back into the house, then uses the rest to invest or to go on vacation. Hilton Head, Italy and Hawaii have all been checked off. This year, she's thinking about a cruise—anywhere that isn't Augusta on Masters week. "The area is just pandemonium," Williams says.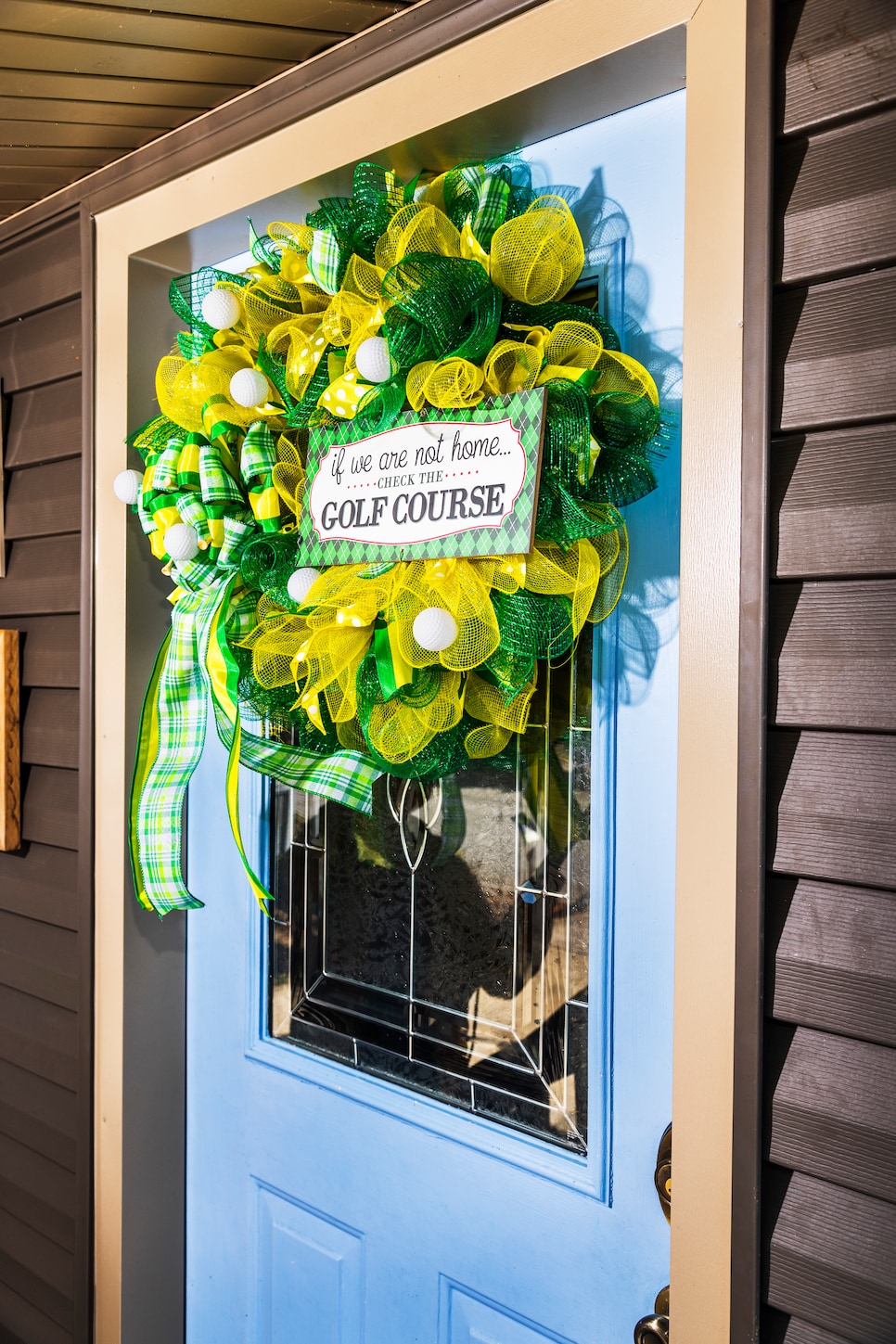 Steve (Pepsi) Hale knows this, which is why the former caddie for Keegan Bradley decided to buy his own place in town after falling in love with the area after a few trips to the Masters. Hale first experienced the Masters in 2008 when his boss at the time, Johnson Wagner, won the Houston Open and earned a last-minute invitation into the field. Hale bunked with a few caddie buddies who were renting a townhouse from a grandmother. The townhouse was one of 12 units that are right behind The Fresh Market, and over the years it had become the caddie house.
In 2016, one of the units went up for sale, and Hale made an offer that was accepted. Two weeks later, Bradley fired him. Hale bought the unit anyway. Now on the bag of Richy Werenski, Hale has not worked the Masters since, and he's beginning to think that if he wants to get back inside the gates, he should sell the townhouse to reverse the bad mojo. For now, he treats the place like a 1957 Chevy, going back and forth for weeks at a time to do work on the house. "I patch some drywall, throw another layer of paint on, replace a sink, whatever," he says. "I enjoy going there for a week."
He uses the place to take care of his fellow caddies when they come for the tournament. Hale has full-time renters, too, and they usually vacate the premises for anywhere between seven and 10 days on Masters week. He gives them a month of free rent for their troubles. Hale's original intention was to be back every year, and it still is. In the meantime, he's perfectly fine with the extra income, and if and when he no longer has a full-time job on tour, he has dreams of living in Augusta for a season or two and looping at the golf club.
"I've already had a couple of those preliminary conversations and approvals," he says. "In a perfect world, yeah, I would go there for a few years, tell a story if I'm allowed to and take care of the place."
Taking care of the place is something all residents of Augusta take seriously for 51 weeks out of the year in preparation for a tournament many of them likely never even see in person. Then, for one week, they gladly leave and welcome visitors who would otherwise never drop in on this golf mecca. All the homeowners ask for, outside of big-time money, is that the guests take care of the place, too.