For the past 37 years, I've navigated the back roads of South Carolina on a sojourn from Augusta to Hilton Head, savoring the highs of the previous two weeks—calling the Final Four of the NCAA Men's Basketball Tournament, followed by the Masters. It's an exhilarating, intense run that is so concentrated with excitement that the best of the back-to-back NCAA/Masters thrillers don't always stand out immediately.
I have more time to reflect now. The 2023 NCAA tournament to be played in my college hometown of Houston will be my final call from courtside. The early-year schedule has always been packed with weekly NFL playoff games, including every third year the Super Bowl. We cover the PGA Tour's West Coast swing, of course, then March Madness and the Masters. This meant prolonged absences from home. The plaintive, "When are you coming home, Daddy?" queries from my children were resonating more with each passing year. It was time to cut back, and the NCAA tournament, as much as I love it, was the choice.
I arrived at CBS in the fall of 1985 and by the next spring had started what many refer to as the "greatest two-week run in sports." I've often been asked how I go from the fevered pitch of the national championship game on a Monday night to the subdued-voice reverence of the Masters three days later. It's simple: I get lost in the environment of each event, adapting my voice to levels that match the scene. Just as importantly, I've had family with me almost every step of the way, thanks to an early career life lesson.
At the 1986 Final Four played in Dallas, Brent Musburger and Billy Packer called the action for CBS, and I, at age 26 and four years out of college, served as host. Louisville beat Duke 72-69 in the championship game on Monday, but it was Friday's open practice for the four teams and my on-set walk-through for CBS that I remember most. My father had driven up from Houston and watched from the side while we went through a full rehearsal. His sense of pride was obvious, and when the practices ended, he promptly made the 250-mile drive back to Houston.
That evening, there was a bash at the Southfork Ranch of "Dallas" TV show fame. As we approached J.R.'s driveway, Bob Fishman, the legendary CBS director, asked me, "Where's your dad?"
I replied, "He went home."
Bob asked me why he hadn't stayed for the Final Four games. "He didn't have a ticket," I said.
Bob was aghast. "Did you ask our bosses for one?" he said in a stern, big-brotherly way. It hadn't occurred to me that I could have asked for tickets. Bob said, "We're family here at CBS. We would've gotten him in. Don't ever do something like that again." I gulped and instantly wished for a mulligan.
At the Masters the next week, I was in the 16th-hole tower as Jack Nicklaus charged to his sixth and final Masters title. It was an honor to debut at Augusta with what many believe is the greatest Masters ever played, but the ticket blunder was still weighing on me. If only I could have shared Jack's victory with my dad!
Life has a way of allowing mistakes to be corrected. A year later, the 1987 NCAA Final Four was in New Orleans. In the championship game, Indiana's Keith Smart hit a jumper with four seconds left to lift the Hoosiers past Syracuse, 74-73. My dad was there to see it this time and so was my mother, who throughout my life had been my biggest fan and supporter. At the conclusion we drove to Augusta and stayed at a CBS rental house. My dad was in the gallery when Larry Mize chipped in at No. 11 to beat Greg Norman. The thrill my mom and dad expressed that evening was priceless.
At the 1992 NCAA Final Four in Minneapolis, Fred Couples arrived, having just wrapped up a golf version of March Madness. Earlier that winter he had won the Los Angeles Open and then Arnold Palmer's Bay Hill event by a whopping nine shots. So how did the world's No. 1-ranked player prepare for the next week's Masters? By serving, along with our close friend and college teammate Blaine McCallister, as runners for CBS. As Duke, Indiana, Cincinnati and Michigan squared off that Saturday, Freddie and Blaine were chasing down stats and other info for me and Billy Packer.
Before departing the Twin Cities that weekend, I took Fred aside and said, "We've talked about it, dreamed about and rehearsed it. I'll see you on Sunday in Butler Cabin. This is the year." In our college days I truly had "announced" Fred winning the Masters in our dorm room in Houston. On Sunday, April 12 we were no longer just two kids play acting. Fred shot a gritty 70 to beat Raymond Floyd by two strokes. That evening, he arrived back at the rental house wearing the green jacket. Fred's closest friends were there waiting for him. Paul Marchand, his coach and former Houston teammate, was there, as was Lynn Roach, his longtime manager, and John Bracken, his childhood friend from Seattle. I was there with my dad. After a raucous greeting, Fred approached my father. "Mr. Nantz, I'd like you to be the first to try this jacket on," he said. There were tears of joy in the house that night. Given that Fred had won, and my dad was there to experience it, it was a day that remains the most cherished memory of my career.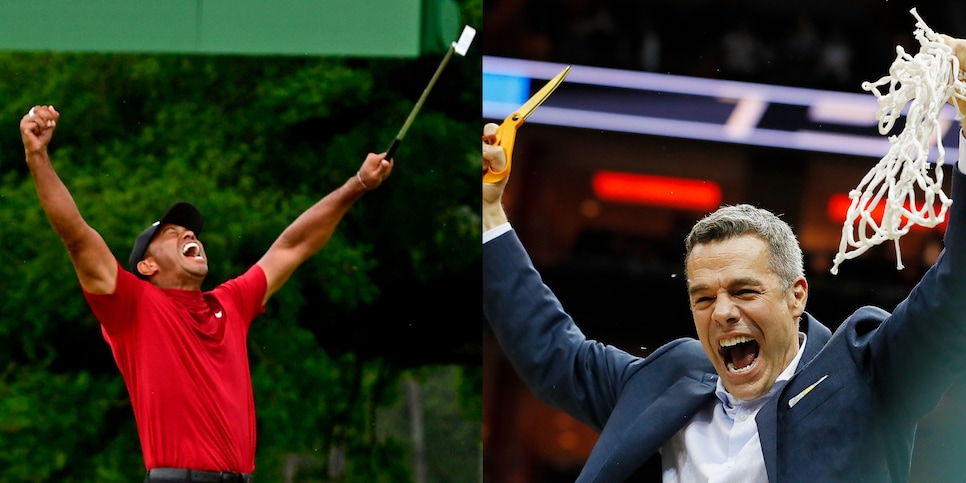 The 2019 two-week double dip also holds a special place in my heart. The previous year Virginia entered the tournament as the No. 1 overall seed but promptly lost to University of Maryland, Baltimore County, in the first round. It was arguably the biggest upset in college basketball history and the type of shattering defeat that can scar a team and a program, but it didn't faze Coach Tony Bennett's team. In 2019, they fought their way through the bracket to the championship game against Texas Tech. The Cavaliers pulled away in overtime and completed "the all-time turnaround title" and won the school's first national championship.
The next week at the Masters, I had my family with me and even took my son Jameson, age 3, down to Amen Corner for the first time. Several days later, a golfer who many had written off—Tiger Woods—executed a turnaround of his own. When his final putt fell for his fifth Masters victory, I exclaimed, "The return to glory!"
I wasn't speaking just of the glory that comes with his achievement as a player. Seeing Tiger's children, Sam and Charlie, and his mother, Tida, waiting behind the 18th green waiting to embrace him—and recalling the hug between Tiger and his father, Earl, in 1997—another type of glory was at hand: the affirmation that sports and everyday life are best enjoyed as a shared experience with friends and family.