Cover story
'It's not my life': Scottie Scheffler on focus, patience, and his keys to better ball-striking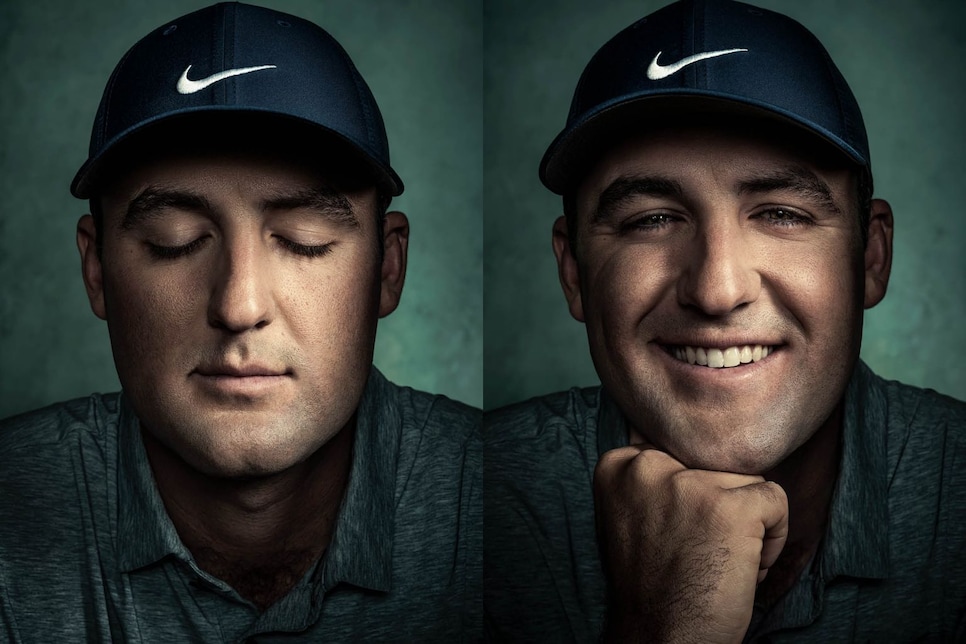 It took Scottie Scheffler all of 92 professional starts to get to World No. 1. Tiger Woods (21 starts) and Jordan Spieth (77) are the only two to do it faster, and neither of those guys spent a year in the so-called minor leagues like Scheffler did.
His meteoric rise, which included a win at last year's Masters Tournament, wasn't the result of a breakthrough swing tip or new exercise routine. He had a season for the ages by being the same person he has always been—consistent and relentless. Scheffler's primary skill—aside from virtuoso hand-eye coordination and ultra-alpha competitiveness—is the ability to deal with only what's in front of him. Many players get triggered by the past or the future—not Scottie.
You might think that type of focus, to stay fully present at all times, is reserved for the game's elite, but Scheffler and his longtime coach, Randy Smith, say it's a skill you can learn and use, too. It doesn't mean turning into an emotionless robot on the course or training yourself to somehow go blank when the pressure turns up. In fact, it means letting yourself be more human and more reactive, but with a process on how to handle it— and how to embrace the challenge as more fun.
Read on if you're ready to play more "in the now."
With all due respect to the WM Phoenix Open's 16th-hole stadium hysteria, the beer-fueled rowdiness in the desert has nothing on the focused, patriotic intensity of a Ryder Cup crowd. The sound coming from the thousands surrounding Whistling Straits' first tee for the 2021 singles match between Scheffler and then World No. 1 Jon Rahm "was like being inside a jet engine," Smith says. "I've never seen or heard anything like it in my life."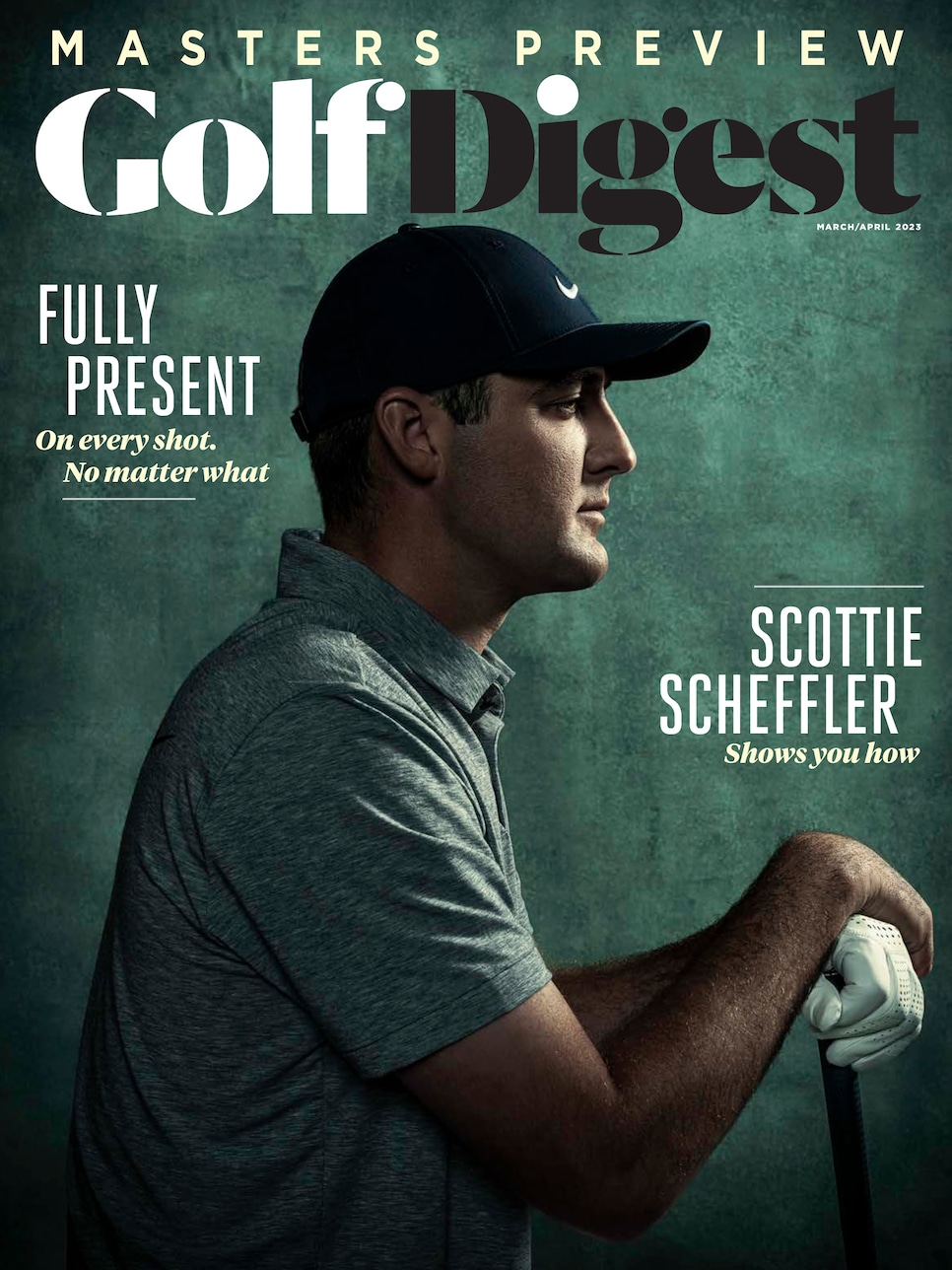 Neither had Scheffler. A year removed from being named PGA Tour Rookie of the Year but still winless at the top level, Scheffler did have success that hinted at his potential—U.S. Junior Amateur champion, Korn Ferry Player of the Year. But on this stage, this early in his professional career, the moment could have been paralyzing.
"I didn't have anything to compare it to," Scheffler says. "You hear players say winning a match at the Ryder Cup is like winning a major. There's so much more weight because you're also playing for the other 11 guys, captains and vice captains and the thousands of people out there. At the Masters, it's just me, my caddie and a small team. If I fail, they still love me. If you fail at the Ryder Cup, you're letting down the whole country."
'WHEN I'M PLAYING MY BEST, I'M FOCUSED ON THE TARGET, THE SHOT SHAPE. . . . I'M NOT THINKING ABOUT SWING MECHANICS.'
Once Scheffler's tee went into the ground that fall day, the stress and anxiety from the run-up to the match receded. He went through his usual routines and mannerisms, down to his familiar shirt-shoulder tug and thousand-yard stare. It was as if he was playing a random off-week match against his buddies with only $50 on the line.
"It doesn't matter where I'm playing, I'm just an amped-up person, excited to compete. The buildup can be a challenge, but when you get out there, all of that melts away. Then it's just, I know what I'm doing. I can play this game."
In that Ryder Cup match, Scheffler birdied the first four holes and never let the previously undefeated Rahm rally. He put the first singles point on the board for the victorious American team and went 2-0-1 in his matches. That performance set the table for an incredible stretch when, in the span of five events, he rose to No. 1 in the World Golf Ranking with wins at the WM Phoenix Open, the Arnold Palmer Invitational, and the WGC-Dell Technologies Match Play. If that wasn't enough, he followed that with a victory at the Masters, his first major.
Your first lesson, Scheffler says, is to stick with your habits, your mannerisms, your style of play—no matter what you're up against. The atmosphere might feel different, but you're not.
DRIVER: STRETCH YOUR CHEST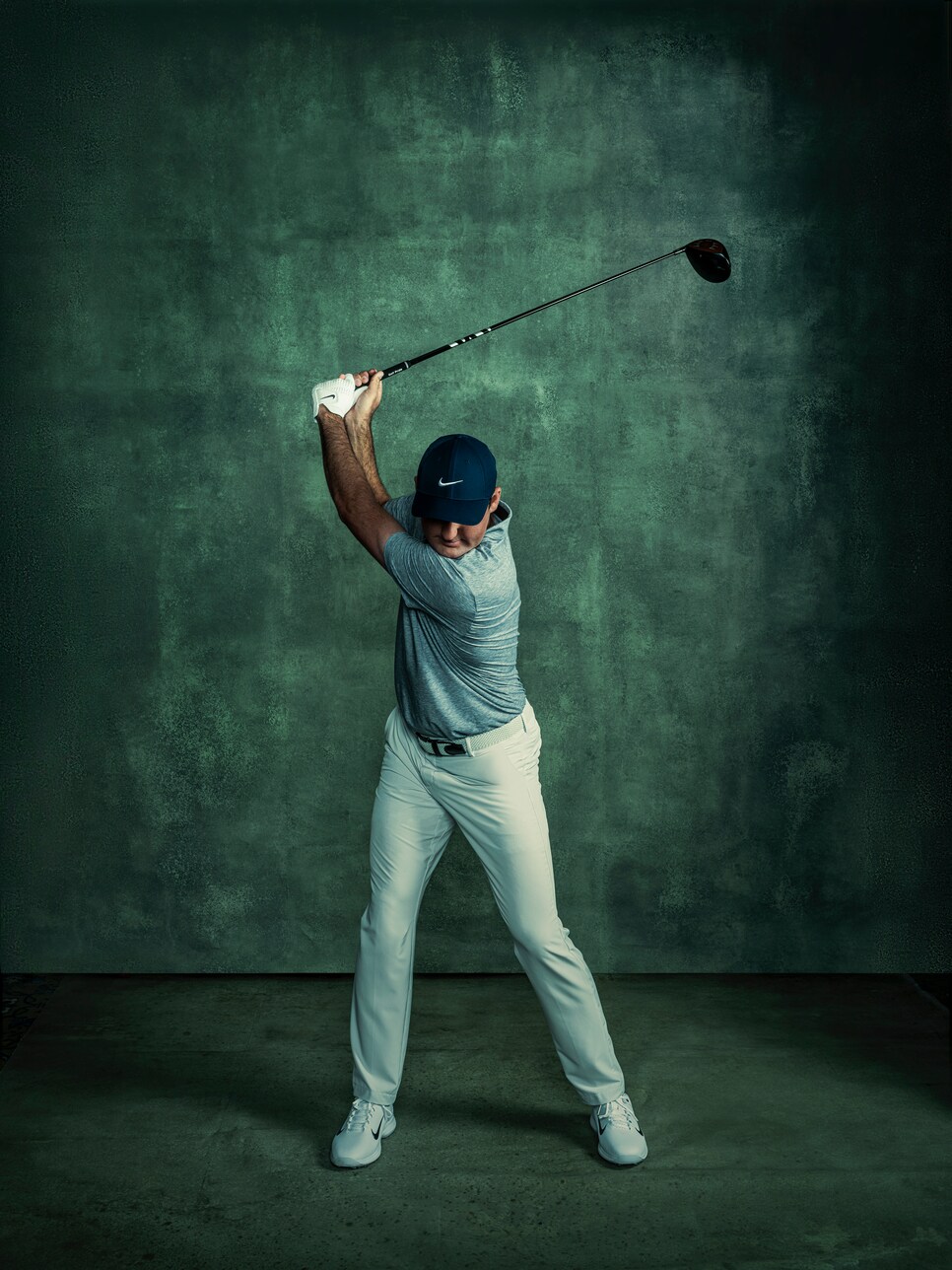 Transitioning too fast is a big reason you don't hit it as far—or as straight—as you can, says Scheffler's coach, Randy Smith, one of Golf Digest's 50 Best Teachers in America. "If you don't get a full stretch in your chest on the backswing, the downswing happens too fast relative to your body's timing, the club gets to the ball too early, and a slice or pull is the likely result." Instead, keep stretching as you swing back. Don't stop until you feel the weight of the clubhead 'tip over' at the top."
YOU DON'T HAVE TO BE PERFECT— NOT EVEN CLOSE
Watching golf on television can give the impression that the best players in the world are flushing almost every shot. It's true that a lot of things have to go right to win a tournament at any level, but that doesn't mean it's necessary to stay mistake free to play really well.
"In Phoenix [in 2022], I learned it doesn't take perfect golf to win," says Scheffler, who picked up his first tour victory after a three-hole playoff against veteran Patrick Cantlay. "I came from behind there, and I made three or four bogeys in the first 12 holes on a course where you have to go out and make a bunch of birdies. When I got to Bay Hill, I was struggling. I had to keep telling myself everybody else was struggling, too, because the course was so hard. I thought, Just stay patient. Knowing it's OK to make some mistakes is freeing. You can stop thinking about what's going to happen on the next hole, or what the guys behind you are doing, or where the ball is going to end up, and just try to hit a good shot. Then get to the next shot and try to do it again."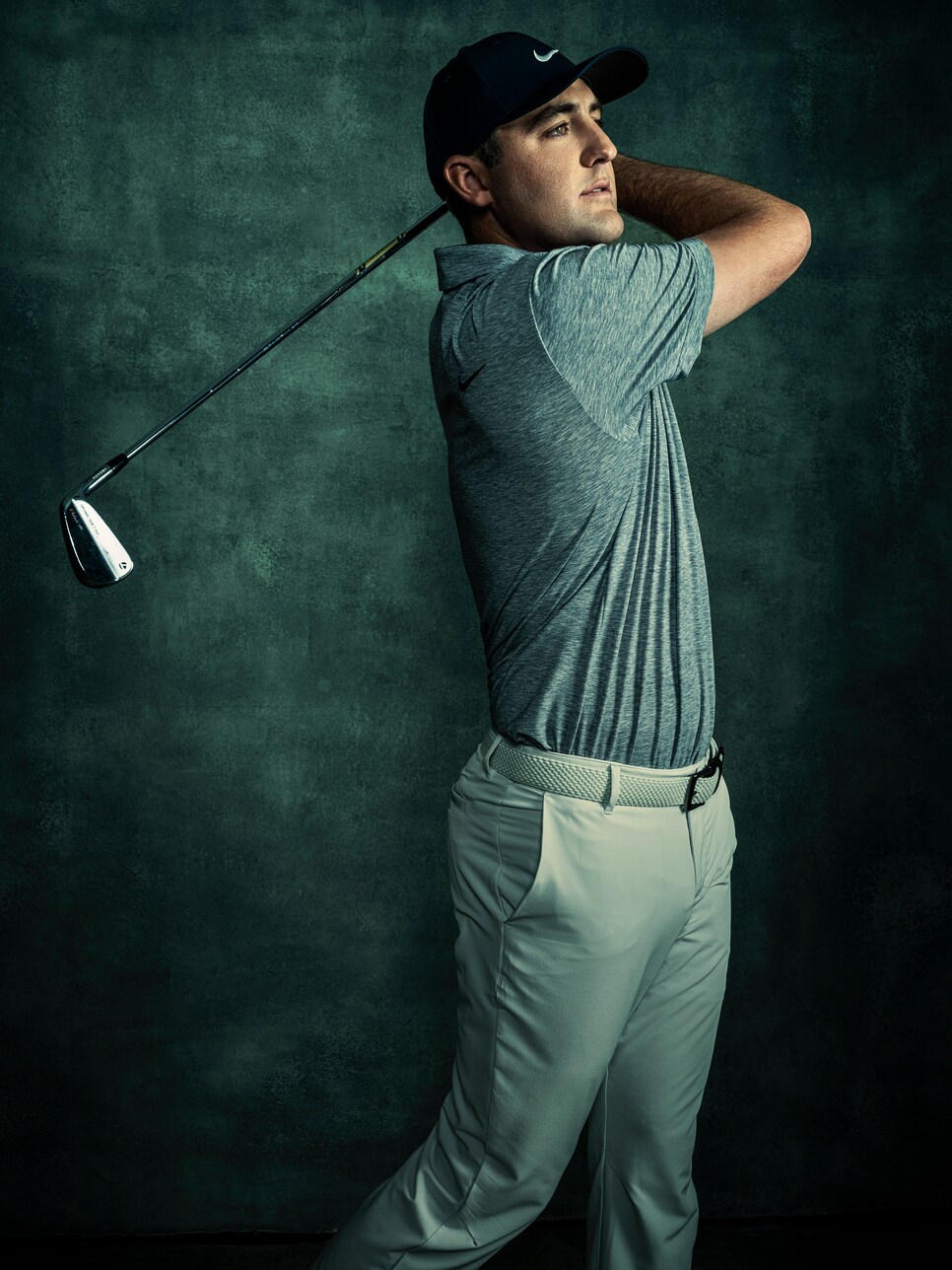 Scheffler hits more balls than virtually anyone on the planet, Smith says. He even carries a club with a reminder grip for practice. "Every player's grip drifts, which means every player needs to be checking it," Smith says. Scheffler's issue was the handle drifted up and his lower hand was almost off the club. The subtle change in feel made his hands more active, giving him the impression he was slapping at the ball. Your hands should play a more passive role in the swing, Smith says, so adjust your grip to reduce the impulse to hit at the ball with them.
PUTTING: NEUTRALIZE YOUR GRIP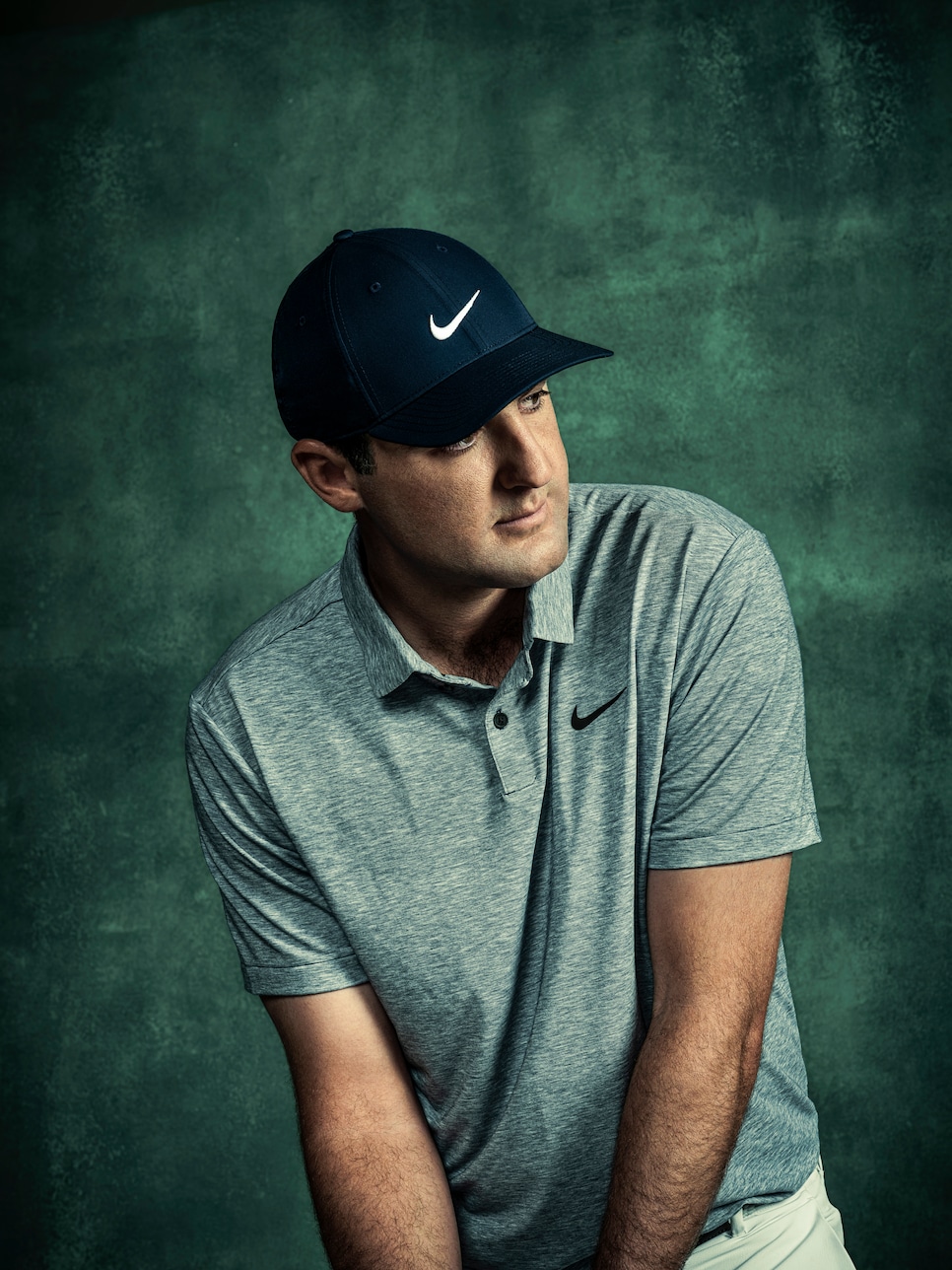 No matter what style putter or stroke you use, stability through impact is key, Smith says. For many players, that will be much easier with a simple adjustment: "You have to be careful not to let the lower hand go on the handle in a 'too strong' position, like it would be for a full shot," Smith says. "When both hands are neutral—meaning the lower hand is weaker and oriented more toward the target, you're going to have much more stability."
BURY YOURSELF IN THE PROCESS
At the 2022 Masters, his tee shot on the 18th on Saturday afternoon was like a needle scraping across a record. He pulled it deep into the thick line of trees and bushes that form part of the "vegetation tunnel" you have to get through to find the fairway. Before that big miss, Scheffler had been cruising, building a four-shot lead over Cameron Smith. As he got to the area where his ball landed, and it still hadn't been located, his first feeling was a flash of panic and the next was to second guess: Why did that happen? Was I trying to hit it too hard? Was I not fully committed to the shot? "Those feelings and thoughts come first—and that's all right," Scheffler says. "But how quickly can you reset and get into 'solutions' mode? I have to go find my ball in the woods. OK, found it. Can't hit it. What can I do? How do I get to a place where I can hit it?"
Scheffler dropped in the pine straw and ripped a high, hard 3-iron that hit the green and ended up just off the back edge. He wound up making bogey, but it was more of a triumph than a defeat, preserving a comfortable cushion leading into Sunday.
"That's the thing Tiger has been so good at," Scheffler says. "When he's in those situations, all he's thinking about is trying to execute the shot. He isn't worried about if it's going to work out. He's fully committed to what he's doing. I'm just trying to get as close to that as possible. When I'm playing my best, I'm focused on my target, the shot shape. I'm getting so focused on what I'm trying to do with the golf ball that I'm not thinking about swing mechanics. I'm not thinking about anything other than good rhythm and feeling where the shot is going."
SHORT SHOTS: FOLLOW YOUR PIVOT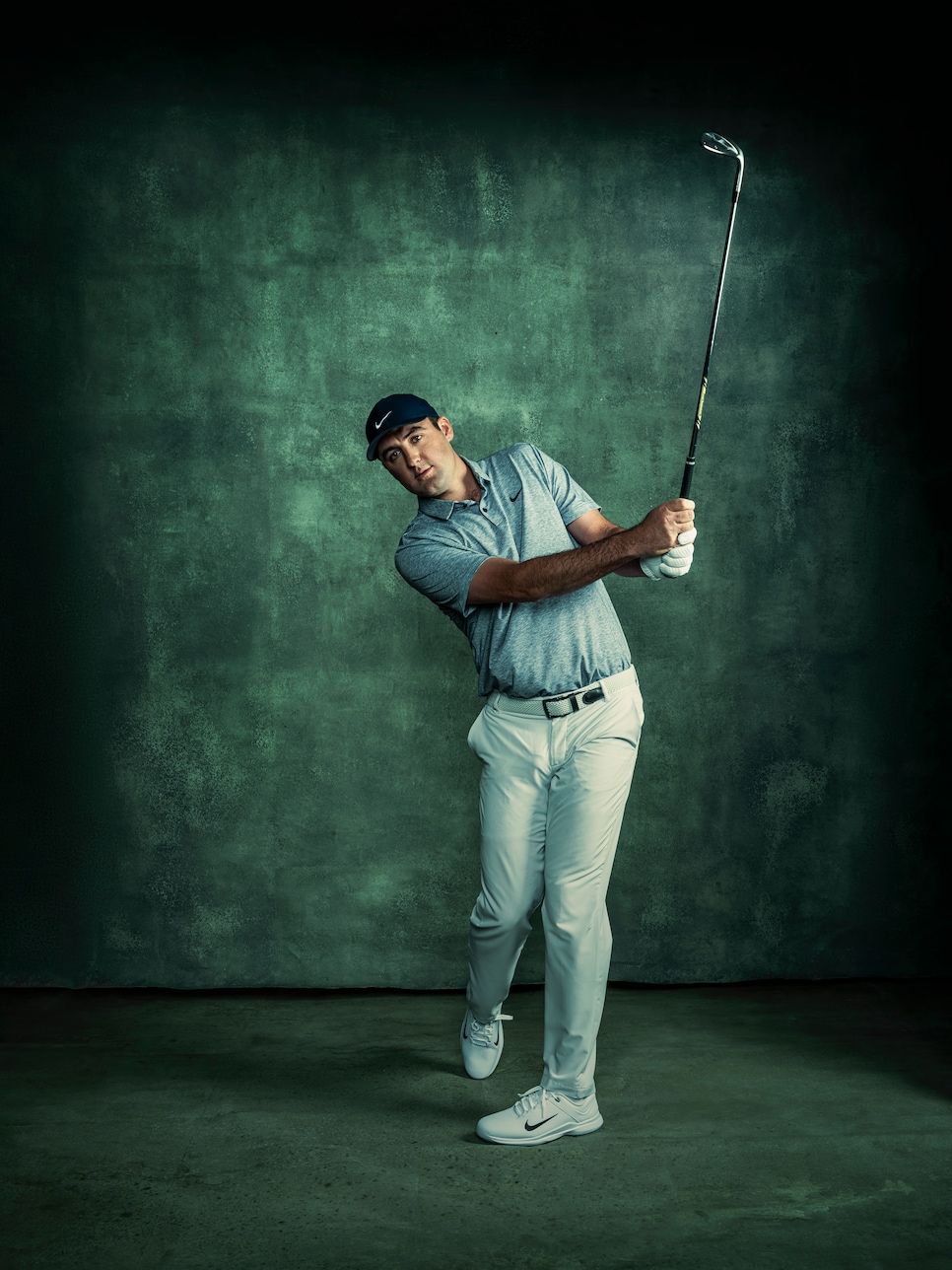 With all short-game shots, one thought that can dramatically improve the quality of your impact is Let your club follow your pivot. "If your body stops on the way through, or you stop the club at the ball, you'll never have a consistent bottom to your swing, and there goes predictability and any consistency," Smith says. "Pivot toward your target, and let the clubhead flow through the ball and finish at the spot you picked."
PRACTICE WITH REAL INTENT
The emphasis here is on the mental game, Scheffler says, but that doesn't mean mechanics don't matter. They do, but you probably have to change your relationship with them—and how you approach technical improvement. That was one of the biggest adjustments Scheffler made going from college golf at Texas to the PGA Tour.
"I've always been very good at being focused, but I focused on random stuff—like games on the range and trying to hit a certain pole or something," Scheffler says. "Keeping practice fun is important, but ultimately the practice you're putting in needs to serve what you're trying to accomplish when you play. There are certain guys you can watch out on the range, like Patrick Cantlay or Justin Thomas, and you immediately see that they're intentional and focused. I used to be able to spend all day out there, but now I just don't have as much time or energy because there's just more stuff going on. I can't be ready for what happens on Sunday if I'm wasting a bunch of time Monday, Tuesday and Wednesday."
The takeaway for you is to come into a range session with a single, specific thing to accomplish. Treat it like a mission. "One of the big benefits of the Ryder Cup was, for the development process, it showed me the max amount of pressure I could feel. That really informed the way I practiced after that," Scheffler says. "You know what you were feeling and thinking over those shots, so you can start to practice to prepare for those scenarios."
At any level—and especially at the highest level—managing failure is a fundamental part of the game. Shots don't always work. Players lose tournaments. Other players play well to win. Even Scheffler's career year ended on an off note when he let a six-shot lead get away on Sunday at the Tour Championship. Keeping the losses in the proper perspective can make them fuel for future success instead of scar tissue.
"Tiger didn't make every putt and win every tournament," Scheffler says. "What happened at East Lake at the Tour Championship, or being one shot away from winning the U.S. Open, I'm never going to forget those tournaments. Those experiences are good lessons when it comes to putting in the work. Even though the good and bad memories will stick with me, they don't hang over my head every day. When I get home, I'm home. I'm just trying to have fun. Golf's one part of my life, but it's not my entire life."
Even there, he's fully present.