THE RORY STORY
In first tournament back from brief hiatus, Rory McIlroy's struggles continue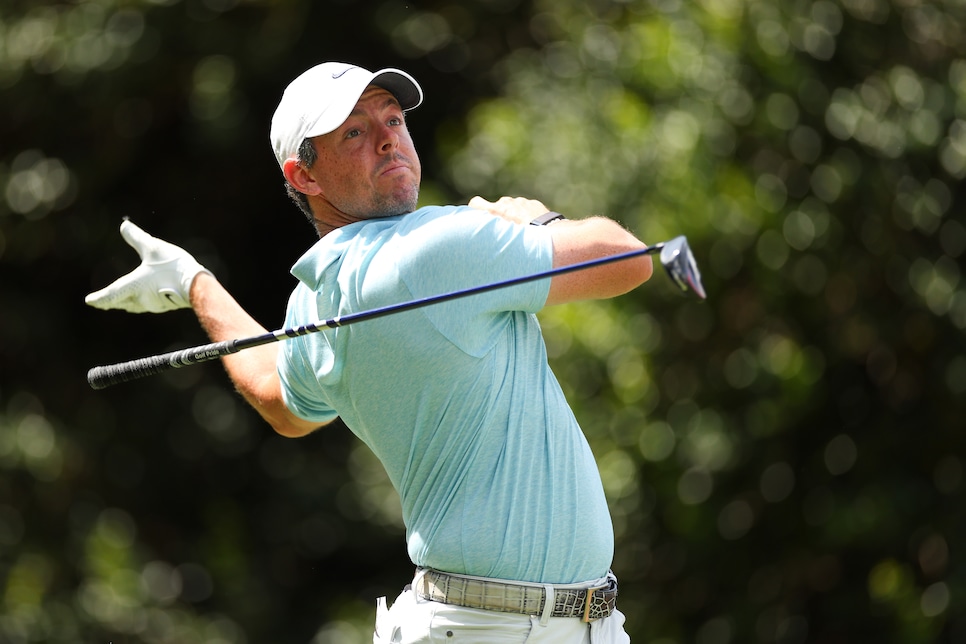 CHARLOTTE — Tuesday evening, at a Charlotte restaurant/bar/miniature golf course called The Puttery, Rory McIlroy made his return to the public eye, faced NASCAR driver Denny Hamlin in a putt-putt contest, then held a brief media scrum in which he conveyed that the stress of 2022 had finally burned him out, he skipped the RBC Heritage due to his disappointment at the Masters, but now he was changing his whole perspective on what truly matters in golf and in life.
That kind of mental project can take time, and whatever psychological shifts McIlroy is undertaking weren't immediately apparent at the Wells Fargo Championship, where after a three-week layoff he followed a promising opening-round 68 with 73-71-72 to finish the tournament at even par and finish well down the leaderboard in a tie for 47th place. It beats his missed cuts at the Players Championship and Augusta National but falls well short of the standards that saw him regain World No. 1 at the end of last year.
The end of his Sunday round was particularly lackluster; an invigorating 71-foot eagle putt on 10 brought him to three under for the tournament, but errant drives into the water on 14 and 15 gave away both of those strokes, and on 18, another drive into the right pine straw led to an approach that found the creek running alongside the left fairway, leading to a final bogey.
To judge from afar on those last holes, his body language seemed positive enough—he nodded to the cheering crowds, and even exchanged a bit of banter with them—but underlying it all was a sense of fatigue. That was highlighted by what came after, when instead of addressing the small group of journalists waiting for him outside the scoring area, he left the grounds with no comment for the second straight day.
It can be easy to read too much into this—the week before the Players, he finished T-2 at Bay Hill, and then finished third at the WGC-Dell Match Play just before the Masters, so there's clearly elite golf left in him. But if over-analyzing McIlroy's results is one of the favorite pastimes of golf media and fans, there will be plenty of fodder as he seeks to restore his energy and recover top form in time for the year's three remaining majors.