Tee Times
Presidents Cup 2022: Breaking down Saturday's foursome pairings at Quail Hollow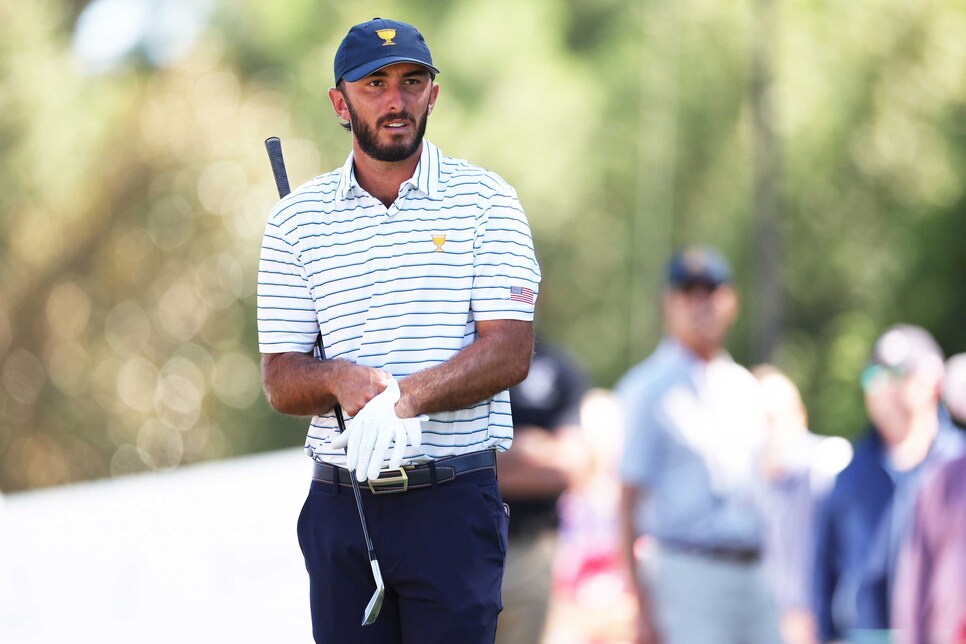 CHARLOTTE — With two decisive victories that required only 29 holes, Patrick Cantlay and Xander Schauffele probably didn't need a rest as the 14th Presidents Cup moved into Day 3. But U.S. captain Davis Love III is giving them one anyway.
Which is all we need to know about America's depth and confidence.
The dynamic pair, unbeaten in foursomes in combined Presidents Cup and Ryder Cup play, have been given the morning off on Saturday with the U.S. team holding a commanding 8-2 lead over the International squad. Four matches in the alternate-shot format starting at 7:12 a.m. EDT, will be followed in the afternoon by four more four-ball matches at Quail Hollow Club.
Twelve singles matches are on tap for Sunday.
The U.S. needs just 7½ points out of the remaining 20 to retain the Presidents Cup for a ninth straight time and capture it for the 12th time overall.
"The plan is just … as we said yesterday, the plan is to try to figure out who to sit out," Love said. "We've got so many guys, so it's spreading it around a little bit. You've seen it in what we've done the last five or six teams. We don't just hide people or make a guy sit out two days in a row or all day in the Ryder Cup. So it's mixing and matching and making sure everybody gets in the game and keeps the momentum going.
"We have a good group and a great plan. We'll come back tomorrow afternoon with the other guys that sat out and a few others to round it out."
The four teams that Love did designate for morning duty looked familiar. Likewise, International captain Trevor Immelman didn't deviate from the pairings that he had put together in Thursday's foursomes session, despite the fact his side one only one of those five matches.
"All the hard work was done in preparation, creating the partnerships and doing that kind of work behind the scenes, understanding what we thought would work best," Immelman said. "So we run the system that we run, and we've just got to hope that the guys perform better when they get to the greens. That's just, for us, where it's been separated right now."
Here's the matchups for Saturday morning:
7:12 a.m.—Sungjae Im/Corey Conners (INT) vs. Jordan Spieth/Justin Thomas (USA)
7:24 a.m.—Adam Scott/Hideki Matsuyama (INT) vs. Cameron Young/Collin Morikawa (USA)
Scott and Matsuyama were supposed to be the stalwarts of the International team and have been blanked thus far, undoubtedly a frustrating prospect for Immelman. Scott is now 7-10-2 in foursomes after he and Matsuyama fell to the juggernaut of Cantlay and Schauffele on Thursday, 6 and 5, making them 1-6 when paired together during their careers in the event (Matsuyama is 1-5-1 overall in his career at foursomes). Rookies Young and Morikawa won their opening foursomes match, 2 and 1, over K.H. Lee and Tom Kim.
7:36 a.m.—K.H. Lee/Tom Kim (INT) vs. Scottie Scheffler/Sam Burns (USA)
Sometimes good friends don't necessarily mesh well together, but Love decided to give this American pair another shot at a win. They surrendered a 3-up lead in their opening four-ball match to fall to Cam Smith and Si Woo Kim and then on Friday saw a 2-up lead evaporate in eking out a tie against Im and Sebastian Munoz. As mentioned above, Lee and Kim fell in foursomes on Thursday. Immelman is sticking to his analytics to the bitter end it appears.
7:48 a.m.—Si Woo Kim/Cam Davis (INT) vs. Tony Finau/Max Homa (USA)
Homa is riding a wave of confidence after burying crucial birdie putts on the 17th and 18th holes on Friday to provide him and fellow rookie Billy Horschel with a soul-stealing 1-up win over Conners and fellow Canadian Taylor Pendrith. Now he teams again with Finau, and the pair also won on the 18th hole in their foursomes match against Pendrith and Mito Pereira on Day 1. Kim and Davis have so far provided the only win for the Internationals. Homa, winner of the Wells Fargo Championship at Quail Hollow in 2019, will play in the final match for the third straight session.