Presidents Cup
Presidents Cup 2022: Max Homa says of making two straight putts to seize match, 'Money cannot buy that feeling'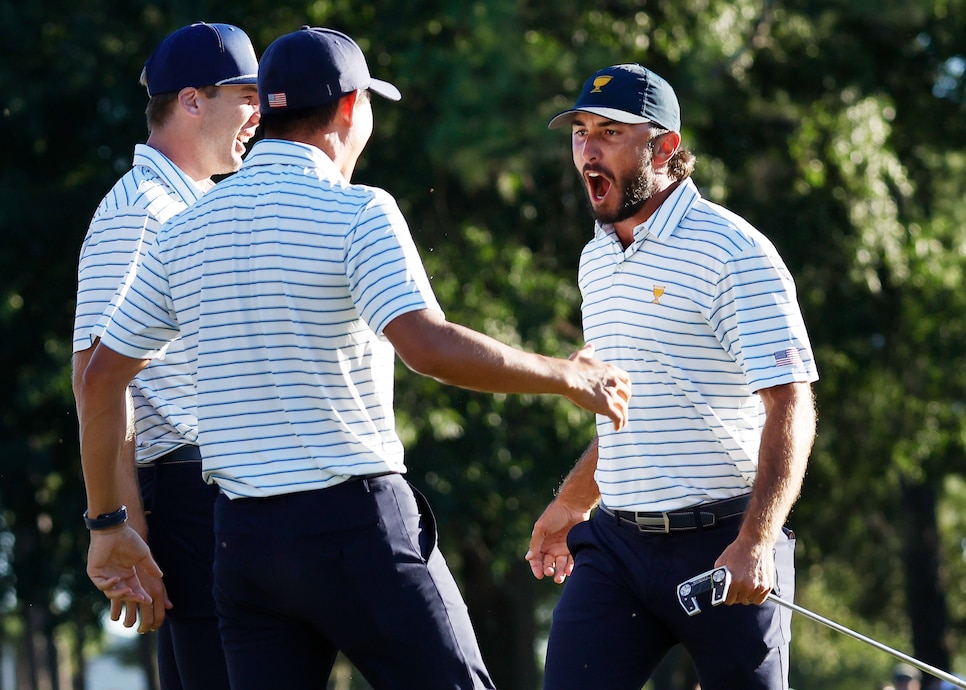 Max Homa celebrates with Sam Burns and Collin Morikawa after making his putt on the 18th green to win with teammate Billy Horschel 1 up against Canadians Corey Conners and Taylor Pendrith.
Jared Tilton
CHARLOTTE — Not even LIV Golf could put a price on Max Homa's Presidents Cup debut. On Friday, the 31-year-old Team USA rookie drained birdie putts on the 17th and 18th holes to crush the spirit of Internationals Corey Conners and Taylor Pendrith—just when it was looking like the Canadian duo were going to snag an upset match victory in the lopsided four-ball session.
Pendrith and Conners had fought from 2 down to be all square with two holes remaining. But Homa made a 13-foot birdie on Quail Hollow's 17th to win the hole and go 1 up. On the 18th, Pendrith responded with a birdie to hold hope of winning the hole and halving the match. But Homa poured his birdie in the middle of the cup to earn a victory for himself and four-ball partner Billy Horschel. It was Homa's second point of the week.
The Californian was considerably more elated Friday at Quail Hollow than last week in Napa, when he secured his fifth PGA Tour win at the Fortinet Championship when Danny Willett three-putted the 72nd hole from short distance. On Friday, Homa furiously fist-pumped and chest-bumped on the 18th green with teammates Sam Burns and Collin Morikawa, as well as Horschel.
"I was telling my wife, when we talk about things money can't buy, money cannot buy that feeling," Homa said in a press conference after the match. His reference to LIV's huge guaranteed-money contracts was obvious when Horschel, sitting beside Homa, heard his response and turned to Jordan Spieth and Justin Thomas with a broad grin. Horschel has been one of the most outspoken critics of LIV. "That was something that I will remember forever," Homa continued. "I will tell anybody, whoever wants to hear about it how that felt.
"It's a hundred times better [than winning an individual PGA Tour event]. I am very close with my personal team; you feel like you have this little nucleus that relies on your good play. But this is different. You've got captains that have won majors. You have players who have won multiple majors. You have the best golfers on planet earth relying on you, and to show up and show out for them is just nothing like a regular golf tournament."
World No. 16 Homa, who has yet to play a Ryder Cup, was one of six captain's picks made by U.S. skipper Davis Love for the 14th edition of the Presidents Cup. He admitted he was borderline harassing Love throughout the year to be a pick if he didn't qualify. His eagerness was rewarded by Love with being put into the final match of the first two days, having secured a point with Tony Finau on Thursday's foursomes session.
Homa said having multiple major winners like Morikawa, Spieth and Thomas watching his match was a feeling he'll never forget.
"It was pretty surreal; the atmosphere out there is insane," Homa said. "There's so many people, you can feel them on the back of your neck.
"I'm not super, super close with anybody on this team, but I have always respected and gotten along with everybody. It's been amazing to watch these 11 other guys who are incredibly good, acclaimed, and with so many accomplishments, cheering us on coming down the stretch. I've been in the last match both days, and to be able to see that is special for me. The golf's amazing, but you'll remember that kind of stuff well into your days."
MORE PRESIDENTS CUP 2022 STORIES FROM GOLF DIGEST