Presidents Cup
Presidents Cup 2022: Everything you need to know about Day 2 at Quail Hollow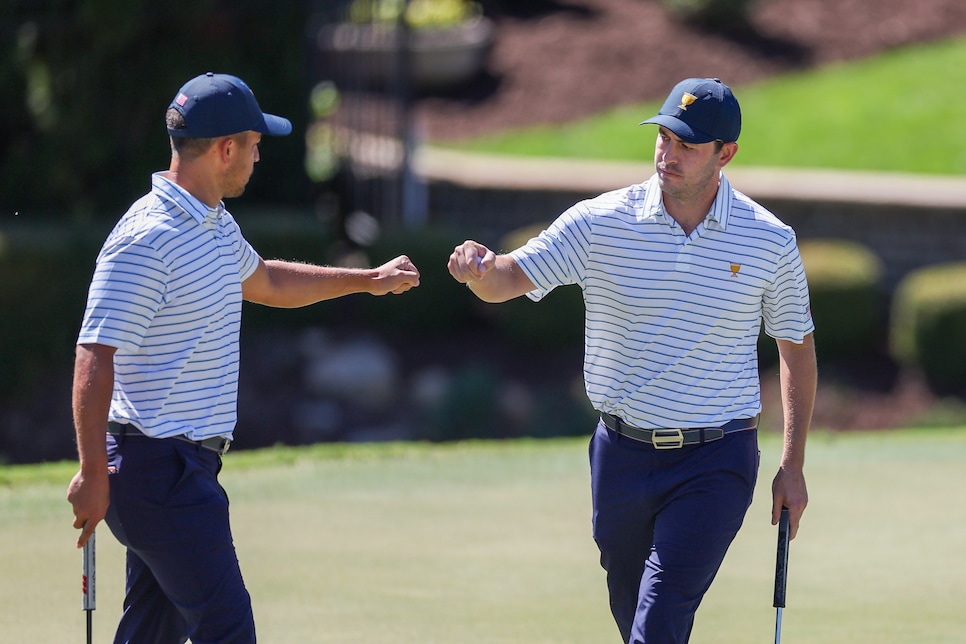 Prior to this 2022 Presidents Cup, the question of whether or not the International team could pull off the upset seemed to fall in the pipedream category. The real question should have been—Wven if the International team played its absolute best golf, would it be enough to even put up a fight?
Unfortunately for golf fans and for NBC television execs, the answer appears to be a resounding no. On Friday at Quail Hollow, Trevor Immelman's squad grinded its way to ... wait for it ... one point, an identical output to Thursday's matches. Heading into Saturday, the road team trails 8-2, which was the exact score after Friday in 2017 at Liberty National, where the U.S. went on to win 19-11.
At this point, the International side might sign for 19-11. This thing could get ugly, like significantly uglier than it already is, which is a shame given how well the likes of Sungjae Im and Cam Davis have played. Taylor Pendrith, the last man selected to the International roster, has been fantastic in his rookie debut. What he has to show for it is consecutive losses of 1 down. A long birdie conversion on the final hole wasn't even enough to grab a halve, as American rookie Max Homa promptly poured in his birdie try not long after to halve the hole and win the match.
Here's everything else you missed in Charlotte on Friday at the Presidents Cup:
Jordan Spieth / Justin Thomas (USA) df. Adam Scott / Cam Davis, 2 and 1
Scottie Scheffler / Sam Burns TIED Sungjae Im / Sebastián Muñoz
Kevin Kisner / Cameron Young TIED Mito Pereira / Christiaan Bezuidenhout
Patrick Cantlay / Xander Schauffele (USA) df. Hideki Matsuyama / Tom Kim, 3 and 2
Billy Horschel / Max Homa (USA) df. Taylor Pendrith / Corey Conners, 1 up
For the International team to have had any chance of an upset this week, it would have needed A+ performances from its two veterans, Hideki Matsuyama and Adam Scott. It has instead gotten F- performances out of both, which was a real killer on Thursday when they played together in the opening match and got trounced by the formidable team of Patrick Cantlay and Xander Schauffele, 6 and 5. Immelman smartly split them up on Friday, Scott going out first with fellow countryman Cam Davis and Matsuyama going out fourth with 20-year-old Tom Kim. It didn't work, though in fairness to Scott and Matsuyama, nobody is beating Patrick Cantlay and Xander Schauffele (Kim and Matsuyama's opponent) this week, and you might be able to say the same for Justin Thomas and Jordan Spieth, who Scott and Cantlay put up a decent fight against. Davis shined, making four birdies and cutting the deficit to 2 down with two to play, but Spieth slammed the door with a long birdie conversion at the 17th. Even if Scott and Matsuyama conjure up some magic on the weekend, it will likely be too late.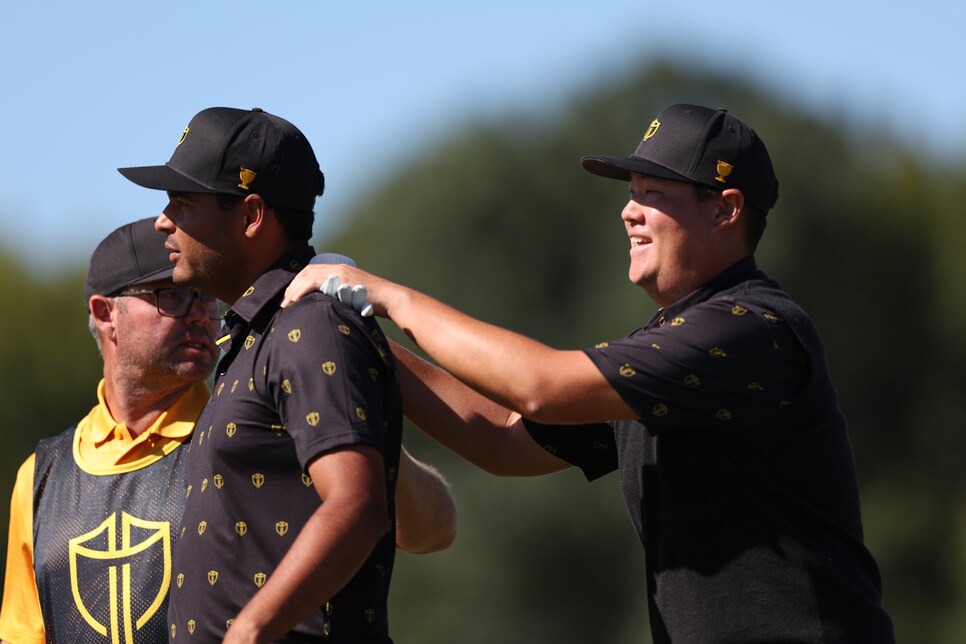 With Spieth and Thomas making a bunch of noise ahead, Sungjae Im and Sebastián Muñoz slowly began to turn their match against Scottie Scheffler and Sam Burns back in their favor. They appeared to completely flip it at the par-3 14th, where Im chipped in for a birdie and let out a huge fist pump, likely assuming it was enough to square the match. Scheffler then proceeded to pour in his 10-footer to upstage Im, picking up a crucial halve and keeping the momentum on their side. Im and Muñoz did eventually claw out a half point, but had that hole gon differently they may have gotten the full point, and full points are the only thing that could even make this a contest.
Not to sound harsh, but there is none. The aforementioned Im and Muñoz shot nine under best ball and they were pretty fortunate to halve the match. Matsuyama and Scott are nowhere to be found. Si Woo Kim, who was a part of the only winning duo on Thursday, for some reason sat Friday. It sure feels like the final outcome is understood.
It was clearly the Im/Muñoz vs. Scheffler/Burns match, but since we already devoted some real estate to that, we'll give a special shoutout to the end of the Homa/Horschel vs. Conners/Pendrith match. Key phrase: end of. This thing was a pillow fight for much of the day and then Homa caught absolute fire and Horschel made a handful of clutch putts, too. It was Homa who finished the job, though, hitting his approach shot on the 17th hole to 13 feet and making the putt to take a 1-up lead to the 18th tee. Then, after finding the fairway, Homa's 200-yard approach came to rest 11 feet from the cup, and after Pendrith made a bomb for birdie that sent the International team into a frenzy, Homa buried his anyway to win the match. It was, by far, the most animated Homa's ever been on the golf course, and it brought his record to 2-0-0 on the week. The rising PGA Tour star has now become a rising team event star overnight.