Guys Being Dudes
Presidents Cup 2022: Justin Thomas and Jordan Spieth are having the most fun any duo has ever had in team event history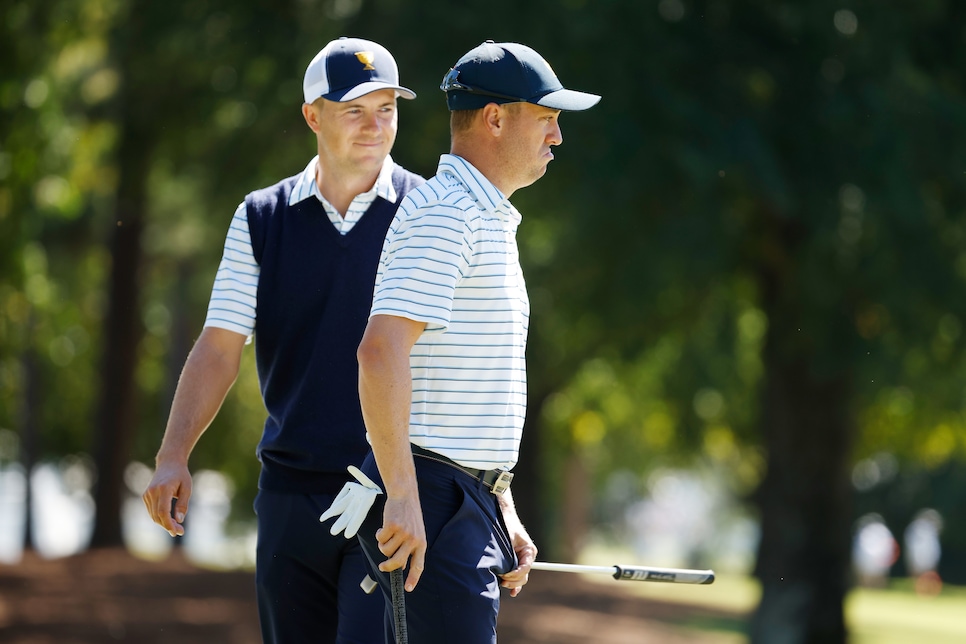 It seems silly to say now considering it was a rout, but Justin Thomas and Jordan Spieth were two of the weaker links in a dominant U.S. effort at the 2021 Ryder Cup at Whistling Straits. That could not be further from the case so far at the 2022 Presidents Cup.
These two best buds have rekindled their magic from the 2018 Ryder Cup, when they were the long bright spot for Team America, going 3-1-0 as a duo. The way things are going at Quail Hollow, they are on track to best that record should Davis Love III roll them out together two more times on Saturday.
After winning their opening match 2 and 1 over Sungjae Im and Corey Conners on Thursday, Spieth and Thomas sprinted out to a 3 up through eight holes lead on Friday against the Aussie pair of Adam Scott and Cam Davis. They were able to cut into the lead on the ninth hole with a win, then they halved the next four holes to remain 2 down after. Then, at the par-3 14th, Thomas put on a sauce display for the ages, one his other best bud Tiger Woods would be proud of. Check out this 10-out-of-10 strike and club-twirl combo that nearly resulted in a hole-in-one:
Seriously special stuff. What this clip didn't show, however, was that Spieth and JT were watching JT's ball track toward the cup on a nearby big-screen TV, and their reactions were both priceless:
That close to a hole-in-one and that close to an epic celebration. We missed out on so many high fives, CMONS, and LFGs thanks to that ball not dropping. For shame.
One hole later, it was Spieth who came up clutch, the three-time major champion holing a 13-footer for par to halve the hole and keep their 3 up lead. Thomas then unveiled a decidedly NSFW celebration:
If this celebration needs any explaining for you, you won't get it here. Look up "Sam Cassell GIFs" and that should do the trick. What we can tell you for sure is that this duo is having the most fun any duo has ever had in team event history.