Vagaries of match play
Presidents Cup 2022: Friday's craziest match ended in a tie that felt like a loss for the U.S. team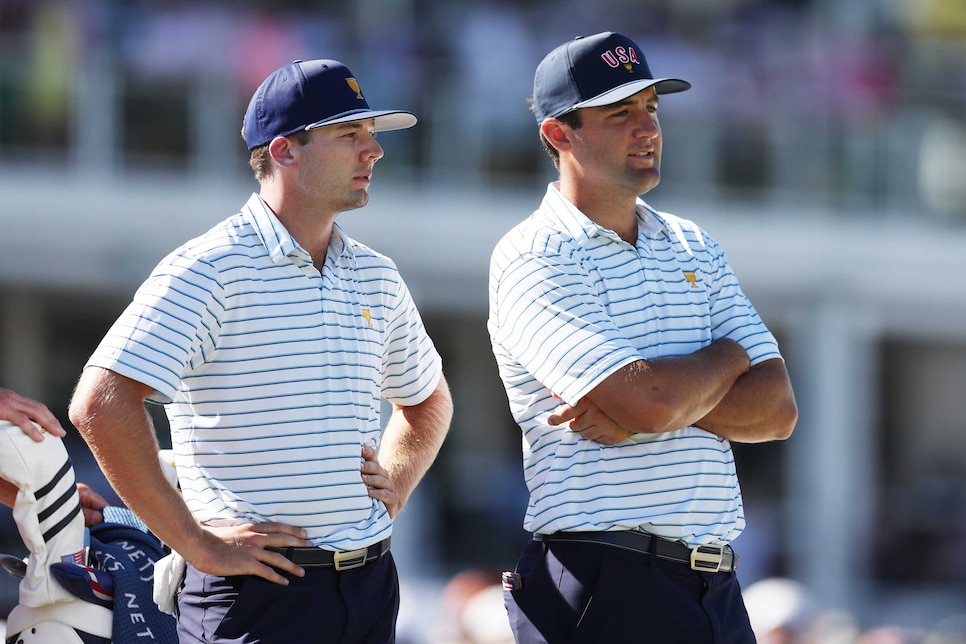 CHARLOTTE — A tie never feels like a win, but after letting a win slip through their fingers Thursday in foursomes, Scottie Scheffler and Sam Burns had to feel slightly better to get something out of their four-ball match on Friday at the Presdients Cup against Sungjae Im and Sebastian Munoz.
In a hard-fought match that featured plenty of fireworks, the difference between a half-point and a full one for the U.S. side was a half-turn of Scheffler's ball after he left a nine-foot birdie putt on the lip on the par-4 18th hole. The reigning Masters champion lingered over the hole for an extended period before tapping in, not even looking for the obligatory concession.
Im, of South Korea, was then able to halve the hole with a two-footer.
The U.S. pair that combined to win seven times on the PGA Tour this year turned down all media requests for comment. Which probably says a lot, actually.
Interestingly, U.S. captain Davis Love III almost chose to split them up on Friday but played a hunch that the American buddies, who a day earlier suffered a 2-down defeat to Si Woo Kim and Cam Davis in foursomes after building a 3-up lead, might come out breathing fire.
"We didn't know what to do with them. We had really good pairings if we split them up," Love said. "Then we thought, maybe they'll have a really big chip on their shoulders. … We wanted to give them another shot."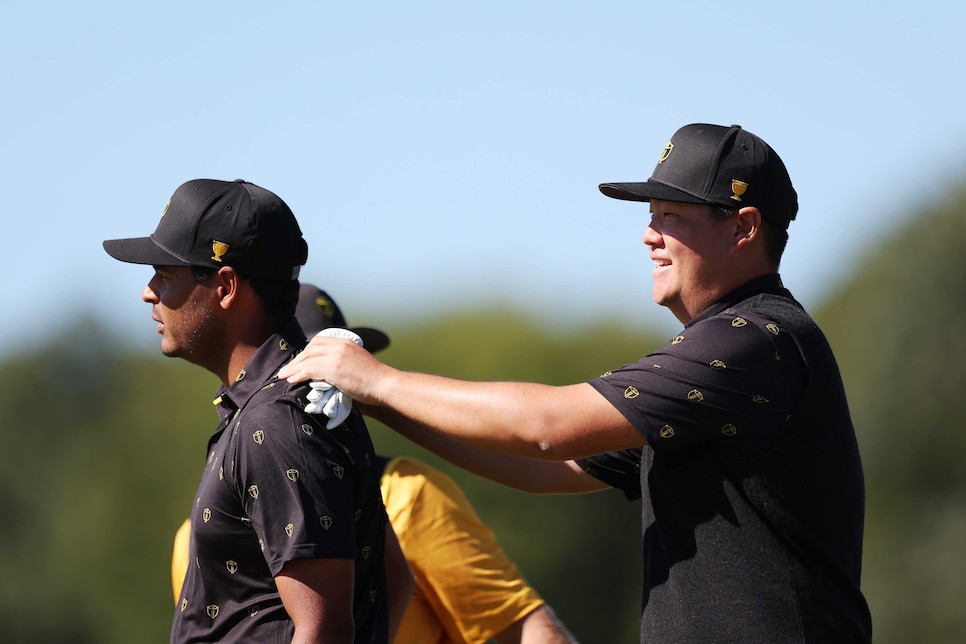 Sebastian Munoz and Sungjae Im went nine under as a team in four-ball, including making six straight birdies, to rally for a tie.
Rob Carr
They certainly came out strong, taking a 2-up lead through 10. They played quite brilliantly coming in, too, with five birdies on the back side. But they couldn't shake the Internationals, who had a streak of six straight birdies starting at the 11th. Munoz had three and Im followed with three more. That enabled them to cut the deficit in half.
Oddly, a Munoz par was good enough to win the 17th to tie things up before Scheffler's potential winning stroke came up millimeters short.
Just how exceptional was the play in this match? Each team converted nine birdies. The Americans also got an eagle from Burns at the par-5 seventh when he dropped an 80-foot dime.
While the U.S. players decided to keep their feelings to themselves, Munoz and Im were quite happy to express their satisfaction with the outcome.
"We just kind of kept in touch with them as much as we could," said Munoz, a rookie from Colombia. "On 14, Sungjae made an awesome birdie. They responded back. Then on 15, he made another awesome birdie. Then they responded back. It was a ton of fun. It was a good match, good golf. Super satisfied. It was a really tough match."
"I feel glad that we didn't give up a point. We played too well to give up any points," Im added. "So happy to come up with half a point there."
At least someone was happy about it.