Pairings party
PGA Championship 2022: The must-see groupings for the first two rounds at Southern Hills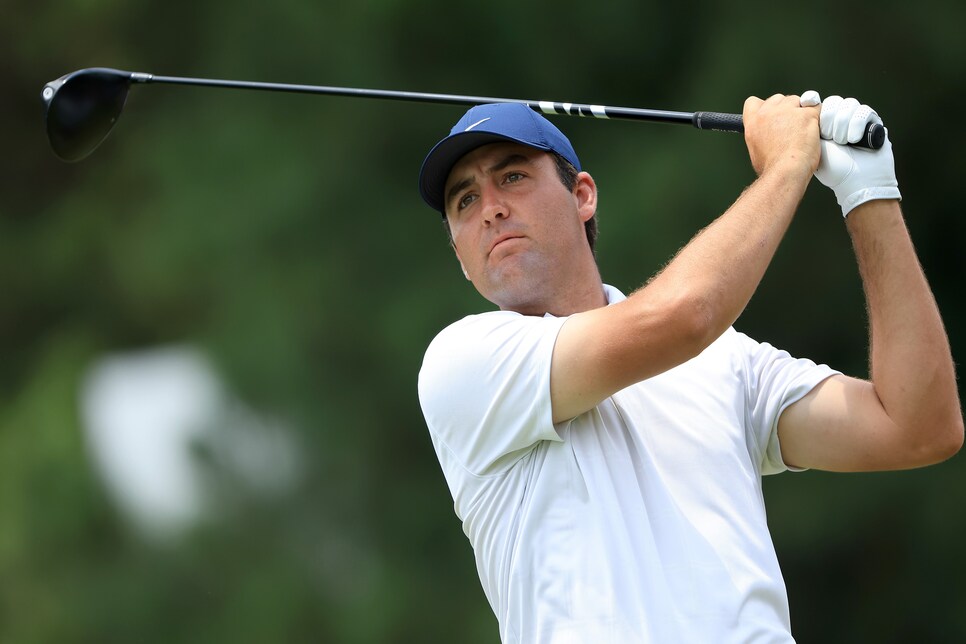 Scottie Scheffler plays his shot from the seventh tee during a practice round prior to the start of the 2022 PGA Championship.
GETTYIMAGES/Sam Greenwood
TULSA — The pairings for Thursday and Friday have been released, and man, they are ripe for a countdown. A totally biased, sure to enrage, seat-of-the-pants countdown. Let's call it a baker's dozen and start at the top.
Honorable mention, just because it could be super weird: John Daly, Shaun Micheel, Y.E. Yang
13. Tyrrell Hatton, Bryson DeChambeau, Max Homa
Homa might be the hottest golfer on tour, give or take a Scottie Scheffler, but you know in certain video games there's just absolutely no way you can win a game or a level on a certain day? This feels like the PGA of America introduced a glitch to cool Homa before he gets too big for his britches and wins a major. Playing with Hatton means he'll be exposed to anger, playing with DeChambeau means he'll have to take his time (and deal with some potential second-hand heckles), and in general struggle to maintain an even keel. His best hope is that DeChambeau drops out.
12. Martin Kaymer, Marc Leishman, Keegan Bradley
Very interesting themes happening here. One guy (Kaymer) who won a pair of majors a very long time ago, one (Bradley) who won a single major a very long time ago and one (Leishman) who seems like he should have won roughly four a very long time ago, but has won none. Add in the intrigue with Kaymer's dalliance with LIV Golf and Bradley's recent form, and this trio could give you more than expected.
11. Cameron Young, Sam Burns, Davis Riley
This is like ... something you can almost get excited about. Burns nearly made the Ryder Cup team and is obviously very good. Riley keeps showing his face in big moments—enough to learn that he went to Alabama and has a relationship of some kind with Justin Thomas. And Cameron Young is ... yet another Cameron. More on this later. These guys, particularly Burns, can make an impact.
10. Zach Johnson, Russell Henley, Cameron Champ
I've long said the PGA Tour is overrun with Camerons, and someone should do something about it. But at the moment they're all playing well. Champ in particular hits the ball a mile, Henley has been lurking in that zone where you know he's going to post a near-win soon, and ZJ is the Ryder Cup captain now overdue for an another major shocker. Is there a good chance nothing will happen here? Sure. But flag it anyway.
9. Shane Lowry, Brooks Koepka, Adam Scott
Is it me, or this is actually a little boring? Big names, though, and I feel compelled to include them. But in terms of real, raw interest? I've got a wandering eyes.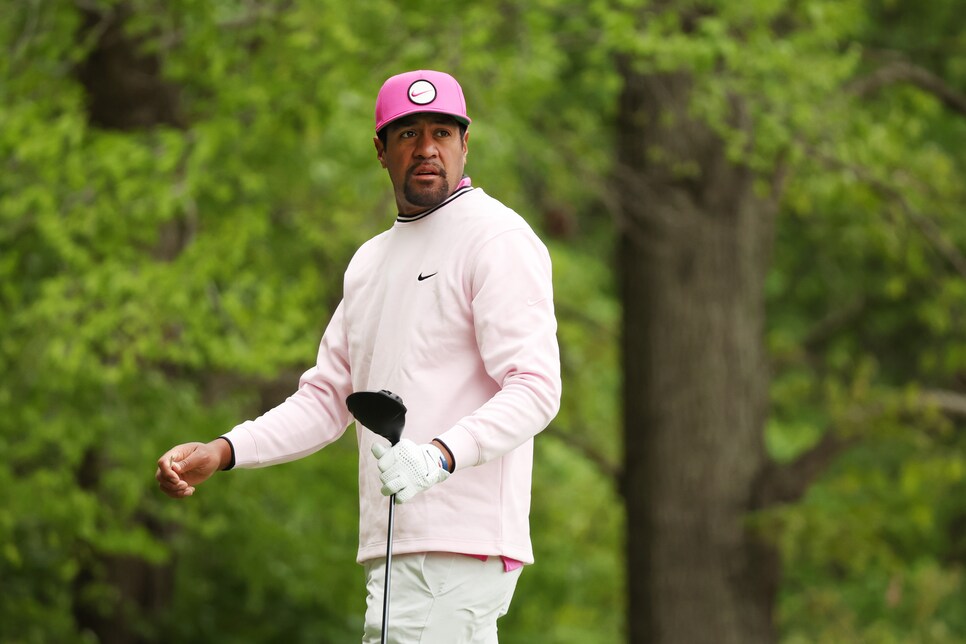 Tony Finau reacts to his shot from the eighth tee during the final round of the Wells Fargo Championship.
Gregory Shamus
8. Hideki Matsuyama, Xander Schauffele, Tony Finau
Hideki is from Japan, Xander's mom came from Taiwan and grew up in Japan, and Finau is of Tongan and Samoan descent, so there's a lot of Pacific influence happening here. Whether that was a conscious theme or not, it's a great one—Hideki rounding into form, Finau continuing to struggle and Xander lurking as he's been lurking for years, but with the latter two very much wanting to get the major monkey off their backs.
7. Patrick Reed, Justin Rose, Bubba Watson
Let's just say what we're all thinking: Reed and Watson in the same pair is a great, big behavioral yikes. If we're going to get fireworks, or at least a funny incident where one of them yells at a 12-year-old standard bearer for holding his sign incorrectly, this will be the group. Justin Rose earns the Max Homa Pity Award.
6. Viktor Hovland, Will Zalatoris, Cameron Smith
The young bloods, two of them in the top 10! Another Cameron, and likely the best of all! A guy who does a very good Owen Wilson impression! This group is exciting, and if I were in a certain kind of mood on Thursday, which I may be, and a golf buddy told me I could only see one group, I'd pick these guys.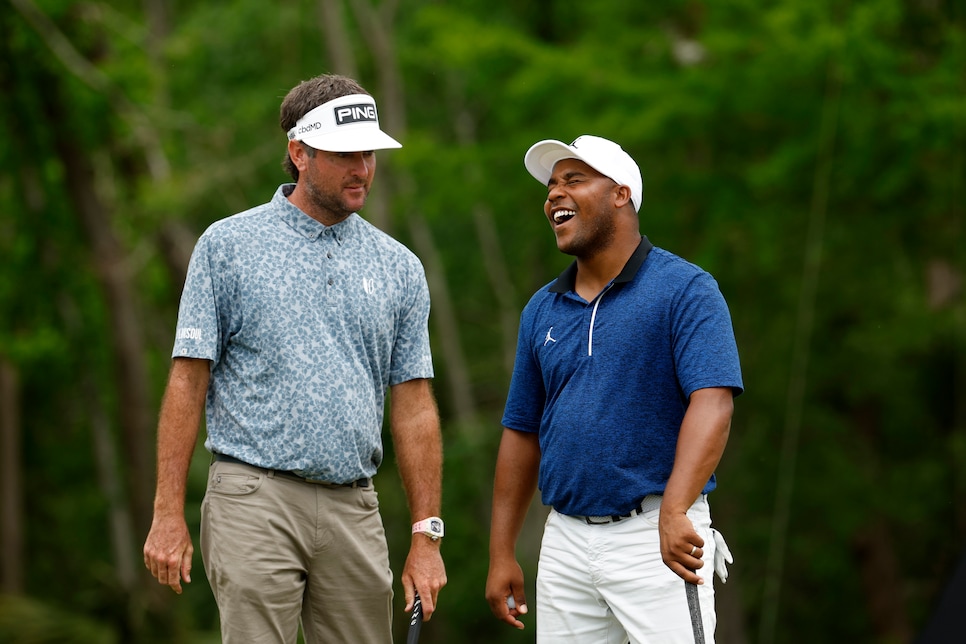 Bubba Watson and Harold Varner III share a laugh on the 10th hole during the third round of the Zurich Classic.
Chris Graythen
5. Jason Day, Rickie Fowler, Harold Varner III
Just say the words, "well ... maybe!" over and over, and you've pretty much captured the spirit here. All have shown decent-to-very-good form lately, but have been hampered by injuries, inexperience or just poor pressure play at the moment they got close. That said, there is very much a world where two of three of them go super low on Thursday and get us all believing again.
4. Daniel Berger, Louis Oosthuizen, Ian Poulter
More compelling than meets the eye. Berger has managed to occupy that strange spot in his generation where he wins a decent amount, has played well in team competitions, but still gets forgotten when you list out the American wunderkinds of his ilk. Until he wins a major, he's probably doomed to stay there, but also, he's very capable of winning a major. We all know Oosthuizen's deal, but repetitive as it is, he could still be in the mix, which brings us to Poulter. Here's someone staring down a potentially career-altering decision with regard to LIV Golf, and one that could see him lose his chance to become a Ryder Cup captain. How he handles this stress will tell us so much; it's hard to think of a player at a more critical crossroads.
3. Dustin Johnson, Patrick Cantlay, Justin Thomas
The sheer, absolute intensity here is off the charts. Thomas is the guy who got upset any time a European made him convert a short putt, and once yelled, "I love me some me!" in celebration, while Cantlay urged his playing partner Xander Schauffele at the Ryder Cup to "step on their ****ing necks." DJ is far more laid back, but, as we've seen in his most lethal moments, he can kill with the best of them. I'd almost rather watch these three play a practice round with money on the line, but this is the next-best thing.
2. Jordan Spieth, Rory McIlroy, Tiger Woods
I want you to know, internet reader, that I'm only placing them here to make you angry. If this enrages you, and you react in any way, that's completely on you. I cannot be held responsible. It's just a rogue troll impulse that I cannot tame. But anyway, yeah, this group is ridiculous. Let's hope we're talking about at least one of them when it matters on Sunday.
1. Jon Rahm, Collin Morikawa, Scottie Scheffler
Finally, some good players! The last three major winners join up, as per tradition, and man are these guys a vicious bunch. Scheffler would have been the "odd man out" as recently as four months ago, but now he's an alpha-dog world-beating juggernaut. Morikawa simply does not feel pressure, which is both fascinating and freaky, and then Rahm, a guy who seems destined to become the greatest Spanish golfer ever. You can't take your eyes off them.
MORE PGA CHAMPIONSHIP COVERAGE FROM GOLF DIGEST