News
PGA Championship 2020: Tiger Woods and Brooks Koepka tee off after Haotong Li and Tommy Fleeetwood go low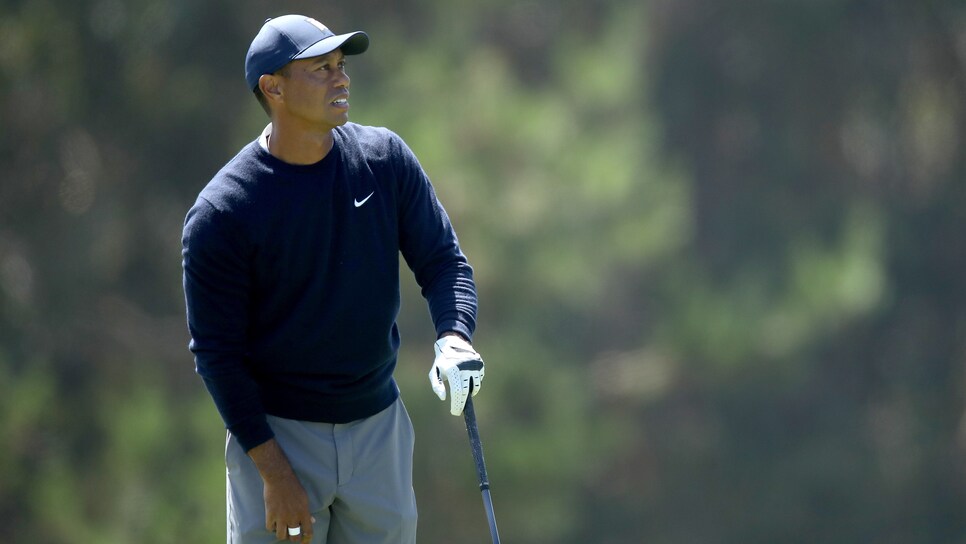 Christian Petersen/PGA of America
Thursdays are usually quiet at major championships. The leaderboard is crowded, laying the groundwork for the weekend's storylines without necessarily knowing which story to follow. While that part of the equation was true at TPC Harding Park—32 players are within three shots of the lead—Day 1 was hardly reserved.
There was Tiger Woods turning in his best opening round at a major in ages. Brooks Koepka continued to be a tour de force during golf's big events, and provided a nice post-round shot afterwards. Bryson DeChambeau continues to break the game with his newfound power, in this case, literally, smashing his driver, while also showing that muscle plays at major venues.
And Brendon Todd continued one of the most shocking career revivals in the past two decades, turning in a five-under 65 in the day's toughest conditions to take a share of the lead with Jason Day.
Round 2 at Harding Park promises calm weather and ideal scoring conditions, which should provide plenty of fireworks heading into the weekend. Golf Digest editors will be here with you throughout Friday's coverage of the 2020 PGA Championship to keep you informed of what's going down in San Fran.
10:28 p.m.: And that'll do it for Day 2 as Mike Lorenzo-Vera hits a long bogey putt to finish the day at 6-under. He avoids disaster and sometimes that's all a golfer can hope for. Haotong Li (8-under) leads the field with Koepka, Lorenzo-Vera, Day, Berger, Rose and Fleetwood all two shots behind. We'll see you again at 3 a.m. when Li starts getting some practice shots in to prepare for his late tee time.
10:16 p.m.: It's a disastrous finish for Joel Dahmen who finishes on the 9th hole with a triple bogey to end the day at 6-under. Rough, rough last few minutes for Dahmen who dropped from a potential final pairing with a birdie to the middle of the pack. At least he's still playing on Saturday.
10:00 p.m.: Phew... It was a stressful five or so hours, but Tiger will live to play another day at TPC Harding Park. A par on the final hole keeps Woods at 2-over for the day and even par for the opening two rounds. He'll be playing relatively early tomorrow. What putter will we see? Stay tuned.
9:49 p.m.: Jordan Spieth will be playing tomorrow, but just barely makes it. A frustrating bogey on 18 pushes golf's biggest thrill ride to 1-over. He'll make the cut on the number, but after a massively disappointing Day 1, he'll take it. There may have been an F-bomb after a missed par putt that led to the bogey, but it happens to the best of us.
Also, shoutout to Scott Van Pelt who has made multiple Al Swearengen Deadwood references throughout the day about Lorenzo-Vera. Hopefully, he's making a few bucks from HBO on the side.
9:34 p.m.: Finishing with a birdie after a stellar bunker shot, Brooks Koepka is just two shots off the lead at 6-under heading into Saturday. He was one stroke off the lead to start the day and will be lurking right behind Li and Lorenzo-Vera to start Day 3.
9:22 p.m.: If you missed it while it happened live a little over an hour ago, it probably behooves us to mention that Shane Lowry snapped his club over his knee. He may be 2-over for the day, but this is a historical moment for the defending Open Championship winner.
Also, this Tiger guy is keeping his weekend dreams alive with a huge birdie on 16 to get back to even par. Moments later, Rory joins Woods with his own birdie on the same hole to pad his cut line cushion at 1-under.
9:09 p.m.: Xander Schauffele and Daniel Berger finish their days, both easily sailing into the weekend. At 6-under, Berger is just two spots back of Li and has put himself in a great spot with two days left. With six top-10 finishes in his last seven events, he's quietly playing some of the best golf of the tour season since the PGA's return.
Tiger puts himself right on the cut line at 1-over after a two-putt bogey on 15. Woods' entire group is struggling right now with Rory and JT also looking sluggish to end Day 2.
9:02 p.m.: Tiger Woods makes a nice up and down for par on No. 14 to remain at even par. Meanwhile, Jordan Spieth has quietly had a nice bounceback round. After a couple photos showing his struggles went viral on Thursday, the three-time major champ is three under through 15 holes and has pulled himself back to even par for the tournament. Remember, if he were to lift the Wanamaker Trophy on Sunday, he'd be just the sixth player to complete the career Grand Slam.
8:52 p.m.: One guy not struggling to make the cut is Mike Lorenzo-Vera. After back-to-back birdies at 10 and 11, the Frenchman has moved into a tie for second at six under. Meanwhile, Jason Day finishes his day at that number. It's a great position to be in, but he'll undoubtedly be disappointed after playing his final seven holes in two over.
8:47 p.m.: Suddenly, the marquee group is struggling just to make it to the weekend. Tiger Woods makes bogey on No. 13 to drop back to even par with Rory McIlroy while Justin Thomas makes a double after having tree trouble off the tee. The World No. 1 is now at two over and one outside the current cut line.
8:34 p.m.: By the way, Haotong Li won't leave the premises at TPC Harding Park. More than five hours after signing for that 65 to grab the lead, he's still grinding on the range. Then again, he did only hit four fairways, so maybe he could use the extra practice.
8:31 p.m.: Speaking of big numbers. . . Martin Kaymer. . . oof. . . A day after shooting 66 to place himself one off the lead, the two-time major champ isn't going to break 80. And he isn't going to make the cut. Golf. What a sport, huh?
8:23 p.m.: The difficult 12th hole does some damage to a few of the world's best golfers. Brooks Koepka and Justin Thomas make bogeys while Rory McIlroy makes a TRIPLE. And this, about an hour after Jason Day made a double to fall out of the lead. Tiger Woods, however, makes a strong par despite finding the rough with his tee shot and missing the green with his approach. Suddenly Tiger has the lead—in the marquee group. So, he's got that going for him.
7:57 p.m.: And there it is! Tiger Woods finally made a putt! And good thing, or that new putter might have been snapped in two. Following a perfect drive on the par-5 10th, Woods found the front of the green with his second, but his lag putt came up eight feet short. He converted the birdie putt, though, to get back to red figures. Speaking of red figures, playing partner Rory McIlroy barely misses his eagle try, but taps in for a fourth consecutive birdie to quickly move to three under. As they say in the mean streets of Golf Twitter, RORY COMIN'!
7:50 p.m.: After striping another perfect drive, Brooks Koepka gets stretched out by his trainer(?) in the 12th fairway before hitting his second shot. Unfortunately, it doesn't help much as he finds the greenside bunker. Koepka hasn't been 100 percent healthy all year since underoing a stem-cell procedure on his left knee last offseason so this is definitely something to keep an eye on with the two-time defending champ.
7:44 p.m.: Right on cue, Daniel Berger makes his first bogey of the day. Still, he's in great shape at six under through 12. Tiger? Not so much after a second bogey of the day drops him back to even par. Still, despite not making anything on the front nine, he'll make the turn only eight shots back of the lead. He is currently tied with Justin Thomas and two back of their playing partner, Rory McIlroy.
7:23 p.m.: At least Tiger Woods is rolling in the really short ones. Moments after he brushed in a par putt on No. 8, co-leader Jason Day bricked what looked like a gimme on No. 12. Making things even worse for the former World No. 1 is the putt was for a bogey, so the double drops him back to six under. Meanwhile, Daniel Berger now has the hot round of the afternoon wave after back-to-back birdies on 10 and 11 moved him to four under on the day and into solo second at seven under. Berger, of course, won the first tournament of the PGA Tour's restart at Colonial so seeing his name up on the leader board is no surprise.
7:10 p.m.: Gary Woodland becomes the last player in the field to make a bogey at the 2020 PGA Championship, dropping back to three under as he makes the turn in his second round. Playing partner Brooks Koepka knocks in an eight-footer for par to remain at five under and on the first page of the leader board. Speaking of that leader board, with a birdie on the par-5 10th, Jason Day has retaken a share of the lead at eight under with Haotong Li.
7:02 p.m.: Another hole, another missed opportunity for Tiger Woods. This time after hitting a pretty nifty bunker shot on the short par-4 seventh, Woods couldn't convert from 12 feet for birdie. Through seven holes, he's made a grand total of eight feet worth of putts. He remains at one over for his round and you have to start wondering if that new putter will get benched over the weekend if this keeps up.
6:33 p.m.: Jason Day had an adventure on the ninth hole as he looked to make the turn with a share of the lead. His drive went way left ... hitting against a fence to keep it in play. He ended up getting relief from the fence, then line-of-sight relief from the fence, then relief from the cart path where he dropped. After all that, his approach came in hot and rolled through the green into a really bad lie up against the rough. The Aussie is a short-game wizard, but even he couldn't get up-and-down from the lie. That drops the 2015 PGA champ back to 7-under, one back of Haotong Li's lead with J-Day's first bogey of the week.
6:21 p.m.: Tiger Woods had another good look for birdie, this from 10 feet at the par-4 fifth hole, but could not convert. Tiger's got the new putter in the bag, and it has not cooperated yet today.
6:14 p.m.: Brooks Koepka drops his first shot of the day at the sixth hole, after hitting an insanely good approach from the fifth fairway found the green. Koepka then three-putted to drop back to 5-under, three back of Jason Day and Haotong Li.
6:02 p.m.: Jason Day had a share of the first-round lead after his 5-under 65 on Thursday. And now he has a share of the lead once again, birdieing the seventh hole to tie Haotong Li at the top. J-Day continues to play impressive golf here at TPC Harding Park.
5:53 p.m.: Xander Schauffele was a sneaky pick by a lot of people before the week (including our experts, as we pat our own backs). He's showing up again in a major, making a short birdie at No. 6 to move to 6-under, which is two back of Haotong Li's lead.
5:45 p.m.: Tiger makes his first bogey of the round at the par-3 third. He liked his tee shot after he hit it, but the wind hit it too hard and it ended up in the front bunker. The sand shot rolled out to 11 feet, and the putt missed just to the left again like he missed his birdie putt at the first. David Duval remarked on the first hole that Tiger had that confident look like Tiger did at the 2019 Masters. That might be gone after this unforced error that has to destroy that demeanor somewhat.
Rory made par at 3, but it was really how he handled a potential rules situation that was the story. Apparently someone stepped on Rory's ball, which allowed Rory to replace his ball in the rough. But Rory wasn't comfortable with how his ball was sitting up when he did so, so Rory placed his ball farther down in the rough. That's a stand-up move from the Northern Irishman.
5:42 p.m.: It's a major, so of course Brooks Koepka continues to lurk closer and closer to the lead at TPC Harding Park. Koepka birdied the par-5 fourth hole in non-chalant looking fashion, though there was nothing non-chalant about his 281-yard fairway wood approach. He chipped from the fringe to 3 feet, then holed the putt. The four-time major champion is now 2 back in his pursuit of the impregnable three-peat.
5:23 p.m.: Jason Day has made two birdies in a row at 4 and 5 to move to within one of Haotong Li's lead. J-Day got a heckuva break ... his tee shot bounded down the cart path on the sixth hole, but he had a window through the trees to the green, and he took advantage -- putting his approach to within five feet before holing the putt. The 2015 PGA champion is showing that momentum he carried into this tournament was no coincidence -- he's playing some great golf.
5:10 p.m.: The group of Tiger Woods, Rory McIlroy and Justin Thomas have now begun their round. Tiger hit a hell of an iron to 7 feet, but gave the putt too much credit and missed on the high side. Rory buried his 6-footer for birdie, which moves him to 1-under. JT parred No. 1 like Tiger, and we're off in this featured pairing.
Meanwhile Koepka's birdie bid at the second hole came up just shy ... so he'll settle for a par to stay 1-under for his round, 5-under for the tournament -- three back of Haotong Li's lead. Here's a leaderboard reset:
Haotong Li: -8; Tommy Fleetwood: -6; Jason Day: -6; Cameron Champ: -5; Paul Casey: -5; Brendon Todd: -5; Tony Finau: -5; Brooks Koepka: -5; Xander Schauffele: -5
4:58 p.m.: After getting a few final practice putts in with his new putter, Tiger tees off. The four-time PGA Championship winner, Woods will begin his Friday at 2-under and T-26. Taking his drive from the left side of the box, Tiger hits it right down the middle of the fairway. And here we go...
4:37 p.m.: What's that music you hear? It's polite applause from a few onlookers as two-time defending champion Brooks Koepka tees off. His first drive is nothing to scoff at and Koepka, Gary Woodland and Shane Lowry start their stroll with a bit of conversation. Brooks will start the day at 4-under in the T-7 spot.
4:25 p.m.: You may have missed this on air, but let's go back a little less than an hour ago to what seemed to be an easy putt for Rickie Fowler on the 15th hole. The mustachioed pro double-tapped a gimme putt from about six inches away and may miss the cut due to this bizarre botch. Thoughts and prayers.
4:16 p.m.: Let's wrap up Tommy Fleetwood's stellar day. The Englishman shoots the lowest round of the week so far with a 64 and now sits at 6-under heading into Saturday. He's in second place at the moment, two shots behind Haotong Li. He started the day with a birdie and it only got better from there. Let's see what Mike Francesa has to say...
4:00 p.m.: Update as we all search for the remote and switch over from ESPN+ to ESPN. Tiger Woods is getting some practice shots in before his 4:58 tee time. Martin Kaymer and Jason Day, starting the day at 4-under and 5-under respectively, tee off after phenomenal Thursdays. And, Phil Mickelson hits a miraculous wedge shot on the seventh hole, but can't finish after a misread on the putt.
3:49 p.m.: We've got a Tiger sighting. After shooting a 2-under yesterday—his best first-round score in a major in eight years—Woods has a chance to be in the mix heading into the weekend. Also, Tiger changing his shoes in a municipal course's parking lot is very relatable. Hopefully he plays better than our motley crew. That shouldn't be too tough.
3:24 p.m.: Seeing some really impressive fight on Friday from a few guys who looked destined to miss the cut. Brandt Snedeker, still in search of his first major, followed a first-round 72 with a Friday 66 to get to two under. Hideki Matsuyama, who was even par on Thursday, is two under through 15 holes of his second round. Bryson DeChambeau, playing with his C- game right now, is even through 15, two under for the week. Jon Rahm is one under with a few holes to play, as is Webb Simpson. Finally, we have Phil Mickelson down at even par. He's two under on his round with four to play, and cannot afford to make a bogey, or else he'll be teetering on the cut line for the rest of the afternoon.
3:04 p.m.: There it is, a five-under 65 for China's Haotong Li, your solo leader. Enormous round, especially if the wind picks up this afternoon like it did on Thursday. Eight under should at the very least give him a share of the lead after 36 holes. If he ends up leading alone, he'd be the first Chinese golfer to lead a major after any round, according to CBS' Ian Baker-Finch. Pretty crazy factoid, if true.
2:50 p.m.: Quick update on some of the other big boys out on the course: Patrick Reed, who has four top 10s in his last nine majors, including his Masters win, is quietly creeping up the board. Through 15 holes Reed is one under on his round, putting him at three under for the week, five back of Haotong Li's lead. Speaking of Li, he's one par away from posting a five-under 65 and getting into the house at eight under, which you'd have to think has a very good chance to be the leading score at day's end
Two other intriguing names at three under? One is the bulky Bryson DeChambeau, and the other is the second-longest hitter to DeChambeau on tour, Cameron Champ, who is working on a four under round through 13 holes. No one really noticed it, but Champ collected three top 25s during the restart, and if not for a woeful approach game and a balky putter, he may have been in contention during those starts. Very, very sneaky player heading into the weekend, if he can finish this round off first.
2:30 p.m.: Here come the Englishmen! Paul Casey joins his fellow Brit Tommy Fleetwood at five under with a birdie at the par-4 first, his third of the day. Casey is bogey-free, and currently sits in a tie for second with Fleetwood, Brendon Todd and Jason Day, who will tee off at 4:03 p.m. ET.
2:23 p.m.: Shot of the tournament alert at the par-4 ninth, where Mark Hubbard just holed out from a fairway bunker 238 yards away from the hole. An 11 out of 10. Nuts. Can't say enough good things about it. Actually, we can say more good things about it. The eagle 2 jumped Hubbard from one over to one under one the week, safely inside the cut line (for the time being). With the par-5 10th coming up, he may be able to get to two under and feel really safe about the weekend. So yeah, pretty good shot!
1:59 p.m.: Li makes his tough par putt to stay at eight under, while Brendon Todd cleans up five feet for par at the eighth to remain five under. Lanto Griffin gets in the mix with a birdie at the fifth, moving to five under. Things are happening.
1:50 p.m.: Despite the three lip-outs, Bryson makes the turn at two under after a tight approach and converted birdie putt at the 18th. DeChambeau is now four under for the tournament, with Li facing a tricky eight-footer for birdie at the 14th.
1:40 p.m.: Tommy Lad! Fleetwood makes the turn at four under, moving up 40 spots in the past two hours. Has never cracked the top 30 at a PGA Championship, but his ball striking is tailored for TPC Harding Park.
1:30 p.m.: Phil Mickelson has back to back birdies to get to even for the event. Right now that's the projected cut, although it will likely go up given the wind is starting to buck its head. Ahead, DeChambeau makes a no-stress par on the par-3 17th. Fowler puts his tee shot at the 17th to a few feet, now three under through eight and even for the event.
Brendon Todd makes a mess of the par-4 sixth, dropping a shot and giving Li a three-shot advantage.
1:22 p.m.: Li has added two pars to his birdie at the 10th, staying at eight under through 12. The second best round of the day belongs to Tommy Fleetwood, who is three under through seven and three under for the event.
1:19 p.m.: Bryson makes a nifty shot from the sand and is able to convert a six-footer for birdie, his third bird of the day to get back to three under. In the group behind, Rahm, back at even, takes an aggressive line and it pays off, just a few yards short of the green for a simple up-and-down for birdie awaiting.
1:10 p.m.: At the 285-yard par-4 16th, Fowler gets his ball stuck up in the cypress trees. Meanwhile, Bryson—with a 3-wood—is well short and finds a greenside bunker. Still early but things could be moving south quickly for DeChambeau.
On the other side, Todd has a nice lag for a par at the par-4 fifth, and finds the fairway at the sixth. Todd is one under for the day, now two back of Li.
1:02 p.m.: Bryson blows his birdie putt at the par-4 15th well by the hole, and his comebacker lips out. That's three through six holes for Bryson. Rickie Fowler, playing with DeChambeau, makes a tricky eight-footer for par and maintain a solid round (two under on the day).
12:57 p.m.: Haotong Li with a magnificent lag putt—if a putt can be classified as magnificent—from 80 feet at the par-5 10th. That's a tap-in birdie to move him three clear of the field.
12:50 p.m.: It's been pretty easy pickings in terms of weather. But it appears someone has just turned on the fan. Might not be a lot of red numbers left for the morning wave. Yet also spells trouble for the afternoon group.
12:40 p.m.: Haotong Li makes the turn in four under, seven under for the tournament. No one else is better than two under on the course.
Meanwhile, Todd has parred his first three holes to remain at five under, and Jon Rahm has moved to red figures with a birdie and a couple pars.
12:25 p.m.: After back-to-back lips, Bryson makes a birdie at the par-4 13th off a nice approach, getting him back to three under. That was big in getting Bryson level following those tough breaks.
Speaking of tough, J.T. Poston turned in a three-under 67 on Thursday but is three over through six holes Friday morning. Needs something, and something quick, to right the ship.
12:10 p.m.: DeChambeau makes bogey at 12 to drop back to two under. Paul Casey opens with a birdie, which the Englishman needed after closing yesterday's round with a double.
Lanto Griffin is having a fine morning, two under on his day to get to four under for the tournament.
12:05 p.m.: Haotong Li has added a birdie to move to the outright lead, while Brendon Todd opens with a par on the tough first.
On the back, Bryson misses a six-footer for birdie on the 11th and has some work to do for par on the 12th.
11:40 a.m.: Bryson bombs one at the 10th (his first), his approach scoots just past the green onto the fringe and makes a tidy up-and-down for birdie. DeChambeau proceeds to stick his approach at the long par-3 11th. The big man came up play.
11:27 a.m.: Haotong Li makes par at the fourth to maintain a share of the lead. Li had a memorable 3rd place finish at the 2017 Open, when Jordan Spieth's back nine troubles almost brought him into the claret jug from 12 strokes back. But since Royal Birkdale he hasn't posted a top-15 finish in a major.
11:08 a.m.: We have a Haotong Li sighting! The last time we saw the fledging superstar he was single-handedly tormenting the International Presidents Cup team with odd behavior. But Li is two under through three holes to take a share of the lead with Todd and Day.
11:00 a.m.: The best part about watching these club professionals pop it 260 yards is it gives you the fleeting hope that, "Hey, maybe I could compete out there," and then you realize they've just stuck one from 190 yards out of 4-inch rough and remember, "Oh yeah, no chance."
10:45 a.m.: Some of the big names in the early wave are Viktor Hovland (11:11), DeChambeau and Adam Scott (11:22), and Todd (11:50). These were some of the few players to go low in yesterday's afternoon wave, and should be in position to improve their standing with the calm morning conditins.