News
PGA Championship 2020: Tiger Woods shoots opening 68, lowest first-round score in a major in eight years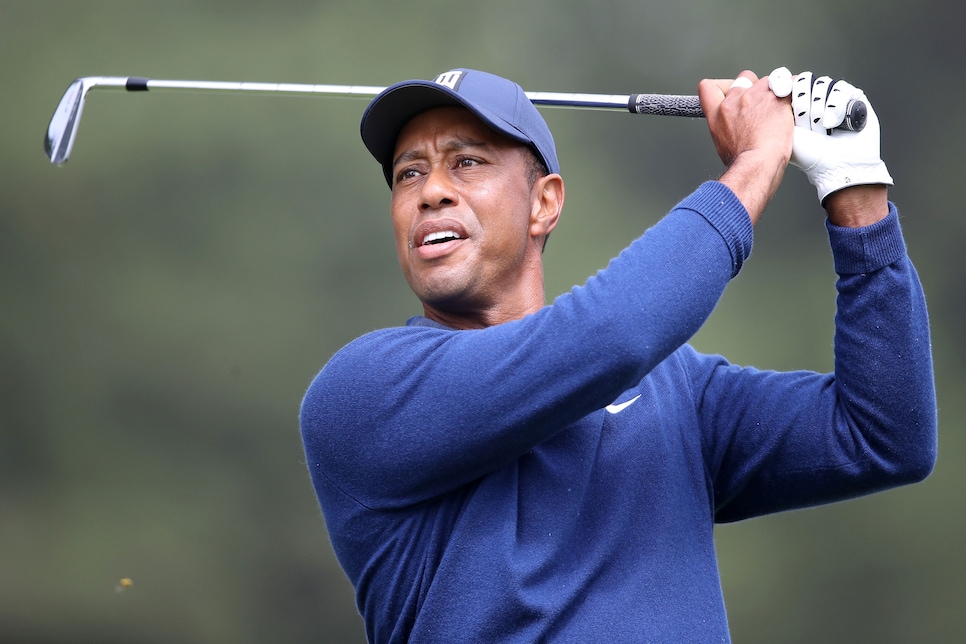 Tiger Woods plays a shot from the third tee during the first round of the 2020 PGA Championship.
Sean M. Haffey
SAN FRANCISCO — Often times, the misses teach us more than the perfect ones. Every player struts after hitting a shot right where they're looking. But the misses, and where they end up—that tells you how a player is really feeling about his game.
Tiger Woods missed his tee shot on the par-3 17th. Disgusted with his pass, he let go of the club a millisecond after impact.
It finished 25 feet from the cup, directly below the hole.
That's how you know a player is dialed in. That he's expecting a lot of himself.
Woods fought his swing a bit during Thursday's opening round of the PGA Championship. It wasn't exactly a stripe show, but his five birdies more than made up for some of the squirrely shots. Woods signed for two-under 68, his lowest opening-round score in a major championship since the 2012 Open Championship.
"I made some good putts," Woods said. "For the most part of the day, I missed the ball on the correct sides. This golf course, you have to hit the ball in the fairway. You get a ball in the rough, into the grain, there's no chance you can get the ball to the green. I felt like I did a decent job of doing that, and the golf course is only going to get more difficult as the week goes on."
Woods, playing alongside Justin Thomas and Rory McIlroy, was greeted on the first tee by 60-or-so personnel—"no fans," they said—and the most benign scoring conditions TPC Harding Park has seen all week. The air wasn't damp and the wind hadn't woken up. The sun even made an appearance, a rarity this time of year in the Bay Area. Simply put, Woods got the good end of the draw, and a man of his experience surely knew he had to take advantage of that by shooting something under par.
A good way to shoot under par is to birdie his first hole. Woods did exactly that thanks to a good break on his approach after starting the round on the par-5 10th. After his tee shot trickled into the left rough, Woods decided to go for the green with his second but mishit it, sending it a good 30 yards right of his target. The ball found some short grass—the rough is thick, but it's patchy, and there are plenty of good lies out there—and Woods hit a pitch to set up an eight-foot birdie putt.
It was the first test for his new putter, which is making its debut this week. Out is Ol' Trusty, the Scotty Cameron that he used to win 14 of his 15 majors. In is a Scotty Cameron that's a little longer and heavier, though it looks exactly the same to the untrained eye. The roll was true, and his ball caught the left part of the cup and dropped. His first major-championship hole in 13 months, a birdie.
"I've been messing around with this putter for the better part of over a year," Woods said of the switch. "Rob and I have been talking about … you know, it's difficult for me to bend over at times, and so practicing putting, I don't spend the hours I used to. Wasn't unusual for me to spend four, five, six hours putting, per day. I certainly can't log that with my back being fused. Most of the guys on the Champions Tour have gone to longer putters as they have gotten older, because it's easier to bend over, or not bend over. And so this putter is just a little bit longer and I've been able to spend a little bit more time putting."
After two perfect shots to seven feet at the 494-yard par-4 12th—which plays as a par 5 for the general public—Woods had a great chance to two under after three. But when Woods stood over the putt, he felt more break than he read, didn't trust the line and didn't release the putter. A disappointing par, but the stroke at the next hole was much, much better. He canned a 32-footer for birdie, and he had entered his comfort zone: the first page of the leader board at a major.
The middle of the round was a bit of a struggle. Woods' first bogey came at 14, when he tried walking in a par putt that hit the right lip and spun out. He looked destined for another at 18 but holed a 20-footer for par, a massive putt for momentum's sake. Both the bogey at 14 and the near-bogey at 18 were set up by a left miss with the driver—he missed left with the driver five straight swings, including on the second hole, which led to his second bogey and dropped him back to even par.
"Those were toe balls," Woods said. "Toe balls usually go left. It's about—for me, getting the path oriented a little bit better. I was able to do that and started hitting my little cut out there and hit it solid, and I turned a couple over, which was nice. Overall, I felt like I was able to make a few adjustments out there during the round, and that's what you have to do."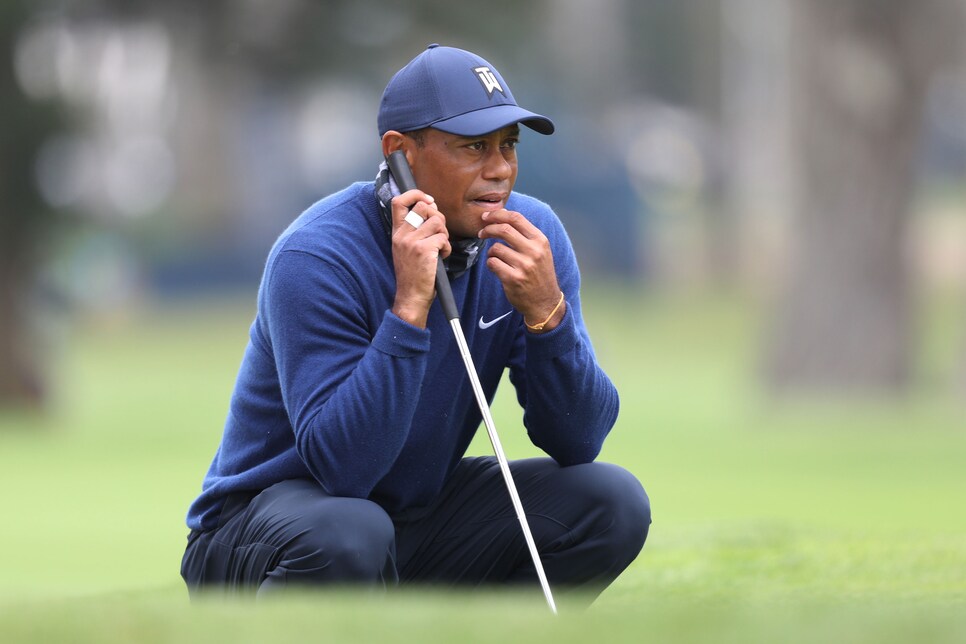 Tiger said his new Scotty Cameron is a little heavier and a little longer than the one that had won him 14 of his 15 major championships.
Jamie Squire
The momentum reignited at the par-5 fourth, his 13th of the day, where his 8-iron never left the flag. Birdie. Then, a perfect drive down the center at No. 5, an approach that was just left of the flag but perfect for distance. Another birdie. After a par at the sixth, he went iron off the tee at the semi-driveable seventh—a conservative play that was rewarded with his third birdie in four holes.
The nice thing about starting on the back nine at TPC Harding Park is you start with a reachable par 5. The not-so-nice thing is that your last two holes are on arguably course's two hardest, the 250-plus yard par-3 eighth and the 500-plus yard par-4 ninth. Woods couldn't get up-and-down from a greenside bunker and dropped a shot at 8, but striped his tee shot on 9 and made a stress-free par.
Now, he waits. Woods' second round doesn't begin until nearly 2 p.m. local time on Friday afternoon. The good news for him: Long waits are always much, much more tolerable after something in the 60s.