Equipment
PGA Championship 2020: When Tiger Woods changes putters, does it really matter?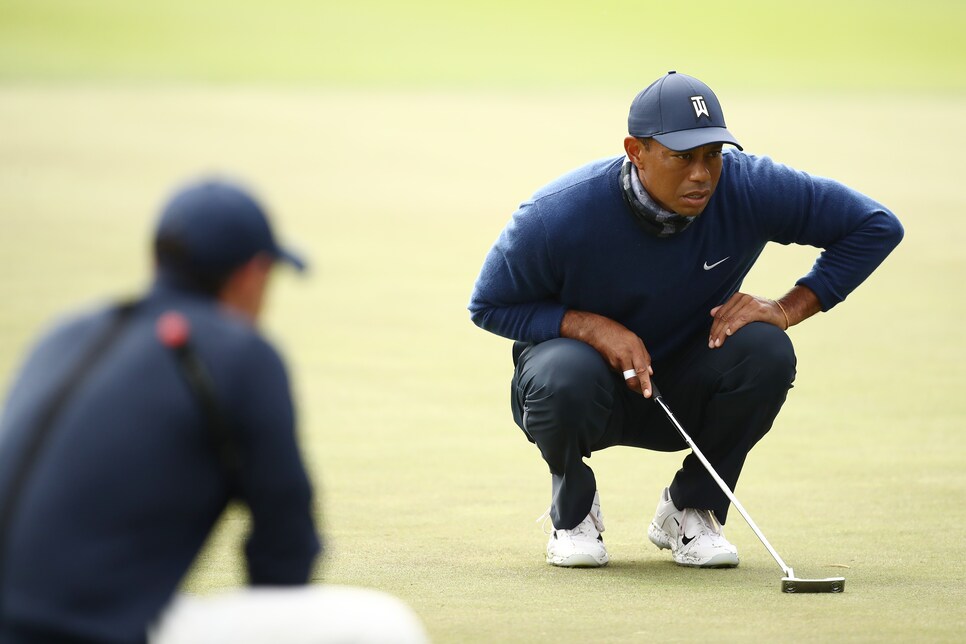 When Tiger Woods changed putters at the PGA Championship at TPC Harding Park the Internet went berserk. Now, certainly anytime Woods, well, breathes, the web goes crazy, but in Woods' case that meant the benching of his Scotty Cameron by Titleist putter with which he had won 14 of his 15 majors.
Of course, as he almost always does for an equipment change, Woods had a rationale for it, citing a longer length that put less stress on his back. "It's difficult for me to bend over at times, and so practicing putting, I don't spend the hours I used to," Woods said after an opening-round 68. "[It] wasn't unusual for me to spend four, five, six hours putting, per day. I certainly can't log that with my back being fused. Most of the guys on the Champions Tour have gone to longer putters as they have gotten older, because it's easier to bend over, or not bend over. So this putter is just a little bit longer and I've been able to spend a little bit more time putting."
Fair enough. Woods also had a rationale for putting a Nike Method putter in play at the 2010 Open Championship at St. Andrews, citing the need for the ball to come off the face faster on the slow greens. That experiment lasted three rounds before Woods went back to his trusty Cameron for the final round.
PGA Tour pros are right there with the weekend hacker when it comes to fickleness with the flat stick. If these guys are good (and they are) then the old adage that "it's a poor workman who blames his tools" doesn't hold water when it comes to a players' work on the greens. According to several tour reps, 10 to 20 percent of the field change putters on a weekly basis. In addition, they claim most tour players have at least five putters while some own more than 100.
The reasons for putter changing are varied. Some players prefer certain types of putters on particular types of grasses while others might have changed their stroke, necessitating a different type of putter with more toe hang or a higher moment of inertia. Others are merely looking for a change of scenery that might break them out of a slump. Or as Ken Green once famously said, "It was time for the club to die."
Debbie Crews, an LPGA member with a Ph.D. in psychology, once conducted a study of 10 women professionals, specifically targeting the newness effect. Crews found that brain activity went up in 26 of 32 different measures when one of her subjects was given a new putter to try. In short, the player's brain got excited when given a new toy to play with.
That certainly worked for Nick Faldo in the 1989 Masters when he changed from a Bulls Eye to a TPA18 putter. More recently, Collin Morikawa flattened his putter 1.5 degrees on Monday of the workday Open.
"I have a long-neck putter in the TP Juno and it was weird because they flattened the putter but it got my hands more vertical and into the position I wanted them to be in," Morikawa said. "The putter was sitting just slightly upright and I looked at some footage from Colonial and I noticed the toe was sitting up. We figured out a way to flatten it out and it just worked wonders."
For Sung Kang at the 2017 Shell Houston Open, it was more like harassment from one of his friends. Kang broke the 36-hole scoring record after switching to a TaylorMade Spider Tour putter at the behest of a buddy, Sean Moline, "The last couple months he says, 'You got to use this putter, this putter is going to work really good. If you want to succeed, you use that,' " said Kang, who eventually finished second.
Then there's Jim Furyk in 2010. The week of the Deutsche Bank Championship, Furyk visited Joe & Leigh's Discount Golf Pro Shop at Pine Oaks GC in South Easton, Mass., and walked out with a Yes! Golf Sophia putter—an 8802-style, heel-shafted blade with a nick on the top of it that was easy on Furyk's eye. The price, $39 (a discount from the $69 listed price) was easy, too. The return on investment, however, would make Warren Buffet envious. Furyk used the putter to win the Tour Championship and in the process claim the FedEx Cup, a payout of more than $11 million total. It also led to Furyk's selection as PGA Tour Player of the Year.
Of course, putter changes don't always stick. At the 2016 Players Championship Hideki Matsuyama used a putter on Thursday and Friday that he had never used before prior to going back to what he referred to as his "Ace" putter. Matsuyama said he was looking to build some confidence and once he did, felt it was OK to go back to what he had been using.
So, have we seen the last of Woods' trusty Cameron? Unlikely. "I've always messed with it," said Woods. "I've had it since, what, 1999, 21 years. … But that putter is always traveling with me."