PGA Championship
PGA Championship 2022: An all-world escape keeps Scottie Scheffler in the mix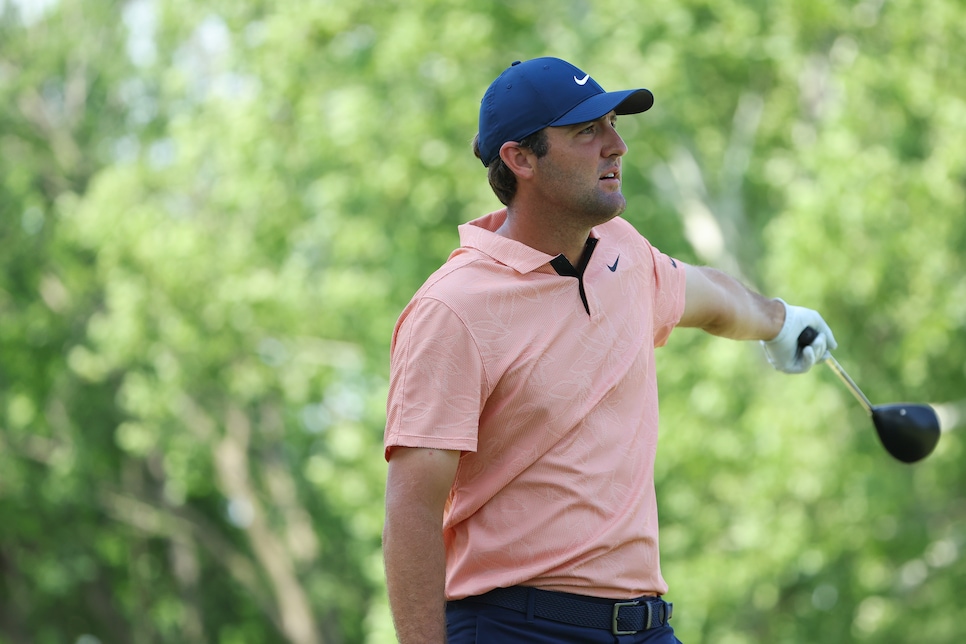 TULSA — It was at the 18th hole, and boy, the 18th is a brute. She weighs in at 491 yards but is closer to 600 on the scale. Or at least it feels that way, the hole serpentining its way up the hills that give this course its name. If that wasn't enough the fairway is cut in half and hugged by water, and the short grass and green is guarded by bunker after bunker. It was statistically the toughest hole on Thursday at the PGA Championship, and Scottie Scheffler had just made it tougher.
The Masters champ had overcooked his drive into the creek. He had to drop in the pesky Bermudagrass rough and appeared blocked out by overhanging trees. The play seemed like a punch-out then scramble like hell to save 5. Only Scheffler started swinging, and swinging hard, and it was clear there would be no lay-up. Instead he hit a massive cut from 190 out that started so far left and moved so far right that under normal circumstances it would be called a slice. In spite of its violent arch, the ball landed like it had been deflated, stopping 15 feet from the flag. Scheffler let out a "That was pretty good, wasn't it?" smile, then made sure his work didn't go to waste, cleaning up what remained to steal 4 when 6 was staring him down.
There was little applause because there weren't many there to watch, which is a weird thing to say about a grouping featuring the No. 1, 2, and 3 ranked players in the world. That is the upshot of following a fan-created hurricane and playing when this toaster oven of a city is at its most uncomfortable. But the few that remained clapped, because that's what Scheffler deserved. His final score was a one-over 71, which will largely be ignored, and sits six back of 18-hole leader Rory McIlroy. But 71 is better than 73 and kept Scheffler in a tournament on a day where he came out on the business end of the draw and didn't have his best.
"Well, it's definitely going to make my dinner taste a little better," Scheffler said on his 18th-hole escape. "Bogeying the last three is definitely not very fun, so it was good to make that par at the end.
"I'm still pretty frustrated with how I played the back nine, but overall one over par, playing as poorly as I did today is not—I didn't shoot myself out of the tournament, so I'm still in OK position."
In fairness Scheffler didn't play that poorly. Through 11 holes he was two under, one of the lower scores in the afternoon wave. That stretch was highlighted by an eagle at the 656-yard fifth. Yes, 656 yards. For those of you scoring at home: 348-yard drive, a 3-wood from 307 yards that landed just short of the green and ran and ran and ran some more until the ball stopped within 10 feet of the cup. Even in this ballistic age, that is one sweet piece of nectar.
"Well, where I was aiming, I was aiming—I knew I couldn't land it on the green, but I knew if I bounced it short it could run up, so I was aiming in that little space in between the two bunkers," Scheffler said. "Maybe it was like a six- or seven-yard gap and I happened to hit it just because I hit a great shot. Sometimes when you're that far away you can hit a great shot and not get rewarded, and fortunately I was rewarded for it."
He bogeyed the ninth but atoned with a birdie at the next, and though he hit a wayward drive at the 12th that necessitated a lay-up, his third finished three feet from the hole. With a tap-in awaiting and the par-5 13th on deck, the man showed no signs of an Augusta National regression.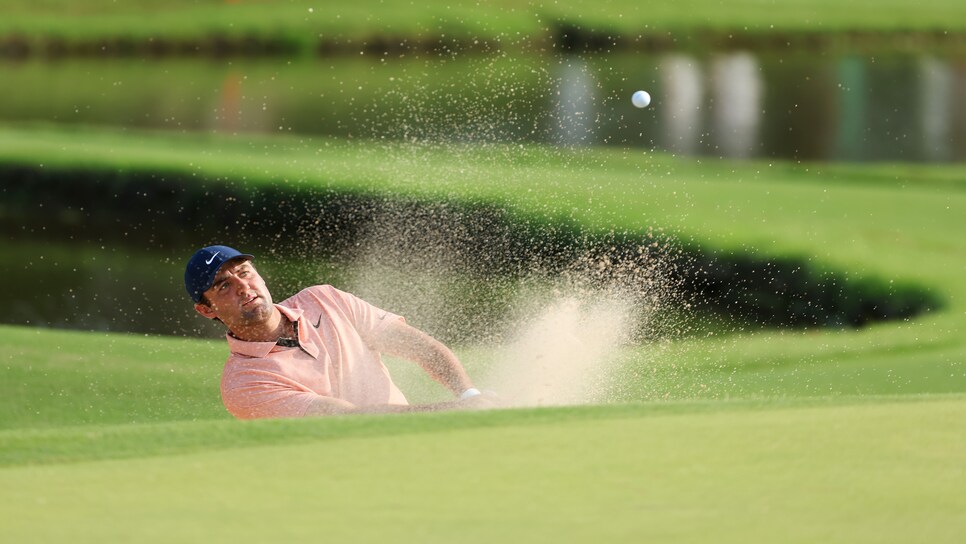 However, there are no gimmes in the professional world, as that tap-in didn't go in. Scheffler followed with another bad drive, going left into a creek that required a penalty drop. On the easiest hole on the course Scheffler walked away with a 6.
"The greens get a little bit more chewed up," Scheffler said about his mishap on 12. "I really didn't make a terrible stroke on, just kind of hopped off line. That's the things you're going to get. That's what happens when you play late in the day."
Also an upshot of the late start: Despite playing with Jon Rahm and Collin Morikawa, the group played in relative anonymity. Most of the fans had departed after the Woods/Spieth/McIlroy super group finished, and those who did stay were too busy battling the humidity to provide much in the way of cheers. For once it would have been nice to see the infamous "This. Is. MAJOR" slogan, if only for the reminder.
Back to Scheffler. He bounced back with a birdie at the 15th, only to counter with consecutive bogeys, and after the drive on 18, Scheffler's Wanamaker odds were disappearing. Now, off-days are expected. The swing is going to be loose, you're going to get bad breaks, the putter decides it wants the weekend off. For Scheffler, those woes came via the big stick, losing a whopping 1.5 strokes to the field off-the-tee.
However, what separates the very, very good from the great is minimizing the damage. Though we don't have the benefit of hindsight to know if Scheffler's 2022 is one of those heaters that others have enjoyed—or if it's the beginning of something more—Scheffler's answer on 18 hints that what we've watched this season is not serendipity.
"It's early in the week; still a lot of golf left to play," Scheffler said as he surveyed his round. "Six shots over three days really isn't that big of a deal. I'm definitely a lot further back than I had hoped to be, but at the end of the day I'll probably be in 40th place."
Which is fine. The most important part of Day 1 is making sure Day 2 matters. When the issue was in doubt late Thursday, Scheffler answered. That's what the best do.
MORE PGA CHAMPIONSHIP COVERAGE FROM GOLF DIGEST