Cathryn Brown stood on the first tee, nervous, but she was not battling first-tee nerves, for what ran through her mind and body and soul was a current far more powerful than jitters. Brown, 16, one of the better amateur golfers in Kentucky, had hit ceremonial drives before, including three weeks prior at the PGA Tour's Barbasol Championship. She understood the contradiction before her: For a swing that does not count, it is a shot that means more than any number scribbled on a scorecard. Brown also knew why she was there, which was to honor someone who was not.
Cathryn had lost her brother Cullan to a rare form of bone cancer last year. To the world, Cullan was an All-SEC standout on the University of Kentucky golf team. To Cathryn, he was her confidant, role model, partner in crime and friend. "Everyone loved him, and he loved everyone," Cathryn says. "He brought nothing but joy." When a light like that goes out life can seem crushingly and irreversibly dark.
But through the tears came Macey Brown (no relation), a golfer that lived two hours away that Cathryn met a month before Cullan's passing at a junior event. They recognized a kindred spirit in each other, so despite the distance, Macey and Cathryn would meet every weekend to play. When golf wasn't on the docket there were lake trips and birthday surprises and countless long, late-night phone calls. Macey made sure Cathryn kept going, and just as importantly, that Cullan would be with them as they went on.
"On the outside she's so sweet and so funny, and she has a big heart, but just me being able to see her go through that, and know what's going on in the inside, as a friend your job is to let them air things out," Macey says.
Adds Cathryn: "I met my best friend exactly when I needed a best friend."
Which is why Macey was among a crowd that engulfed Cathryn on the first tee at Mineral Mound State Park Golf Course in Eddyville, Ky., on an August morning. It was nearly a year to the day that Cullan had passed, and they were gathered to celebrate his life. Part of that celebration included the course being renamed "The Cullan at Mineral Mound," and the christening would be official with Cathryn's opening tee shot.
Golf is an asylum, where life's distresses can be paused, if only for a few hours. That is the prevailing belief at least, and it can certainly be. However, our world as of late has been one of discord and hostility. Of danger and fear, suffering and hurt. Even within the tranquil confines of a golf courses, the real world seeps in.
If golf remains capable of better, the most heartwarming moments in the game in 2021 seemed to resonate because they serve as windows into the virtue that lies within. Golf was blessed with many such moments this year, and often those moments were produced by the very pain they combat.
There was Lee Elder getting his long overdue spotlight, taking the tee as an Honorary Starter at the Masters alongside Jack Nicklaus and Gary Player. Elder was not there because he owns a green jacket; he was there because in the face of men at their worst he showed them a man at his best. Elder had all the right to be bitter about what he experienced for his trailblazing efforts. He eschewed those feelings in favor of grace.
"My heart is very soft this morning. Not heavy, soft, soft because of the wonderful things that I have encountered since arriving here on Monday," Elder said on that Thursday in April. "I just want to say thank you so very much to have me here. It's a great honor, and I cherish it very much, and I will always cherish it."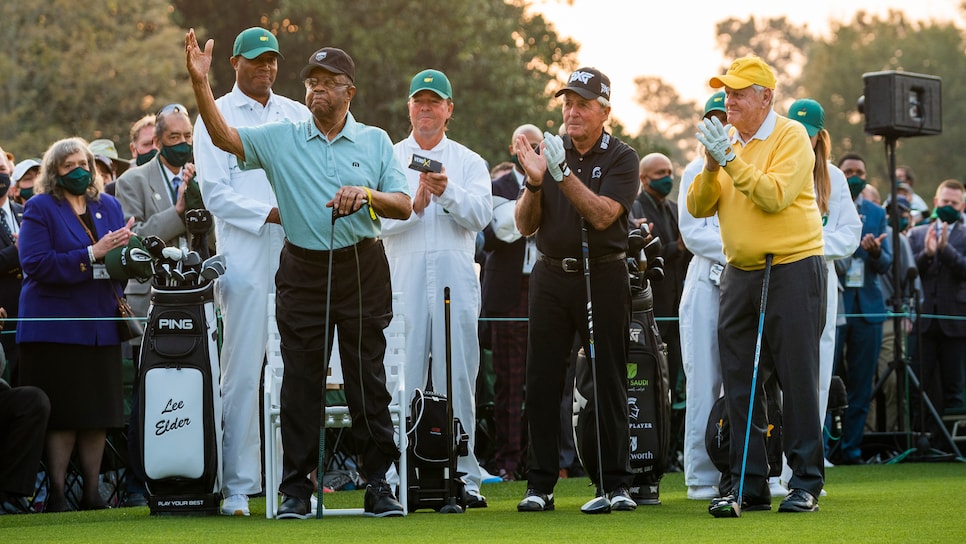 Unfortunately the moment was exploited by a brazen display of avarice, as Player's son Wayne hovered in the background attempting to commercialize the ceremony. But a Masters that began with a moment of greed ended with a moment of gratitude, with the former contextualizing the latter and the latter minimizing the former. Shota Hayafuji, caddie for Hideki Matsuyama, planted the flag at the 18th and bowed to the course, a gesture to honor what his boss had done and where he had done it and what Matsuyama's triumph meant to so many halfway across the world.
Sometimes feel-good moments are bred from righting a wrong. The NCAA (an organization that manages to start five-alarm fires with nothing more than candles on a birthday cake) ended the championship aspirations of 12 teams at the Women's Regional in Baton Rouge by canceling the event—and for some of the women, in turn ending their collegiate careers—due to bad weather. It was a controversial decision and one some felt was handled clumsily and somewhat callously. "Even though the course is playable," an official told the teams, "it's not playable at a championship level." Though the women received an outpouring of support there is no analgesic that soothes the burns of a goal gone up in smoke. However, podcast host Sam "Riggs" Bozoian at Barstool Sports sent out a second chance to those affected by hosting an alternative event, aptly named the "Let Them Play" Classic, with Whirlwind Golf Club in Chandler, Ariz., donating its course free of charge. The players got the opportunity to end their season on their terms.
Feel-good moments can be redemptive. After cruelly, and very publicly, having the Memorial pulled from his grasp by a positive COVID test, Jon Rahm answered with vigor at the U.S. Open, made extra sweet by the new father winning on Father's Day. Jordan Spieth spent the better part of three years in the wilderness only to re-emerge and remind us he is the most galvanizing force, save for a certain 15-time major winner, in the sport.
Feel-good moments can be bittersweet. This is personified by Brian Morris, a club pro battling terminal cancer who received a sponsor's exemption to make his PGA Tour debut in Bermuda. Or seen with Matthew Wolff, who found a feel-good moment at Torrey Pines while still trying to find himself.
Feel-good moments can be offset. Joel Dahmen's breakthrough in the Dominican Republic came at the expense of Rafael Campos' gut-wrenching heartbreak, and even the most ardent American fan had to feel their heartstrings tugged at the emotional response from Rory McIlroy at the close of the Ryder Cup. Feel-good moments can have dark underbellies: the Advocates Tour and its players are finally getting the opportunities they deserve, yet the newfound platform underlined how woefully segregated our game remains.
Yes, there are unadulterated stories. Megha Ganne stole the show during the U.S. Women's Open at Olympic. Rachel Rohanna became the first mom to graduate the Symetra Tour. Phil Mickelson sent Father Time to the canvas. But the thing about most feel-good tales is they come after millions of moments away from the spotlight that said they wouldn't, a sentiment best captured by Michael Visacki, he of Monday qualifying and viral-clip fame. "We're not very much of a crying family, but this is the first time in a long time I think that we all cried," Visacki said at the Valspar Championship, "because we knew how much work and effort, blood, sweat, tears, has gone into me trying to make it and to finally be able to do it, it's a dream come true."
That's why we gravitate towards these moments. To be inspired. To realize dreams do come true. To be filled with hope.
In this country sports can be prioritized over more pressing issues and matters, and sometimes that noise is in desperate need of being turned down. In that same breath, sports remain one of the few vessels with the ability to bring this ever-divided culture together. In our neck of the woods, that vessel is golf. What brings us in may vary. But its feel-good moments, big and small, embody the idea it can be more than just a game. Something that's worthy caring about and cheering about. Something that can offer a warm feeling inside when everything else feels cold.
A few months after Cullan had passed, the damndest thing happened: Macey and Cathryn were paired together in the Kentucky state championship, at the same course where Cullan had won a state title no less. Each wanted to beat the other; they are competitive golfers after all. But the beauty of this day and chance and, yes, moment, was not lost on them. "It did feel like destiny," Cathryn concedes. Macey had a four-shot advantage over Cathryn after Round 1 in the 36-hole event, and in Round 2 Macey's score earned her a spot in a playoff for the individual championship. Using a ball with Cullan's name inscribed on it, she won the first hole of sudden death with a par to win the state championship.
"I knew he was with me at the end," Macey says. "I prayed before the extra hole, asking him to just look out over me. I definitely felt him pulling me to the end."
One of the first people to congratulate Macey as she came off the green was Cathryn. They both say they are not criers, but, well, some moments call for exceptions. Eight months later the tears were turned up again, only this time the wet eyes belonged to the crowd that had just watched Cathryn pump the ceremonial drive at the Cullan long and sure. There to greet her was the sister she had gained while losing a brother. Cathryn Brown knows no matter how dark life gets, there's always room for light.