Comeback complete
The Valero Texas Open wasn't Jordan Spieth's biggest career win, but it might have been his most important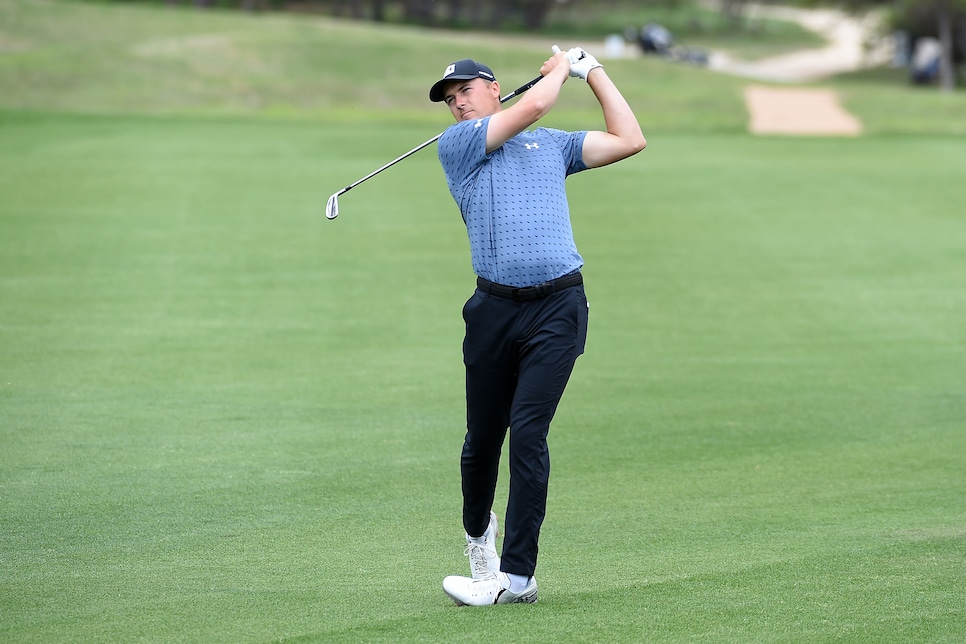 Undoubtedly, Sunday's victory in the Valero Texas Open wasn't the biggest of Jordan Spieth's career. Not for a three-time major winner. Not even close.
But as his career unfolds from here—one that has been parts enchanted, historic and enigmatic—his 12th career PGA Tour win, filled with gut-check interludes, might one day be looked upon as one of the most important he'll ever secure. Time will tell. Time always does.
And time, right now, says it's still is on Jordan Spieth's side.
The second youngest player to reach World No. 1 and the second youngest of the modern era to win three major championships and 10 PGA Tour titles, all by the age of 23, Spieth has been mired in a winless drought that was as inexplicable as it was unexpected after he summoned all of his grit and guile to win the 2017 Open Championship at Royal Birkdale.
And now, finally, after 83 tournaments covering 1,351 days, he is a winner again. With a closing six-under 66 that brought to mind many of his earlier wins, especially the clutch putts he converted while continually challenged by a gritty Charley Hoffman, Spieth regained a foothold on what always seemed his rightful station in the game—that of an elite player.
"This is a monumental win for me, one I've thought about for a long time," Spieth said as the sun kissed his smiling face in his native Texas after finishing at 18-under 270 on the Oaks Course at TPC San Antonio, two clear of Hoffman.
Later, Spieth sheepishly conceded that he might have been guilty of a bit of hyperbole, of getting caught up in the moment. Still, this is a win that he can savor, that he can chew on whenever he encounters that next teeth-grinding moment in the cauldron of tournament golf. Quite a few times in the last few years he has made a withdrawal from his surplus supply of optimism until, inevitably, he had little confidence left to spare.
Yet since a third-round 61 at the Waste Management Phoenix Open in February, Spieth has been refilling the tank. This long-sought return to familiar territory just topped it off.
He insisted that, "I didn't need this win," and perhaps that is true. But the very last thing he needed was another near miss after sharing the 54-hole lead with Matt Wallace, the third time this season he's played in the final group, most on tour, and then seizing sole possession of it with two early birdies. The last thing he needed was another top-10 finish to go with the four others he collected in his last six starts.
And so, at 27, he is back on the right track. After starting the year 92nd in the World Ranking, he's back to 38th. And, appropriately, when he tapped in for par on the par-5 home hole, Spieth smiled like a man who had been there before, even if it had been a while.
He joins four others in the last 40 years to collect 12 tour wins before turning 28: Phil Mickelson, Tiger Woods, Rory McIlroy and Justin Thomas.
"I feel grateful," he said in typical Spieth fashion that evinces a humbleness that has made him one of the game's most popular figures. "You know, it kind of bounces off and on right now when it hits me that I'm back in the winner's circle. It's been a road that's had a lot of tough days. I've had people in my corner that have always believed in me even when I've kind of believed less in myself.
"The extra nerves today were just in not wanting to have to sit there and have it be a few times in year and that monkey on my back that continues to be there that I don't feel myself, because when I'm in contention, I feel a lot of positivity. But it's sometimes difficult to kind of separate that from the expectations when you step in an interview room and you're supposed to win all the time."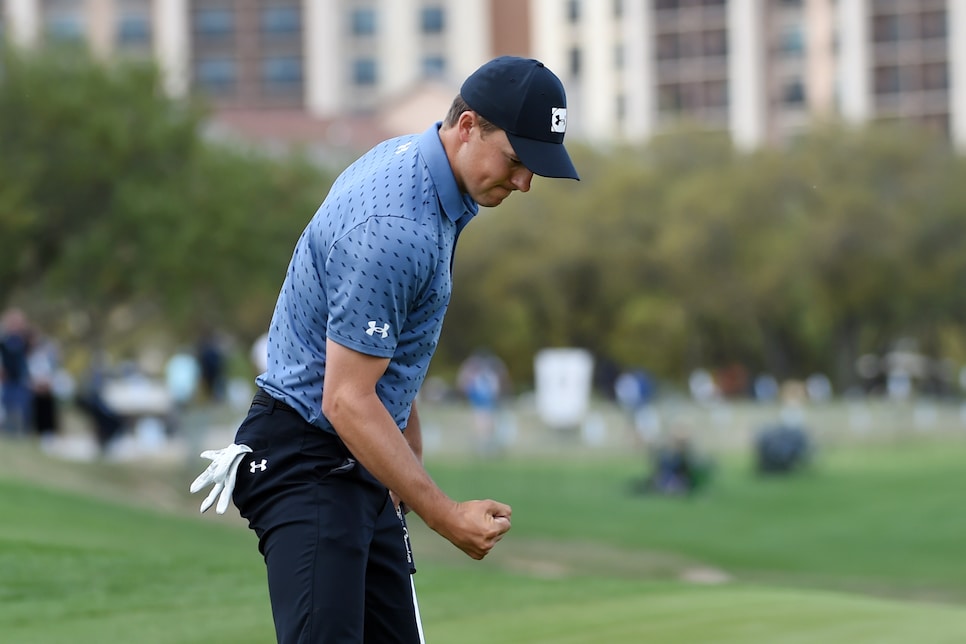 After starting the year 92nd in the World Ranking, Spieth has now moved back to 38th.
Steve Dykes
Hoffman, 44, who had won this event in 2016, made Spieth sweat with his own 66, and his determination eventually vaulted him past Wallace and within one of the lead when he rolled in a 16-footer from the fringe for birdie on the par-3 16th hole, his third birdie in a four-hole stretch.
Spieth responded on the next by wedging to five feet and draining his own birdie to restore a two-shot cushion. It elicited one of several fist pumps from the Texan. That ended up the difference.
"I've lost golf tournaments, I've won golf tournaments, but today Jordan won the golf tournament," said Hoffman, who needed a victory to qualify for this week's Masters. "I know how hard it is to win out here, I know what he's been through. He's a champion, he played great golf and there's nothing more to it than that."
While Hoffman was trying to get back to the Masters, Spieth was trying to get back to the player who once dominated the Masters, that being in 2015, the year he also won the U.S. Open, the FedEx Cup and the hearts of a large part of golf's patronage.
"Winning a PGA Tour event is a very, very difficult thing to do, and I've certainly been humbled in that process over the last few years," Spieth said on Saturday after playing his final nine holes of the third round in five under, a key stretch that got him back into contention after he'd fallen four strokes behind England's Wallace, owner of four European Tour titles, who finished third after a 70.
For a time Spieth made winning look easy, but he insisted that it never was easy, and a few heart-stopping triumphs, including that emotion-draining rally past Matt Kuchar at Birkdale, certainly were testament to that.
"I've always been somebody that under pressure has had tendencies that I've had to learn and get through," he said. "I had to kind of learn the patience of a final round, and it just took me a couple extra times over the last couple months in contention to just kind of relearn that a little bit, relearn that patience and that lightness that you need."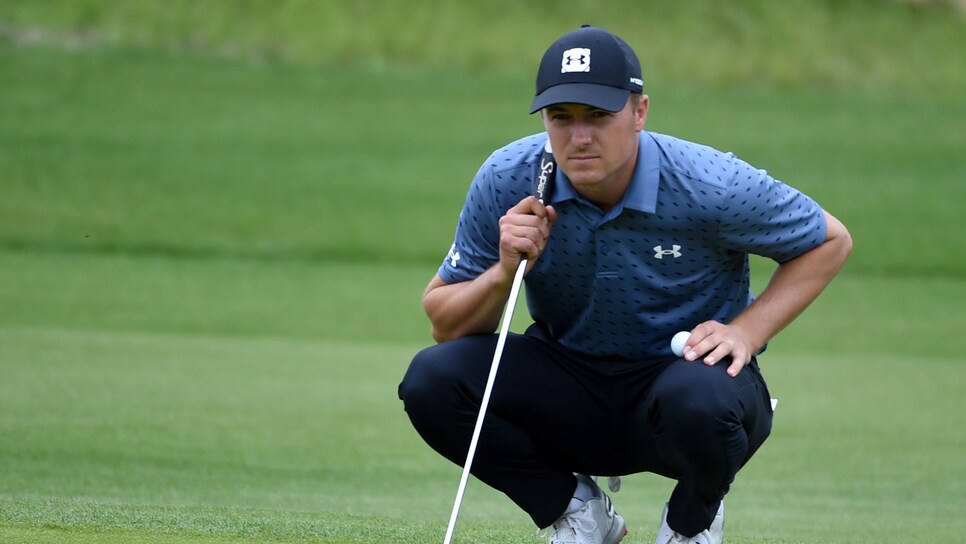 Spieth now takes his momentum to Augusta National, where his game has shined even in years when he's otherwise struggled with his swing.
Steve Dykes
But lightness is difficult to summon when your swing gets less reliable—compounded by playing through a hand injury—and you still encounter the weight of expectations. Try as one might, that's a heavy load under pressure.
"I'm not sure what maybe would have been such a big deal other than if it's a massive deal to not win over a three‑year time frame, it means that you were pretty successful before that," he said. "No one was telling Charley Hoffman … I mean, no questions were asked about the last time he won, or Matt Wallace. I guess that's expectations, maybe age, whatever it may be, past history. But if anything, that should only give me more confidence."
Indeed. And he can take even more confidence from a win that was the result, predominantly, of regaining his mental edge, a facet of his game that fueled much of his early success. Spieth tallied 12 birdies in his final 27 holes against one bogey and insists that he was far from producing his best golf. His swing, at which he's been working diligently to rebuild, wasn't sharp on the weekend, he said.
But he was sharp where it mattered—in toughness and execution.
"There's some good pieces to it that are close to at least matching up into the golf ball appropriately, but the consistency and the cleanup and kind of the tightness of the swing has still quite a ways to go," he explained. "That excites me. That really excites me at this stage where I'm at."
It should. Where he's at is back on top.