Right at home
Masters 2021: Why Jordan Spieth thrives at Augusta National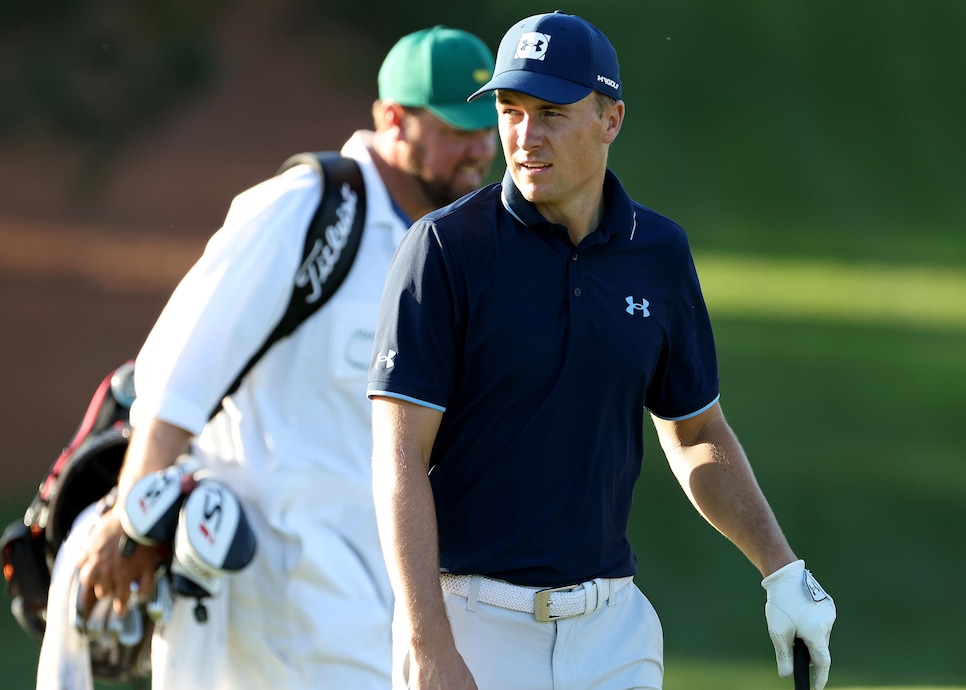 The drive down Magnolia Lane is shorter than a lot of tee shots on tour. Straighter, too. Just 330 yards long and barely wide enough for two-way traffic, it's lined with 122 of the aforementioned trees—61 on each side—their branches forming a transportive arch over the paved drive that carries you away from busy Washington Road, past the unassuming white brick guardhouse, up to the quintessentially southern clubhouse of Augusta National and to another time and place. It's a journey that's aspirational for many but can also be inspirational for some.
At least that's how it is for Jordan Spieth.
"It's normally Monday for me when I get there," the 27-year-old Texan said of the Masters. "For me it's like, It's go time. Almost regardless of form, regardless of if you just won or if you've missed the previous cut, it really makes no difference to me in my confidence level when I pull into Magnolia Lane."
It helps, of course, to own a green jacket. Spieth does, having acquired his as a rosy-cheeked 21-year-old in his second start at Augusta National in 2015.
It's even better to have done so with a virtuoso performance—an opening 64 in just his fifth career tournament round and a slew of records that followed, including setting the 36-hole and 54-hole scoring marks before tying Tiger Woods' then-record 72-hole total of 18-under 270, a mark that was eclipsed by two by Dustin Johnson last November.
But Spieth's seminal moment is not his only memorable one at Augusta National. In seven Masters appearances, he has three additional finishes in the top three, sandwiched around a T-11 in 2017, and he has never missed the cut. In his first five starts, he recorded rounds of 66 or lower five times, which is as many as Tiger Woods (three) and Jack Nicklaus (two) combined for in their first five Masters. Spieth also had at least a share of the lead after nine of those first 20 rounds and his scoring average of 70.05 during that span was the lowest in tournament history among players with at least 20 rounds.
"It's just such a unique golf course in that it's a lot of shot-making versus what you get in a lot of other places," the former World No. 1 said. "And then the greens require just so much imagination, it almost just feels like a totally different game sometimes there. I've had chances to win after missing the cut in the previous week, like I think in '14 and '16, and I've come in off of a couple seconds and played well as well."
So why is it that Spieth owns such a sparkling record at Augusta National, one that will make him a favorite once again this year?
Metaphysically speaking, there is the venue and the tournament, which he calls his favorite. The crowds, the beauty, the history. It's the only major contested on the same course every year.
Given that, Spieth (along with every player of a certain age) pulls from a rich collection of recent memories to draw upon, from Tiger Woods' chip-in on 16 in 2005, to Phil Mickelson holing a bunker shot for eagle on 15 a decade later, to his own long and often spectacular highlight reel, which includes coming within one shot of matching the course record with a final-round 64 on his way to a third-place finish in 2018.
Spieth quickly found a comfort level at Augusta, winning the 2015 Masters in just his second start.
Kyodo
More importantly, the course itself is one that appears to suit Spieth's game very well, starting with his ability to work the ball.
While par 3s such as Nos. 4, 6 and 12 set up well for lefties who fade the ball and therefore can avoid serious trouble on those holes, many more—Nos. 2, 5, 9, 10, 13, and 14—favor a right-to-left shape off the tee, something Spieth does well. As one example, his three-under total on the 10th for the week in 2015 tied for the best performance on the hole in tournament history.
"I think the biggest thing is he's very comfortable curving his ball from right to left," said Andy North, a two-time U.S. Open champion and ESPN analyst. "He's not one of the longer guys there, so being able to curve it is helpful."
The same is true of his iron play off the uneven fairways of Augusta National, where many an approach calls for a fade from a right-handed swinging player. Spieth's chicken-wing move into the ball benefits him tremendously, allowing him to carve his ball toward the flag as good as pretty much anybody.
"You think about how many times you have a ball above your feet or a hook lie, and if you have a draw, you'll slam that club into the hill and get a surprise pull left," said former tour player and current NBC/Golf Channel analyst Brandel Chamblee. "But if you're cutting across it, you get no surprise. You hit high soft cuts into the greens and you can always sort of—the ball's general working left to right on greens that are sloped from front to back. And they stop quicker and more often than not they end up underneath the hole."
The closer Spieth's ball gets to the hole, his chances of a good number increase exponentially, too. Only twice in his career has he ranked outside the top 35 on tour in strokes gained/around-the-green and just barely so. Twice, he ranked in the top 10.
"We talk about his putting, his pitching and wedge play around the greens there is marvelous," North continued. "He is able to get the ball up and in from places a lot of the other guys can't.
"We see him get himself out of trouble so often by hitting an amazing shot by 20 or 30 yards off the green up to a foot or two, and those are the kinds of things that, if you've hit a bad shot, you make a great recovery, and it's a good enough recovery it's even a stressless putt. You have to hit a good shot up there and still have to make a six-footer. His good ones are up there a foot, taps it in, walks off, no big deal, I've saved a par. … He's always been such a good pitcher of the golf ball, around Augusta National that's a huge advantage."
Perhaps most promising for his 2021 prospects, though, is that in recent months Spieth has looked like a totally different player compared to the one who struggled for much of the nearly four years since his last victory anywhere, at the 2017 Open Championship at Royal Birkdale. Or, more like the Spieth of old. Through his first seven starts this year, he has had five top-15 finishes while notably putting himself in position to win on multiplate occasions, including at Phoenix, Pebble Beach and Bay Hill. He's just two strokes off the lead entering the weekend at this week's Valero Texas Open.
The reasons for the turnaround span multitudes, beginning with understanding why his career skidded so precipitously in the first place.
Physically, Spieth revealed recently that he suffered a bone chip in his left hand that he opted to play through rather than having cleaned up in 2018. It was in the wake of that injury that came a weakened grip in an effort to avoid pain.
From there, the drop-off was obvious, with Spieth ranking 176th in driving and 145th in approach shots in 2019. Both were significant declines from early in his career when he ranked in the top 20 in strokes gained/total each of his first five years on tour and won 11 times, including three majors and getting halfway to the calendar Grand Slam in 2015.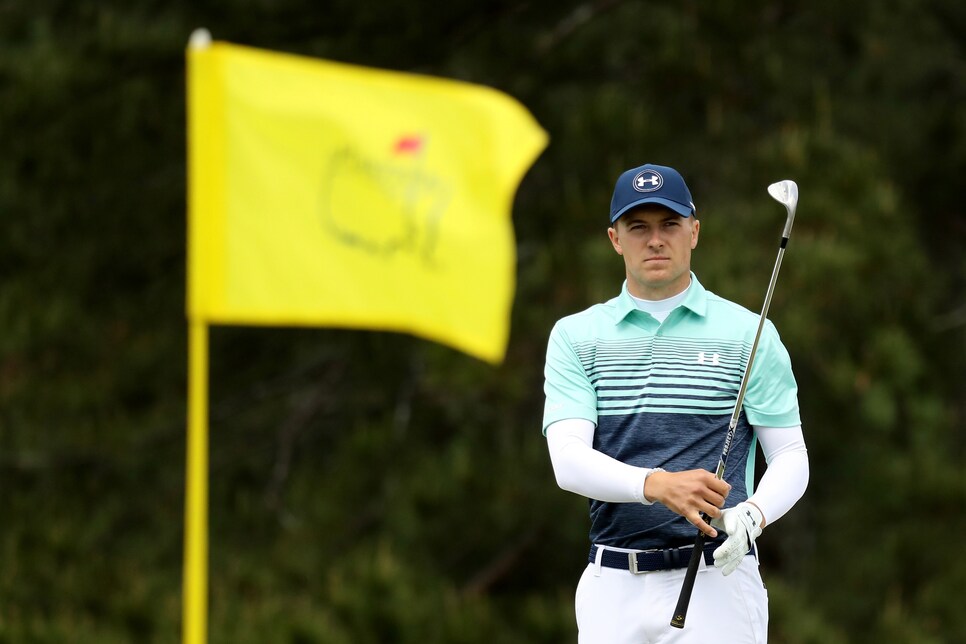 Spieth's skills around the green come in particularly handy at Augusta.
Rob Carr
Unable to recreate the swing that had taken him to the top of the sport, it wasn't long before the results started drying up, too. From 2019 through 2020, he finished in the top 25 just 14 times in 45 starts and missed the cut nine times in that span. By the end of last year, he'd tumbled all the way to 82nd in the Official World Golf Rankings, his lowest ranking since halfway through his rookie year in 2013, before dropping even further a few weeks into this year.
But last fall and winter he started to find it again, through the work he had continued to put in with and commit to under longtime coach Cameron McCormick, one of his assistants Corey Lundberg and even Butch Harmon, who reaffirmed what Spieth, whose left hand also no longer bothered him, was working on and liked what he saw in the progress. Finally able to get the club into a position where he said he could turn and burn and get his left side to clear out without getting stuck and having to use his hands, the belief started to return.
That led to trust which in turn led to consistency, two things Spieth has lacked the last at least two years.
It's shown, in his statistics and in the results. This season, Spieth's ball striking has again been fantastic—he ranks in the top 50 on tour—and his magical short game has resurfaced, too. He has also climbed some 40 spots in the OWGR and is currently No. 53 in the world.
"Definitely in a better place, I feel good tee to green," Spieth said when asked about where he's at heading into this Masters versus each of the last two when he finished T-21 in 2019 and T-46 last year. "Trying to continue to progress and get even better and tighter, especially with wedge distance control. I've driven the ball really well the last few tournaments on some pretty difficult driving golf courses."
Still, he says there are areas that concern him, like his short game, which he admitted to losing confidence in after struggling with his putting at the Players Championship, where he finished a pedestrian T-48. But it shouldn't be a major concern, either, given that he has rolled it well for much of the year and produced a litany of sizzling short shots.
Besides, another drive down Magnolia Lane, where Spieth will pull up to the clubhouse, head into the Champions Locker Room and share a space with the late Arnold Palmer figures to only prove invigorating.
"It's more the bragging rights, walking off the practice ground greens and saying, 'Oh, you guys are going over there? I'm going over here,'" he said of the perks to the winners-only room. "Other than bragging rights, I mean, there's no special juice they give you up there that makes you play better or anything like that. It's just kind of a cool, unique room to be in where you walk in and you might see Jack Nicklaus in there on Thursday or Friday and he might just give you a pointer or something for that day."
And perhaps where Spieth will walk out with another green jacket.