Q&A
Mollie Marcoux Samaan's plans for the LPGA: 'Getting the world to know our athletes is a big goal, and very achievable'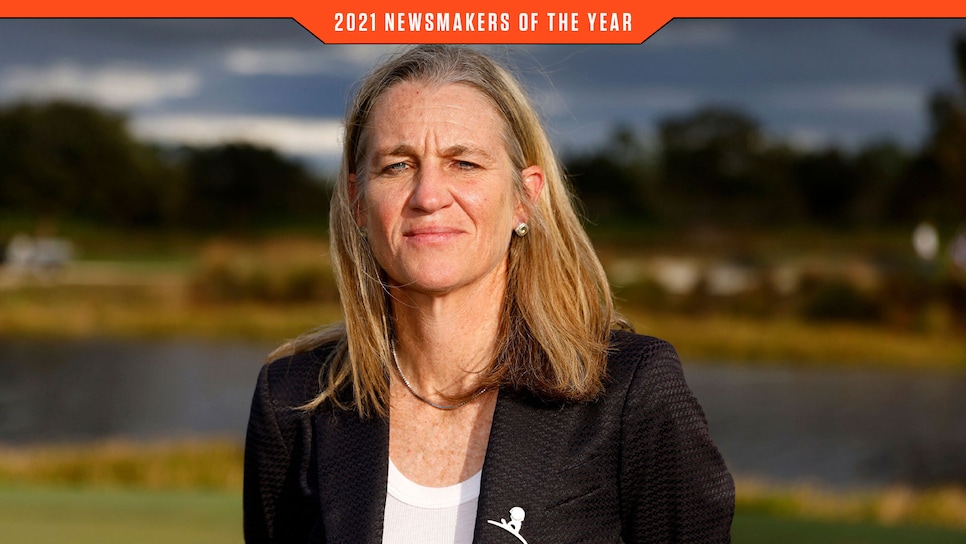 In August, Mollie Marcoux Samaan became the ninth commissioner of the LPGA, taking over for Mike Whan after his successful 11-year stint overseeing the tour. Growing up in Ithaca, N.Y., Marcoux Samaan played golf through high school before competing on the soccer and ice hockey teams at Princeton University. Golf continued to be a part of her personal life as her professional life turned also to sports. She spent 19 years at Chelsea Piers Management, which owns and operates two sports complexes in New York and Connecticut. She went on to return to her alma mater as the school's athletic director in 2014 before joining the LPGA Tour. After half a season in the commissioner's post, Marcoux Samaan, 52, spoke with Golf Digest about what she's seen thus far in the job, how she feels about the tour's current position in the sport and where she wants the tour to go in the coming years.
What was the best piece of advice you received when you started the job?
The best advice I got was from Mike Whan. He was very generous with his time prior to me taking the job. His advice was twofold: One, the tournaments are the most important thing. Focus as much as you can on making sure we have the right opportunities for our players with the right partners. That seems obvious, but sometimes you can get caught up in parts of this complex ecosystem. Have a relentless pursuit of the best tournament opportunities for our players. I thought that really grounds you on, this is ultimately what we're trying to do. And secondly, which would have been an instinct of mine because it's really what I love to do, get to know the players. Get to know them, engage with them and hear their stories. Those two things were most important. They probably would have been a bit instinctual, but to have him drill down to the two most important things, I think he was spot on.
When you're talking to players, what sort of things do you talk about?
They'll tell you exactly what we should do. This is their world. They own the tour. They live it every day, they're really smart, and they're thoughtful, and they're entrepreneurs. I have really appreciated their feedback. It's always been with the best interest of the tour, they all come at it from that position, which is really incredible. They talk about their experience. We focus on what environment will help them achieve their goals and reach their peak. From big and small things, like the locations of events, the environment once we're at the tournament. Performance things, like nutrition and hydration, fitness trailers … all of the things on the administrative side that make their lives easier, so then they can focus on reaching their own peak performance. They also have great marketing ideas, great content ideas. They're independent entrepreneurs who are concerned about their own success, but mostly they come at it like, Hey, this is what we need to do to make our tour as good as it can possibly be.
Do you feel like you're close to an ideal schedule, or are there changes you'd like to make?
The 2022 schedule we just released is excellent, thanks to the amazing partners we have, new and old. We're in a great space. But to Mike's original piece of advice, that's something you have to constantly work on. We're still evaluating it, but we're grateful for the partners we have and how they've stepped up. The purses obviously are significantly higher than they were in 2021 [overall prize money jumped from $76.4 million to $85.7 million, with the winner of the CME Group Tour Championship set to earn $2 million]. We have a great number of events [34], and the flow is pretty decent. And I think we'll see additional increases in purses in the coming months.
What has surprised you most about the job?
Despite the fact that this is an individual sport, it feels more like a college athletic program where you have individual teams, but you're all working towards the same athletic department, same university goal. It feels similar. The golfers are all individual "teams" but they're all thinking about the whole, and they're passionate about that. At Princeton, we used to call it "the team around the team." There is a team around our players. From our partners to our staff, to our board members, to media partners. Everybody has this love of the LPGA. That's something I felt during the interview process and just being a fan of the LPGA, but when you get in it, it's kind of shocking. I think people really do love what they do. They focus on what's the greater good in all of it.
Could you pinpoint a greatest moment from this season?
There's been a ton of great moments. I've worked my entire life in sports and been an athlete my whole life. I love those moments where sports is a community endeavor, where people come together and cheer hard for a common good. Being on the first tee at the Solheim Cup and seeing all the energy around women's golf and seeing the excitement for our players, was a highlight for sure. That was remarkable. Hearing a crowd cheer like that at a golf event and having the women hit through the noise, it was so intense and so loud. That was really cool.
'We want to offer a schedule where the top 150 players in the world can earn a living that's commensurate with their talent.'
—Mollie Marcoux Samaan
Where are the tour's biggest opportunities for growth?
In the areas of technology and data, we have a huge opportunity, and that will help us tell our story more aggressively and get a wider fan base. We have a very solid and strong fanbase, but a lot of people don't yet know about our players and how talented they are and how amazing they are off the golf course. Personalizing and getting the world to know our athletes is a big goal, and a very achievable goal.
We have amazing partners, but I think there are so many more out there who we can help reach their goals. There is a lot of opportunity for growth in our partnership area, keeping our current partners and continuing to customize programs for them, satisfy their goals, while also gaining more partners.
The other opportunity we have is that we're this ecosystem, with LPGA USGA Girls Golf, our amateur women's program and LPGA professionals. One of our goals is to further integrate all areas of the organization to get maximum benefit and growth. That includes investing in our diversity and inclusion work, expanding opportunities to grow the game for a wider group of young girls and women who maybe have not been exposed to the game or don't necessarily have the financial means to play. That's a huge goal because I feel like sports is the great equalizer. It that has so many ancillary benefits, it's our responsibility to think about growing those opportunities for a much wider group of people.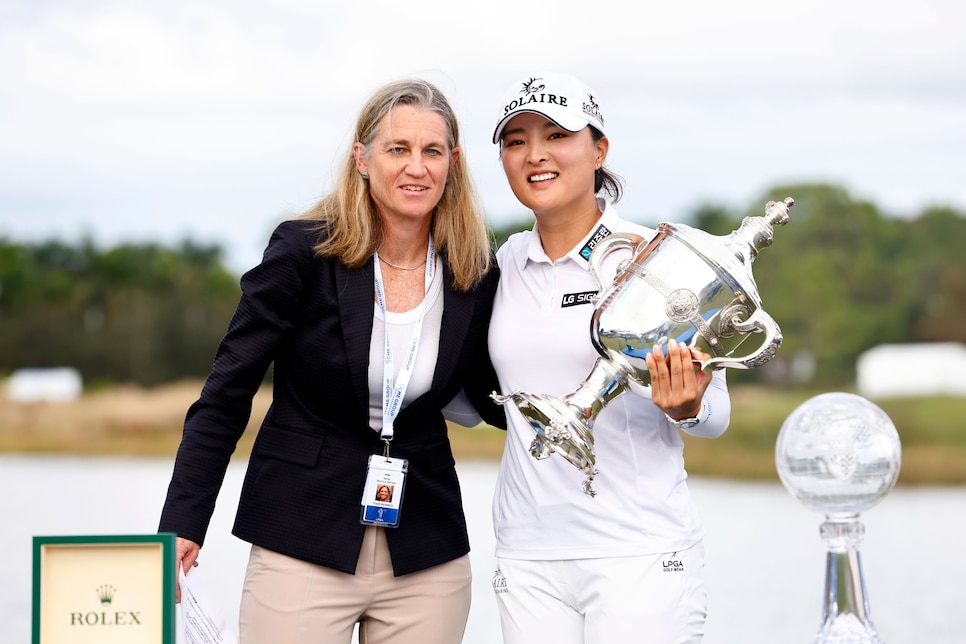 Getting to know Jin Young Ko and other players on tour was an early priority for Marcoux Samaan upon taking over as LPGA commissioner.
Michael Reaves
How important is getting more network TV time for the tour?
It's always important, and I think the women deserve to be on network television. We're doing pretty well for a women's sports property, but it's just not enough and it's so significantly less than the men's sports. Continuing to focus on that is a goal of ours. We have a great partner in NBC Sports and Golf Channel; they are part of that "team around the team" that we talked about. We obviously want as much exposure as we can get there. But we also want to be creative and see what other options are out there to supplement that, whether it's streaming or other content delivery opportunities, particularly with the younger audience. I have three kids, and they're attached to streams and networks and channels online and digitally. How we capitalize on that and continue to build a younger fan base is really important.
This past season had a couple events shown on tape delay. What can you do to avoid that in the future?
Obviously, sports is not great when it's tape delayed. People love watching our women play, whether it's tape delayed or not, but our goal would obviously be to have as much live television as possible. A very small percentage of our broadcasts were tape delayed. I think people tend to focus on that more than what is the reality of what was tape delayed. Obviously, we'd like to have as much live television as possible. But broadcast television is a finite resource, and there's a lot of competing interests for that. We have to continue to show our value and how meaningful and interested people are in our product.
When you're talking to partners, what do they love about the tour?
They really see the value from an exposure standpoint, a branding and commercialization standpoint, but also they generally love the association with our brand and they love the similarity in values and the way they can express to their employees and customers about what they really care about. They talk about that, and the accessibility of our players, the authenticity of our players, the talent of our players and the flexibility of the LPGA in helping them reach their individual goals. Those things are very positive. You get great exposure, but you also get to talk about your vision and values through the tour.
What sort of things do they say holds the tour back?
We'd like to be on network television more, we'd like more eyeballs on what we're doing. That's the biggest thing we hear. But largely, people feel they have a true partner in us, that we can customize our product to the needs of our partners, which is a really fun place to be in.
Do you think the LPGA and the PGA Tour should collaborate more? Do you talk with you Jay Monahan a lot?
Jay and the PGA have been terrific partners to me as I've started this job. Jay has been quite aggressive in offering support and advice and help. I've been really grateful for that. He's made his team accessible to us as well. We're just beginning to build on all of that. There's lots of room for growth and opportunity there.
Going forward, what are your big picture goals for the tour?
We want to continue to see the pay equity gap shrink. We want to offer a schedule where the top 150 players in the world can earn a living that's commensurate with their talent. We do really well at the top. We need to continue to think about if you're the 100th best player in the world, that's a pretty amazing talent, what does that look like? We want to continue to reduce the gap between the LPGA and the PGA Tour at every level—the top, the middle, the bottom—with the ultimate goal of pay equity. We want to continue to focus on an environment where the players can reach peak performance, build a sustainable life and play as long as they are competitive and as long as they want to play. I see us as the model for women's professional sports. We've been around for 71 years, we've had an enormous amount of success and there's so much more growth to be had.