LPGA Tour
LPGA commissioner says a top priority is bridging pay gap between women and men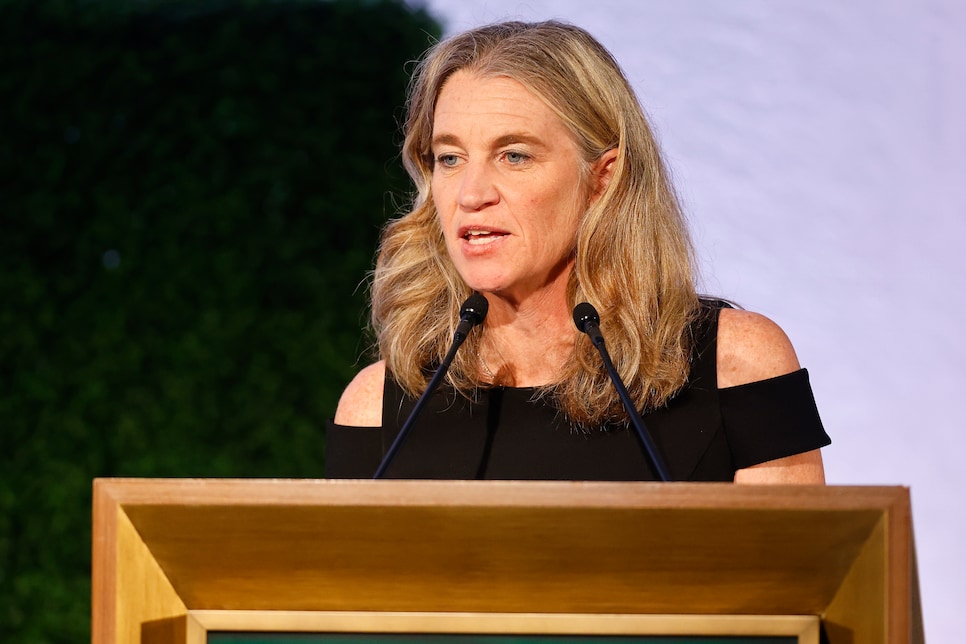 LPGA Commissioner Mollie Marcoux Samaan speaks to the crowd during the LPGA Rolex Players Awards at the Ritz-Carlton Golf Resort on November 18, 2021 in Naples, Florida.
Michael Reaves
NAPLES, Fla.—LPGA commissioner Mollie Marcoux Samaan's first answer at a 45-minute media round table Friday at the CME Group Tour Championship set the stage for her view of the grand opportunity currently ahead for the tour.
"The way we've been talking around our world is this is our time," Marcoux Samaan said. "The momentum is with us."
Sitting 75 days into her opening 100 days at the LPGA, Marcoux Samann's top priority to capitalize on that momentum is crystalizing. The two-sport varsity athlete from Princeton wants to go on the offense to take on the pay-equity gap LPGA's players face compared to their male counterparts at all levels, from the stars to the middle class to those battling each week to keep their tour card.
"I think if we can close that delta," Marcoux Samaan said, "and also if we can make sure that the top players in the world can make a living commensurate with their talent, I think that is a real big goal of ours."
Marcoux Samaan shared her plans toward developing a multi-tiered strategy for closing that gap.
It starts with growing purses for the players. After this week, Marcoux Samaan plans to sit down and review the distribution of purses. Then, she wants to continue pushing initiatives similar to the Aon Risk Reward Challenge, which awards $1 million to the top man and woman on the PGA and LPGA Tour.
Over the long term, it's building a bigger base of partners to sponsor tournaments and having new sponsors step in to create larger purse sizes as availability appears on the LPGA schedule.
That availability, in terms of the number of events played each year, may expand as well. Marcoux Samaan's predecessor, Mike Whan, felt 33 to 34 events was the ideal number of tournaments on the calendar. The 2022 schedule sits right in that sweet spot with 34 tournaments next year, with almost $86 million in total purse. However, Marcoux Samaan believes there is more room for additional events that align with the tour's goals and purse sizes.
"If you look at our priorities," she said, "it's trying to make sure that we continue to work on that schedule. We continue to make sure that we've got the right number of events with the right size purses. So I think there's growth there."
Then the LPGA is looking to grow its fan base and, in turn, get more eyeballs on the tour by further investment into the tour's communications, from more staff to greater content. Marcoux Samaan is planning to create an official marketing department for the tour—something the tour has previously done in piecemeal fashion.
Marcoux Samaan hopes to provide more resources to players on tour, ensuring more nutrition options and investing in an app, similar to the one she used at Princeton, to communicate more directly with the tour's players.
There is no hesitancy in the commissioner's belief that her team can execute her visions as she builds on the momentum in women's sports overall.
"I would say at previous jobs, I had people would maybe say we move too quickly and there's a little bit too much energy," Marcoux Samaan said, "Hey, I've got to slow down a little bit. Not with this team. I don't think they're worried about that. They're used to moving fast and furiously."