LPGA Tour
Hannah Green wins $1 million AON Risk Reward Challenge, calls it 'life changing'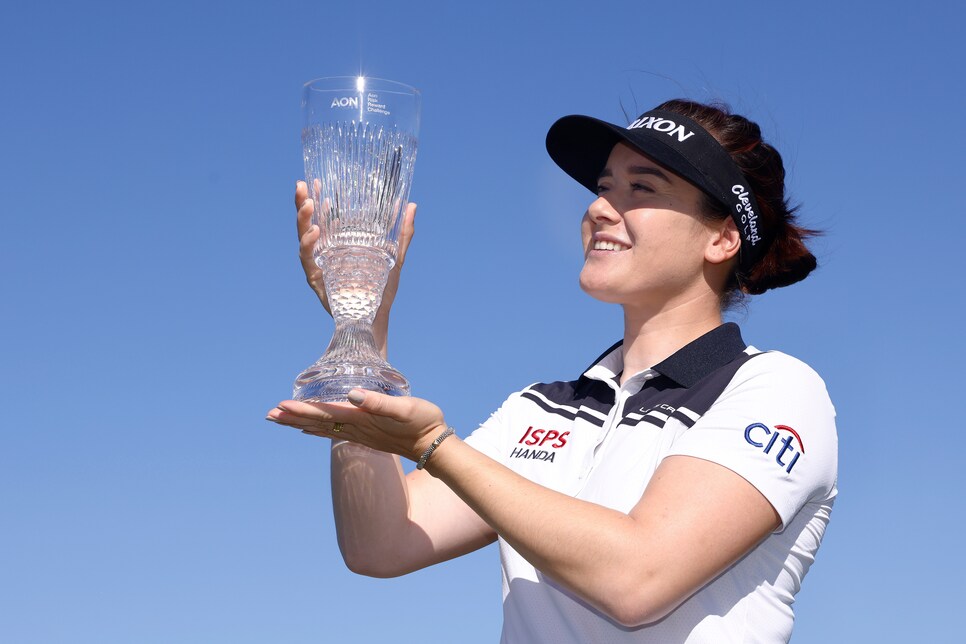 In women's golf, there aren't a lot of opportunities to win $1 million. A victory at the U.S. Women's Open gets you that hefty amount, and the winner of this week's CME Group Tour Championship takes home $1.5 (in 2022, that number jumps to $2 million). All other winners' checks, however, have less than seven digits.
There is, though, one other way to earn $1 million, as Hannah Green became the beneficiary of on Tuesday. That's when the 24-year-old Australian was officially introduced as the LPGA's 2021 winner of the AON Risk Reward Challenge, which comes with the handsome payday that Green described as "life-changing."
The AON Risk Reward Challenge is a year-long competition run simultaneously on the LPGA and PGA Tours (Matthew Wolff was the men's winner this year). At each tour event, officials identified a hole they determine to be the most difficult strategically. Each player's best two scores on that hole for the tournament are counted. At the end of the season, the player on each tour who averages the lowest score on those designated holes wins the prize. Green won with a -.938 as Charley Hull came in second (-.882) and Hyo Joo Kim (-.846) finished third.
Green, whose two career LPGA titles include the 2019 KPMG Women's PGA Championship, said she's going to buy a house with her winnings.
"I actually wanted to buy a house during the off-season, so this gives me an opportunity to actually play comfortably," she said. "It is quite difficult to buy houses in Australia, especially as a sports person with the not-frequent income, and as well as foreign income. I could almost pay my house off and not have a mortgage, so it's setting me up for after I finish playing golf. To me it definitely is life changing."
The opportunity presented by the AON Award is something LPGA players are particularly grateful for. Again to put the $1 million into context, the AON payout was more than Green made on the course on the LPGA tour in her last two season's earning combined. Green has won $531,507 in 17 starts in 2021. In 2020, she played 14 events and earned $442,843.
"Just gives me a little bit of comfort when I come back out to play each season," Green said. "I'm very grateful."
It wasn't until the middle of the season that Green realized she was even leading the competition. At that point, she started keeping track of her progress, checking which holes she had to score well on. When she got to the BMW Ladies Championship last month in South Korea, she and her caddie calculated that to clinch the award Green needed to make two birdies on the designated hole, a reachable par 4.
Usually unemotional on-course, Green said she was throwing fist pumps and high-fiving when she made those birdies. "I try to be aggressive when I'm on the golf course," Green said. "I feel like that's where I can show that side of me."
Among the first to congratulate her was fellow Aussie Karrie Webb, who had been tracking Green's progress through the end of the season.
"She was almost surprised that I went to Korea, but I love Korea so I was always going to go," said Green, who did not play in the Pelican Women's Championship, the final counting event. "It was a difficult decision not playing the final event, but I wasn't quite ready to play a tournament, so it didn't work out. But, yeah, [Karrie] was like one of the first people to message me to say congratulations. It's always nice to have that. I'm actually catching up with her tonight for an Australian barbecue, so I will buy her a drink."
It's probably expected after you win $1 million.