LPGA Tour
Even in her greatest season, Nelly Korda decided recently to work with a new swing coach
NAPLES, Fla. — Nelly Korda carried the exhaustion from her spirited birdie-birdie comeback to win the Pelican Women's Championship on Sunday to her pre-tournament press conference at the CME Group Tour Championship on Tuesday. Even a short trip to her Florida home following her playoff victory didn't grant the World No. 1 a reprieve ahead of the final event of the LPGA season.
"I think you always kind of get hit [after a win]," Korda said. "You feel like you get hit by a bus one day the next week, so I've definitely felt a little bit more tired today and just going to take it easy this afternoon."
There was some significant news from Korda, however. The Rolex Player of the Year leader revealed she brought on a new swing coach, Jamie Mulligan, a few weeks ago ahead of her fourth LPGA victory this year. Korda was introduced to him by her sister and knew he worked with six-time PGA Tour winner Patrick Cantlay.
"I've kind of surfed around [for coaches]," Korda said. "I thought about a couple coaches here and there, and I liked [Mulligan's] demeanor, I like the way he's super positive. I think we've just clicked kind of since the first day and I really enjoy being around him."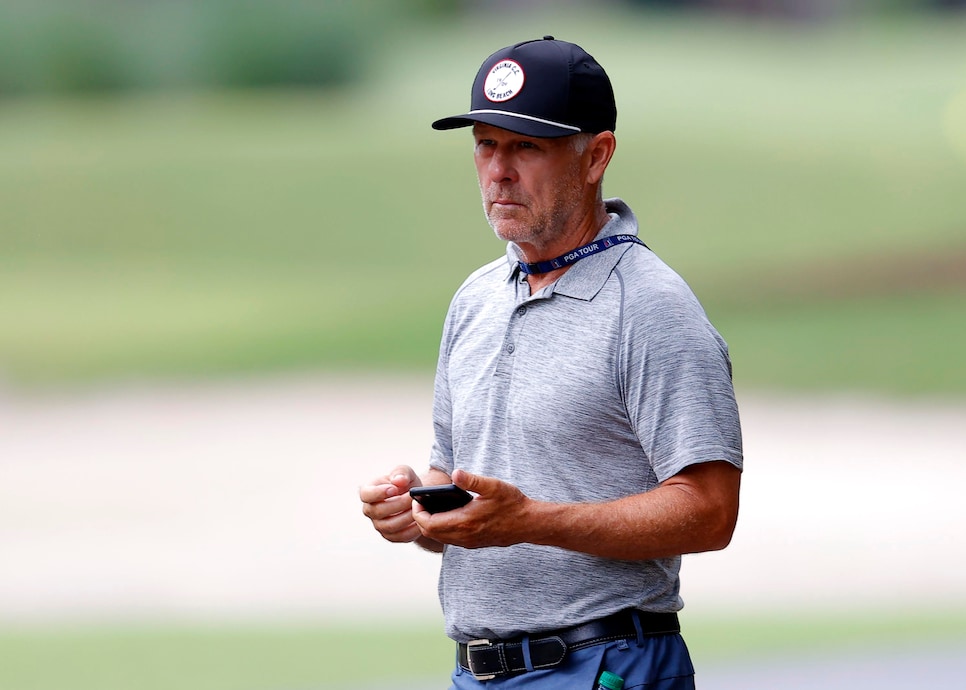 Coach Jamie Mulligan has worked with a number of PGA Tour pros, including current FedEx Cup champion Patrick Cantlay.
Kevin C. Cox
Korda maintained her relationship with David Whelan, whom she's worked alongside since she was 15. Korda and Whelan primarily work on her short game together. Mulligan focuses on maintaining her swing, while serving as a sounding board for any thoughts the swing-obsessed Korda has.
"Sometimes you just need someone to lean on," Korda said, "Give you new ideas, and kind of bounce ideas back and forth. I go to my caddie all the time and I ask him if I'm not hitting it well, what do you see? Do you see something wrong? So I always try to bounce ideas."
Those ideas don't include any regrets on not being eligible for the Vare Trophy. Following her 17-under performance at Pelican Golf Club, Korda's scoring average improved to 68.845. Had she met the minimum round requirement of 70, it'd be the second-lowest scoring average in Vare Trophy history, trailing only Annika Sorenstam's mark of 68.7 in 2002. However, Korda shared that the Vare Trophy specifically wasn't on her mind going into the start of 2021.
"My goal was to contend in majors and be healthy throughout the year, to play to the best of my ability," Korda said. "I'm not a player that's going to go out and be like, OK, I want to win this award, this award, this award."
That mentality carried Korda to earning so much hardware in 2021 she was unsure of how to store all of it. The 23-year-old carried her Olympic gold medal in a sock throughout the United States this year, earning quizzical looks from TSA agents.
"Every single time I went through security I got stopped," Korda said, "I was like, OK, just be really careful with [the gold medal] when you pull it out. Don't scratch it."
Korda hasn't received the trophy from her marquee LPGA achievement at the KPMG Women's PGA Championship. She can add a fifth trophy from this season to her home with a victory at Tiburón Golf Club, adding another piece of hardware she needs to fit into her condo's office. Even Korda's exhaustion couldn't stop her from imagining how she would celebrate winning the $1.5 million first-place check.
"Everyone [in the family] would get a really nice Christmas present," she said.