'Girl crush'
We think we've found Nelly Korda's No. 1 fan, and it's actually a fellow tour pro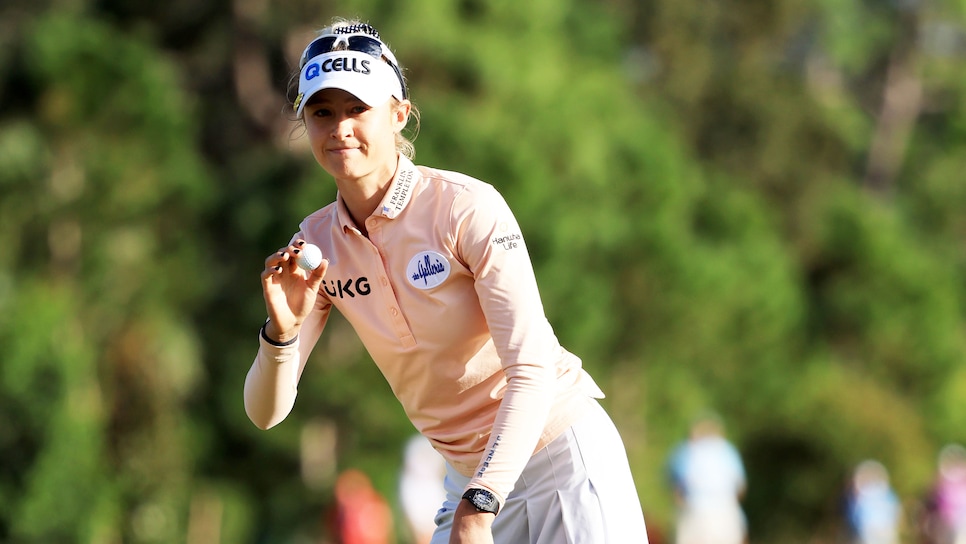 Nelly Korda has a share of the lead heading into the final round of the Pelican Women's Championship.
Sam Greenwood
There's a lot on the line this week for Nelly Korda at the Pelican Women's Championship, the penultimate event of the 2021 LPGA Tour season. The 23-year-old is in a close race with Jin Young Ko for Rolex Player of the Year honors, trailing 176-161 in points. Impressively, Korda has risen to the occasion, shooting a third-round 63 at Pelican Golf Club in Belleair, Fla., to grab a share of the 54-hole lead with Lexi Thompson at 16 under par entering Sunday's final round. A win will earn Korda 30 points (Ko is also in the mix at nine under in a tied for 11th).
Among those to see Korda's Saturday performance up close was Christina Kim. The 37-year-old tour veteran has a lot on the line this week as well; she playing on a sponsor's exemption and trying to make sure to hang on to her tour card after starting the week just inside the top 100 cutoff in the points list. Kim shot a third-round 65 to put herself just two back of Korda and Thompson and in a comfortable spot to keep her full status for 2022. But after the round, all Kim seemed to want to do was talk about Korda.
"I'm a little sad that I'm not going to be paired with Nelly [in the final round] because can we talk about her for a minute?" Kim said. "This was my first time playing in a competitive round with her period, let alone since she turned No. 1 in the world. I don't care who's out there, I might be her biggest fan."
Kim went on to explain that her appreciation for Korda goes beyond her golf skill—"You could hand her a frying pan and she'd be able to do anything with any club."—to include the way she handles herself on and off the course.
"She's got a beautiful laugh, beautiful smile, just a really, really warm heart. So I was just like—girl crush."
You've got to hear Kim for yourself to appreciate the respect and praise she heaped on Korda.
"I'm absolutely just in awe of her," Kim said. "And I told her it almost brought teared to my eye knowing the future of the game, the next generation is in her hands. I almost swore. It's freaking awesome."
Suffice it to say, if Korda wins on Sunday we know who will be running out on the 18th green to celebrate with her.