News
In Christina Kim, golf might just have stumbled upon a bright new TV analyst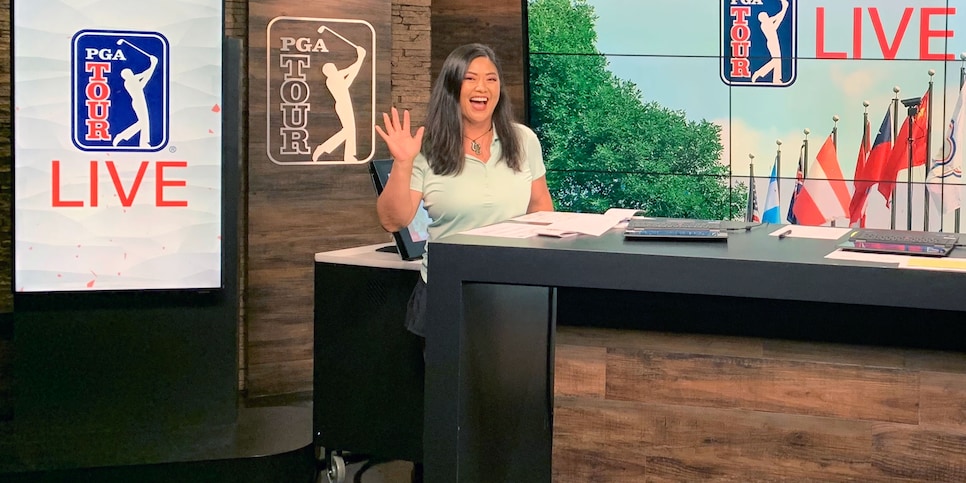 Being good at playing golf on TV doesn't mean someone will be good at talking golf on TV. Johnny Miller was a paragon in that arena.
Christina Kim might be, too, if she could be bothered. She's off to a good start.
This week, the three-time LPGA winner is dipping her toes into the TV waters, or a variation of it, as an analyst on PGA Tour Live's coverage of the Memorial Tournament. It's not her first time in the booth—she's been behind the mic for multiple LPGA telecasts, including at the 2013 Solheim Cup. But it is just her second time covering the men's circuit after she made her debut for the tour's streaming channel in the first two rounds of last month's RBC Heritage.
A break in the schedule on the LPGA Tour, which won't resume its season until the end of this month because of the ongoing COVID-19 pandemic, has allowed Kim to moonlight. The idea came about from the suggestion of one of the tour's communications officials. When the tour asked Kim if she was interested, her response was resounding.
"Hell yeah," the 36-year-old told Golf Digest after finishing her nearly eight hours of duties on Thursday. "I love this game. I'm passionate about the game. I'm excited that golf is back on. I told them I'd love to sit around and watch the guys play."
That was evident on multiple occasions in the opening round. And not just in some obsequiously flattering manner but rather with an unalloyed delight driven by curiosity, a natural willingness to be unfiltered and a high-octane personality.
The result: Viewers were entertained and informed. Examples abounded.
When Justin Thomas labored through his first 14 holes of his first round with four bogeys and no birdies, Kim exclaimed that she wasn't coming back Friday if he didn't make a birdie. (He did, and she is thankfully back through the weekend.) But Kim didn't stop there and instead took viewers to the one place they can't see on their screens—inside a player's head.
"It can definitely be tough, especially when you know what you're capable of and it's not being showcased," she said of Thomas' frustration after a disgustedly flared tee shot on the par-3 fourth. "Just because you see a flag doesn't necessarily mean you have to swing at it. When you're so good, as these guys are, you're so accustomed to target golf. And you think, OK, it was soft last week, so I can take dead aim. You have to come in with slightly different approach."
It helps, too, that while Kim is a contemporary of many of the players she is observing this week, she is also not so closely connected to them as to be concerned about mincing her words, a commonality among many analysts across all sports but especially in golf.
To wit, when Bryson DeChambeau hit one of several poor wedge shots on Thursday, this one from the middle of the fairway on the fourth hole, and was subsequently stupefied if not offended by his ball drawing and missing the green left, Kim called BS, saying, "The ball's above your feet, I mean it's probably gonna draw."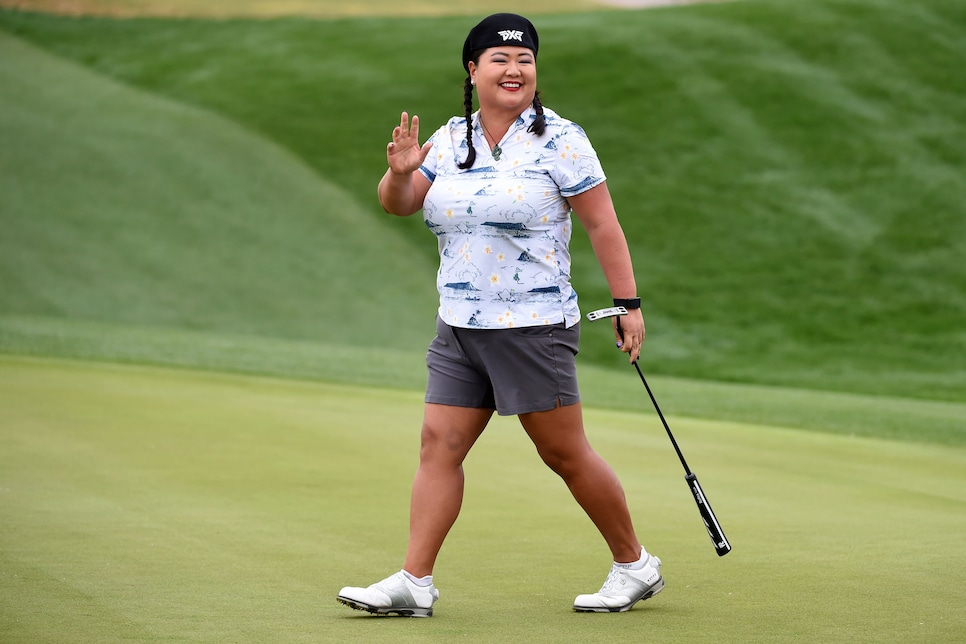 Kim intends to return to the LPGA Tour when play resumes after the COVID-19 break later this month.
Steve Dykes
Later, she noted how fascinated she was with all the head drops and histrionics from numerous players during a windy and difficult day. Then she added that she wasn't a fan of the body language, essentially because it mostly doesn't do any good. How it affects a player, she reasoned, is something she could speak directly to.
"She brings a very strong knowledge of the game, what the player is trying to do and how they hope to execute it," said Greg Hopfe, PGA Tour Entertainment executive producer. "There's clearly room for growth, but it seems to come natural to her."
Which is more than can be said for most players who move from the playing field to the broadcast booth. Tony Romo did it seamlessly in football. John McEnroe in tennis. Magic Johnson, despite his ebullient personality, not so much in basketball.
"A player moving from course to booth is challenging because while they may know the game, they need to communicate it in a concise manner," Hopfe said. "The producer might be leaving to get to another hole or shot, or tape might be running out. A caddie and player might be talking. She has learned to keep comments tight."
While Kim concedes her biggest challenge is "shutting the hell up," she has already proven a quick study. When player-caddie conversations broke out on Thursday, she knew enough to stop talking, even if she was mid-story. She did so because she was as curious to hear what they were saying as the viewers were. Knowing when such conversations will start simply comes with reps.
"One thing I noticed that's different about PGA Tour Live compared to traditional coverage is that dead air is OK," Kim said. "[Listening to them] you can learn so much how a player thinks when they're talking about every swing they're taking."
Hopfe isn't the only one impressed, either. Social media was effusive in its praise of Kim's efforts on Thursday. An ability to please that mob is telling (never mind that she interacted with followers routinely throughout the broadcast). It's also flattering to Kim, who brings a full-throttle joie de vive to the booth but is equally adept at a delivery that is neither stilted nor arrogant and instead is light yet insightful.
So natural are her efforts, in fact, that it's a surprise to hear Kim say she had zero training before being thrown in the booth, which she's sharing this week with veterans Brian Katrek and former player Billy Kratzert.
"She is lots of fun," Katrek says matter of factly. "She's very passionate about golf and that bleeds into her commentary. She was talking to the shots on the screen like she hit them herself."
And yet doing so in a way that didn't insert herself into the story, yet another rare skill.
"At the end of the day I just talk and say what I think is taking place and what could be going through a player's head because I have those experiences," Kim said. "To a certain degree, I've been training for this my whole life."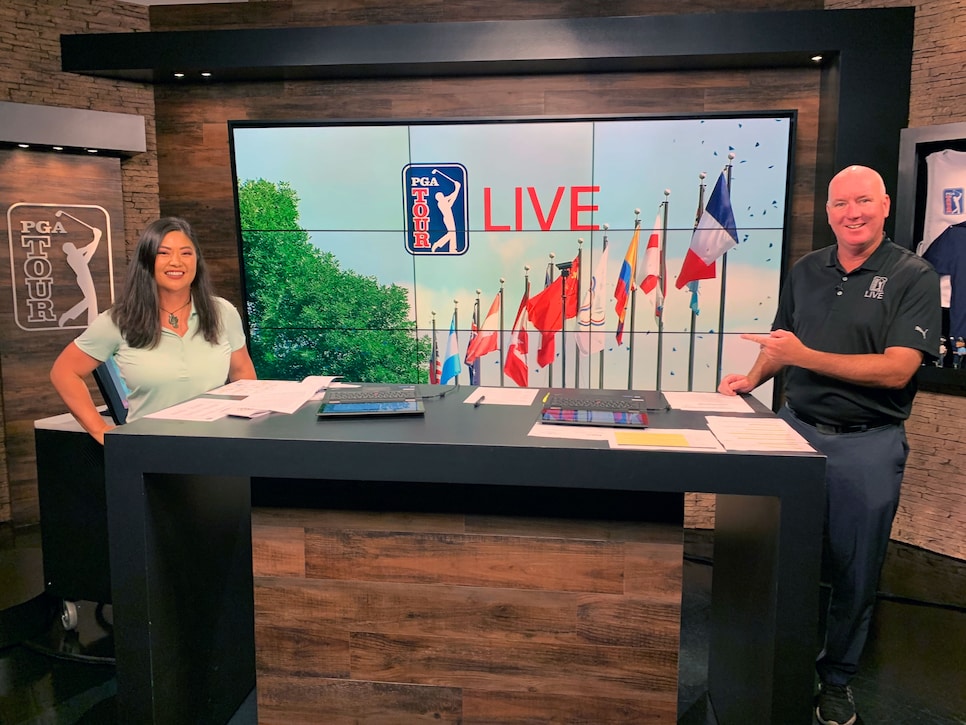 Kim's efforts on the set with veteran announcer Brian Katrek have been impressive given she had no training prior to coming on set last month during the RBC Heritage. (Photo courtesy of PGA Tour Live)
That said, Kim isn't ready to jump outside the ropes just yet. Though the PGA Tour has said it wants to use her more in the future, she will resume playing full-time when the LPGA picks up its season later this month. Kim still has goals on the course that she wants to achieve before thinking about future possibilities off it.
A network would be wise to hire her, though, when her playing days are done and let her go unfettered. In addition to Kim's ability, doing so would be a step forward for the sport as well. While other leagues have seen the rise of women as analysts in male sports—notably Doris Burke for ABC and ESPN's coverage of the NBA ,and Jessica Mendoza for ESPN's Major League Baseball coverage—golf has lagged with few women on its PGA Tour coverage through the years and not in the lead analyst role of the men's game. Never mind that Kim's analysis and instruction would also be a better fit for the weekend golfer, whose game would benefit by more closely trying to resemble the elements of the women's game rather than, say, that of Brooks Koepka's.
Kim, however, isn't looking to become a pioneer.
"I'm just some dude," she says. "I'm a human being. In a perfect world I would want the most qualified, best person for the audience."
Kim would be a great place to start.