LPGA
Korda sisters don't hold back their displeasure over this LPGA rule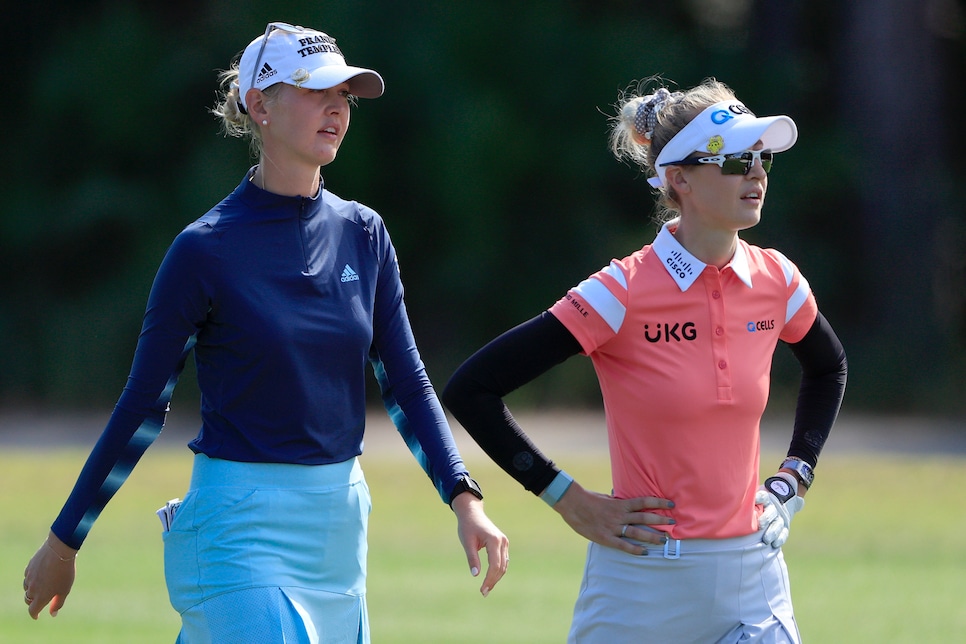 Jessica and Nelly Korda walk down the seventh hole during the final round of the Diamond Resorts Tournament of Champions in January.
Sam Greenwood
Nelly and Jessica Korda rank first and sixth, respectively, in scoring average this season on the LPGA Tour. With just two tournaments left on the 2021 schedule, Jessica's 69.927 is too far back to catch her sister (69.074), or Jin Young Ko, who ranks No. 2 with a 69.186 average. Yet neither she, or Nelly, or Ko for that matter can go down officially as the winner of the scoring title, anyway, due to a caveat in how the honor is handed out.
To be eligible to win the LPGA's Vare Trophy (and earn a point toward induction into the LPGA Hall of Fame), a player must have played in a minimum of 70 rounds or 70 percent of the round she is eligible to play in a given season. Add four rounds at this week's Pelican Women's Championship, and four more at next week's CME Group Tour Championship, and Nelly still only will have played 66 on the season, while Jessica will have played 67. Ko also falls shy of the 70-round minimum (67) as does Inbee Park, who currently ranks No. 3 in scoring average at 69.534 but is not playing this week.
You have to go to No. 4 in the current ranking, Lydia Ko, to find the first player eligible to win the award—presuming she makes the cut this week at the Pelican and plays all four rounds next week in Naples.
Suffice it to say, the fine print associated with the award's eligibility is something neither Nelly or Jessica knew much about or sounded all that fond of it.
"I was like, 'Oh, OK. Cool. That sucks.' That's pretty much what I said in our group chat," Nelly said ahead of the Pelican about learning that she wouldn't have enough rounds to qualify.
"Yeah, I was like, 'great rule,' " said Jessica sarcastically. "It's just such a weird rule when your No. 1 and 2 player in the world [can't win]."
Nelly noted that she pulled out of the LPGA stop in Portland two weeks after the Solheim Cup in September because she wasn't feeling well. She also took off the Arkansas stop a week later. "I don't think I could have played more events because my body was just so tired," she said when asked about not reaching the minimum. "I typically play all the events at the start of the year, and if I play well then I'll take some time off, because the traveling in the summer was just so crazy."
Compounding things in 2021 was a crazy summer schedule that included Korda going to Japan and playing in the Olympics, where she won the gold medal.
This is the second straight year that the top players in scoring average aren't eligible for the Vare Trophy because of failing to reach the minimum-round threshold, although the pandemic in 2020 understandable impacted how many events players could reasonably compete in. Still, it's a trend that the Kordas hope causes the tour to consider chaning the rule.
"There is a board of players and people higher up than us that are going to need to come up maybe with a different plan," Jessica said.