If there ever is a movie made about the extraordinary life of Lee Elder—and there should be—it needs to open with a scene in front of the Augusta National clubhouse. It is April 10, 1975. Near the famous big oak, the camera pans the prideful, beaming faces of the Black waiters and cooks and caddies. They have gathered to see and cheer the 40-year-old Elder, dressed all in green, as he walks to the locker room after his debut round in the Masters—the first for a Black golfer.
That's your defining shot of Lee Elder, of what he meant to golf, to sports and to the world as a whole. It is the memory of that scene that endured with Elder for the rest of his life. "I tell you, my heart was pounding so bad," he recalled in an interview with me in 2015. "I was so appreciative. I cared so much about how they felt. I couldn't talk to each and every one of them, but I tried to."
Robert Lee Elder, who died early on Sunday morning in Escondido, Calif., at 87, achieved more than the son of Texas coal truck driver could have dreamed. Beginning his golf life as a caddie, Elder played the game cross-handed until African-American pro Ted Rhodes turned him around and got him moving toward a professional playing career. Elder was among the top golfers in the United Golf Association Tour for Black players, but it wasn't until 1968 that the then 33-year-old could afford to try PGA Tour qualifying school. Elder earned his card in his first attempt, and he would go on to win four times on the PGA Tour while winning another eight tournaments on the 50-and-older senior circuit. The USGA bestowed its highest honor on Elder, the Bob Jones Award, in 2019.
To be sure, there were other Blacks who paved the way for Elder. Rhodes played in the 1948 U.S. Open at Riviera and later joined Bill Spiller in bringing a lawsuit against the Professional Golfers' Association for its "Caucasian only" clause. Charlie Sifford was the first official Black member of the PGA Tour in 1961, and Pete Brown was the first to win a tour event at the 1964 Waco Open.
But neither Sifford nor Brown were invited to play in the Masters, and it was Elder's invitation from then-Augusta National chairman Clifford Roberts, after winning the 1974 Monsanto Open, that created the circumstance in which Elder could break the color barrier. To do so in a tournament that was so stubbornly discriminatory for so long set Elder apart.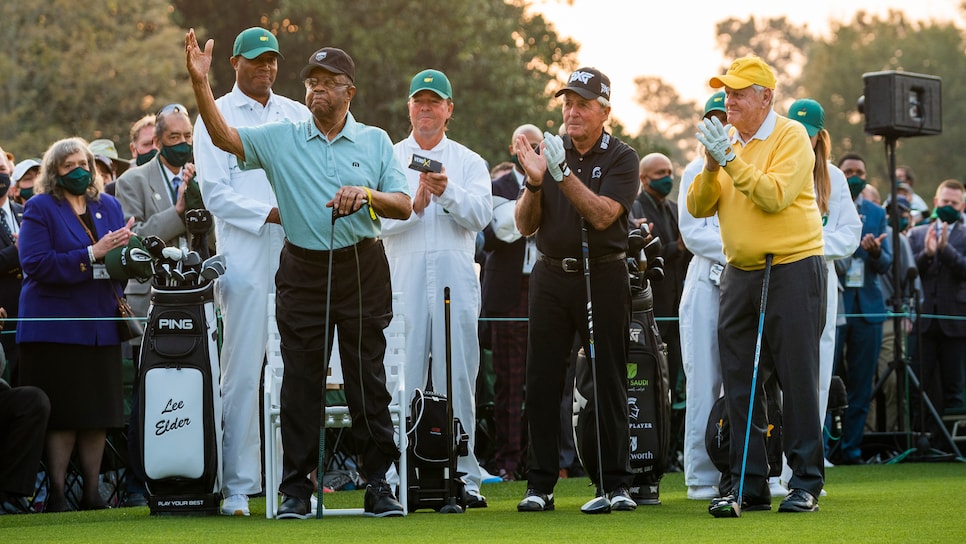 Lee Elder acknowledges cheers during the honorary starters ceremony at the 2021 Masters.
JD Cuban
Nothing in Elder's career would compare to that historic first appearance in the deep South, where even in the triumph of that time there were threats so menacing that he moved between houses during Masters week. None of that was new. He and his fellow Black players faced ugly discrimination every week.
Read the headlines and the tributes today that mark Elder's passing and nearly all of them cite him breaking the color barrier at Augusta, and the humble manner in which he did so.
"Lee Elder was a pioneer in so many ways," Jack Nicklaus wrote on Twitter. "Yes, he was the first black golfer to play in the Masters, but that simply underlined the hard work Lee put in to further the cause of everyone who has a dream to play on the PGA Tour and thinks there were too many barriers before them."
Elder would not dispute the characterization of his legacy.
"There was a sense of relief when I qualified [for the Masters]," Elder said in 2015. "And what I mean by relief is that they were so happy because this was the one thing that could be taken away from the tournament when people talked about it—that no Blacks had played in it. There were so many Blacks who wanted to be a part of the Masters, but they didn't know how to go about it, because no Black had ever played there. I think that made a difference when the barrier fell."
Twenty-two years later, Elder didn't plan on being at the 1997 Masters, but he rushed to Georgia on the weekend to see Tiger Woods smash another barrier as the first Black champion at Augusta.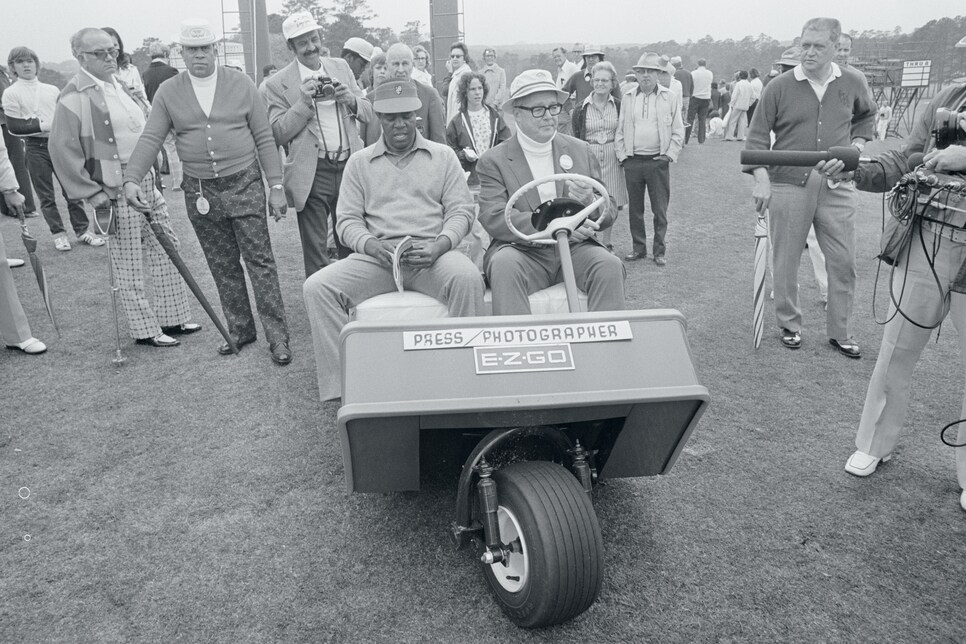 Lee Elder is transported from the 18th green by Dwight Thompson, chairman of the Masters press committee, after his practice round for the 1975 Masters.
Bettmann
Elder's relationship with Augusta National was complicated. He spoke of dearly loving the tournament and the course, and he made it a point to attend the Masters nearly every year. But for a long time, he privately felt as if he'd been slighted by the club's members in not being more publicly recognized for his feat in '75. He would admit his Masters record was mediocre—he missed the cut in three of his six appearances, with a tie for 17th as his best showing—but there were achievements that couldn't be penciled onto a scorecard.
Elder, however, was quietly prideful and not of the disposition to stir dissent. In some ways, it also served him to protect his Masters legacy, because in his years after playing, Elder was a popular, paid guest speaker at charity events and golf tournaments because people were enthralled to hear about his experiences at Augusta. Before the COVID-19 pandemic, Elder and his wife, Sharon, traveled the country for much of the calendar, visiting longtime friends and making appearances. It was only in recent years that Elder was slowed by a breathing condition that required him to use a portable oxygen tank.
Then came the call from Augusta National Chairman Fred Ridley in late 2020. Following a summer of racial tension and unrest over social injustice, Ridley asked Elder to join Nicklaus and Gary Player as an honorary starter for the 2021 Masters and told him Augusta National would start men's and women's golf scholarships at Paine College in Augusta in Elder's name, as well as endow the women's golf program. Elder was overcome with gratitude, and on April 8—46 years after breaking Augusta's color barrier—he was feted on the first tee of the Masters. Frail, joyous and humbled that day, Elder finally felt truly respected and embraced by those who wear the green jackets.
"For me and my family, I think it was one of the most emotional experiences that I have ever witnessed or been involved in," Elder said.
Ridley wrote on Monday of Elder's passing and said, "Lee will always be a part of the history of the Masters Tournament. His presence will be sorely missed, but his legacy will continue to be celebrated."
Lee Elder would appreciate that more than we will ever know.