News & Tours
Lee Elder, who broke Masters color barrier, dies at 87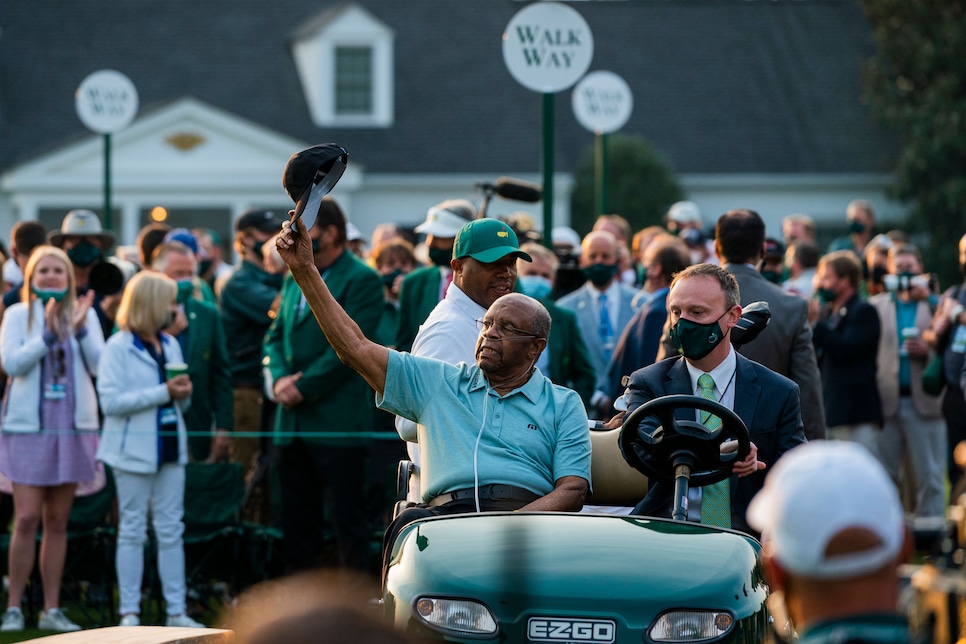 Lee Elder, who broke the color barrier at the Masters, died on Sunday. He was 87.
Elder made 448 starts on the PGA Tour, winning four times. His victory at the 1974 Monsanto Open earned an invite to the 1975 Masters, where he became the first Black golfer to play in the tournament. It was an achievement that brought out the worst of humanity, as Elder received death threats leading up to his appearance at Augusta National. The danger forced Elder to rent two houses during Masters week so that his would-be antagonizers would not know where he was. In the face of this cruelty, Elder shot 74 and 78, missing the cut. He would play at the Masters five more times, his best finish a T-17 in 1979.
In the fall of 2020, Augusta National announced it would celebrate Elder's legacy by naming him an Honorary Starter along with Jack Nicklaus and Gary Player for the annual ceremony at the 2021 Masters. Though Elder was not able to hit an opening tee shot this April he was able to join Nicklaus and Player at the first tee and received the loudest ovation of the three.
"For me and my family, I think it was one of the most emotional experiences that I have ever witnessed or been involved in," Elder said following the ceremony. "It is certainly something that I will cherish for the rest of my life."
The Masters was not the only tournament that Elder proved a pioneer. He became the first Black player in the Ryder Cup, making the American team in 1979. "As I look back over the accomplishments I've had in my life," Elder told Golf Digest in 2020, "the one thing that I'm proudest of is playing in the Ryder Cup and representing my country." He also competed in the 1971 South African PGA Championship, the first integrated event in the midst of South Africa's apartheid policies.
His accolades were not confined to the golf course. Elder developed a scholarship for low-income young men and women seeking money for college, served on the board for Goodwill and was a fundraiser for the United Negro College Fund. Additionally, Augusta National announced in 2020 that it will fund the creation of a women's golf program at Paine College, a Historically Black College and University located in Augusta, as well as establish the Lee Elder Scholarships at Paine College in his honor.