News & Tours
Masters 2021: Did Gary Player's son attempt guerrilla marketing during Lee Elder's first-tee ceremony? (Update)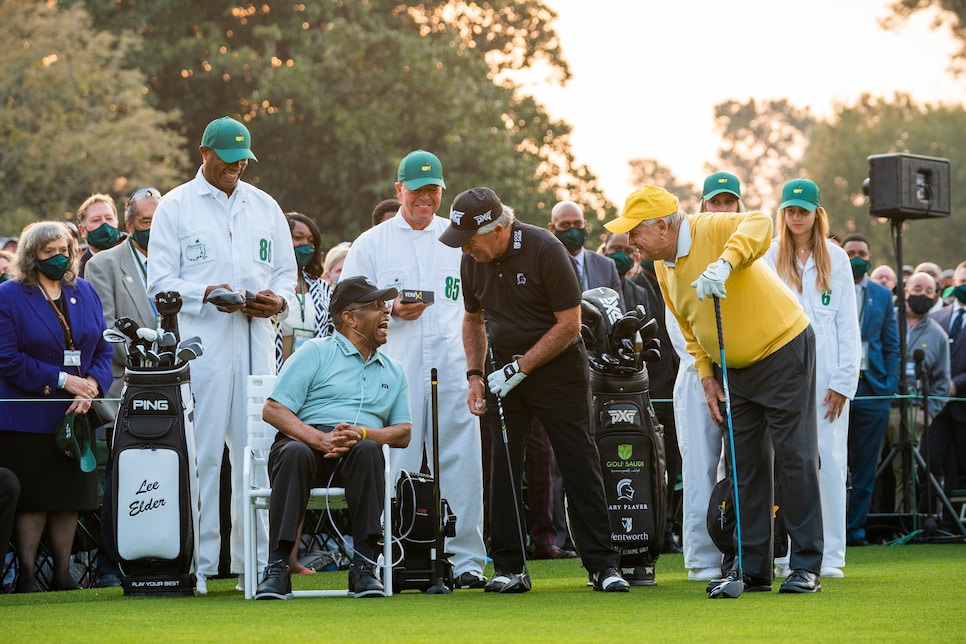 In a tournament packed with traditions, the Honorary Starters Ceremony at the Masters is arguably its most cherished. This celebration was especially poignant Thursday, as Lee Elder, who broke the tournament's color barrier in 1975, was recognized for his courage and efforts as a trail blazer, joining Jack Nicklaus and Gary Player for the event's opening tee shots. Touching as the moment proved to be, in the hours afterward fans took to social media to express frustration at the perceived actions of Gary Player's caddie during the festivities.
As the video of the ceremony made the rounds of Twitter and Instagram, observant fans noticed that Wayne Player, Gary's son, was serving as his honorary caddie, and that he was positioned behind Elder during Elder's introduction holding a box of OnCore golf balls.
Companies attaching themselves to Honorary Starters is not new—Elder himself was seen wearing a Travis Mathew shirt with a Ping hat and golf bag—and OnCore is a sponsor of Gary Player. However, some questioned on social media whether Wayne and OnCore used a guerrilla marketing tactic during Elder's spotlight.
Partially fueling the outrage is Wayne Player's past. In 2018, Wayne was arrested and charged with deposit account fraud/bad check stemming from renting a house for clients during the 2018 Masters. In an interview with Golf Digest following the arrest, Wayne blamed the matter on a check that was not written properly. "I'm not trying to make excuses, but that's what happened, and it's on me," Wayne said.
Golf Digest reached out to Wayne and OnCore for statements on the matter. Representatives from OnCore replied with the following:
"We are aware of the criticisms that have been raised as a result of our product being displayed by Wayne Player at this morning's ceremonial tee shot at the Masters, most specifically during the introduction of Lee Elder, one of golf's trailblazers," said OnCore CEO Keith Blakely. "We did not ask or instruct Mr. Player to have our ball sleeve visible during the ceremony and are sorry if his actions caused any offense or was a distraction from the wonderful recognition being paid to Mr. Elder.
"Throughout its history, OnCore has been an ardent supporter of diversity and inclusion in golf and was the first corporate ball sponsor of the Nomads – an organization of African American golfers that, like Mr. Elder, have advanced the awareness and recognition of the challenges faced by persons of color. In December, OnCore sponsored the inaugural United Golfers Association tournament in Orlando, Florida. UGA is a 501c3 non-profit organization that is committed to increasing the introduction, development and advancement of African American youth being introduced to the sport of golf.
"The company is proud of its products, its community involvement, and its support of golfers of all ages, ethnicity, gender, and skill level. We congratulate Mr. Elder on this wonderful recognition alongside golf legends Jack Nicklaus and Gary Player and wish everyone a successful Masters tournament."
UPDATE - Friday 8:37 a.m.: On Friday morning, Wayne Player responded to a Golf Digest request for comment. According to Wayne, he did not know until late Wednesday night that he would be caddieing for his father. When he arrived on the first tee, Wayne says he was directed to stand where he did by officials. As for accusations that he was trying to market OnCore, Player—who owns a stake in the company—said there was "zero intent" to do so.
"The only thought from that point was that it would be cool for fans to know what ball my dad was teeing off with," Wayne said. "That's where it ends. If I've hurt people's feelings then I'm truly sorry and hope they will forgive me."
Player said no one from Augusta National has spoken to him on the matter. "I'm sure we'll hear something though as it's now getting out of hand."