The Grind
Max Homa's ode to Golf Twitter, Phil Mickelson's staggering (reported) gambling losses and golf couples play Kentucky Derby dress up
Welcome to another edition of The Grind, where we're sad to say that once again we didn't win a Pulitzer. Not for our Royal Wedding coverage. Not for our parody golf songs. Not for our service journalism on great (media center) snacks. And not even for reporting on Pat Perez's $8,000 toilet. Seriously, what more does the Pulitzer board want from us?! Oh, well. There's always next year. In the meantime, here's what else has us talking.
Max Homa: The King of Golf Twitter did it again! And he gave quite the tip of the cap to our tightly knit (online) community before his winning press conference by joking about how "PERSPECTIVE was running rampant" on Monther's Day with his wife expecting the couple's first child. (Because no one makes fatherhood-PERSPECTIVE jokes like Golf Twitter.) What a legend. And what a golfer!
Homa picked up a fourth career PGA Tour title at the Wells Fargo Championship on Sunday as he continues to prove he's much more than a social-media funnyman. Just listen to these super serious names: Patrick Cantlay, Rory McIlroy, Collin Morikawa and Justin Thomas. What do they have to do with Homa? Well, they're the only golfers on the planet who have won more the past three years. Pretty amazing—especially when you consider that Homa made just two cuts and earned only $18,000 during his second season on the PGA Tour in 2016-'17 (from which the 31-year-old has already gained some serious PERSPECTIVE). But after earning another $1.6 million for his latest win, the guy can afford an entire swimming pool of his beloved Fiji water.
Thorbjorn Olesen's finish: Five months after being cleared of charges of sexual assault and being drunk on an airplane, the Dane got back into the winner's circle in thrilling fashion. After looking like he let the British Masters slip away, Olesen finished eagle-birdie by holing 65 feet worth of putts to nip Sebastian Soderberg by one.
The former European Ryder Cupper now has six career DP World Tour wins. And he still has one of the coolest names (Thorbjorn translates to "Thunder Bear") in golf.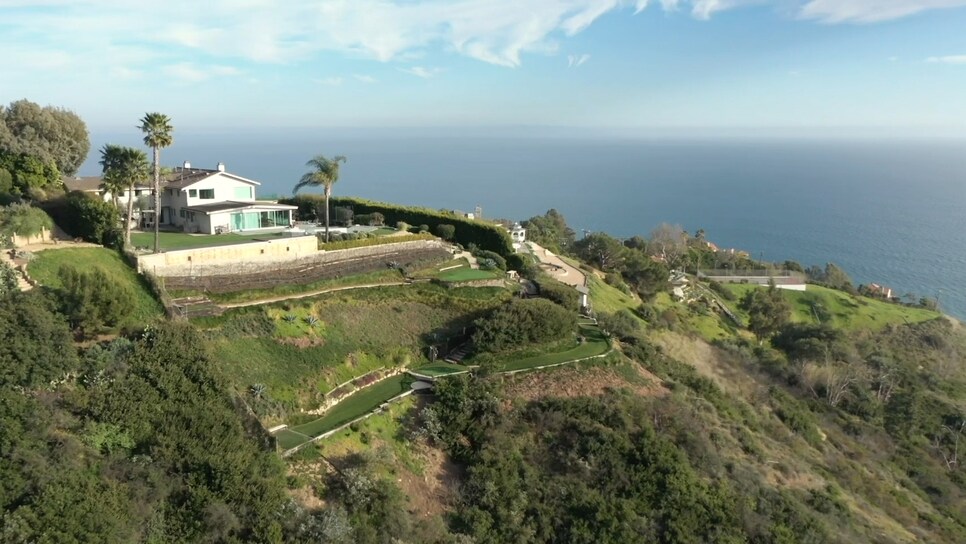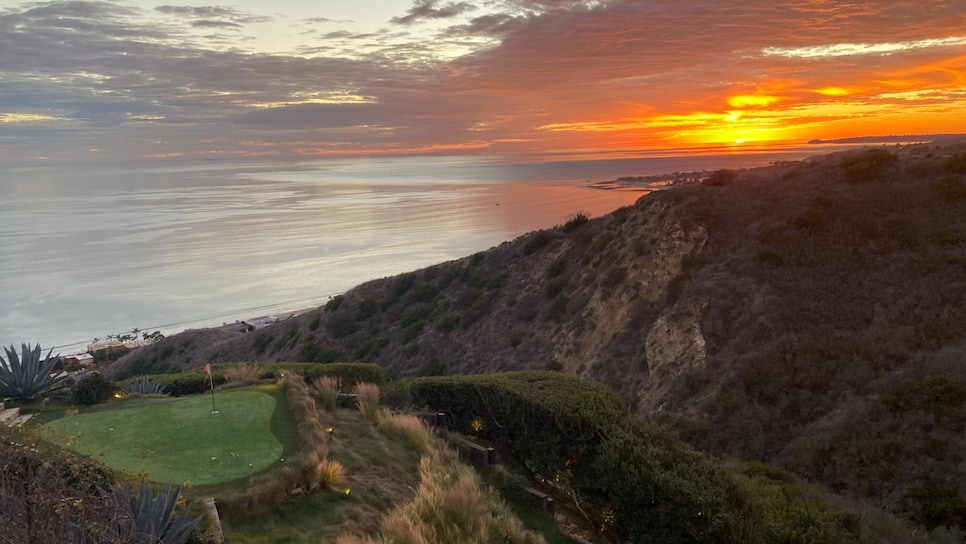 What a jaw-dropping spot. And it can be yours (ours) for about one-sixth the cost of Wahlberg's spread! Alterman is listing his home/golf oasis for just shy of $15 million. Maybe if we get all of Golf Twitter to pitch in—including Max Homa—we can make an offer.
Keegan Bradley with a 54-hole lead: First off, the T-2 was a great result for Bradley, who quietly has five top-10s this season. But the fact is he's now held four 54-hole leads/co-leads in his PGA Tour career. And he's failed to convert any of them into wins. And for a guy who is boys with Michael Jordan, well, it's hard to imagine His Airness won't be giving him some ribbing about his clutch play.
Sergio Garcia's attitude: Sometimes I find myself thinking that Garcia gets a bit of a bad rep with the whole whining thing, but then you see something like what happened on Thursday at the Wells Fargo Championship and you're reminded that it's totally justified. It turns out Garcia got a bad ruling, but muttering about how he "can't wait to leave this tour" (presumably to the Saudi-backed LIV Golf series), a place where he's earned more than $54 million in his career, was excessive, and, frankly, disgraceful:
Also, does he not think LIV Golf will have any rules officials? They hired Slugger White for crying out loud! Anyway, I'd say why don't you let the door hit you on the way out, Sergio, but he would probably rather have it that way. You know, so he can complain some more.
Phil Mickelson's gambling losses: We've heard the rumors through the years, but Alan Shipnuck's upcoming (unauthorized) biography lays them out more than we've ever seen. According to a Shipnuck source with direct access to government documents from Phil's insider trading investigation, Mickelson had $40 million(!) in gambling losses over a four-year period. Yeah, that's $40 million over just four years. Yikes.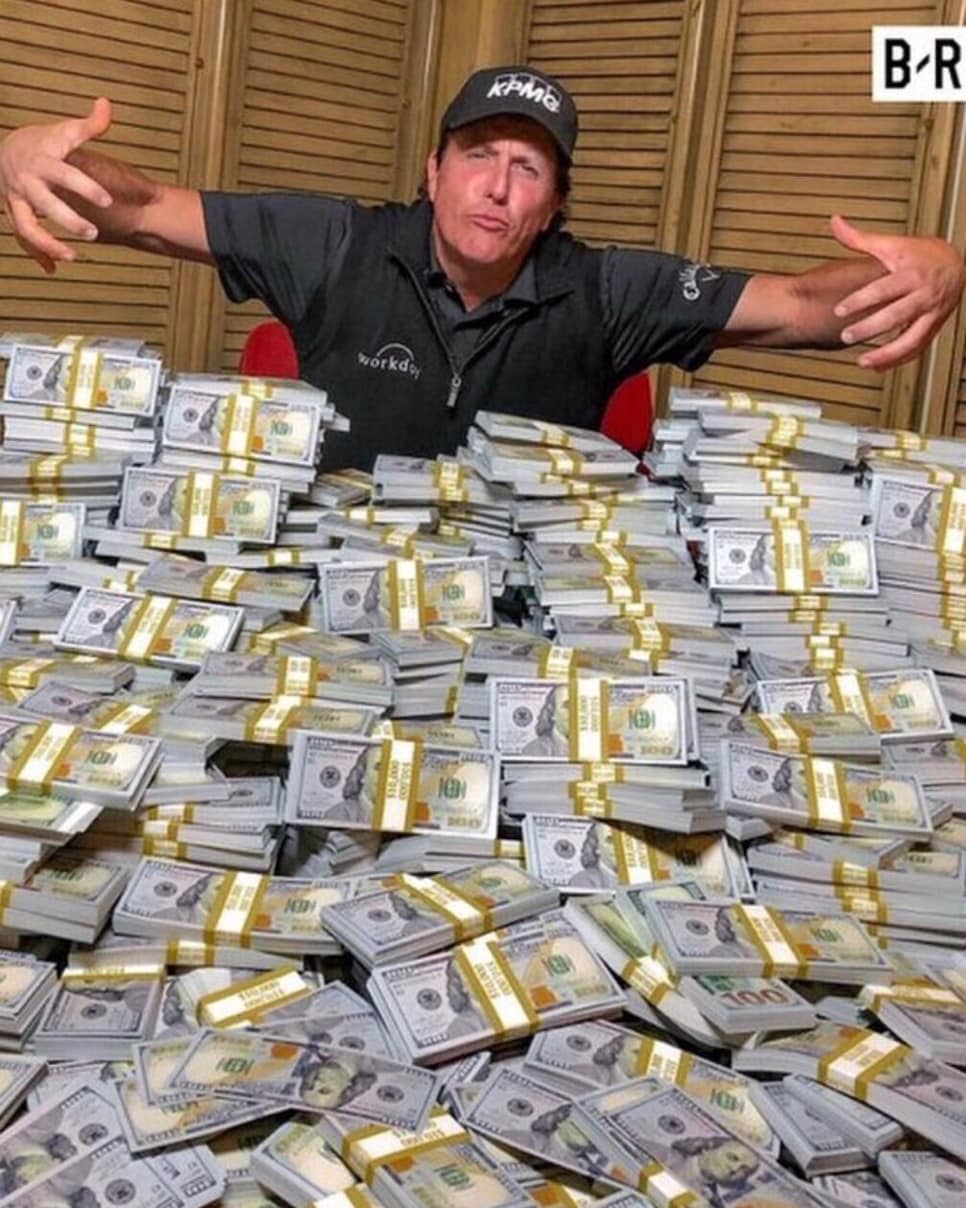 And as Shipnuck writes, even for a guy earning as much as Mickelson does, when you factor in taxes and expenses (and tipping), there's not too much left over to pay off an eight-figure gambling debt. Which would make more sense why he's been so active in the creation of LIV Golf. Anyway, be careful gambling out there, kids. And adults. Even rich ones.
The PGA Tour heads to Texas for the AT&T Byron Nelson, AKA that one that used to be hosted by Byron Nelson, but is now held at a place called TPC Craig Ranch. K.H. Lee shot 25 under par to win at the new location last year, but I don't remember that at all. Probably because I had money on Sam Burns, who finished second.
Random tournament fact: Sergio Garcia only earned $2.4 million from his two wins at this event. Poor guy.
RANDOM PROP BETS OF THE WEEK
—I will win a Pulitzer in my life: 1 MILLION-to-1 odds
—K.H. Lee will win this week: 100-to-1 odds (Actual odds)
—There won't be a more popular winner than Max Homa: LOCK
How about this golf power couple? Sophia Popov caddied for husband Maximilian Mehles as he won medalist honors at a U.S. Open local qualifier.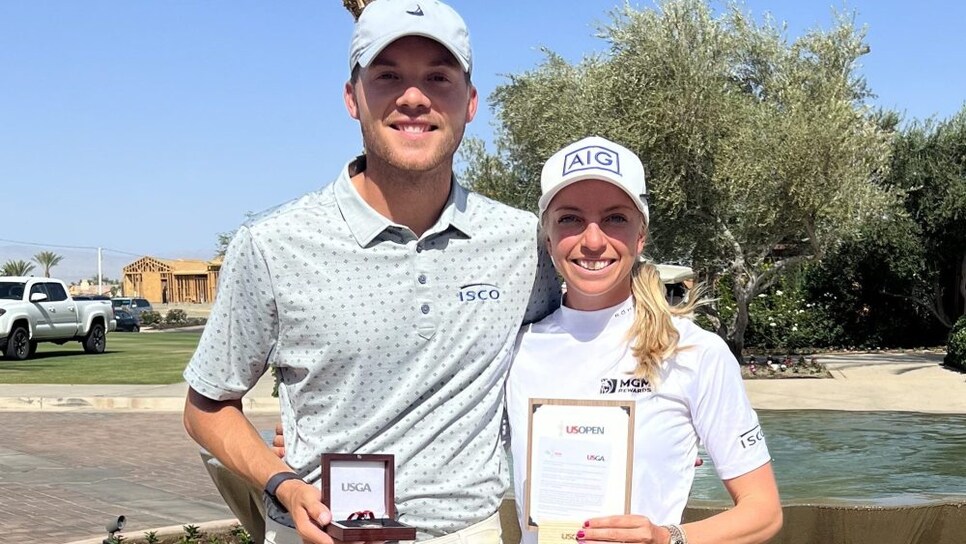 And there were no reported on-course squabbles! Pretty cool.
VIRAL VIDEO OF THE WEEK (GOOD, CLEAN FUN DIVISION)
If you're going to miss the cut, why not go ahead and miss the cut in style?
Or, at least, try to miss the cut in style. Maybe next time, Mark.
VIRAL VIDEO OF THE WEEK (PAINFUL DIVISION)
Poor Ken Duke, who managed to turn a birdie opportunity into a triple bogey thanks to a tricky pin position and a really, really slick green:
VIRAL VIDEO OF THE WEEK (NON-SERGIO COMPLAINER DIVISION)
Tour pros are among the best at making excuses in the world, but this was an all-world response from James Hahn:
Wow. Talk about having rabbit ears. I'm going to use "I can hear you eating those chips, man," the next time I play.
VIRAL VIDEO OF THE WEEK (FUTURE-SERGIO COMPLAINER DIVISION)
THIS WEEK IN PUBLIC DISPLAYS OF AFFECTION
The Kentucky Derby always brings out the best in golf fashion and this year was no different with Harold Varner III and his wife Amanda:
And CBS Golf's Amanda Balionis and husband Bryn Renner:
Looking good, everyone. And I hope you struck it rich. Get it? Because Rich Strike won? C'mon now. That's Pulitzer-winning stuff right there.
"I just feel like life's good. I've got a good life, and I'm playing some good golf." — Max Homa just out here living the dream.
Willy Wilcox continued his incredible comeback by easily moving onto final qualifying for the U.S. Open. Go, Willy, go. … As expected, Tiger Woods and Phil Mickelson are listed in the field for next week's PGA Championship. There's still time for them to change there minds, but it looks like those Oklahoma local news choppers need to get fueled up and ready to go! … Speaking of the PGA, Joe Buck will make his ESPN debut by co-hosting an alternate broadcast styled after the popular Monday Night Football "Manningcast" with Michael Collins. I'm sure everyone will keep an open mind about this. … And finally, not only is my boss, Sam Weinman, on a hot gambling streak, but he's also on a hole-in-one heater having witnessed an ace as a playing partner twice in the past month:
Hmm. I think I may have finally figured out a way to break my hole-in-one curse.
RANDOM QUESTIONS TO PONDER
Do they give out Pulitzers for stuffing your face in a media center?
Which Kentucky Derby horse did Phil bet on?
Is Sam looking for a fourth this weekend?