TPC Sawgrass Folklore
Players 2021: Ken Duke and the greatest unexpected round in PGA Tour history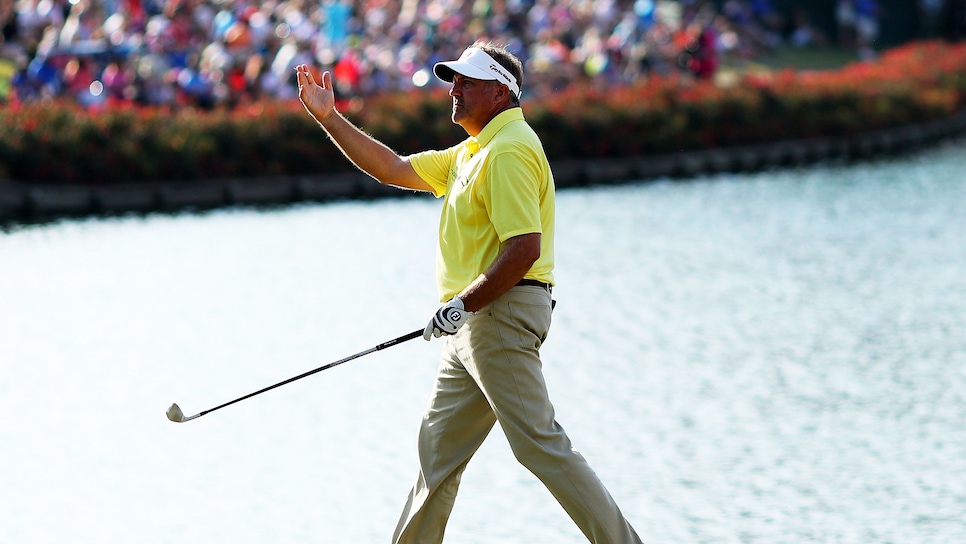 Photo By: Richard Heathcote
There are two reasons why a round just five years old is now folklore. The first is straightforward: It was—statistically and empirically—one of the best performances in PGA Tour history, a score instantly recognized as special against the chaos that surrounded it. Yet the number and its praise were merely groundwork for the round's mythos, taking a backseat to the second reason. It is a reason that is a bit more abstract. It also is a reason without dispute. Simply put, he was not the type of player you would expect to shoot a score like that at a tournament like this.
It is not a crack at the guy. It's actually something he's embraced. "I tell young kids this, if you're in it, there's a chance you can shoot a round like that," he says. "I've always said that. I've always believed that."
He stretches his arms out before settling in to travel back in time. He rolls into the story with ease, and it is easy to understand why. As Ken Duke acknowledges with a grin, it is a round he's relived many times before.
Through 36 holes the field had turned the 2016 Players Championship into a pitch-n-putt. World No. 1 Jason Day broke the tournament's two-day scoring mark with a 15-under total. One of those rounds was an opening-day 63, tying the course record. Colt Knost would match the 18-hole feat with a 63 of his own in Round 2. There was a 64 from Rory McIlroy, seven rounds of 65 and 10 rounds of 66. TPC Sawgrass has never been confused with Oakmont or Shinnecock Hills, and unlike the USGA, the tour does not aspire to protect par at its home base. Still, the Players leader board was not so much a leader board as it was a tsunami of red.
A board that, on Saturday morning, did not feature Duke. An opening 74 left him outside the projected cut, and a storm on Friday forced Duke to finish his second round early Saturday. A second-nine 33, punctuated by a birdie on his final hole, earned him 36 more holes. It was not an insignificant victory for Duke. The 47-year-old journeyman had spent the season on a medical exemption after breaking his wrist the previous fall, and the returns weren't great with five missed cuts in nine starts, his best finish a T-37 at the Honda Classic.
"I was trying to find my game," Duke says. "Had a couple decent rounds, but I was trying to find the strength in my wrist."
Of course, that Duke had a tour career was miraculous in itself. As a child growing up in Arkadelphia, Ark., he battled scoliosis, the affliction so severe that he wore a back brace for 23 hours a day during middle school. The curvature of his spine continued. At 15 years old, doctors discovered his back was angled at 51 degrees. Five months later, the curve was at 72 degrees and worsening. Duke underwent surgery, which involved implanting a 16-inch steel rod in his back. A football and baseball player, contact sports were now finished for Duke, although his focus was elsewhere. "I was just hoping to be able to walk again," Duke says. Within five months of surgery Duke was hitting balls; six months later he won his district's golf title as a sophomore.
Despite the rod shortening his backswing and restricting movement, Duke became a Division II All-American at Henderson State. He turned pro in 1994 and bounced around mini-circuits in Canada, South America and Asia before reaching the PGA Tour in 2004 at age 34. He promptly lost his card and spent the next two seasons on the Nationwide Tour, and though he returned to make more than 90 starts on the PGA Tour between 2007 and 2009 campaigns, he was again relegated to the Nationwide for two years in 2010. It wasn't until a breakthrough win at the 2013 Travelers Championship, at 44 years old, that Duke had any semblance of professional security.
The Travelers put his quixotic journey in the spotlight and transformed Duke into a cult figure among golf diehards. But Duke had not done much since Hartford; he entered the 2016 Players outside the top 500 in the World Ranking and his FedEx Cup standing wasn't much better. Less than three years until his 50th birthday, he appeared to be in the purgatory between the PGA and Champions Tour. To call him an afterthought heading into Round 3 at TPC Sawgrass, teeing off on the 10th hole in a tie for 56th and 12 shots back of Day, is being generous.
Then the damnedest thing happened.
They knew something was off immediately. Paired with James Hahn and Jon Curran, Duke watched Hahn's birdie attempt at the 10th (their first) roll 10 feet past the hole. "It was a level putt," Duke remembers. "Curran and I looked at each other like, What was that?" Duke received his wake-up on the par-5 11th, an uphill six-footer for par somehow rolling three feet out. "We had already played a few holes Saturday morning to finish up Round 2," Duke says. "They weren't anything like that." The practice green also gave no warning for what was in store.
Unbeknownst to Duke and the rest of the field, the tour went out after the completion of Round 2 and rerolled the greens. While the low scoring on Thursday and Friday may signal such a move was warranted, Sawgrass was already in a vulnerable state. Following tournament play the course would be ripped up as part of a renovation. According to Duke, it appeared the grounds crew got an early start.
"They kind of let the greens go," Duke says, noting the morning dew kept the greens receptive for those completing Round 2 earlier in the day. "No rules official told us until Sunday morning that they rerolled them." Echoes Hahn: "They were the firmest and fastest greens I've ever seen. They were letting them go because they were putting in new greens after the tournament. They were impossible to putt on. It could be five feet, 15 feet, 30 feet. You couldn't get the ball to stop."
Low humidity made the putting surfaces extra crispy as the afternoon wore on. Complicating things further were a handful of tricky, tight pin locations. The course from Thursday and Friday was gone; this was an entirely new challenge. But it was a challenge the entire field was battling, Duke reasoned, and conditions were not to the point that play would be suspended, so the group continued.
And over the next seven holes, Duke played smart, tough golf. He converted a 14-footer at the short par-4 12th for birdie. Made a marvelous up-and-down for par at the 15th. Put his eagle chip to tap-in range at the par-5 16th and stayed dry at the 17th's island green. He blew his approach to the right of 18 green. "But I hit just an unbelievable chip," Duke says, leaving a gimmie for par for a one-under 35.
Make no mistake, it was a hell of an effort on greens that had turned into trampolines, jumping Duke 20-something spots up the board. Conversely, even as Sawgrass was beginning to break scorecards and psyches, it was not a nine that seemed to motion in history. Yet the save on 18 galvanized Duke. He is usually a model of equanimity, a byproduct of a lifetime of grind. This was different. As he made his way to the first tee, Duke had a premonition.
With a light breeze blowing, those making the turn to the back—where "it's all trouble," Duke says—were heading straight into the eye of the beast. More importantly, for the first time in what felt like forever, Duke had control of himself, of his game. His approaches were holding and he was getting good looks. In the face of the ever-hardening conditions, Duke felt confident he could score on the front. He was somehow both impervious to his environment and at one with it.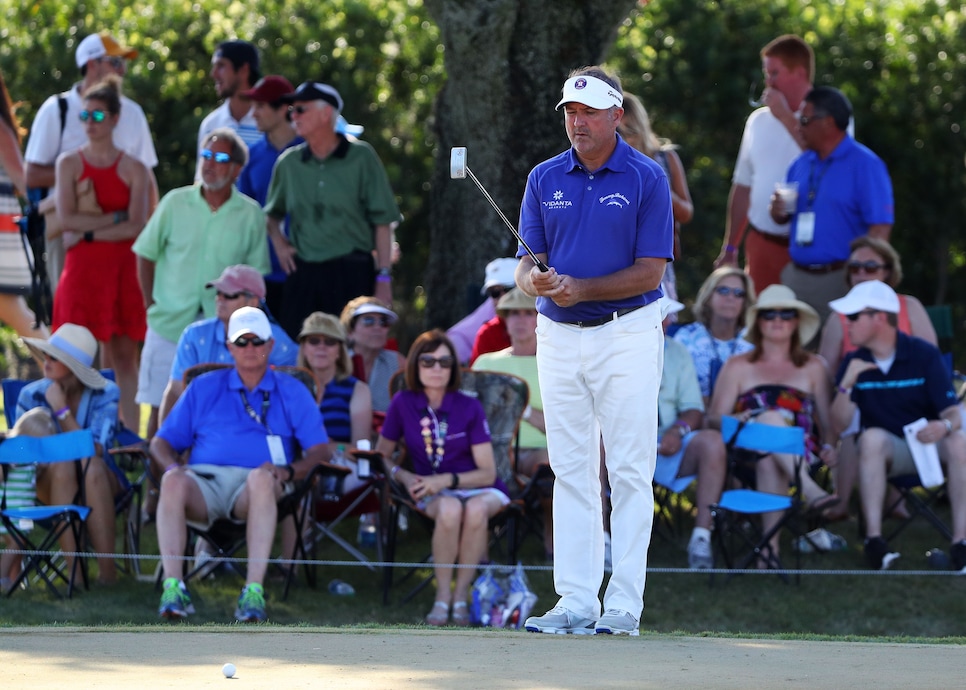 While the slick greens were giving other players fits, Duke found his touch, birdieing five straight holes on his second nine.
Sam Greenwood
"Guys on tour, even someone like myself, you know when you have something special going," Duke says. "The 18th was key. Because I knew I could score, going to the front. I was hitting it close, had a bunch of tap-ins, was getting easy reads.
"You try not to get caught up in the moment. You just try to keep playing."
Duke's premonition was put to the test. After a workmanlike 4 at the first, he missed a very makeable birdie at the par-5 second. It is historically the second-easiest hole on the course behind the par-5 16th, and though nothing was wrong with par on a day like this, now was not the time for moral victories. He absolved himself at the par-3 third by dropping a 25-footer for birdie. Duke followed by nearly jarring his approach at the par-4 fourth and cleaned up its remains, then conjured the same magic from a fairway bunker at the fifth from 175 yards out for a third straight birdie.
"You had to respect every little thing you did," Duke says. "Especially hitting a shot into the green. You had to make sure you were under the hole and putting uphill. If you had a downhill putt, good luck."
There wasn't much of a crowd when the group started, save for some family and friends, but the number of spectators had visibly grown by the sixth as word spread that Duke was cooking. "They saw me running up the board and everyone else was struggling," Duke says. "It became a lot of fun out there." He did not disappoint, hitting a wedge from 115 yards to 10 feet, 10 feet that found the bottom of the cup. Birdie streak up to four.
"Every putt, it was hit with authority," Hahn says. "The rest of us were so lost. Not him. He had no fear."
Duke split the fairway at the tight 440-yard par-4 seventh and didn't let the drive go to waste, his second shot from 140 finishing four feet from the pin. Make that five birds in a row. The run came to an end at the eighth, a 20-footer racing six feet by, but he held disappointment at bay and walked off with par. Finishing at the par-5 ninth, Duke feathered another wedge inside the friendship circle. When his five-footer went down, his fist went up. Six birdies over his final seven holes for a back-nine 30, and a seven-under 65.
"Shooting 30 on any course, on any nine, on the PGA Tour is tough to do. To do it at the Players, one of the most difficult courses we have on the schedule, one of the most prestigious events, is unbelievable," says Hahn, who finished with a 79 that day.
Thing is, Duke didn't quite know what he had done. He wasn't paying attention to the leader boards, so focused on the task at hand. "I didn't know until the end it was that good," Duke says. "I get to the end, everyone is freaking out."
Everyone was freaking out, although most of that frantic energy was aimed elsewhere.
When it comes to tournament set-ups the margins between formidable and merciless are razor thin. That controversy doesn't break out every week on tour is a testament to those in charge of this responsibility. On this day, that line was crossed.
The field's three-putt percentage hovered at 2.38 percent through the first two rounds. That figure ballooned to 11 percent on Saturday. Day, who led the tour in strokes gained/putting, had a three-putt and four-putt in his first six holes. Sergio Garcia had a five-jack. There were triples and quadruples and quintuples. Twenty-four players shot 78 or higher, with just three breaking 70. The final damage: A 75.59 scoring average, up 4½ shots from the first two rounds.
When Duke closed out his third-round 65 on the ninth hole, his score would wind up being 10 strokes lower than than the day's average.
Sam Greenwood
Tour players, on the whole, are a level-headed bunch. They are also prideful, and were rightfully furious for what they endured. McIlroy, who dropped out of contention after a back-nine 40, called it "borderline unfair." Day, who held onto the lead with a one-over 73, said it was "the hardest round I've ever played." Adam Scott quipped: "Couple more [rolls] tonight and one more in the morning and we will be ice skating tomorrow." Vijay Singh said it was a "nightmare." Billy Horschel felt the greens made Augusta National's famous putting surfaces "look like an 8 on the Stimpmeter."
"You know, it's funny how green these greens were on Thursday when we played and how brown they look now," Horschel said.
Initially, the PGA Tour defended its actions, with the tour's vice president of rules and competition Mark Russell stating, "We have done the same thing all week. We have been double cutting these greens and double rolling them and trying to get them firmed up." He blamed a misread forecast for the conditions. But the following day, Russell issued a mea culpa. "It made me sick," Russell said on the pregame broadcast. "If we had any idea that was going to happen we would have not done what we had done."
The indignation was strong and fierce. Through the fury players also saw the red numbers in the sea of black.
"I think everyone knows that it got out of hand slightly. I mean, the greens were the fastest I've ever putted on. It was fun, I mean, because it was so hard, but it was—I looked up on the board and saw Ken Duke shot 65, and was like, What?" Russell Knox said. "That's the best round of golf ever probably. It was incredible how hard it was out there. If I made a par, I was delighted. Somebody shot seven under?"
"What course was Ken Duke playing today? Can anyone tell me? Was he playing across the road?" Day asked. "I mean it was just … to be able to shoot that score is better … I think that should be the course record. It was just an absolute joke. Sitting there looking at his score is just amazing."
Duke had beat the field average by an implausible 10 shots. His strokes gained/total for the round was 10.592, the best for any round since the stat was first tracked in 2004 for a score that was higher than 63. And now the 47-year-old with just one top-three finish in his last 157 starts had only Day in front of him (albeit by four strokes) at the tour's premier event.
"Everyone was giving me a hard time," Duke says. "Adam Scott, Rory McIlroy, Shane Lowry. Padraig Harrington was giving me a hard time. With that accent of his I was like, 'I can't even understand you right now.' That's the thing about the PGA Tour. When you play a good round, guys respect it."
That includes the man who shot it, who waded into an existential joy that night. "On the way home, all I could think of is, What did I just do?" Duke says.
One small problem. It was only Saturday.
Duke falls on a cliché, only because it's true. "One of the hardest things in golf is to follow up a great round," he says. He now needed to do so against the strongest field in golf. Duke was in an enviable position, but a position that was foreign: His best career finish at the Players was a T-34, and he had never posted a top-10 at a major.
His encore was not a dud. He had his chances to make matters uncomfortable for Day. However, his irons were a tad off (just 11 of 18 greens in regulation), and he never got on the same wavelength as his putter. "I had good looks early, just missed them," Duke says. Day answered with a steady, if somewhat unspectacular round that the situation called for. Duke finished with an even-par 72, five shots behind Day in a tie for third.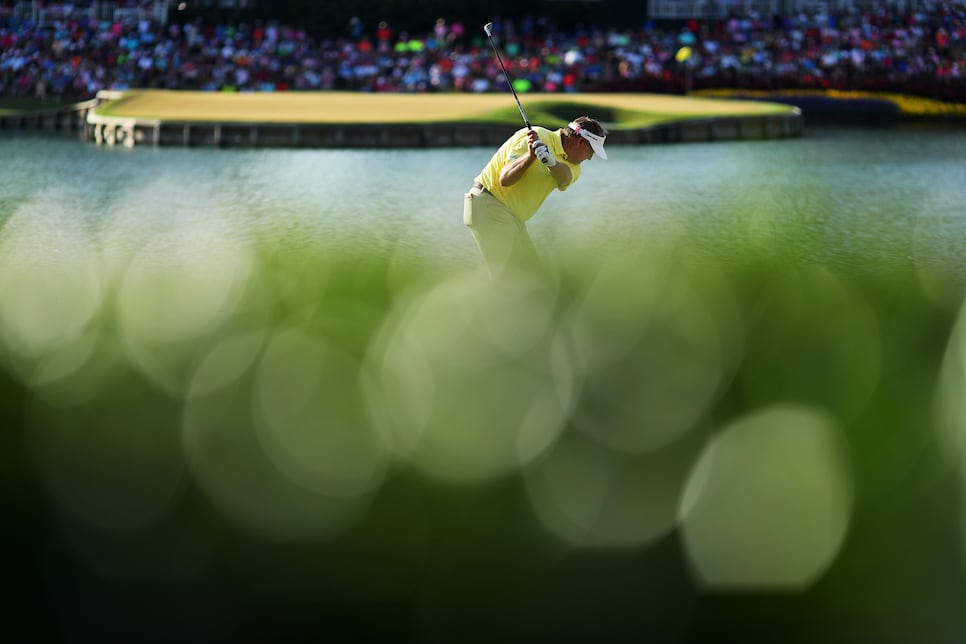 Duke couldn't re-claim the magic on Sunday, shooting an even-par 72 to finish T-3, five shots back of the winner, Jason Day.
Richard Heathcote
As he made the drive back to his home in Stuart, Fla., Duke thought about what he did and what he almost pulled off against players that were half his age. "I was on a medical, I had broken my wrist, I've been watching my daughter play volleyball more than play," Duke says. "It was just unbelievable. To soak it in for 3½ hours, it was just unbelievable." It instilled hope for the days that lied ahead.
Unfortunately for Duke, that would prove to be his only day.
Though he finished T-9 at the FedEx St. Jude Invitational, he missed the cut in six of his final nine starts in 2016 and failed to make the playoffs. He would make another 42 appearances over the next three years but posted a lone top-25 finish. Worse, the tour switched its exemption status at the end of 2016, with FedEx Cup points replacing cash as the card barometer. The change meant Duke was not invited back to the 2017 Players Championship.
"I was bummed. I know the Players is not a major. I'm thinking because I was top 10, I'd be invited back," Duke says. "I lobbied. I talked to Andy Pazder [PGA Tour chief of tournaments and competitions officer], I talked to everyone in the commissioner's office to say, 'Hey, you have to let these guys in that kept their card, you're in a transition year.' But they didn't go for it."
Duke stopped playing the tour in 2019, opting to graduate to the Champions circuit. There is a chance Duke could one day return, as the Seniors Players champ gets invited to Sawgrass. If that doesn't come to fruition, there's no bitterness on Duke's part. "I've been lucky. I didn't get to the PGA Tour until I was 34. I lost my card a couple times. But I played on tour all the way until I was 50. A lot of guys have their lull time from age 42, 43, where they are waiting for the Champions Tour. For me I was lucky to keep playing, to keep going forward."
That hasn't stopped Duke from returning to that special round. Mostly because that's the first thing people ask him about. "I just played with a young kid the other day and he goes, 'You're the guy who shot 65 at the Players in 2016,' " Duke says. "That day really resonates."
While he won't be at TPC Sawgrass this week, Duke says he'll be watching. The conversation segues into the Players Championship commercials that are ever-present during tour broadcasts. The ads are a highlight reel of tournaments past, begging the question if Duke's historic day warrants its own spot.
"No, no, no," Duke says with a laugh. "That's the difference. If you win, they show you. But they don't remember the guys that didn't."
The conversation ends with a rare bogey from Duke. Or maybe it's just humility. Commercials or not, Duke's moment has far outlived its moment.