Broadcasting
Players 2021: Every shot shown live? It's back after getting cut short a year ago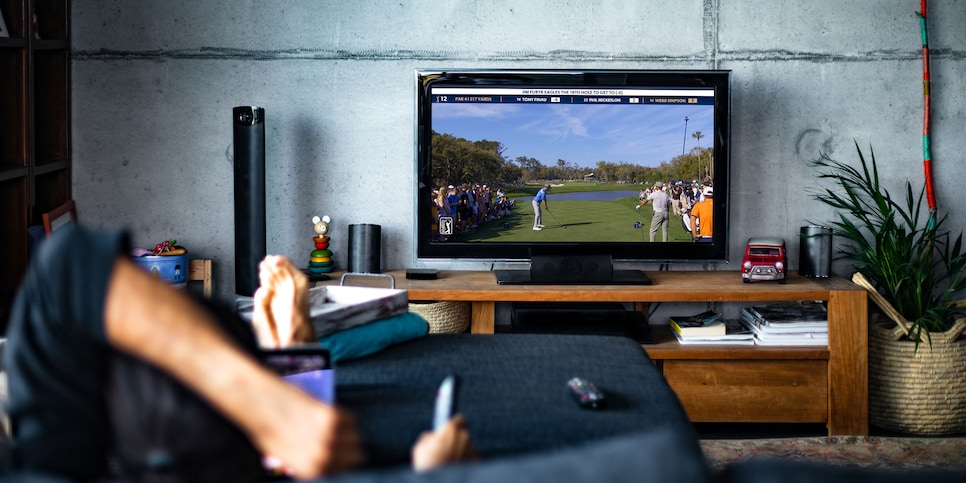 Photo By: Basak Gurbuz Derman
The first televised professional golf tournament was the 1947 U.S. Open at St. Louis Country Club. Lew Worsham beat Sam Snead in a playoff, but it was only shown locally, on station KSD-TV. The first national broadcast came a few years later, at the 1952 Open Championship at Royal Lytham & St. Anne's, where the whole of the United Kingdom was treated to Bobby Locke's one-stroke victory over Peter Thomson, courtesy of the BBC.
From the outset, however, watching a golf tournament on TV has been unlike watching most other sports events. With so many players spread out over so much acreage, literally seeing all the action in its entirety has been impossible.
For the first time in golf, every shot by every player in the field in the opening round of last year's Players Championship was streamed in real time to subscribers of PGA Tour Live on NBC Sports Gold. If you forgot about that, you're forgiven—the rest of the tournament was canceled and the season paused for three months because of the COVID-19 pandemic. When golf returned in June, the tour's "Every Shot Live" did not. The pandemic had nothing to do with that, however, as using the technology for every tournament on the schedule was and still is a distant goal.
But with the return of the Players Championship in 2021, the ability to see every shot as it takes place is back, too.
"Over the last couple of years, we have been testing the technology needed to support an initiative of this kind," PGA Tour Commissioner Jay Monahan told Golf Digest last year. "We feel those platforms are now ready to help us accomplish the goal of bringing every shot from every player live, for the first time."
If the technology sounds familiar, it should. At the 2019 Masters, nearly every shot of every player was shown on the tournament's app or on Masters.com within a few minutes of it happening. The same was true last November. The difference at the Players is significant because it will all happen live.
New this year is what the tour called a "transformational" partnership, announced this past week, with Amazon Web Services, which now becomes the tour's official cloud provider powering the technology behind the app that gives viewers the ability to live stream every shot from every player in the tournament in its entirety. "Every Shot Live" will be free for Thursday's opening round, while Friday through Sunday will only be available to PGA Tour Live subscribers on NBC Sports Gold. The tour is also offering a one-week trial of PGA Tour Live to fans who purchased tickets for last year's Players Championship.
But how does it all work? Golf Digest got to peek behind the curtain, er, inside the truck, to find out. The operation was as impressive as it was slick.
The tour first took the technology on a dry run during last year's Waste Management Phoenix Open, utilizing it on holes 14 through 18 at TPC Scottsdale during the television broadcast window. Doing so allowed them to iron out the kinks before breaking it out at the Players Championship. While last year's operation was halted shortly after it began, much will remain the same for this year's tournament.
For the telecast of the Players, there will be 120 cameras, between NBC Sports and PGA Tour Entertainment, scattered across TPC Sawgrass, with around 90 of those used for "Every Shot Live." There will be a minimum of four cameras on each hole—a stationary, unmanned camera on the tee box; a manned greenside camera; and wireless, manned cameras deployed to each fairway.
Remote camera operators based in the London and Atlanta offices of Hawk-Eye Innovations will cut from one shot to the next, essentially eliminating the traditional director/producer relationship that limits what viewers see in a typical golf telecast. Each operator is assigned to a group and will make shot selections from a preview monitor. Everything will be run through AWS encoders, then into the cloud and out NBC, GOLFTV and all other partners.
Hawk-Eye, if it sounds familiar, is a Sony-owned company that handled the streaming of shots at the Masters and has provided its tracking technology to a number of other sports, most notably tennis.
What about audio? Instead of announcers there will be only natural sound on each stream. Every tee box and green will be equipped with a microphone, as will the roving wireless cameras. That means viewers can potentially pick up player-caddie and player-player conversations. It figures to be more natural than, say, the forced banter heard during made-for-TV exhibitions in the past. Or, viewers will simply be able to enjoy the peaceful sounds of nature and near silence.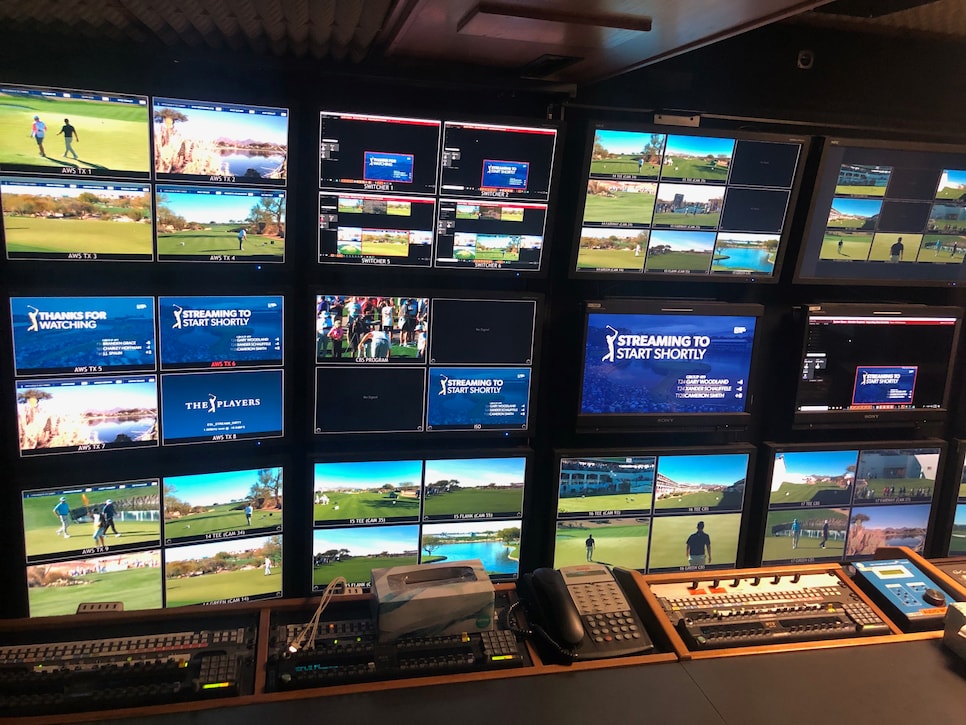 A view inside the production truck that will help coordinate the PGA Tour's Every Shot Live coverage from the Players Championship.
Graphics? Those come included, with pertinent statistics and leader-board updates fanned out across the different streams from inside one of the three production trucks on the ground. When players walk between shots, for example, a flyover of the hole or the latest FedEx Cup standings could be deployed to fill the down time. A tracer display for every tee shot struck also will be shown, and each feed will be accessible to the network telecast as needed. When the tournament ends, there will have been roughly 32,000 shots hit over 72 holes, all of which can be clipped and packaged in any number of ways for the viewer to digest along the way.
"It opens the door to all kinds of possibilities," said Greg Hopfe, PGA Tour Entertainment Vice President and Executive Producer.
Among those possibilities, and new this year, is that the tour's partnership with AWS will allow fans to be in control of the viewing experience through a revamped TourCast that offers new camera angles, course navigation, speed rounds and on-demand stats. The tour says it also will be able to move 100 years of media—video, audio and images—from as far back as the 1928 Los Angeles Open into a "data lake," where it will be stored for use in future broadcasts.
To pull all this off, the tour has invested substantially. Though it declined to disclose an exact dollar figure, the amount stretches into the low seven figures.
To say it was time to do is an understatement. In an era with curated content streams and technology that tracks real-time player data, modern-day sport has become an immersive viewing experience.
"The Players Championship is where we launch our most innovative platforms," Monahan said. "The first live PGA Tour stream started here with Live@17 in the late 1990s and that evolved into our current PGA Tour Live OTT service and has resulted in fans getting more golf than ever before.
"This is the next step in that evolution, enabling fans to watch any of their favorite players over all four rounds."
Still, new technology isn't without its challenges. Read: There will likely be at least some hiccups. Tour officials know this and say they're ready should any arise, particularly after a trial run and the experience of last year's opening round.
"The biggest challenge, absolutely, would be the direction of the cameras," Hopfe said. "At every event there's an actual director talking to a cameraman. Here, they're not getting any direction whatsoever. They're not going to know when their feed is being taken or cut to. Often, a director will tell them, 'OK, Tiger is away on No. 4.' But they'll be operating in isolation."
With so many cameras, workers and cables on the course it will take an increased amount of coordination to execute coverage without the players feeling like they're tripping over it all. That is, of course, the last thing the tour wants.
There also could be a disruption of the stream should a cable stop working or get cut. With all that extra fiberoptic, it's possible.
Potentially more controversial are the cameras catching rules violations. Previously, it was impossible for the tour or anyone else to see everything that happened in a round. With this technology, that would no longer be the case.
Still unclear, is what the ability to show every shot of every player could mean for the future of golf and how it's consumed. At the basic level, it's not impossible to one day imagine a Viktor Hovland channel and highlight package showing every one of his rounds being streamed to Norway. More significantly, perhaps, is the element of gambling, which stands to increase tremendously as more states make betting on sports legal. Live betting in golf has long been popular outside the U.S., has progressed at a rapid pace from 12 months ago and stands to grow even more in the months and years ahead. Having the ability to see every shot as it takes place figures to only make it all the more attractive for viewers.
Ultimately, the tour would like to make this technology the norm, not the exception. The goal, it has said, is to show every shot in every tournament, though that still figures to be a ways off.
"This is about serving our fans, creating the opportunity to follow their favorite players from start to finish—something we've heard from fans that they want," Monahan said. "And because of 'Every Shot Live,' we can provide many other engaging pieces of content. Every player will have his highlights posted. We can expand our speed rounds offering on PGA Tour Live to include every player's round, not just those in our featured groups.
"It's a chance for us to invest in our product—coverage of our players competing at the highest level—with our fans reaping the rewards."
Literally and figuratively.