Golf & COVID-19
Players 2021: The PGA Tour pro who saw COVID-19 coming
In the moment, C.T. Pan's decision to WD before the first round of the 2020 Players seemed extreme. In hindsight, it proved prescient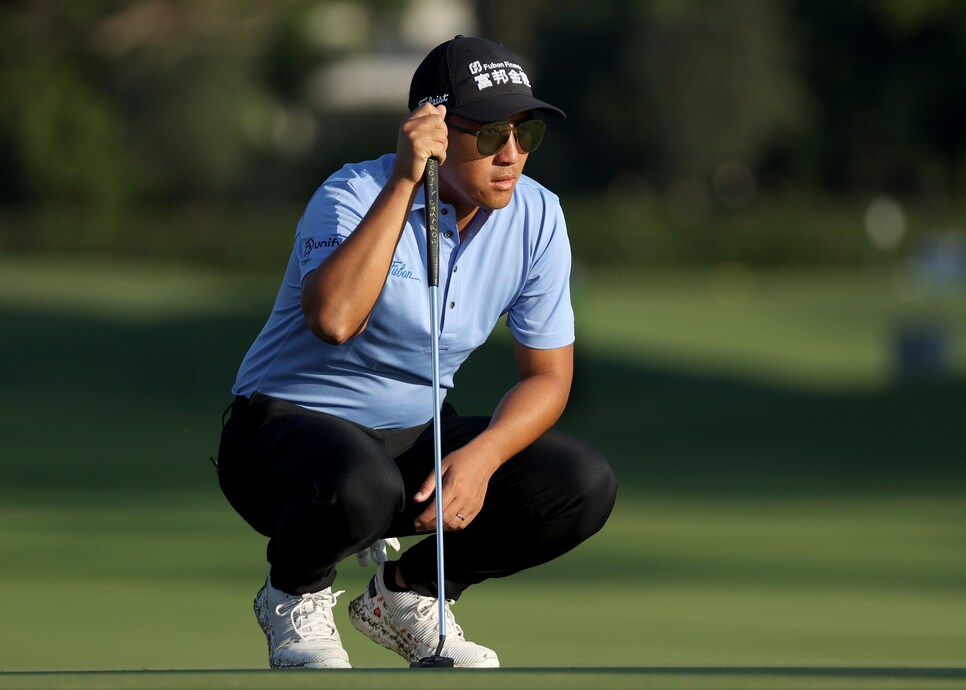 CT. Pan still remembers the odd looks and sideways glances he and his wife, Michelle, got from fellow passengers whenever they boarded an airplane with masks dutifully adorning their faces. This was in February. Of 2020. And at that time, the couple from Chinese Taipei was operating under the assumption that life in their adopted home country was about to become, well … complicated.
The Pans already had stopped dining in restaurants and, if at all possible, avoided staying in hotels. They had purchased a small RV, and by the time the PGA Tour made its annual migration from the West Coast to Florida in March, they drove from their home in Houston to Palm Beach Gardens, Fla., for the Honda Classic, the start of a four-week swing through the Sunshine State.
But by March 12 they were driving back to Texas.
Though it pained him to do so—truly, because the Players Championship is one of his favorite events—Pan withdrew that morning from the tour's flagship tournament after it became obvious the strange new virus that he had heard about for months not only had gained a foothold in America but now was beginning to rage across the country. The coronavirus pandemic was taking hold.
In the moment, the decision seemed premature. The first round of the Players, conducted before the usual complement of large galleries, was going on as scheduled. But by early afternoon, the tour had shifted to playing on without spectators for the final three rounds. And then that night officials announced the canceling of the Players and the start of a shutdown that lasted for three months.
"I was surprised that it was canceled, but not surprised," Pan said Tuesday by phone from Orlando, where he is competing in this week's Arnold Palmer Invitational. "I was relieved that it happened because, obviously, I don't want anyone in our golf community, our colleagues, to get sick. It's a terrible virus, and they made the right call."
So did Pan, who hadn't yet arrived back home when PGA Tour Commissioner Jay Monahan was doing what had to be done to protect players, caddies, fans and officials.
"I chose to withdraw from THE PLAYERS Championship because my wife and I want to protect ourselves from the risk of exposure to the Coronavirus," Pan wrote that day in a Twitter post at 1:35 p.m. EDT. "We are fine and our families are fine. Our lifestyle is like a circus, traveling from one place to another. We believe this is a time to exercise caution by not playing this week."
But, again, they had been exercising extraordinary caution for more than a month.
"Obviously, with family at home in Taiwan, my wife and I have a better idea of what goes on in Asia," Pan, 29, explained. "Taiwan is only about 80 miles away from China, so from our family and from the Taiwan government we heard about this unknown virus that could be very deadly and spreads fast, and while we didn't know that much about it, we knew in January that people could be asymptomatic but still have it and might spread it.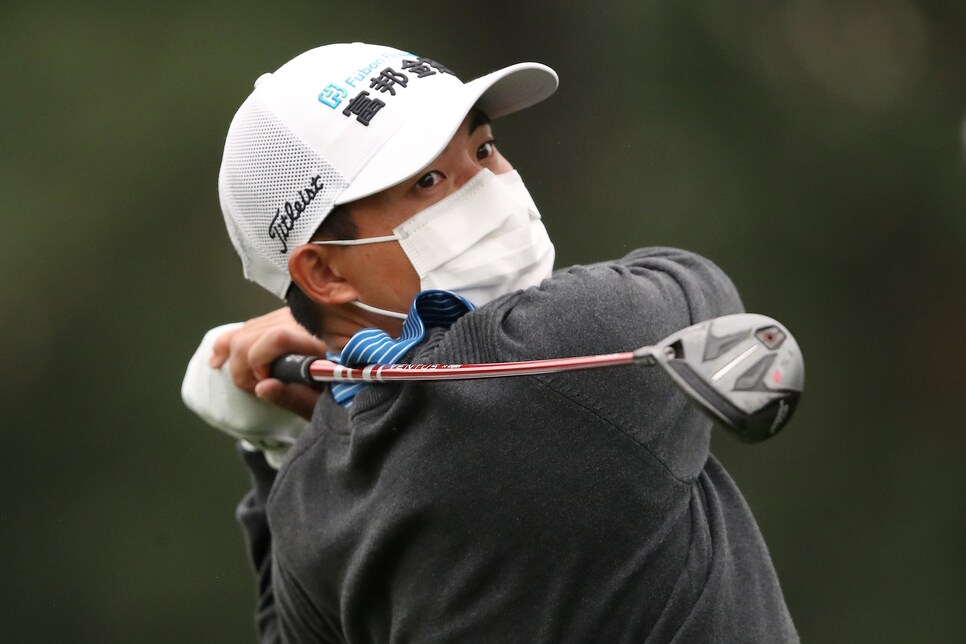 C.T. Pan wore a mask during competition at the Safeway Open in Napa, Calif., in September 2020.
Sean M. Haffey
"We were being really careful. The last time we were in the restaurant dining was in San Diego [during the Farmers Insurance Open at Torrey Pines], but after we started getting the news about this virus we didn't go in any more restaurants. We really tried to not go anywhere except for golf. Unfortunately, the rumors were true."
Developments on the COVID-19 front seemed to happen in rapid fashion between the end of the Arnold Palmer Invitational—the last full tour event with spectators—and the start of the Players, but Pan didn't see it that way.
"Yes, things happened fast between Arnold Palmer and Players, but to us, given what we had heard, we didn't think things moved fast enough overall," he said hesitantly, not wanting to offend or be critical of anyone. "Honestly, it's hard to track the original time, but it seemed to have started back in November [2019] in China. It took only a few months to really spread with the European countries hit first. No one was really ready for it anywhere. The WHO [World Health Organization] was not telling us much. All I'm trying to say is that by last year at API it was already here."
Pan returned to competitive golf in mid-June with the tour's second rescheduled event, the RBC Heritage in Hilton Head, S.C., where he was the defending champion. The highlight of his career has come since then, when he made his debut in the Masters in November and ended up T-7, by far his best finish in a major championship.
Frankly, he's just thankful to be playing golf again and earning a living. "The tour has done an amazing job since we've been back," Pan said. "Many parts of the world are still struggling, but here we are still getting to play on the PGA Tour, and we're just happy to have tournaments."
After missing the cut in his first three starts of this year, Pan incorporated a new putting technique into his game and finished 65th at last month's AT&T Pebble Beach Pro-Am. The next week he improved to T-20 at the Genesis Invitational.
"I like where my game is trending," he said.
More so, he likes that it is trending as the Players approaches next week.
"For me, I love the Players. It was tough for me to make the decision to WD last year," said Pan, who will be playing for the third time in his career. "I love going there, so I am really looking forward to going back. Things aren't back to normal yet, but it will be nice to maybe feel like there is some normalcy returning."