Players Championship Preview
The long walk to 17 at TPC Sawgrass
Paul Tesori, caddie for defending Players champion Webb Simpson, explains the strategy he employed in last year's final round to keep his man relaxed as they approached the tricky par 3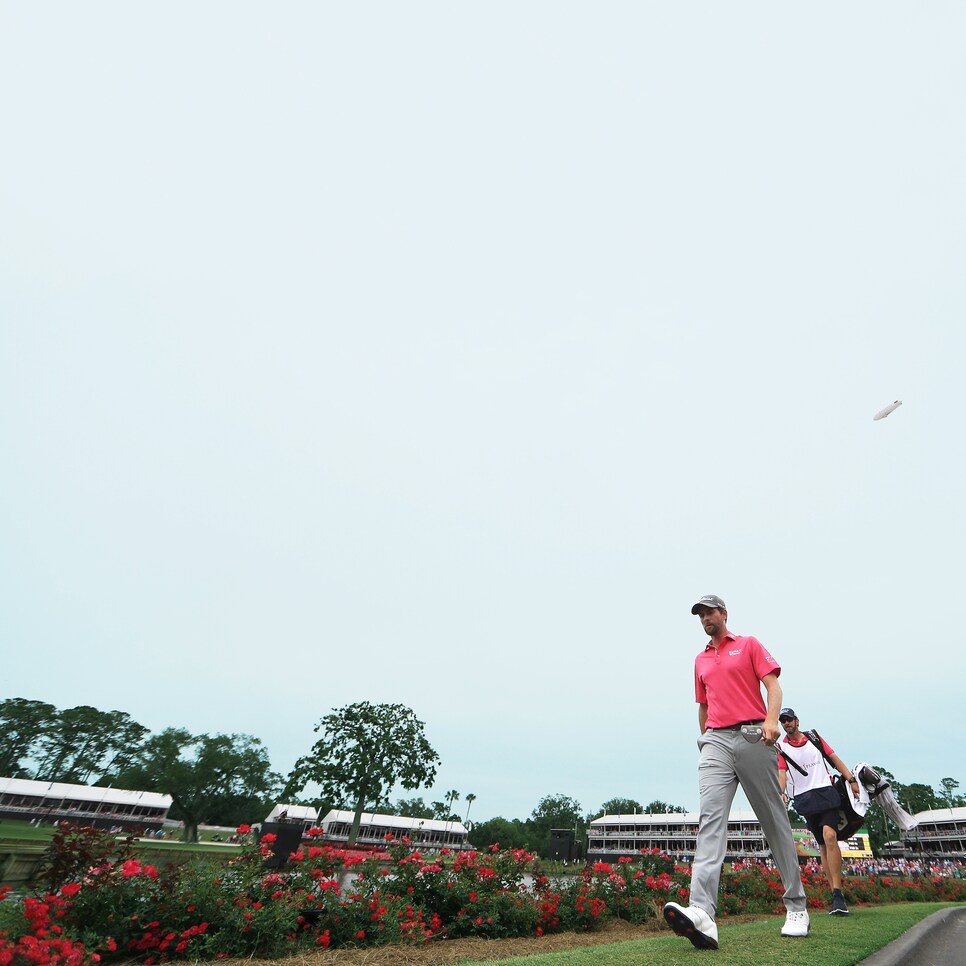 Mike Ehrmann/Getty Images
I've been on Webb Simpson's bag for eight years now. Last May was a career highlight when we won the Players Championship. In doing so, we had to survive the famous island-green 17th. After birdieing 16 on Sunday, our lead was six, but it wasn't time to exhale yet. We saw two days earlier what can happen on 17: In a tricky wind, Webb backed off his tee shot twice before clanking one off the bulkhead and into the water. We were able to sneak off with a double bogey—on a day when we were an incredible 11 under through 16 holes!
Making the walk to 17 tee on Sunday, my goal was to make sure Webb got a mental break. I had a plan. I call it "premeditated sports talk." Webber and I love sports, and when we get going on games or players, it gives us off-time from golf. So with 10,000 amped-up fans waiting on 17, I said to Webb, "I think the Rockets are gonna beat the Warriors, and here's why." I took the underdog, and Webb jumped right in: "Are you kidding me? Golden State has too many superstars." We went on like this all the way to the tee. Webb thought I had lost my mind. It was all basketball, no golf. Mission accomplished.
Before the round, I'd gotten the exact yardage on 17: We wanted to fly it 133 yards. The wind was out of the right, a little hurting. That's a hard gap wedge for Webb, and that's what we'd practiced on the range four hours earlier. (It's nice when there are no surprises.) Webb was decisive, so I just gave him my standard send-off: "Be fully committed."
He hit a good shot into the slope on the left side of the green, leaving 55 feet to the back-right hole. I'll admit when I was holding the pin, with the bulkhead 12 feet behind me, I thought, Just don't putt it in the water. That green is so fast, the ball did trickle all the way to the fringe. Exhale. Webb made the 10-footer, and 15 minutes later we were celebrating. —With Peter Morrice
You are using an unsupported version of Internet Explorer. Please upgrade to Internet Explorer 11 or use a different web browser.