DP World Tour
Incredibly, Thorbjorn Olesen repeats eagle-birdie finish to capture British Masters
Thorbjorn Olesen celebrates an eagle on the 17th green during the final round of the Betfred British Masters.
Ross Kinnaird
SUTTON COLDFIELD, England — When Thorbjorn Olesen reached the 17th tee on The Belfry's Brabazon Course in the final round of the Betfred British Masters, victory looked unlikely. Leader since day one, the Dane was four over par for the day, seven underfor the tournament and two shots adrift of Sebastian Soderberg.
With a closing 68, the Swede had posted an aggregate of 279, what for long enough amidst much sloppiness by a host of challengers appeared for all the world like the winning score.
One man had faith though. Standing on the 17th tee, Olesen's caddie, Dom Bott, turned to his man and uttered the now memorable phrase: "A repeat of what you did yesterday would help."
Which, as it turned out, is just what Olesen did. A 28-foot putt for eagle on the par-5 17th disappeared into the cup, leaving the former Ryder Cup player needing a birdie on the 497-yard par-4 18th to claim his sixth DP World Tour title. As much as 35 feet away for birdie after his approach to the three-tiered green, Olesen—what else?—rolled it in again. Game over.
"It was obviously a pretty tough day," was Olesen's initial reaction. "I hit a lot of shots to the left. I was really struggling. But somehow, I kept going. And yeah, what a finish. Incredible. Standing on 17, I'm thinking I can make birdie, birdie and maybe get into a playoff. But obviously when I got the chance on 17, I took it. Even then, 18 is a tough hole, one where par is a good score obviously. I just gave it everything."
Later, after being doused in champagne on the 18th green by the his compatriots, the identical Hojgaard twins, Rasmus and Nicolai, Olesen had a little more to add. Not that he found it easy. Understandably emotional only eight months after being cleared of wrongdoing after alleged incidents on a flight from the U.S. to London saw him end up in a court of law, Olesen was close to tears more than once.
"I have so much emotions," he said. "It's been a long time since I won. I was really struggling out there. I just didn't have it. But somehow, I kept on fighting, made some pars and saw I still had a chance with two to play.
"My life the last two years has been extremely hard. But I've had some great people around me. Especially [partner] Lauren in some really though times. She kept me going. It was so tough, which makes this so special. My family, too, my parents and my brother. They all stood behind me. I felt like I was never going to win again, even play again. Standing here after a lot of hard work means so much.
"Holing two putts like that gives you so much confidence. And now I know I can still do it. Even with all the emotions I had in my head today."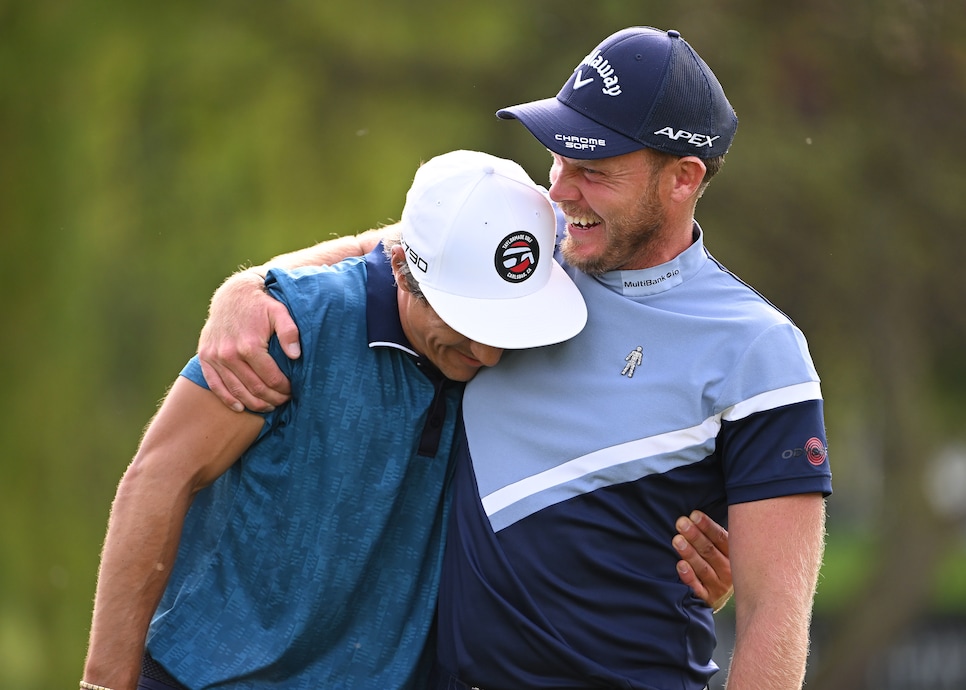 Thorbjorn Olesen is hugged by competitor and tournament host Danny Willett.
Ross Kinnaird
The same cannot, however, be said of nearly every one of the stream of challengers who came up just short on a day when the best score was 68.
Needing a par on the 72nd hole that would have seen him into a playoff with Olesen, former U.S. Amateur champion Richie Ramsay found water when his planned 217-yard approach to the distant green flew no more than 170 yards—"I was aiming to ride it on the wind and I just duffed it." The Scot eventually made double bogey and finished T-2 with, as it turned out, four others.
Justin Walters, who lost a playoff for the ISPS Handa Championship on this same course back in 2020, was left ruing the bogey 6 he made on the 15th. The Englishman's 71 was two shots too many.
American Chase Hanna required a birdie-birdie conclusion to his day but took a 6 on the par-5 17th to effectively end his hopes.
Hurly Long needed what would have been only the fifth birdie of the day on the 18th to tie what was then the lead, but hit his ball two times too many.
Indeed, amongst the eventually unavailing list of challengers, only Scotland's Connor Syme finished with anything that could be construed as forward momentum. But the three successive birdies he made from the 15th were still two shots too many and too little, too late for the former Australian amateur champion.
Which left Soderberg. In contrast to all but Syme, the Swede's back nine of 32 blows looked for all the world would be good enough for him to win for the second time on tour.
But it wasn't. Not quite. A fact that only one man saw coming.
"Standing on the 17th tee, I knew Thorbjorn could still do it," claimed Bott. "I know what he is like in situation like that. He loves a crowd."
And the last two holes at The Belfry, of course.