Letter from Europe
Paul Dunne embraces his past as it collides with his present
As the Open returns to St. Andrews this summer, the Irishman's magical 2015 run there as an amateur contrasts his current struggles as a pro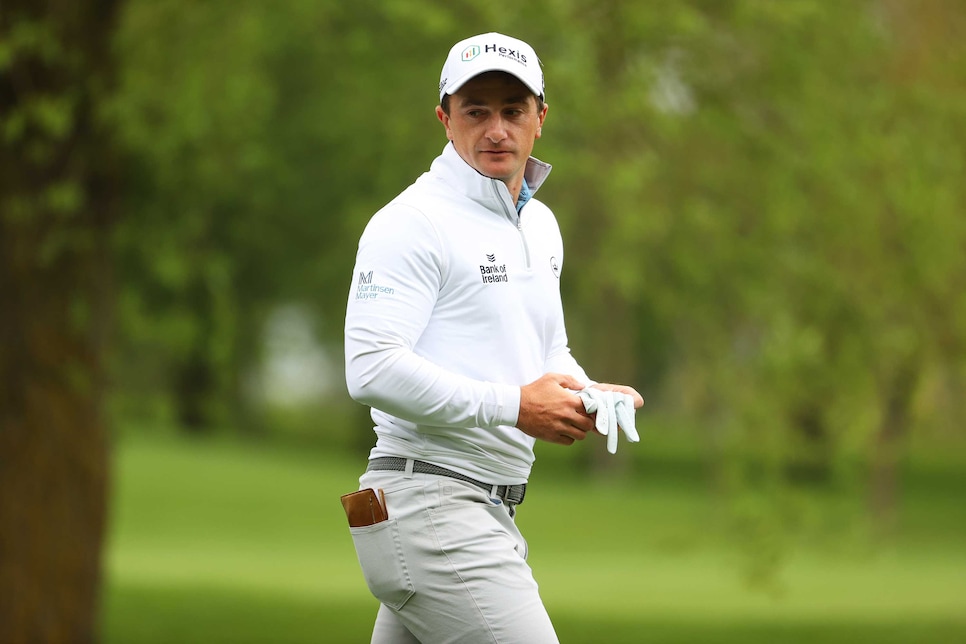 Photo By: Andrew Redington
SUTTON COLDFIELD, England — It's been almost seven years since Paul Dunne was on the verge of something akin to golf immortality. With one round to play in the 2015 Open Championship at St. Andrews, the then 22-year-old amateur was tied for the lead alongside the winner of the previous Open played over the Old Course, Louis Oosthuizen, and Jason Day, who three weeks later would win the PGA Championship. Then Masters and U.S. Open champion Jordan Spieth was one shot behind, with two-time Open champion Padraig Harrington another stroke back.
Heady company then. And, of course, Dunne didn't finish first. When a four-under-par 68 would have seen him make off with the claret jug, the young Irishman stumbled to an error-strewn 78 during the weather-delayed championship that finished on a Monday and saw Dunne eventually placed a distant tie for 30th.
Bogeys on the opening two holes were retrieved by birdies on the third and fifth, but by the turn Dunne was still level par for the day and losing ground on those around him. To maintain his position, he had to be at least three under at that point.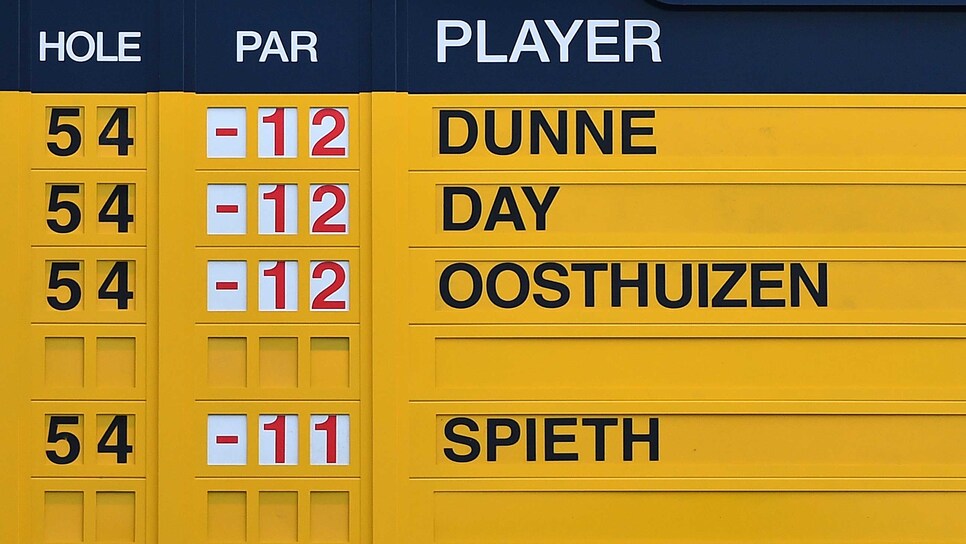 The scoreboard heading into the final round at the 2015 Open at St. Andrews saw Dunne become the first amateur since 1927 to hold a share of the lead.
BEN STANSALL
"It felt like I had let an opportunity slip," Dunne says when reflecting on that day, which will certainly be a point of conversation again this summer as the Open returns once more to St. Andrews for its 150th playing. "It was like I was panicking. But those are the things you learn from. If I'm ever in that situation again, I will know it is not quite the big deal I was making it back then. It felt like I shouldn't be there, which was silly. To that point, shooting 68 on that course was no problem, standard procedure.
The moment Dunne knew "it was over" came on the ninth hole. "I had a putt for birdie and missed," he recalls. "I was very much of the mindset that if I didn't win, I didn't care. That was amateur thinking. As a pro, I've changed. I want to win, but finishing third is way better than fourth. But I had a bad feeling after that putt on nine. It wasn't quite that I didn't want to be there, but the disappointment was overriding everything else at the time. My mind had gone somewhere else. Suddenly, all I wanted to do was get out of Louis' way. It was 'ground swallow me up' time. The next two hours weren't fun."
The same might be said of the last couple of years. This week Dunne competed in the British Masters at The Belfry. He was in the 156-strong field solely because of his victory in the same event five years ago. Today, having lost his DP World Tour card at the end of 2019, Dunne is a category 18 player on the second-tier Challenge Tour, a designation reserved for those ranked 138th and below on the 2021 Race to Dubai standings. All a long way from the high profile and worldwide publicity he enjoyed during that initially glorious but ultimately disappointing week at the Home of Golf.
Indeed, in the immediate aftermath of that closing 78 at St. Andrews, Dunne was understandably reluctant to share time with anyone. His initial desire was to be alone with his thoughts and his misery. But it wasn't to be. Many friends and family had made the trip across the Irish Sea, and he was soon pressured into joining them for a night on the Auld Grey Toon.
"I was feeling awful," Dunne says. "I came off the course feeling terrible. In the locker room, Rickie Fowler was there and said some nice things. He told me to keep my head up and to remember all the good golf I had played. To be honest though, nothing anyone said at that moment was going to help me.
"Anyway, I packed up my stuff and went back to the house. I always need half an hour if I don't play well. My family knows that. And this was worse; it hurt a lot more. But there were so many people from my hometown in the house, I had to cheer up. They were all on their holidays and having a few pints. And they wanted me to go out with them. The last thing I wanted to do, of course, was go out for a few drinks."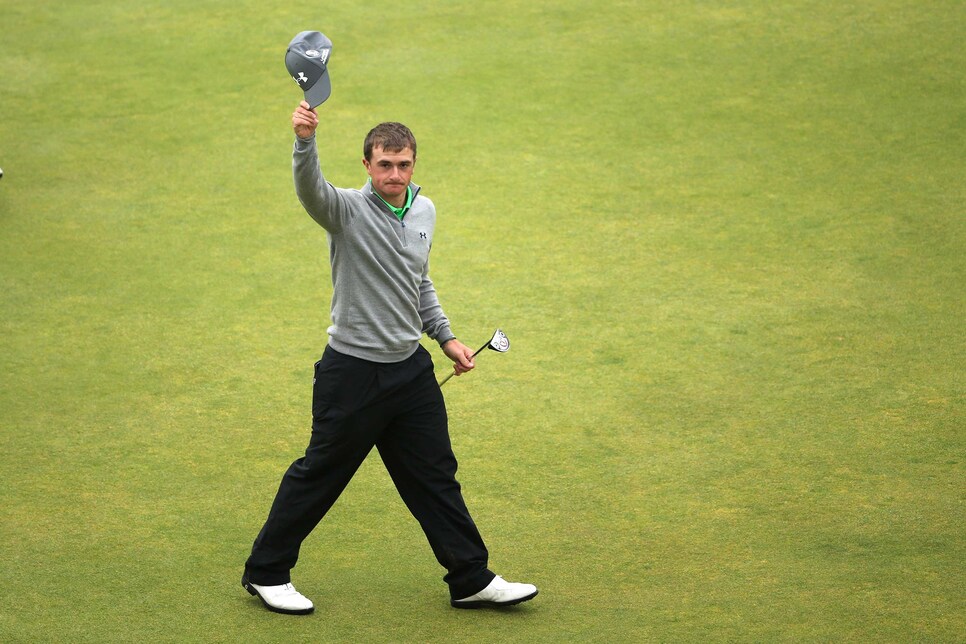 A closing 78 at the Old Course dropped Dunne into a tie for 30th, costing him low amateur honors.
Jan Kruger
Only when his older brother, David, talked him into a change of heart did Dunne venture out on a pub-crawling adventure that ended around 4 a.m. At which point it would be nice to report that both Dunnes enjoyed a long lie-in their beds to recover fully from such a momentous 24 hours. Nice, but impossible. Up at 7 a.m., Paul flew south to join the rest of the Great Britain & Ireland Walker Cup squad for a preparatory get-together at Royal Lytham.
"I was so hungover and had had no sleep," says Dunne, shuddering at the memory. "I didn't even have time for a coffee. The captain, Nigel Edwards, told me to get to the first tee, where I was playing a match. I forget my opponent. I was looking at Nigel thinking, 'surely I don't have to play now.' But I did. My idea of that practice session was just to go out and have a look at the course. Maybe play a few holes. But Nigel's idea was that we were playing a real game. Needless to say, I lost."
Two months later, in the immediate wake of a winning encounter with the Americans and after four "highly beneficial" years playing college golf at the University of Alabama Birmingham, Dunne turned professional. And, at least for a while, his upward trajectory continued unabated.
Tour school at the end of 2015 was negotiated without mishap. One year later, he had exempt status on the then European Tour. In 2017, a maiden victory came along at the aforementioned British Masters. With a closing 61—climaxed by a chip-in for a last birdie on the 72nd hole—Dunne beat runner-up Rory McIlroy by three shots.
In early 2018, alongside the likes of Tommy Fleetwood, Matt Fitzpatrick, Thomas Pieters, Paul Casey and Henrik Stenson, Dunne was a member of the European team that defeated Asia in the now defunct Eur-Asia Cup. Perhaps significantly, however, Dunne emerged pointless from that week in Malaysia. In retrospect, it was a sign of things to come.
By the end of 2019, Dunne had lost his playing privileges on the European Tour, which sent him back to qualifying school. Or should have. Hampered by a nagging injury to his right hand, Dunne was unable to play. Surgery followed, as did six months away from competitive golf. Returning at the 2020 British Masters, Dunne played four events before his hand "deteriorated" again. The rest of the year was spent in rehab, a fact that failed to stop an anonymous player poll in a British golf magazine voting him the "slowest player on tour."
As things turned out, 2021 saw little or no improvement in Dunne's game. In 19 events his best finish was T-33 at the Austrian Open. In all, he missed 13 cuts and withdrew three times. Depending on who you talk to, Dunne had developed either a terminal dose of the driver yips or that he simply continued to have technical issues with a method that has never contained a full backswing.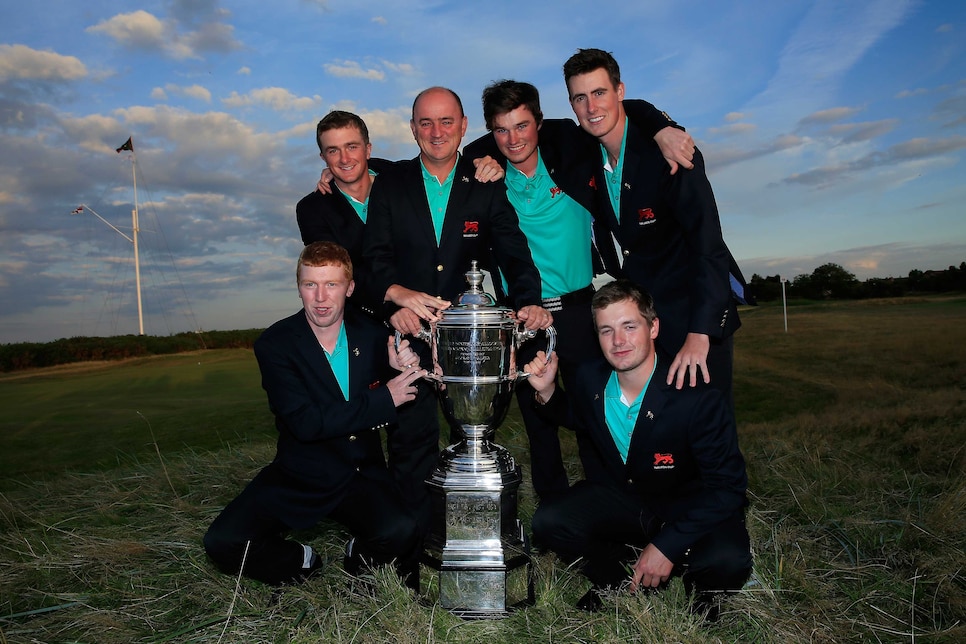 Dunne closed out his amateur career in 2015 by helping Great Britain & Ireland win the Walker Cup.
David Cannon/R&A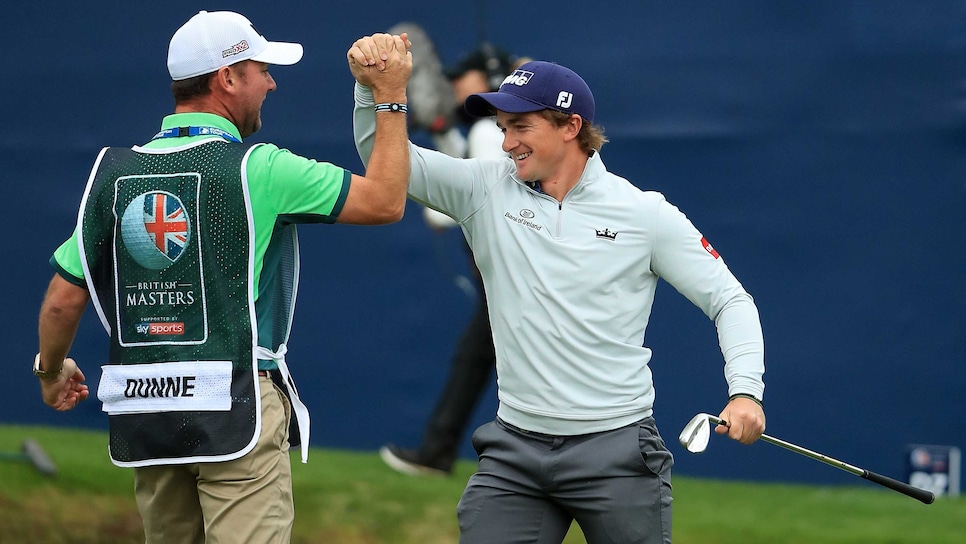 He then had early success as a pro with his victory at the European Tour's British Masters in 2017.
Andrew Redington
Whatever the source of his woes, such a state of affairs comes with a sizeable dollop of irony. At least it does in the mind of leading swing coach, Denis Pugh. In semi-retirement, the 67-year-old Englishman still works with former Ryder Cup player Ross Fisher and 2018 Open champion Francesco Molinari.
"It was the day before the 2015 Open at St. Andrews," Pugh says. "Francesco and Matteo Manassero played a practice round with Paul. I had no idea who he was. All the way round he was hitting this beautifully controlled fade off the tee. Afterwards, I was on Sky television talking about the prospects for the week. I didn't say Paul was a potential winner of the claret jug. But I did say he was a strong candidate to make the cut and win the silver medal awarded to the leading amateur. Because he was the best driver of a ball I'd seen in quite a while. He was so good he didn't look out of place playing alongside the best driver I've ever seen, Francesco."
All of which is, sadly, a far cry from today's reality, one underlined by a missed cut this week. Dunne's two-round total of 151 (76-75) saw him pull up in a tie for 137th place, seven shots too many to see him into the final 36 holes at The Belfry.
"Since the surgery I've been searching for my game," admits Dunne, who is ranked 1,744th in the World Ranking, a precipitous decline from his 2017 peak of 65th. "It's been a bit of everything. I haven't felt comfortable. But I'm showing signs of playing well. I believe I still have the ability to play well on the main tour. When I find what I'm looking for and am playing how I want to play, I'll be back. All I need to do is make little tweaks here and there. I just have to find the right ones. I'm feeling good about it."
That hasn't always been the case, of course. Understandably after so much success, relative failure has seen the Dubliner struggle mentally.
"I don't think I've seen the best of me yet," he insists. "But I've had a taste of the worst. The biggest thing is separating how you play from your identity. It's like getting a report card at the end of every day. But even if it is constantly bad it doesn't mean that everyone looks at you differently. It feels like that though. If you struggle with your scores for a period of time, you can start to hate yourself a little bit.
"So I have to separate the two," he continues. "In that way, this has been a great learning experience. When I go home, I find that my family's opinion of me hasn't changed. The people in my life that matter don't care. Which is not say I'm not keen to get back on tour again and pass where I was five years ago. One week on the Challenge Tour, never mind a year, is enough. I hope this is just a blip."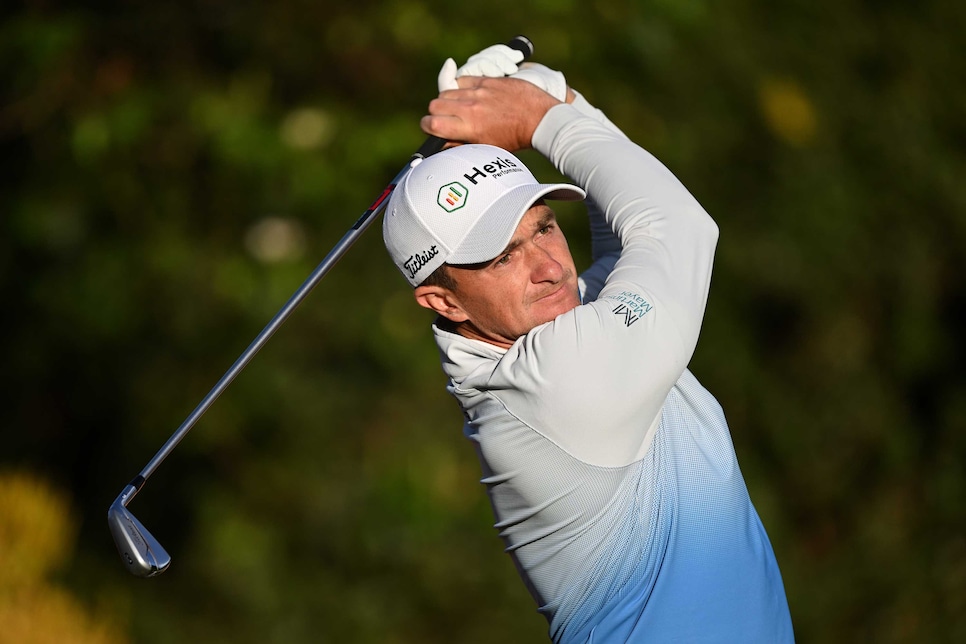 Dunne knows when he's at his best, his game belongs on the DP World Tour. But for now, he must still work through swing issues while playing the Challenge Tour.
Stuart Franklin
Unlike so many on the largely anonymous circuit, Dunne knows, with absolute certainty, his best golf is more than good enough to compete with some success at DP World Tour level. And, at the very least, he has St. Andrews 2015 to look back on, which isn't difficult to do.
"I get reminded of that Open in pretty much every interview I do," says Dunne with a smile. "Even when things were going well. When you do something not many people have done before they always want to bring it up. But for me, winning the British Masters was a bigger achievement than leading the Open with a round to go. Winning for the first time was a bigger monkey off my back. But I get it. In many people's minds, the Open is a big deal. Plus, someone wins on tour every week.
"What I need to do is get back to the Open this year," he concludes, a feat that will require he advance through qualifiers. "Every time I go to St. Andrews, I feel like I'm going to play well. I just need to get myself into the Open."
Indeed, that would make quite a story. Again.